On Saturday at 10 am in a Bellagio conference room in Las Vegas, six 15-team leagues (90 of the 420 total players in the competition) gathered to draft their Main Event teams. I had drawn the No. 2 overall pick in my league, and assuming Mike Trout was off the board at No. 1, I was going with Clayton Kershaw and likely two big bats in Rounds 2-3. Had Bryce Harper, Ryan Braun, George Springer and Jacoby Ellsbury been taken, I was open to Chris Sale should he fall, but I expected the latter to be gone, and two of the former to be available. And that's exactly what happened. For the full results, click on the grid below: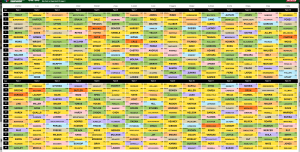 I felt I had to draft aggressively - not only does ADP mean less in the Main Event where the overall prize is a big part of the entry fee, I had a particularly nasty draw. Next to me in Seat 1 was Glenn Schroter, 39th in career NFBC earnings. On my right in Seat 3 was Dave Potts (7th in career earnings) who won the Main Event in 2012. He also won $1 million on FanDuel last year. In Seat 4 was Clark Olson, a computer science professor who has dominated ESPN's fantasy games, Seat 7 RotoWire's Scott Jenstad (46th in career earnings) who finished 3rd overall in 2013, Seat 11 Donn Johnson, the all-time NFBC earnings leader, thanks in large part to his taking down last year's $20K buy-in Platinum league, and in Seat 14, K.J. Duke (30th.)
Here are my Round by Round picks:
1.2 Clayton Kershaw - I toyed with the idea of taking Miguel Cabrera here, but unless he reverts to his 2012-13 form, Kershaw's projected stats are more valuable, and I liked the hitters at the 2/3 turn who were likely to fall to me better than the pitchers.
2.14 Bryce Harper - Ryan Braun was gone, but I'm not sure I'd have taken him over Harper anyway. Maybe I'm a sucker for things like this, but Harper's performance to date has never been the issue, only his health. And he's still only 22 years old.
3.2 George Springer - I didn't know this at the time, but the only two-time Main Event Champion, Lindy Hinkleman, took him at No. 11 overall in one league. There's batting average risk, but the power is established, and Springer could easily steal 20 bases.
4.14 Prince Fielder - Apparently the neck issue is behind him, and he now gets to hit in Texas. Remember, he was a late first-round pick last year at this time.
5.2 Chris Davis - Another first-round pick from 2014, Davis is back on Adderall and should at least be the guy we saw in 2012 when he hit 33 homers. He also qualifies at third base this year.
6.14 Yan Gomes - I was stuck here. I was hoping Adam Wainwright slid to me, but of course he didn't make it through the murderer's row to my right, and I didn't want to dive into what I considered the next tier down of starting pitchers or closers who don't appreciably help your strikeout totals. I could have gone with an OF like Matt Holliday, but I had a lot of muscle in the easy-to-fill spots, so I opted for position scarcity instead.
7.2 David Wright - Another last year's bum, Wright is apparently healthy again this spring. While this filled me up at corner, that's less of a problem in the 15-team format where players like Matt Adams, Justin Morneau and Eric Hosmer get snapped up in the top-10 rounds, and teams that wait are left with weaker options. I still had no closers and in fact no pitchers of any kind behind Kershaw. (Worth noting, he went one pick after the Cardinals second baseman, meaning the difference between Wright and Wong was small in this league.)
8.14 Michael Wacha - I actually had Jake Arrieta one spot above Wacha on my cheat sheet, and thought maybe I could take him and get Wacha on the way back. But I realized I'd be more disappointed to miss out on Wacha, and Arrieta's having a tough spring. Plus, I needed stolen bases, average and saves here and might need to take a hitter anyway in Round 9.
9.2 Ben Revere - Arrieta went at the turn, (though Glenn Schroter told me he would have taken Wacha had I taken Arrieta), and Revere addressed my average/speed needs perfectly, assuming he can keep his job now that he's been demoted to left field.
10.14 Alcides Escobar - An odd pick for me as I still needed starting pitching and a closer, but none of the available ones jumped out at me, and I wanted another batting average/steals source. And while I had typically been waiting on middle infield this year, K.J. Duke took Hanley Ramirez, Troy Tulowitzki, Dee Gordon and Dustin Pedroia in the first seven rounds, so I thought there might be slightly more scarcity than usual there.
11.2 Jonathan Papelbon - My first pick after the break, Papelbon's reportedly been throwing harder this spring. Plus, I bumped him half a round for this. I also hoped to get Ken Giles at some point later in the draft, but Potts took him one pick before me in Round 18.
12.14 Addison Reed - He was bad last year, but he's still got the job and is reportedly correcting some mechanical flaws this spring.
13.2 Francisco Liriano - Liriano's an elite strikeout guy, keeps the ball on the ground and has a good defense and park behind him. He just needs to stay healthy, something on which you can't necessarily count, but that's why he's available in Round 13.
14.14 Tyler Clippard - Maybe Sean Doolittle comes back in May, but he's coming off a shoulder injury, and Clippard's the guy for now. Clippard would easily be a top-10 closer if Doolittle were to have a setback. I considered targeting Doolittle over the next few rounds, but I still needed pitching depth and had to round out my outfield.
15.2 Rougned Odor - Oddly, the other player I considered most strongly was Jake Odorizzi. (You can always roster Tyler Flowers later to offset the stench.) I figured neither was likely to come back to me, but a second baseman with speed and power upside was more scarce.
16.14 Drew Pomeranz - I have Pomeranz in too many places already, but he was once a top prospect, has had a great spring, pitched well last year and is returning from an injury to his non-throwing hand. I badly needed a starting pitcher here.
17.2 Carlos Beltran - He played hurt all last year and will hit left-handed two thirds of the time toward the short porch in right field. I expect 20 HR if he gets 500 at-bats.
18.14 John Lackey - He was good the last two years in Boston, and while he struggled somewhat in St. Louis, master receiver and pitch framer Yadier Molina was out for most of that stretch, and now Jason Heyward gives the Cardinals a big upgrade on defense.
19.2 Coco Crisp - He's old and always hurt, and even a little banged-up this spring. But when healthy, the power/speed combination is too good to pass up here.
20.14 Brad Miller - Another last year's bum, Miller has a nice power/speed upside as a middle infielder should he keep the job all year.
21.2 Anthony Gose - My first pick out of the lunch break, Gose is ostensibly the starting center fielder in Detroit, has hit well this spring and is changing his approach at the plate. The upside is 40 steals, and he'll hit for more power than the Ben Reveres and Billy Hamiltons.
22.14 Chad Qualls - I was actually looking for a starting pitcher, and I considered Brett Anderson and Clay Buchholz, but I couldn't pass up a possible closer with solid peripherals.
23.2 Robinson Chirinos - Second catchers were flying off the board, and I wanted one with a modicum of upside. I actually forgot about Nick Hundley momentarily, but it was close between him and Chirinos anyway.
24.14 J.A. Happ - It looks like he'll be in the rotation to start the year. Happ increased his velocity significantly last year and moves from Toronto to Seattle.
25.2 Evereth Cabrera - I didn't need speed per se, but middle infield depth is good to have, and J.J. Hardy's already banged up. Plus, Cabrera could still win the starting second base job.
26.14 Danny Salazar - He had a bad spring and was sent down as a result, but no one good is blocking him, and he still has electric stuff and the ability to miss bats.
27.2 C.C. Sabathia - Apparently, he DGAF anymore, so neither do I. He's healthy at least, and his role isn't presently in doubt.
28.14 James Loney - I hope I never have to use him, but if Gose and Cabrera don't win jobs, I'll need a utility player, and Loney will get at-bats without harming my batting average until I find someone better.
29.2 Rubby de la Rosa - He's got a rotation spot apparently, and he throws hard for an NL club. You never know when the light bulb will go on for a player.
30.14 Tommy Medica - He's having a big spring, qualifies at two spots and Yonder Alonso is hardly an insurmountable obstacle at first base for the Padres. Of course, Will Myers (or Carlos Quentin) could wind up at first instead.
By Position:
C Yan Gomes/Robinson Chirinos
1B Prince Fielder
2B Rougned Odor
3B Chris Davis
SS Alcides Escobar
CI David Wright
MI Brad Miller
OF Bryce Harper/George Springer/Ben Revere/Carlos Beltran/Coco Crisp
U Anthony Gose/Everth Cabrera/James Loney/Tommy Medica
SP Clayton Kershaw/Michael Wacha/Francisco Liriano/Drew Pomeranz/John Lackey/J.A. Happ/Danny Salazar/C.C. Sabathia/Rubby de la Rosa
RP Jon Papelbon/Addison Reed/Tyler Clippard/Chad Qualls