This article is part of our FanDuel College Football series.
After a stupendous Week 7, we take a slight step back in Week 8 in terms of the schedule. For fantasy purposes, the two biggest games to highlight in terms of over-under are Wake Forest-Florida State (69.0) and Oklahoma State-Baylor (68.0). When we turn to the implied points category, Oklahoma leads the way, by a sizable margin, with an expected score of 48.3. Clemson (42.0), Texas (41.8) and Wisconsin (40.8) round out the teams expected to top 40 points.
GIF Time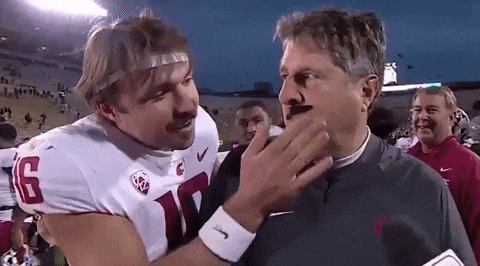 Week 7 Review
QB
Jalen Hurts, Oklahoma

($11,500): 37.5

Trevor Lawrence, Clemson

($9,400): 28.3 (played only three quarters)

Brian Maurer, Tennessee

($7,000): 4.5 - left in second qtr with concussion
RB
Michael Warren II, Cincinnati

($9,200): 14.4

Eno Benjamin, Arizona State

($9,600): 26.1

Zach Charbonnet, Michigan

($7,900): 15.6 - exited in third quarter with injury
WR
Sage Surratt, Wake Forest

($9,200): 43.6

Tee Higgins, Clemson

($8,900): 5.4 - injured hamstring

Marquez Callaway, Tennessee

($7,400): 0 - optimism based on Maurer playing full game
DFS Tools
Matchup Info
Link to matchup chart for your own sorting/research purposes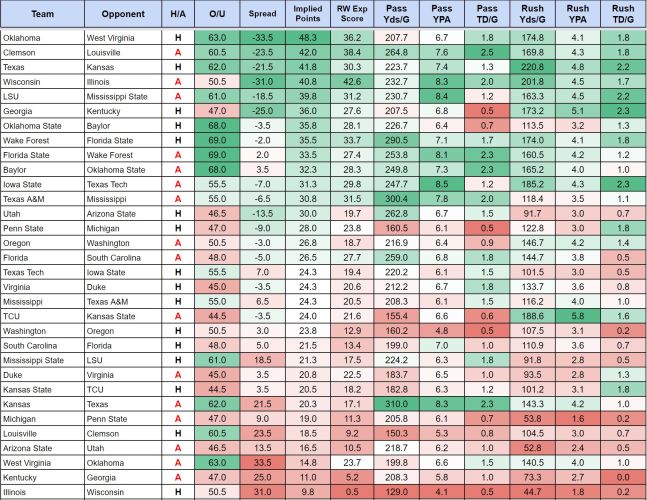 Note: RW Expected Score is a mathematical equation that removes special teams and points off turnovers, which are considered unpredictable.
Week 8 Plays
Quarterback
Kellen Mond, Texas A&M

($9,900) at Mississippi
I originally decided on Charlie Brewer for the top-dollar quarterback of the week, but, the more I looked into it, the more I found reason to talk myself out of it. Mond, who checks in at $100 cheaper than Brewer, is coming off arguably his best showing of the season, throwing for 264 yards and a pair of scores and rushing for 90 yards and a touchdown on 16 carries. He has thrown the ball 35 or more times in each of the last four weeks, and the matchup this week is among the most conducive to passing as it has been all season. Ole Miss has allowed north of 300 passing yards per game on 7.8 yards per attempt to go along with two passing scores per game. Mond should also bring the dual-threat ability, per usual, but his passing game should play up this week in what's expected to be a close game.
Trevor Lawrence, Clemson

($9,500) at Louisville
Lawrence finally gave us a glimpse of what he's capable of again last week versus Florida State, accounting for four touchdowns as the Tigers waxed the floor with the Seminoles. This seems like the first taste of what will be a dominant second half of the season for Clemson as they look to defend their 2018 title. Louisville's offense has shown enough signs of life this season that there's a chance Lawrence will remain in the game into the fourth quarter, though the Tigers are 23.5-point favorites. On the other hand, the Cardinals' defense has certainly proven to be vulnerable, allowing 7.6 yards per pass attempt and a slate-high 2.5 passing touchdowns per game. The Cardinals have been burned for 16 pass plays of 25-plus yards through six games and the Tigers certainly sport the elite athletes at wide receiver to take advantage of that issue on the back end.
Sam Hartman, Wake Forest

($7,000) vs. Florida State
This could prove to be the ultimate play of the week if Jamie Newman is unable to suit up for the Demon Deacons. Sporting the highest over-under on the slate, Hartman would be in line to face a Seminoles defense letting up more 290.5 passing yards and 1.7 passing touchdowns per game, which includes a game last week versus a Clemson team that finished with just 231 total passing yards thanks to the blowout nature of the game. This game is expected to be much closer, keeping the passing game intact. Hartman will have a pair of elite wideouts at his disposal in Sage Surratt and Scotty Washington. While he doesn't possess as much upside as a runner as Newman, Hartman did run for 275 yards over nine games last year.
Running Back
Jonathan Taylor, Wisconsin

($10,800) at Illinois
This may be the chalkiest of chalk plays, but there's no reason to fade away from it. As the second-largest favorites on the slate, Wisconsin figures to be ahead most of the day, allowing the Badgers, as they usually do anyway, to work on the ground game. Taylor is still in the thick of the Heisman hunt and has reason to buffer his stat line against lesser opponents. This will provide such an opportunity, as he squares off against an Illinois defense allowing 201.8 rushing yards per game, 4.5 yards per carry and 1.7 rushing touchdowns per tilt. The Illini have also surrendered 13 carries of 20-plus yards (tied for 113th nationally). Of the teams who have only played six games this season, there are only four who have allowed more carries go for that distance.
D'Andre Swift, Georgia

($9,200) vs. Kentucky
I want to first note that Travis Etienne ($8,700) should also warrant plenty of interest around this price range, but I've decided to turn my focus toward Swift. The Bulldogs are coming off of an upset at the hands of South Carolina last week, so there's good reason to believe they have plans to take out that frustration against Kentucky. After losing some major talent on the defensive side of the ball following the 2018 campaign, the Wildcats are coughing up north of five yards per carry and a slate-high 2.3 rushing touchdowns per game entering Saturday. Swift is best positioned to take advantage of that weakness, having carried the rock 16 or more times in four of the five games versus FBS opponents. He has yet to reach pay dirt more than once against an FBS opponent, but I can definitely see that being the case this week.
Breece Hall, Iowa State

($6,000) at Texas Tech
Coach Matt Campbell seemed hesitant to unleash Hall early in the season as the staff contemplated whether or not to redshirt the freshman. Hall shed any chance of that happening last week, when he took the field for the fifth time this season. With that decision out of the way, Hall looked to be given the keys to the backfield, rushing a whopping 26 times for 132 yards and three touchdowns against West Virginia. His price doesn't reflect that workload yet, making him a prime candidate for usage in Week 8. On top of an expected significant workload, Hall will face a Red Raiders club giving up 4.3 yards per tote, 185.2 rushing yards per game and a slate-high (tied with Kentucky) 2.3 rushing scores per game. The combination of price tag and expected workload puts him in a position to almost assuredly hit value this week.
Wide Receiver
Sage Surratt, Wake Forest,

($9,800) vs. Florida State
Similar to what I highlighted last week versus Louisville, the Seminoles aren't a team that gives up a ton of huge pass plays, allowing just 12 of 20-plus yards (T-56th nationally) over six games. On the other hand, the Seminoles have allotted 39 pass plays of 15-plus yards, which checks in tied for 108th in the nation. That fits the mold of Surratt's game slightly better, as he's a little less reliant on the deep ball than teammate Scotty Washington. As the expected highest-scoring contest on the slate, I'm looking to pair up a quarterback with a wideout, and, if Sam Hartman starts under center, it should be easy to fit Surratt in the lineup with his signal-caller. Also worth looking at is Kendall Hinton ($7,800), who posted a team-high and season-high 19 targets last week. That mark led the slate, while Surratt ranked second with 17 of his own.
Jhamon Ausbon, Texas A&M

($8,000) at Mississippi
Ausbon is coming off of one of his lower fantasy totals of the season last week against Alabama. While his target count was slightly down (eight), Ausbon still leads the team in target share and has reeled in at least four passes in every game this season. Ausbon hasn't scored since Week 3, but Ole Miss has allowed seven red zone passing touchdowns this season. This fits the mold of Ausbon better than it does Quartney Davis, as both of Ausbon's scores have come from within 20 yards of the goal line. This should be a good opportunity for him to return to pay dirt, and he comes at a cheaper price tag than Davis. Ainias Smith ($6,300) could also be a punt play at the wide receiver position, owning a team-high four red-zone touchdowns this season.
Justyn Ross, Clemson

($8,000) at Louisville
While the Cardinals hadn't given up a ton of long pass plays prior to last week, they have now surrendered 16 of them (99th nationally) over six games. Only seven teams who have played six or fewer games have allowed more passing touchdowns than Louisville and the Tigers are starting what I've discussed I believe will be a second-half resurgence. Ross led the offense in targets last week with eight in a game that was well out of reach to open the second half. While he hasn't reached the 21.7 yards per reception he averaged from a season ago, he has proven to have the ability. With Tee Higgins coming off of a minor hamstring strain, the Tigers may elect to preserve him somewhat, opening the door for Ross to serve as the top target again.
Deshaunte Jones, Iowa State

($7,700) at Texas Tech
Jones is coming off of a mammoth 10-catch game against TCU, when he went over 100 yards for the third time this season. The biggest worry with him involves getting in the the end zone, as the senior has reached pay dirt just once through five games. Considering he totaled four scores in 12 games last season, Jones is bound to return to the promised land at some point, and Saturday could mark a good opportunity to do just that. Even if he can't, Jones' 24 percent target share against a Texas Tech defense allowing a slate-high 8.5 yards per attempt bodes well for Jones' prospects of racking up a big receiving total again.
The author(s) of this article may play in daily fantasy contests including – but not limited to – games that they have provided recommendations or advice on in this article. In the course of playing in these games using their personal accounts, it's possible that they will use players in their lineups or other strategies that differ from the recommendations they have provided above. The recommendations in this article do not necessarily reflect the views of RotoWire. Chris Benzine plays in daily fantasy contests using the following accounts: FanDuel: Crispy272001, DraftKings: Crispy27.