This article is part of our Team Previews series.
Los Angeles Chargers

New uniforms, new stadium, new quarterback. A lot has changed since the Chargers last took the field this past December. Situated in a division that includes the defending Super Bowl champions and a pair of improving franchises, the Chargers regaining the momentum of 2018's playoff run could be a tall task.
Offseason Moves
Key Acquisitions
The third QB off the board in April brings good size and athleticism to the table.
Slated to play in the slot for the Chargers.
The five-time Pro Bowler solidifies things at right guard.
Was effective when healthy while with Green Bay.
Key Losses
The long-time franchise QB will continue his quest for a Super Bowl in Indy.
Never managed to land a massive contract despite a holdout to start last season.
Dealt straight up for Trai Turner in a swap of high-profile linemen.
Cut in the offseason after leading the team in tackles last year.
A Look Under the Hood
Head Coach: Anthony Lynn (Year 4)
Offensive Coordinator: Ken Whisenhunt (Year 4) - Erhardt-Perkins scheme
Defensive Coordinator: Gus Bradley (Year 4) - 4-3 scheme
2020 Vegas Projected Wins: 7.5 (T-20th)
2019 Record: 5-11
2019 Points Scored: 337 (21st)
2019 Points Allowed: 345 (14th)
2019 Point Differential: -8 (15th)
2019 Run-Play Rate: 36.7 percent (27th)
2019 Situation-Neutral Pace: 33.14 seconds per play (32nd)
2019 Offensive Snaps: 997 (23rd)
2019 PFF O-Line Ranking: No. 29
Projected 2020 Depth Chart
QB: Tyrod Taylor / Justin Herbert / Easton Stick
RB: Austin Ekeler / Justin Jackson / Joshua Kelley
WR1: Keenan Allen / Darius Jennings / K.J. Hill
WR2: Mike Williams / Jason Moore
WR3: Joe Reed / Andre Patton
TE: Hunter Henry / Virgil Green
O-Line: LT Sam Tevi / LG Dan Feeney / C Mike Pouncey / RG Trai Turner / RT Bryan Bulaga (RotoWire Rank: No. 22)
Kicker: Michael Badgley
Top Storylines
Bridging the QB Transition
As the sixth overall pick in the 2020 NFL Draft, Justin Herbert is viewed as the Chargers' long-term answer at quarterback and eventual replacement to previous mainstay Philip Rivers.
However, that bridge won't necessarily be crossed out of the gate. After all, this offseason the team was thought to be at least in the conversation to acquire the services of free agent Tom Brady before he ultimately found a job with the Buccaneers.
GM Tom Telesco and coach Anthony Lynn have both been adamant that Tyrod Taylor is the team's clear starter for now, but reports following the draft hinted that the duo's confidence in the journeyman signal-caller was more or less a smokescreen.
Whoever gets the Week 1 starting nod for Los Angeles will lead an offense loaded with weapons, as the team's top four pass catchers from 2019 are all returning, including talented tight end Hunter Henry, who received the franchise tag. Uncertainty regarding just when on-field activities might resume should give the upper hand to Taylor, who started three games for the Browns in 2018 before giving way to Baker Mayfield.
A similar outcome is plausible this year, though it's worth noting that Herbert is considered by most draft pundits to be further behind in his development than Mayfield was when he was selected.
Re-tooled Backfield Ready To Take Next Leap
Melvin Gordon's holdout in 2019 was a massive boon for Austin Ekeler's stock, as the undrafted running back piled up 490 yards from scrimmage and six TDs in his first four games before Gordon relented and rejoined the team. It was a precursor of what was to come as the 25-year-old Ekeler nearly became the third running back since 1985 to record more than 1,000 receiving yards in a season.
Ekeler also finished with a higher YPC than Gordon (4.2 compared to 3.8) and registered a career-high 11 total scores, including eight through the air. Alas, Gordon, a 2015 first-rounder, didn't get the long-term deal he sought with Los Angeles, instead settling for a two-year, $16 million contract with division rival Denver.
Meanwhile, Ekeler capitalized on his breakout campaign to the tune of a four-year, $24.5 million extension. While the financial ramifications of the deal suggest that the burgeoning multi-dimensional star will be the Chargers' bell cow, Justin Jackson and rookie Joshua Kelley are on hand to fill some of the void created by the departure of Gordon, especially in short-yardage situations. In any case, the team's signal-callers still will rely heavily on Ekeler's receiving acumen under offensive coordinator Shane Steichen.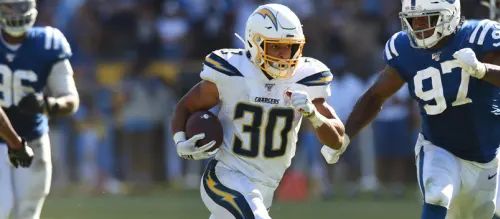 Austin Ekeler shouldn't have difficulty running away from the competition.
Williams Emerges as Playmaker
If you go purely by touchdowns, it was a disappointing third season for Mike Williams, who tallied just two after grabbing 10 in 2018 despite seeing virtually the same amount of red-zone looks across both seasons.
However, that would ignore arguably the biggest takeaway of the Chargers' dismal 2019 season, as Williams emerged as a viable weapon in the deep-passing game, becoming just the second wide receiver since 1991 to record over 1,000 receiving yards in a season while catching 50 or fewer passes.
What's more, the 6-4 wideout led the league with an astounding eight catches of 40-plus yards and only trailed Titans wideout A.J. Brown in yards per target (11.2). It's an even more impressive figure when understanding quarterback Philip Rivers' limitations as a deep-ball passer, as the 38-year-old routinely underthrew a wide-open Williams by multiple yards, forcing the big-bodied wideout to use his massive wingspan and aerial abilities to make something out of nothing.
Expected new starter Tyrod Taylor doesn't figure to be much different than Rivers, but should rookie Justin Herbert's cannon of an arm eventually find his way into the starting lineup, Williams could be poised for even better per-target numbers along with a bit of positive TD regression.
Barometer
⬆️ Rising: RB Joshua Kelley
At 5-11, 212, Kelley has the body type to act as a bruiser in short-yardage situations. Coach Anthony Lynn has indicated that the 2020 fourth-round pick could take on some of Melvin Gordon's responsibilities in that area.
⬇️ Falling: QB Tyrod Taylor
The Chargers didn't select Herbert sixth overall to sit on the bench forever. Taylor thus could be unceremoniously pushed out of the starting role similar to how he was in 2018 in Cleveland, when he was replaced by Baker Mayfield in Week 3.
😴 Sleeper: WR Joe Reed
It remains to be seen if whoever emerges as the Chargers' No. 3 wideout can generate enough volume to be fantasy relevant, but Reed certainly has the tools (6-0, 224 with a 38.0-inch vertical) and collegiate resume to push for that role as a rookie.
🌟 Pivotal Player: Keenan Allen
Of Allen's 524 career catches, just four have come from a QB other than Philip Rivers. With the departure of the long-time franchise hallmark, the Chargers' top receiver must adjust to a new norm under center. Logging a fourth straight season with over 1,000 receiving yards is something that could be a challenge for Allen if the new-look offense flounders.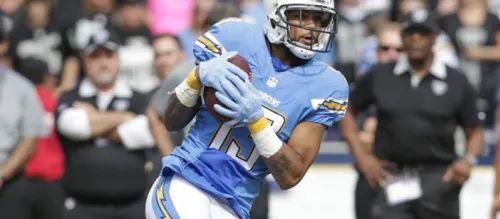 As a new era for the Chargers is ushered in, Keenan Allen remains to serve as the team's No. 1 wide receiver.