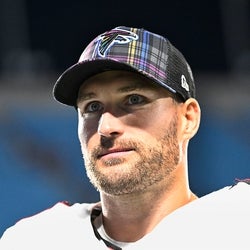 2022 Fantasy Outlook
Cousins might not be elite, but he's sure consistent — the only quarterback with at least 3,500 passing yards and 25 TD passes each of the last seven seasons. Last year he also did a good job taking care of the ball, ranking second only to Aaron Rodgers in INT rate (1.2 percent). He's been criticized — most prominently by former coach Mike Zimmer — for being risk-averse and not taking more shots downfield. But Cousins threw deep at a good clip last season (14.1 percent, 7th), placing sixth in average target depth (8.2) and ranking third both with 79 attempts of 20-plus yards and eight TD passes on those throws. In any event, Zimmer was fired after last season and new coach Kevin O'Connell (for whom Cousins played in Washington in 2017) promises to bring a Rams-like offense after serving as offensive coordinator in Los Angeles last year. The Vikings certainly don't lack for playmakers; Justin Jefferson, Adam Thielen and K.J. Osborn form a strong WR trio, and Dalvin Cook is one of the league's best running backs. TE Irv Smith, who missed last season with a knee injury, is younger and more athletic than Tyler Conklin, now with the Jets. Cousins' lack of mobility limits his ceiling, but he should at least finish near his QB11 fantasy rank from both of the past two seasons.
Read Past Outlooks
RANKS
#

Overall
$Signed a one-year, $35 million contract with the Vikings in March of 2022.

Not committed beyond 2023
ANALYSIS
The team used void years rather than an extension, but another contract could still happen next offseason or even later this year. While the Vikings hope to find a young quarterback to develop behind their 34-year-old, long-time starter, there's no guarantee of finding the right player this spring or next, especially without the luxury of an early first-round pick. Minnesota's offense largely looks the same as last year through the first few days of the 2023 league year, with the exception of
Adam Thielen
leaving and blocking tight end
Josh Oliver
coming over from Baltimore. Quarterback and wide receiver are two of the positions Minnesota could target early in the 2023 Draft, though in terms of filling short-term gaps it's the defense that needs more help. Either way, Cousins is year-to-year with the Vikings, which arguably was the case even before this offseason.
Read More News
NFL Stats
Fantasy/Red Zone Stats
See red zone opportunities inside the 20, 10 and 5-yard lines along with the percentage of time they converted the opportunity into a touchdown.
Loading Fantasy/Red Zone Stats...
Advanced NFL Stats
How do Kirk Cousins' 2022 advanced stats compare to other quarterbacks?
This section compares his advanced stats with players at the same position. The bar represents the player's percentile rank.
The longer the bar, the better it is for the player.
Bad Pass %

The percentage of passes that were considered to be poorly thrown.

Avg Target Depth

The average number of yards thrown per pass by the quarterback – including incomplete passes.

Sack Rate

The percentage of dropbacks where the quartback was sacked. The longer the bar below, the more often they are sacked relative to other QBs.

Avg Receiver YAC

The average number of yards after the catch that receivers gained on passes thrown by this quarterback.

Receiver Drop %

The percentage of passes dropped by receivers on passes thrown by this quarterback. The longer the bar, the more sure-handed his receivers have been.
Loading Advanced NFL Stats...
2022
2021
2020
2019
2018
2017
2016
2022 NFL Game Log

Calculate Stats Over Time
Just click on any two dates.
Scoring
Standard
PPR
Half PPR
FanDuel
DraftKings
Yahoo DFS
2021 NFL Game Log

Calculate Stats Over Time
Just click on any two dates.
Scoring
Standard
PPR
Half PPR
FanDuel
DraftKings
Yahoo DFS
2020 NFL Game Log

Calculate Stats Over Time
Just click on any two dates.
Scoring
Standard
PPR
Half PPR
FanDuel
DraftKings
Yahoo DFS
2019 NFL Game Log

Calculate Stats Over Time
Just click on any two dates.
Scoring
Standard
PPR
Half PPR
FanDuel
DraftKings
Yahoo DFS
2018 NFL Game Log

Calculate Stats Over Time
Just click on any two dates.
Scoring
Standard
PPR
Half PPR
FanDuel
DraftKings
Yahoo DFS
2017 NFL Game Log

Calculate Stats Over Time
Just click on any two dates.
Scoring
Standard
PPR
Half PPR
FanDuel
DraftKings
Yahoo DFS
2016 NFL Game Log

Calculate Stats Over Time
Just click on any two dates.
Scoring
Standard
PPR
Half PPR
FanDuel
DraftKings
Yahoo DFS
Snap Distribution / Depth Chart
2022 Kirk Cousins Split Stats
Loading NFL Split Stats...
How do Kirk Cousins' measurables compare to other quarterbacks?
This section compares his draft workout metrics with players at the same position. The bar represents the player's percentile rank. For example, if the bar is halfway across, then the player falls into the 50th percentile for that metric and it would be considered average.
Recent RotoWire Articles Featuring Kirk Cousins
See More
Past Fantasy Outlooks
2021
2020
2019
2018
2017
2016
2015
2014
2013
2012
Cousins looked like one of the league's worst quarterbacks early last season before turning things around following Minnesota's Week 7 bye. In the first six weeks, Cousins had 11 TD passes and 10 interceptions, completing 64.6 percent of his throws. After the bye, he totaled 24 TD passes and three interceptions with a 69.2 completion percentage. The improvement came as Cousins reverted to his short-passing ways of 2019. In the first six games, 45.7 percent of his attempts were less than five yards from the line of scrimmage, while a hefty 17.7 percent were 20-plus yards. After the bye, those numbers flipped to 51.3 and a mere 8.2 percent as his average target depth fell from 9.7 to 7.1 yards. Cousins doesn't have the arm to exploit a deep-passing attack, and his career-high 35 touchdown passes look ripe for regression. Twenty-five of those touchdowns came in the red zone, where he posted a 40.3 TD pass percentage, second in the league. Expect that number to fall closer to the league-average 26.3 percent this season. Nevertheless, Cousins has excellent playmakers to target in Adam Thielen and Justin Jefferson, who dominated as a rookie. Dalvin Cook provides a solid running game and a receiving threat out of the backfield. Without rushing stats to offset any touchdown regression, Cousins is not likely to match his three-year high QB11 fantasy ranking from last season, but he is still handy in two-quarterback leagues.
After 606 attempts in 2018, Cousins dropped to 444 last season, as the Vikings fully committed to a run-first offense. Cousins still had a decent number of downfield attempts — resulting in eight TDs (2nd) — but he relied mostly on a short-passing game based off play action. He completed 73.4 percent (6th) on play action and tied Lamar Jackson for the league lead with 11 TDs, but overall his average depth of target was just 8.1 yards (22nd) as the offense was basically dink-and-dunk with occasional deep shots. In fact, no qualified QB had a lower percentage of attempts in the 11-20-yard range than Cousins (13.5 percent), and he ranked fourth in percentage of attempts within five yards of the line of scrimmage (57.2). Offensive coordinator Keven Stefanski left for the head job in Cleveland, but the offense he called last year belonged to assistant head coach Gary Kubiak — who was named the new OC — so don't expect a departure from the run-first approach. And it's possible the Vikings rely on the running game even more this year after ranking third in rushing percentage last season (49.1). Stefon Diggs, who complained about the lack of passing, was shipped to Buffalo, replaced by Justin Jefferson, the 22nd pick in this year's draft. Jefferson ran a 4.43 40, but if he doesn't develop quickly, the offense will be left without a field-stretcher. Adam Thielen returns, looking to stay healthy after an injury-plagued season. And Cousins has decent targets in TEs Kyle Rudolph and Irv Smith and RB Dalvin Cook. But there's not much after that, especially among the wideouts. Cousins' efficiency will keep him productive, but his ceiling looks capped.
Cousins' first season in Minnesota was a fantasy success, even if his team underachieved and finished 19th in scoring (22.5 points per game). He was one of seven quarterbacks with 4,000 passing yards and 30 touchdowns, and only Matt Ryan had fewer interceptions than Cousins' 10 among that group. Cousins, though, was on pace for 5,000 yards and averaging 20.6 fantasy points per game until the Minnesota offense imploded at midseason. His YPA fell from 7.4 to 6.7 from the first eight games to the last eight games, ultimately putting him 24th in the league. After pushing the ball downfield effectively in the season's first half, the Vikings couldn't connect on deep passes in the second half. Cousins posted 14.4 YPA on throws longer than 20 yards through Week 8, but that fell to 10.4 in Weeks 9-17. His average depth of target was a mere 7.6 yards, tied with Eli Manning for 27th. The second-half struggles cost offensive coordinator John DeFilippo his job after a particularly inept Week 14 loss at Seattle. Quarterbacks coach Kevin Stefanski took over the playcalling, and though big performances in Weeks 15 and 16 were undone by an ugly showing Week 17 against the dominant Chicago defense, he returns this season. Cousins needs better protection - he was fifth in pressures last year - but first-round pick Garrett Bradbury should help the offensive line, and there's no shortage of playmakers between Adam Thielen, Stefon Diggs and Dalvin Cook. There's plenty of ammo to make another run at 4,000 and 30, even if Stefanski doesn't create an offensive juggernaut.
If nothing else, Cousins will be remembered for landing the NFL's first fully guaranteed multi-year free-agent contract. He earned it with three consecutive seasons of 4,000 passing yards while averaging 27 passing touchdowns in that span for the Redskins. His production dropped last year by more than 800 yards from 2016, thanks to nearly 70 fewer attempts and slightly worse efficiency. He finished top 10 in both completion percentage and YPA, even though injuries to three key targets caught up to him in December when he flamed out with 6.3 YPA and 56.7 completion percentage, hurting his season numbers. The supporting cast shouldn't be an issue this year with three playmakers to target in Adam Thielen, Stefon Diggs and Kyle Rudolph. And Dalvin Cook, expected to be healthy coming off an ACL injury, gives him his first opportunity with a legitimate rushing attack. Coach Mike Zimmer said the offense will be built around Cousins' strengths. Perhaps that means more downfield passing with former Philadelphia quarterback coach John DeFilippo the new offensive coordinator, but Minnesota came within a game of the Super Bowl last year playing tough defense and limiting turnovers, so that formula doesn't figure to change too much. Expect fewer shootouts for Cousins, who was fifth in the league last year in fourth-quarter pass attempts (the Vikings ranked last). What's more, in the last three years, Cousins has attempted at least 45 passes in a game eight times (7th). The Vikings have done it twice in that span, none last year.
In two years as the full-time starter, Cousins has twice set the franchise record for passing yards in a season, leading the Redskins to consecutive winning campaigns for the first time in 20 years. Last season, he improved his YPA to third in the NFL, sacrificing a bit of his completion rate for bigger chunk yards with more downfield passing. After 50 passes of 21-plus yards in 2015, he went deep 72 times last season, accounting for 11.9 percent of his attempts — the fourth-highest rate in the league. He completed 45.8 percent (5th) for a 120.4 passer rating (3rd) on such throws. However, he lost his two top receivers from last season in DeSean Jackson and Pierre Garcon. The Redskins signed Terrelle Pryor, who has the speed to be a deep threat and the size to battle in the red zone. But he's sure to draw double coverage without another receiver to command attention. Jamison Crowder likely will see 100-plus targets this year, but he's a 5-8 slot receiver who doesn't pose a big downfield threat. Second-year WR Josh Doctson is coming off an injury that cost him all but two games of his rookie season, and injury-prone tight end Jordan Reed has played as many as 14 games in a season once in his four-year career. Contract talk dominated offseason headlines, and if this is Cousins' last year in Washington, he's going to have to work to get top dollar next offseason as a free agent.
A fourth-round afterthought in the 2012 draft class that brought Robert Griffin to Washington, Cousins got playing time in each of his first three seasons due to Griffin's injury issues, and was finally given the full-time starting job in training camp heading into last year. He more than seized his opportunity, putting up very good numbers and leading the team to an NFC East title. While he doesn't possess ideal arm strength, his accuracy on shorter routes is excellent, with his 75.2 completion percentage on passes inside 15 yards ranking second in the NFL to Ben Roethlisberger among starters. Cousins' work ethic has never been in question, endearing him to head coach Jay Gruden, and he's also lauded for his leadership qualities, with a clip of him shouting "You like that!" to a reporter after the largest comeback win in franchise history became a rallying cry for the team after it went viral. Despite that successful campaign, his future in Washington isn't totally secure. He had yet to sign a long-term contract with the club at press time, and could play 2016 under the franchise tag he signed in March. Washington did add to its talent level on the offensive side, selecting wide receiver Josh Doctson in the first round, which could perhaps help Cousins produce even stronger numbers in a contract season.
Cousins played in six games in 2014, registering 1,710 passing yards, 10 touchdowns and nine interceptions following a dislocated ankle that caused Robert Griffin III to miss significant time. Whispers arose that Cousins was better suited for Head Coach Jay Gruden's system, but several mediocre performances sent him back to the bench in favor of Colt McCoy. After approaching the 2015 campaign competing once again with McCoy for backup duty, the franchise switched QB gears in late August, when coach Jay Gruden confirmed that Cousins will be Washington's starter for the upcoming season.
Cousins is destined to backup RGIII again in 2014. He played in five games in 2013 and did not perform as well as his rookie season. He completed 52 percent of his passes including four touchdowns and seven interceptions. RGIII is a year removed from reconstructive knee surgery and is healthy going into training camp which means Cousins is not expected to see the field.
Cousins looked really good in limited 2012 action, completing 68.8 percent of his passes and averaging 9.7 YPA. In his lone start, Cousins completed 26 of his 37 passes for 329 yards and two scores. Of course, he's merely Robert Griffin's backup and RGIII (coming off a serious knee injury) looking good to go for the Redskins' season opener.
Cousins was drafted in the fourth round in 2012. He will compete for the backup quarterback position with veteran and former starter Rex Grossman. The team loved the value of taking Cousins in the fourth round as he was consider a potential starter. The team is heavily invested in starter Robert Griffin III so don't expect Cousins to see the field unless something catastrophic happened to Griffin.
More Fantasy News