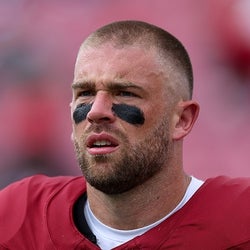 Rest-of-Season Projections
2023 Fantasy Outlook
Ertz revitalized his career with a move to Arizona, where he's caught 103 of 150 targets for 980 yards and seven TDs in 21 games since the 2021 trade deadline. His 2022 was cut short in November by a torn ACL and MCL, which might mean more missed time early in 2023 given that he's 32 years old and will be less than 10 months removed from major surgery come Week 1. Any absence would give 2022 second-round pick Trey McBride a chance to carve out a larger role, but if Ertz can return to pre-injury form -- which is far from a given at his age -- he could play an even prominent role in Arizona's passing attack this season after DeAndre Hopkins was released in May. Prior to last year's knee tear, Ertz was on pace to top 70 receptions for a seventh time in the past eight seasons, albeit with four straight years at 6.8 yards per target or worse (after starting his career with 7.5 YPT or better six consecutive seasons).
Read Past Outlooks
$Signed a three-year, $31.65 million contract with the Cardinals in March of 2022.

Ertz gathered in both of his targets for six yards during Sunday's 28-16 win against the Cowboys.
ANALYSIS
Through two contests, Ertz was pacing the Cardinals in targets with 18 on his way to 12 catches for 77 yards and no touchdowns. In Week 3 though, quarterback
Joshua Dobbs
' focus was on his top two wide receivers, with
Marquise Brown
and
Rondale Moore
combining for 13 targets. There figures to be some ebb and flow among the team's skill-position players in terms of usage, and Ertz still led Arizona tight ends in snap share (59 percent), ahead of
Geoff Swaim
(52 percent) and
Trey McBride
(49 percent). Ertz may have a tough time getting back on track this coming Sunday on the road against the 49ers.
Read More News
NFL Stats
Fantasy/Red Zone Stats
See red zone opportunities inside the 20, 10 and 5-yard lines along with the percentage of time they converted the opportunity into a touchdown.
Loading Fantasy/Red Zone Stats...
Advanced NFL Stats
How do Zach Ertz's 2023 advanced stats compare to other tight ends?
This section compares his advanced stats with players at the same position. The bar represents the player's percentile rank.
The longer the bar, the better it is for the player.
Air Yards Per Game

The number of air yards he is averaging per game. Air yards measure how far the ball was thrown downfield for both complete and incomplete passes. Air yards are recorded as a negative value when the pass is targeted behind the line of scrimmage. All air yards data is from Sports Info Solutions and does not include throwaways as targeted passes.

Air Yards Per Snap

The number of air yards he is averaging per offensive snap.

% Team Air Yards

The percentage of the team's total air yards he accounts for.

% Team Targets

The percentage of the team's total targets he accounts for.

Avg Depth of Target

Also known as aDOT, this stat measures the average distance down field he is being targeted at.

Catch Rate

The number of catches made divided by the number of times he was targeted by the quarterback.

Drop Rate

The number of passes he dropped divided by the number of times he was targeted by the quarterback.

Avg Yds After Catch

The number of yards he gains after the catch on his receptions.

% Targeted On Route

Targets divided by total routes run. Also known as TPRR.

Avg Yds Per Route Run

Receiving yards divided by total routes run. Also known as YPRR.
Avg Depth of Target
6.1 Yds
Avg Yds Per Route Run
1.20
Loading Advanced NFL Stats...
2023
2022
2021
2020
2019
2018
2017
2016
2023 NFL Game Log

Calculate Stats Over Time
Just click on any two dates.
Scoring
Standard
PPR
Half PPR
FanDuel
DraftKings
Yahoo DFS
2022 NFL Game Log

Calculate Stats Over Time
Just click on any two dates.
Scoring
Standard
PPR
Half PPR
FanDuel
DraftKings
Yahoo DFS
2021 NFL Game Log

Calculate Stats Over Time
Just click on any two dates.
Scoring
Standard
PPR
Half PPR
FanDuel
DraftKings
Yahoo DFS
2020 NFL Game Log

Calculate Stats Over Time
Just click on any two dates.
Scoring
Standard
PPR
Half PPR
FanDuel
DraftKings
Yahoo DFS
2019 NFL Game Log

Calculate Stats Over Time
Just click on any two dates.
Scoring
Standard
PPR
Half PPR
FanDuel
DraftKings
Yahoo DFS
2018 NFL Game Log

Calculate Stats Over Time
Just click on any two dates.
Scoring
Standard
PPR
Half PPR
FanDuel
DraftKings
Yahoo DFS
2017 NFL Game Log

Calculate Stats Over Time
Just click on any two dates.
Scoring
Standard
PPR
Half PPR
FanDuel
DraftKings
Yahoo DFS
2016 NFL Game Log

Calculate Stats Over Time
Just click on any two dates.
Scoring
Standard
PPR
Half PPR
FanDuel
DraftKings
Yahoo DFS
Snap Distribution / Depth Chart
How often does Zach Ertz run a route when on the field for a pass play?
This data will let you see how Zach Ertz and the other tight ends for the Cardinals are being used. Some tight ends may have a lot of snaps, but they're not that useful for fantasy purposes because they're not actually running routes. This data will help you see when this is the case.
Zach Ertz
69 routes 20 targets
← More Blocking
% Routes Run
More Receiving →
Receiving Alignment Breakdown
See where Zach Ertz lined up on the field and how he performed at each spot.
Loading Alignment Breakdown...
Loading Alignment Breakdown...
Loading Alignment Breakdown...
Loading Team Alignment Breakdown...
This Week's Opposing Pass Defense
How does the 49ers pass defense compare to other NFL teams this season?
The bars represents the team's percentile rank (based on QB Rating Against). The longer the bar, the better their pass defense is.
The team and position group ratings only include players that are currently on the roster and not on injured reserve. The list of players in the table only includes defenders with at least 3 attempts against them.

@ 49ers
Sunday, Oct 1st at 4:25PM
Overall QB Rating Against
56.6
Loading Opponent Pass Defense Stats...
2023 Zach Ertz Split Stats
Loading NFL Split Stats...
How do Zach Ertz's measurables compare to other tight ends?
This section compares his draft workout metrics with players at the same position. The bar represents the player's percentile rank. For example, if the bar is halfway across, then the player falls into the 50th percentile for that metric and it would be considered average.
Recent RotoWire Articles Featuring Zach Ertz
See More
Past Fantasy Outlooks
2022
2021
2020
2019
2018
2017
2016
2015
2014
2013
Ertz struggled early last season while splitting snaps with Dallas Goedert in Philadelphia, but a midseason trade to Arizona revitalized the veteran's career. Adding his 189 yards on 31 targets in six games with the Eagles prior to the trade, Ertz topped 700 receiving yards for the seventh time in the last eight seasons while tying for third among tight ends with 112 targets. He also tied for the league lead among tight ends with 20 red-zone targets, though he caught only eight, including four touchdowns. Ertz is a good route runner with reliable hands who can use his size and strength to outmuscle smaller defensive backs. But that physical style has also led to numerous injuries through the years. Veteran tight end Maxx Williams, who is coming back from a knee injury, is still around, and the team drafted Trey McBride in the second round, but Ertz is secure as the team's top pass-catching option at tight end for at least another year or two after re-signing for three years and $31.65 million this offseason. The Cardinals traded for wide receiver Marquise Brown on draft day, but wideout Christian Kirk left for Jacksonville and DeAndre Hopkins is suspended the first six games, leaving plenty of targets to go around. Some better luck in the red zone could lead to an even better year for Ertz, whose outlook heading into this season is much brighter than it was ahead of last season.
Ertz may still be traded, but it didn't happen this spring, so he could be one of the veterans who's kept around in the post-Wentz/Pederson era of Eagles football. Ertz, of course, was one of the big winners of that era, averaging 126.8 targets and 89.0 receptions from 2016 to 2019, with his volume often increasing when the Philadelphia offense was trending down. The offense designed by new head coach Nick Sirianni isn't likely to make Ertz as much of a priority, after the 30-year-old sunk all the way to 4.7 YPT last season, unable to overcome Wentz's decline (along with his own injuries). Meanwhile, fellow tight end Dallas Goedert produced 47.6 yards per game and 8.1 YPT, topping 30 yards in seven consecutive games to close out the season. Ertz probably still has some value as a pass catcher, but he might not get to show it on a regular basis unless he's traded.
Ertz took a step back in 2019, though he once again was the Eagles' only reliable pass catcher, a role that kept him top 5 among tight ends in targets, catches and yards. His 6.8 YPT was a career low, but it wasn't a matter of an unusual number of drops (seven, 5.2 percent), and his YAC average (3.2) was unchanged from 2018. The Eagles' lack of downfield weapons finally seemed to catch up to Ertz, with his catch rate hitting its lowest point since 2014 as opponents had little else to worry about with the Philadelphia passing game. It didn't help that fellow TE Dallas Goedert took some scoring chances away from Ertz, who finished with a three-year low for red-zone targets (16) and a four-year low for targets inside the 10 (five). However, Ertz was still a three-down player throughout the season, ranking fourth among TEs in snap share (85.9) - his fourth consecutive year reaching 80 percent. The Eagles' offseason overhaul of their wideout group creates more competition for targets, and possibly even snaps, but it could also create an offense where the 29-year-old Ertz has more room to operate and thus moves back toward his pre-2019 career marks for catch rate (69.4 percent) and YPT (7.7). In addition to the possibility of a healthier season from DeSean Jackson, the Eagles can strike fear in the hearts of opposing safeties with rookie wideouts Jalen Reagor (4.47 40), John Hightower (4.45) and Quez Watkins (4.35). If the speed element proves dangerous, it'll be feeding time underneath for Ertz, Goedert and Miles Sanders.
If it feels like Ertz gets better every season, you're not wrong. His fantasy point total has gone up every year since he entered the NFL, and he's coming off a season in which he set career highs in just about every counting and efficiency stat. Imagine what Ertz might have accomplished had Carson Wentz lasted the full season. Ertz's per-play stats had some odd tints to them last year. Although he had the lowest YPC of his career, he also had a career-high 13 grabs of more than 20 yards and his highest catch rate. The Eagles spiked Ertz's red-zone usage, allowing him to match his career high in touchdowns. It was encouraging to see Ertz play his first full season out of four, as he battled a laundry list of injuries through the year. That's part of the gig at tight end, the position of collisions. Fantasy players have to reconcile how they feel about the clear Big 3 at the position - Ertz, Travis Kelce and George Kittle. Few will have Ertz at the top; his athleticism and team context aren't as lofty as Kelce's, while Kittle has uncommon speed for the position and the advantage of being the shiny new toy of the group. But if you want to sign off on Ertz as early as the second or third round, we'll tacitly approve. The position is especially top-heavy this year, and even if Ertz slips back to 2017 levels, you'll probably earn back the cost of the selection.
Ertz's catch and yardage stats have been stable and similar for three consecutive seasons, but last year was the first time the Eagles unlocked Ertz near the goal line as he was one of five tight ends with double-digit end-zone targets (10). The timing makes sense, as Carson Wentz 2.0 was a major upgrade from the rookie-year version. Wentz and Ertz also have a mind-meld that's unusual. It's obvious these two have spent a ton of time working together, developing the unspoken chemistry you see on Sunday. And if Nick Foles is required to play at all, that's not a concern for Ertz. The reliable tight end posted an 18-192-1 line in the playoffs, superb production on just 22 targets, when Foles replaced the injured Wentz. At 6-5, 250, Ertz, who turns 28 in November, is a safe place to park your money. Even on a Philadelphia team that spreads it around versus forcing the ball to its name players, expect Ertz to keep most of last year's touchdowns.
Ertz has increased his receptions three years running, but he's never been big on touchdowns. Last year's four spikes tied for a career high. The low touchdown count wasn't for a lack of trying; he saw 17 red-zone targets but only caught six and turned three into scores. He also had the lowest YPC of his career, and now there's a bit more competition for the ball, as the additions of veteran wide receivers Alshon Jeffery and Torrey Smith was offset by the August trade of Jordan Matthews to the Bills. Pass-catching back Darren Sproles is still around to fight with Ertz for short targets, but development from Carson Wentz could provide more overall production to go around. Ertz gets the check mark for durability; he's only missed three games in his four-year pro career. And he's always been seen as an intuitive and intelligent player, dating to his days at Stanford. We're comfortable projecting Ertz for another 70-plus catches and a yardage total around 800, but if he were going to become a big touchdown scorer, it probably would have happened by now. There's no shame in this being as good as it gets for Ertz -- he's the type of player you can draft with a good sense of what's likely to come, and that's a reassuring thing. Just don't start dreaming of a new level to climb.
After sharing the tight end job for two years with Brent Celek, the younger, more talented Ertz emerged last season as the top tight end option in the Philadelphia passing game, finishing sixth at the position in targets. He was limited early in the year by a groin injury, but as he got healthier, his output got better, and he finished with two touchdowns and two 100-yard games (narrowly missing a third) in the last five weeks. Unfortunately, those were his only scores and triple-digit games of the season. He was often targeted downfield, but his 20-plus catches (11), YPC and YPT were middling. However, Chip Kelly's up-tempo offense is gone, and in its place is new coach Doug Pederson's version of the West Coast Offense. Pederson oversaw Kansas City's offense the last three seasons, the last two of which saw tight end Travis Kelce excel. Except, in some ways, Kelce excelled in spite of a conservative Chiefs offense that limited his use downfield and in the red zone. Celek is still around, too, and will be used in two TE sets, but shouldn't take too many targets from Ertz. How it all shakes out and what it means for Ertz fantasy value remains to be seen. Kelce finished 8th in tight end fantasy scoring last season; Ertz was 10th. So, the room for growth looks small.
No question Ertz has more upside than 30-year-old Brent Celek, but Ertz still can't get on the field enough to break out. Ertz played just half of the Eagles' snaps last season (up from 40.8 percent as a rookie) while the sure-handed Celek, who is also valued for his blocking, played 69.3 percent of snaps. After splitting targets in 2013, Ertz had nearly 40 more than Celek last season, but that was only enough to barely make him a top-15 fantasy tight end, as he caught just three of 12 red-zone targets for one score. At 6-5, 250, with 4.76 speed, Ertz has the physical tools to be a playmaker, but he might not realize it until he improves as a blocker to keep Celek sidelined. A blocking tight end might be even more needed this year with the additions of workhorse running back DeMarco Murray and injury-prone quarterback Sam Bradford. And even with Jeremy Maclin's departure, targets likely won't be more plentiful. Jordan Matthews will soak up a lot of Maclin's 143 targets from last year, as will rookie Nelson Agholor and a backfield of Murray, Darren Sproles and Ryan Mathews.
A second-round draft pick last season, Ertz lived up to his billing, garnering slightly more targets than veteran Brent Celek (56-51). Ertz proved too quick for linebackers, and when teams covered him with defensive backs, the physical receiver used his 6-5, 250, frame to outwork them for the ball. A good route runner with nice hands, Ertz was limited to 428 snaps last year (Celek had 791) mostly because of his unrefined blocking. While he likely will improve that skill, he was drafted to catch passes, and this season he should have even more opportunities. Even if Celek has another 50 targets, Ertz could pad his targets with a large share of the 126 DeSean Jackson had last season. Jeremy Maclin is back after missing last season with a knee injury, and the Eagles drafted wideout Jordan Matthews in the second round, but the team hopes Ertz will become a primary receiver in the passing game. He likely will be split wide often this season after being used in tight and in the slot last year, as coach Chip Kelly looks to create mismatches in the passing game. Improved play from quarterback Nick Foles will help, too.
A second-round pick in this year's draft, Ertz finds himself behind Brent Celek and probably James Casey as well. Not known for his blocking, Ertz has enough athleticism to be a threat down the seam. As with most rookie tight ends, he's a long shot to be anything more than an occasional contributor in the offense, however.
More Fantasy News