Second-Year Running Backs Offer Potential Value

In my book Fantasy Football for Smart People, I discuss the historic value provided by rookie running backs. In general, rookie running backs fall too far in fantasy drafts because of the uncertainty that surrounds them. As we've seen in 2012 with backs like Trent Richardson, Doug Martin and Alfred Morris, rookie running backs can provide an immediate return if they're placed in high-volume situations.

Heading into the 2013 season, the values of Richardson, Martin and Morris will dissipate. That's not to say any of them will have poor seasons, but rather that the cost to obtain their services will make it improbable that they provide the same return-on-investment as they did in their rookie seasons. It's not a reason to avoid them in drafts per se - most highly-drafted players fail to outperform their ADP - but it's important to know that none of the three backs is likely to win you a 2013 fantasy championship; based on their projected draft spots, they'll be selected in an area where you'll be expected to hit on a player anyway.

The real value, perhaps, lies in second-year running backs who didn't live up to expectations in their first years (or even third-year players who underperformed in two straight seasons). C.J. Spiller is an example of an extremely talented player who turned in a disappointing rookie season before busting out a bit in 2011 and really flourishing in his unnecessarily limited role in Buffalo this year. Darren McFadden is another example - he rushed for 428 yards per season in his first two years before exploding for 1,157 in 2010 - as are LeSean McCoy and Ryan Mathews.

Like a stock trader, you can acquire value by jumping on an underperforming stock whose future output is likely to be more reflective than past production of his true worth. But lots of players play poorly in their rookie seasons without turning it around; how do you know who to target?

The Numbers

I recently collected data on rookie running backs, grading them in terms of how their rookie stats - carries, yards, and YPC - affected their career approximate value. Career AV uses bulk stats to rank players, and thus it's a good measure for fantasy owners to consider.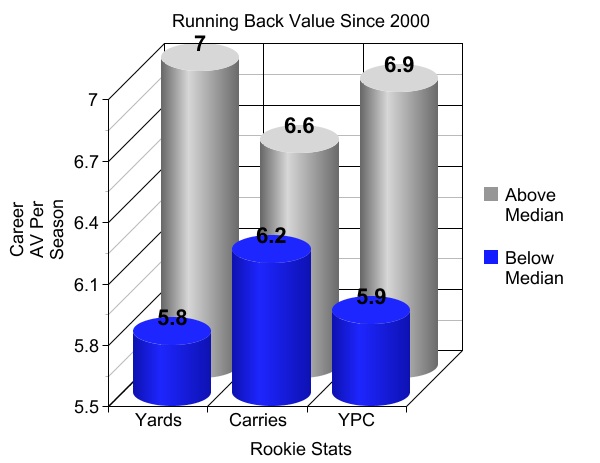 I sorted rookie running backs since 2000 by career AV, splitting them into either above or below the median. The rookie running backs who rushed for the most yards have gone on to have the most career success, which isn't really surprising. In general, the best rookie backs see the heaviest workloads in their first season. Plus, since rookie rushing yards add to career AV, there's a selection bias at play.

In reality, rookie YPC seems to be the best indicator of long-term success at the running back position. You can see that the rookie runners who have posted the highest YPC have gone on to have nearly just as much success as the running backs who have generated the most yards. And since YPC isn't a component of career AV, it won't naturally inflate the measure.

On top of that, since rookie rushing yards are obviously strongly correlated with heavy workloads, the fact that there's only a weak relationship between rookie carries and career success suggests that yards are inferior to YPC as a predictor of future production for non-rookie running backs.

Who to Target in 2013

Ultimately, I think there are two factors more important than rookie rushing yards in predicting future success: YPC and draft spot. Teams have an incentive to stick with running backs they selected high in the NFL draft, giving them more opportunities to produce for fantasy owners. Actually, a back's draft spot is probably a better indicator of future carries even than past carries; a running back like Morris could theoretically see a massive drop in efficiency and, after using only a sixth-round pick on Morris, the Redskins probably wouldn't have much of a problem benching him. Compare that to Richardson, whose low YPC as a rookie is less concerning as he was the No. 3 overall pick in the draft; the Browns aren't going to remove him from the lineup.

Having said that, let's take a look at some of the more interesting rookies in 2012.

Rookie Running Backs

• Trent Richardson: #3 Pick – 247 carries for 869 yards (3.5 YPC)

• Doug Martin: #31 Pick – 264 carries for 1,234 yards (4.7 YPC)

• David Wilson: #32 Pick – 41 carries for 211 yards (5.1 YPC)

• Ronnie Hillman: #67 Pick – 61 carries for 250 yards (4.1 YPC)

• Bernard Pierce: #84 Pick – 67 carries for 300 yards (4.5 YPC)

• Robert Turbin: #106 Pick – 65 carries for 290 yards (4.5 YPC)

• Vick Ballard: #170 Pick – 146 carries for 562 yards (3.8 YPC)

• Alfred Morris: #173 Pick – 253 carries for 1,228 yards (4.9 YPC)

• Bryce Brown: #229 Pick – 87 carries for 494 yards (5.7 YPC)

• Daryl Richardson: #252 Pick – 88 carries for 461 yards (5.2 YPC)

A few observations:

• Trent Richardson is surprisingly the worst rookie on the list in terms of YPC. The Browns' offense doesn't help, and Richardson will get plenty of chances to rack up points in future years, but it's something to keep in the back of your mind.

• The ideal candidate as a 2013 breakout player would be a highly-drafted running back without a lot of production but high efficiency in his rookie season. That description fits David Wilson perfectly, and you can bet his preseason ranking, at least on my board, will exceed his ADP.

• Alfred Morris has obviously been extremely efficient with Robert Griffin III taking pressure off of him. There's not really a major reason to avoid Morris in 2013, but his ADP may end up being a bit too high for any Shanahan-coached running back simply because you never know if he'll get pulled.

• Bryce Brown is such an intriguing player in 2013 because he's been absolutely remarkable in his rookie year, but he has LeSean McCoy ahead of him. It will be a situation to monitor in training camp next year.

• Even with Willis McGahee's career nearing its end, be cautious with Ronnie Hillman. He's effectively been replaced by Knowshon Moreno this year, and the rookie has been rather inefficient with his 61 carries.

• Give Daryl Richardson a long look in 2013. Steven Jackson has handled nearly three times as many carries as Richardson, yet averaged 1.3 yards less per rush. Jackson is beginning to get phased out of St. Louis's long-term plans, and Richardson won't cost you much next season as a seventh-round pick in the 2012 NFL Draft.

Jonathan Bales is the author of Fantasy Football for Smart People: How to Dominate Your Draft. He also runs the "Running the Numbers" blog at DallasCowboys.com and writes for the New York Times.