Projecting Running Backs Based on Age

Heading into the 2012 season, many fantasy owners were high on Benjarvus Green-Ellis. After proving to be a touchdown machine in New England, "The Law Firm" was set to rack up touches as Cincinnati's lead running back.
Green-Ellis did indeed see a heavy workload in 2012 with 300 total touches.

Despite finishing with the 10th-most touches for any running back in the league, Green-Ellis checked in at just 22nd in fantasy points at the position, due primarily to horrible efficiency; 3.9 YPC, 4.7 YPR, and a touchdown on just two percent of his touches.

So what went wrong? Green-Ellis was in a running back-friendly situation in Cincinnati. Further, at age 27, Green-Ellis was just entering the prime of his career, right? Maybe not.

I recently researched the production for all running backs with at least 100 touches in a season since 2000. Below, I charted those backs based on their total production and efficiency at each age.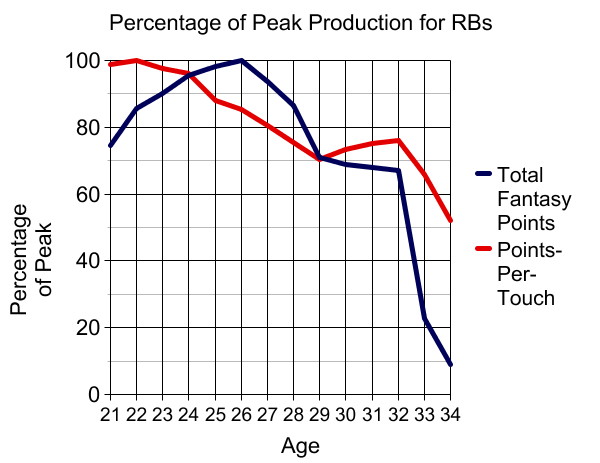 Contrary to popular belief, running backs don't see a dramatic drop in their total production around age 30. Instead, that decline typically occurs after their age 26 season. Yes, the typical running back's overall production peaks before his 27th birthday. From there, the drop is a steep one, with the average 29-year old back producing only 70 percent of the fantasy points he generated at his peak.

The decline in efficiency is even more amazing. The average NFL running back records the highest points-per-touch at age 22 - usually his rookie season or second year in the league. From there, the drop is pretty steady until age 30, when there's a slight increase. That small jump is probably due to more talented backs staying in the league while lesser players have been forced out. The rise is short-lived, with the average running back seeing a dramatic decrease in efficiency by age 33.

Looking at the chart, it's pretty clear that running backs don't peak at age 30. Actually, if you're considering drafting a 30-year old back, you can probably expect his production to remain steady for at least a couple of years. That production is nowhere near his past peak, but as long as that's factored into your decision on where to draft him, you should be fine.

The running backs that you might want to avoid most are those around the ages of 27 to 29. Most backs in that range are going to see a drop in production and efficiency - often a dramatic one - but it usually won't be accounted for in their ADP. That means you'll be paying for a player as if he's producing at his peak when he's more likely to give you about 85 percent of what you're expecting.

The best value on running backs, perhaps, is in the 21-24 range. Young running backs who have produced at a good-but-not-great level are typically undervalued. By age 24, both their efficiency and overall production should be within about five percent of its peak.

Looking at the graph, you can see just how valuable rookie and second-year running backs can be in dynasty leagues. Those players will inevitably see spikes in production, whereas runners in their mid-to-late 20s will likely see a drop in the coming years.

Let's assume you're considering two backs: a 23-year old coming off of a season with 1,000 total yards and eight touchdowns and a 27-year old back coming off of a season with 1,200 yards and 11 touchdowns. For most, the decision to grab the older runner would be an easy one. But let's take a look at their three-year outlooks, assuming they follow the typical running back production curve...
23-Year Old Back (Year Y = 148 points)

• Year Y+1 = 155 points
• Year Y+2 = 167 points
• Year Y+3 = 170 points

Three-Year Average: 164 points

27-Year Old Back (Year Y = 186 points)

• Year Y+1 = 179 points
• Year Y+2 = 163 points
• Year Y+3 = 130 points

Three-Year Average: 157 points

Although the older back would be projected to score more points in the upcoming season, he'd be below the younger back in the subsequent two years. Over a three-year period - a good timeframe to consider in dynasty leagues - the younger back with the lesser stats would be projected at an average of seven fewer points per season. Those are points you'd miss if you believed running backs were in their peak years until age 30.

It's also interesting to see just how little deviation there is in the projections for the young running back as opposed to the 27-year old - a difference of only 15 points compared to 49. That's pretty good evidence that young running backs are probably safer bets than older ones. Whereas it can be tempting to hang your hat on an old, "reliable" back like Steven Jackson, it's the running backs ages 23 to 26 who are really the safe picks. In the early portions of the draft when your goal should be risk-minimization, you might be able to find value - and safety - in young running backs.

It's important to note that the graph is hardly a comprehensive draft tool; there are tons of factors that go into each player's stock, so it shouldn't be used in isolation. However, it's still useful to know that running backs typically peak far earlier than most people believe, and you can utilize that information to your advantage.

And when other owners are jumping on the prototypical steady 28-year old running back because he's still on "the right side of 30," you can acquire value on the young guns who aren't on the wrong side of 26.

Jonathan Bales is the author of Fantasy Football for Smart People: How to Dominate Your Draft. He also runs the "Running the Numbers" blog at DallasCowboys.com and writes for the New York Times.