Building the Ideal Fantasy Running Back

When Ravens running back Ray Rice came out of Rutgers in 2008, no one could have completely foreseen his future NFL success. Rice was passed over by all 32 NFL teams, likely due to his 5-8 frame. The truth is that there were indicators of Rice's future dominance, including his stocky build and 4.42 speed.

Last week, I used past research to build the "prototypical" fantasy football quarterback. Today, I'll do the same with running backs.

Speed Kills

While opinions on the importance of the 40-yard dash differ from "completely worthless" to "he ran a what!?," the truth is the test is really important for running backs. In terms of approximate value - a good measure of overall production - the fastest running backs have been the most success, and it hasn't even been close.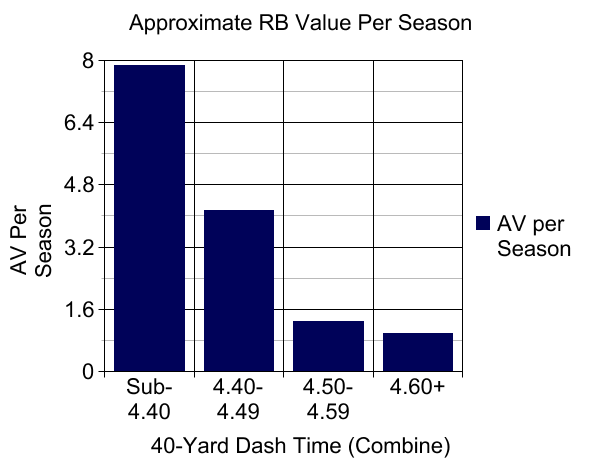 Running backs who have run sub-4.40 have been around six times as successful as those above 4.50, which is remarkable. The difference is far greater even than that for wide receivers. Frank Gore and Alfred Morris-type players are outliers at a position that has thrived on game-breaking speed over the last decade.

Bigger Is Better

Everything else equal, you always want bigger, faster players. For some positions, however, height is more important than weight. For running backs, height doesn't seem to be too crucial, whereas weight - or more specifically, height-to-weight ratio - predicts NFL success. Historically, "stocky" running backs - those with a high body mass index - have been able to withstand the wear and tear of the position better than tall, lanky ones.

By comparing a running back's speed to his size, we can get a really good idea of his future production. There are all sorts of advanced formulas out there to combine weight with metrics like the 40-yard dash and short shuttle, and those formulas seem to work better as a predictive tool than either speed or weight alone.

Heavy Workloads

While wide receivers can post outstanding fantasy numbers on efficiency alone, running backs absolutely require heavy workloads. Look at the 16 backs who rushed for 1,000 yards in 2012; with the exception of C.J. Spiller, every one of them had at least 220 carries, and most a lot more. The standard deviation of yards-per-carry is low; a top running back might average 5.5 YPC, which is barely 20 percent higher than the league average. That means the first stat you should consider when projecting running backs is total touches.

Efficiency > Bulk Stats as a Predictor

While a heavy workload is pivotal to elite production at the running back position, efficiency in terms of YPC can actually better predict success for second-year players. Looking at rookie running backs stats, the backs who were the most efficient in their rookie seasons have actually had superior careers than the backs who had the most carries or yards. If you're looking for a sleeper second-year running back, seek one who didn't have monstrous bulk stats but who was efficient when he got the ball. **cough** David Wilson **cough**

Youth Movement

Believe it or not, running backs play at near-peak efficiency from the moment they enter the NFL. Their total production tends to increase until around their mid-20s as their workloads do the same, but the idea that running backs are good until they turn 30 is crazy. Most running backs see a steady decline in overall efficiency as they age. By age 30, they're typically posting only around 70 percent of their previous peak production.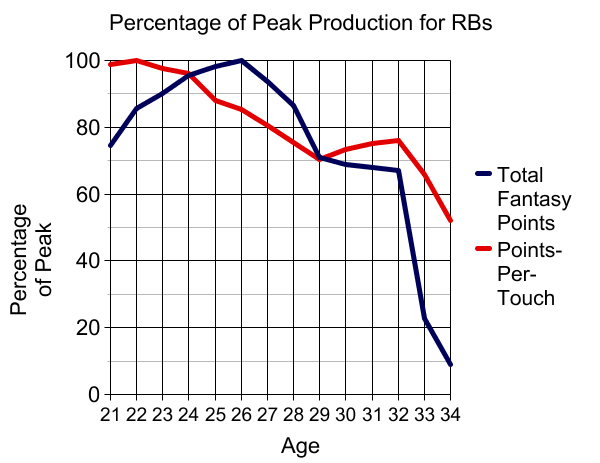 That's why rookie running backs can offer so much value. Owners fear the unknown, but rookie running backs who see heavy workloads - such as Trent Richardson and Doug Martin last year - often produce No. 1 running back numbers.

In keeper and dynasty leagues, you want to get as young at the running back position as possible. There's a big difference between a 27-year old and a 23-year old, even if their numbers in the prior season are comparable.

Jonathan Bales is the author of Fantasy Football for Smart People: How to Dominate Your Draft. He also runs the "Running the Numbers" blog at DallasCowboys.com and writes for the New York Times.