Visualizing 2012 Value to Help Prepare for 2013

I've been doing a lot of work with "VBD" (Value Based Drafting) lately because I think it's a powerful metric in assessing fantasy football value. VBD is measured at Pro Football Reference as a player's points minus the points for a specific baseline player (No. 12 QB, No. 24 RB, No. 30 WR, and No. 12 TE, e.g.). Adrian Peterson's 2012 VBD, for example, is his fantasy points (307 in standard leagues) minus the points for the 24th-ranked running back - Danny Woodhead (117).

VBD is useful because it naturally captures scarcity. If the No. 24-ranked running back had scored 290 points last season, Peterson's adjusted VBD of just 17 would be miniscule. That small number represents the ability to find a comparable player later in the draft. All other things equal, we don't necessarily want the player who will score the most points, but the player who will score the most points relative to others at his position, i.e. the biggest outlier. That's why Rob Gronkowski has more value in the early rounds than Matthew Stafford, despite the fact that the quarterback will score more points.
To better visualize VBD in action, I graphed the 2012 results by position.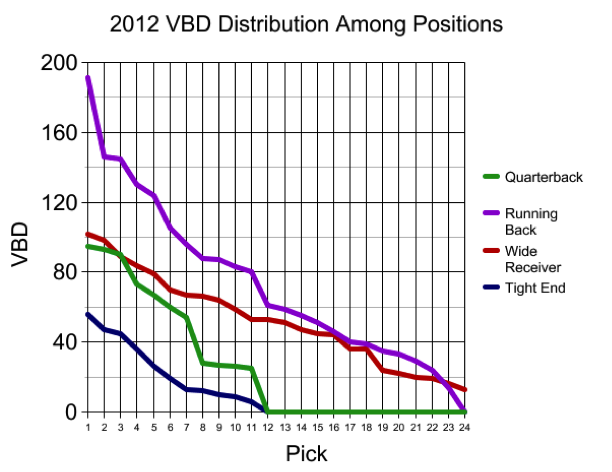 In addition to total VBD, we also want to look at the steepness of the drops. Let's break down each position:

Quarterback

• Although the total 2012 VBD for the top quarterbacks didn't come close to matching 2011, there's still a pretty steep drop after the first tier of passers.

• If you can get value on an elite quarterback in the second or third round, go ahead and pull the trigger. However, this probably isn't the year to draft a quarterback in the first round.

• If you're going to wait on a quarterback, you can really wait. If you go that route, consider pairing two quarterbacks in the later rounds - a Michael Vick/Sam Bradford combination, for example - as opposed to drafting just one passer.

Running Back

• The steep initial drop at the running back position was due to Peterson's other-worldly season. That's unlikely to repeat.

• Running back is loaded with VBD and has a steep drop as a whole, making it the most valuable early-round position this season. Don't use anecdotal evidence (e.g., "Hey I got Alfred Morris late last year.") to justify forgoing running backs early. You almost have to have at least two running backs through three rounds.

Wide Receiver

• Notice the flatness of the wide receiver line. Wide receivers aren't nearly as scarce as running backs.

• You can find quality high-upside wide receiver plays - Torrey Smith and Josh Gordon, for example - in the middle rounds. There's nothing like that at running back.

• You may or may not hit on those types of receivers, but the odds are in your favor if you go receiver-heavy in the middle and late rounds - a worthwhile strategy considering the lack of scarcity at the position.

Tight End

• The VBD results for tight ends weren't what many expected in 2012 because of Rob Gronkowski's injury. If Gronkowski looks like he's healthy heading into the season, he's worth an early-round selection because he's so scarce.

• Otherwise, you can wait on tight ends and potentially pair two high-upside guys in the same manner as quarterbacks.

Jonathan Bales is the author of the Fantasy Football for Smart People book series. He also runs the "Running the Numbers" blog at DallasCowboys.com and writes for the New York Times.