Breaking Down My NFFC Draft

Last night, I competed in the NFFC 12-Man RotoWire Fantasy Football Online Championship. With 2,400 teams competing for a grand prize of $100k (and league prizes of $2,200), it's a pretty good deal. The NFFC is a full PPR league that starts 1 QB, 2 RB, 3 WR, 1 FLEX, 1 K, and 1 D.

Heading into the draft, my goal was to come away deep at wide receiver; in running the numbers, I found that it's probably suitable to start a wide receiver in the flex, if possible, in this format. On a round-by-round basis, wide receivers selected in the same area as running backs typically outscore them in PPR leagues. Here's a quick look at my RB/WR/TE projections in Excel, for example: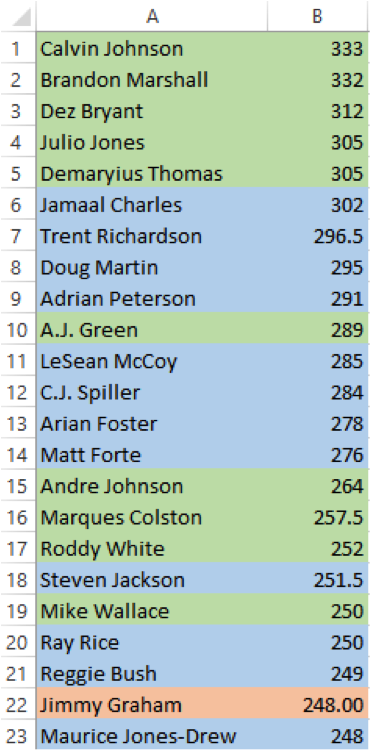 The top of the board is filled with receivers, and that trend continued down the board. I have Danario Alexander projected at the same number of points as Le'Veon Bell, for example, even though Alexander's ADP is much lower.

Having said that, my goal wasn't simply to fill up the wide receiver position at all costs simply to get one of them into the flex, because that would be leaving me bare at other positions. It's not like you can just start whoever you want; that you must start a tight end, for example, is what makes a player like Jimmy Graham so valuable. And due to the opportunity cost of bypassing running backs early, I still wanted to make sure I was strong (and deep) there.

So with the ninth overall pick, this is how I played it...




Round 1: RB Trent Richardson
Based on pre-draft analysis, I had a pretty good idea that I'd be getting either Richardson, C.J. Spiller or LeSean McCoy in this slot. I had them rated in that order. My goal was to take a running back here, bypassing one only if Calvin Johnson miraculously fell.

Round 2: WR Demaryius Thomas
Although many owners are moving back to RB-RB to start drafts (though surprisingly only two in this league), I have a handful of wide receivers projected well ahead of those in my second tier. You can see the drop from A.J. Green to Andre Johnson in my projections. I knew I wouldn't be able to land one of those top-tier players in the third round, so I grabbed Thomas here. My other option was Julio Jones, but as you'll see later, I prefer receivers who are No. 1 on their teams whenever I can get them.

Round 3: RB DeMarco Murray
The NFFC uses a third-round reversal format, meaning I actually picked fourth in the third round (and then ninth in the fourth). That's one of the reasons that I was able to go with a receiver in the second; my targets here were Reggie Bush, Maurice Jones-Drew and Murray. I was really disappointed to see Bush get selected just before me, but I'm still happy to land Murray given the presence of an elite wide receiver on my team. I think Murray will break out for a number of reasons.

Round 4: WR Marques Colston
I'm going to own Colston in a whole lot of leagues just because I have him rated higher than consensus. I think people are mistaking him for a low-ceiling player just because he's also safe, but that's not necessarily the case. On top of that, receiver is the one position at which I'll pay for past production because they tend to see only moderate jumps in fantasy points (which is also why I almost never own rookies).

In any event, I was planning to take McFadden here, but he got drafted one pick ahead of me. I wasn't thrilled with Colston at the time because I thought I could get him in the next round. When Reggie Wayne, Pierre Garcon, Hakeem Nicks, Antonio Brown, and Mike Wallace (my next target) all went off the board in the subsequent six picks, however, I think it's fair to say that Colston wouldn't have lasted.

Round 5: RB Ryan Mathews
The selection of Mathews represents the first pick that had me really disappointed. Have you ever really not wanted a player and you almost hope he gets taken before you because you don't want to be forced to choose him? That's how I felt about Mathews; he was the last running back in his tier and I really, really didn't want to have my next back, Gio Bernard, as my third option. And when Mike Wallace was taken just before me, I decided to bite the bullet and reluctantly select Mathews just because of his scarcity on my board.

Round 6: QB Andrew Luck
I was very happy to get Luck, especially when I saw the chain reaction it set off in the next three picks - all quarterbacks. In this particular format - one point for 20 yards and six points per touchdown - I had Luck rated No. 5 at the position. The drop from Luck to Tony Romo was more than 30 points on my board, and the dip from Romo to the next passer was even larger. This was a no-brainer for me.

Round 7: RB Shane Vereen
Not at all needing another running back at the time, I went with a true best player available strategy here because I see Vereen as such a high-upside player in PPR formats. His median projection isn't overwhelming, but his ceiling projection is magnificent because there's a very real chance that the Patriots utilize him early and often in the passing game with their weaknesses at tight end and wide receiver. I have a feeling Vereen will be my flex player quite often.

Round 8: WR Denarius Moore
Moore is not a great No. 3 receiver, obviously, and that's the price I had to pay when I selected Mathews for running back depth. The reason I did that is because I believe I can effectively replace No. 3 wide receiver production with multiple options (Moore and my next wide receiver pick, Chris Givens), but I don't think I could have waited and replaced Mathews' production without getting lucky on an injury.

Round 9: RB Andre Brown
In NFFC's default rankings, there are certain players ranked very low. Brown was one of them, and he dropped because of it. Make sure you're paying attention to the default rankings when you draft, because lots of owners use that as a guide. There's no reason in the world that Brown - a back who could split time with David Wilson and is a realistic threat to score double-digit touchdowns - should drop into the ninth round.

Round 10: Chris Givens
Like I said, I prefer receivers who are No. 1 options on their teams. Tavon Austin might catch a lot of passes in St. Louis, but that's not a given(s) since he's a rookie. Since 2000, only six rookies have finished even as No. 2 wide receivers in fantasy! I'll probably start Givens on a semi-regular basis, which isn't ideal, but I'll take him and his 120 projected targets as my fourth receiver all day.

Recap

This draft was a good example of why you need a fluid draft strategy. I went into it thinking I'd come out wide receiver-heavy, but that just wasn't the case based on how the picks fell. I'd be much happier if I had landed McFadden in the fourth round and Wallace in the fifth, but it's tough to nab those sorts of guys so late when you're in a competitive league like this one.

For the record, I'm weak at tight end with Ed Dickson and Heath Miller both on my roster. Other potential sleeper selections include Jeremy Kerley, Leonard Hankerson and Latavius Murray. I also own a player in Joe Flacco who I thought I'd never have on my team, but for whatever reason, he dropped to the 17th round. I never take players off of my board unless I'd literally never select them no matter what, so Flacco is a nice example of why players aren't inherently valuable or not, but rather valuable only in relation to their draft slots.

Jonathan Bales is the author of the Fantasy Football for Smart People book series. He also runs the "Running the Numbers" blog at DallasCowboys.com and writes for the New York Times.