Are offenses worse in Thursday night games?

Anecdotally, it sure seems that way. Last year, in particular, it appeared as though teams playing in Thursday night games, typically coming off of only three days of rest, just couldn't muster much offense.

Such a depiction of Thursday night football fits with common sense, too; given only a few days to prepare for a defense, we'd probably expect offenses to be a little less efficient at exploiting defensive weaknesses. You could argue that defenses also have less time to prepare, but I think it makes sense that offenses would struggle more. Defense is more about reacting than being the aggressor - even "aggressive defenses" still must constantly react to what the offense throws their way - so it makes sense they'd benefit less than offenses from extra prep time.

But does all of that fit with the numbers?

Thursday Night Stats

I spent some time charting four different stats from Thursday night games since 2009: passing yards, passing touchdowns, rushing yards and rushing touchdowns.

Here are the results from 2009 through 2012.

• Passing Yards

There's a shocker right off of the bat. In every season since 2009, teams have combined for more passing yards in Thursday night games than all other games.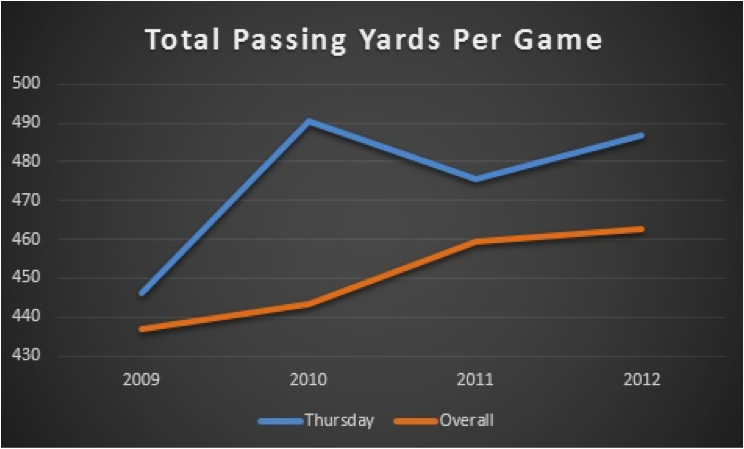 The numbers are actually pretty drastic, too. In 2010, for example, the offenses playing in the 10 Thursday night games combined for 490.6 passing yards per game - nearly 50 more yards than the overall mark.

• Passing Touchdowns

However, the passing success hasn't translated into scores. There have been more passing touchdowns per game overall than in the Thursday night games alone in all four seasons studied.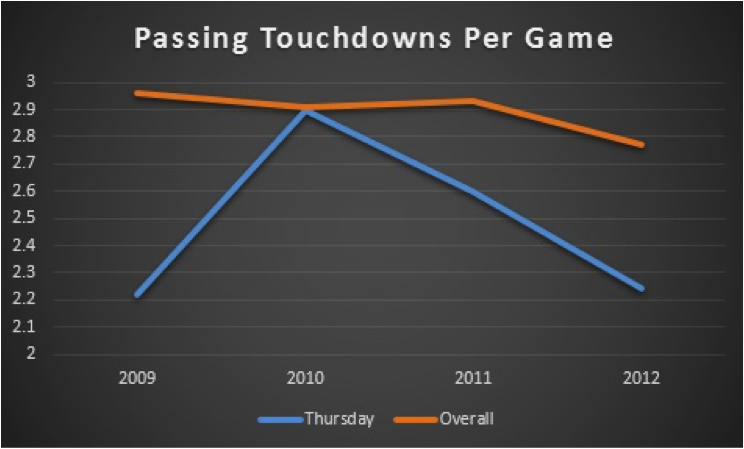 Again, these results are pretty clear. So why in the world are teams racking up yards through the air, but they can't pass the ball into the end zone?

I don't think this is a sample size issue because, over the past four years, there have been 46 Thursday night games. That's enough to suggest the big gaps in passing touchdowns actually mean something.

Before forming any sort of hypothesis, let's examine the rushing numbers.

• Rushing Yards

While teams have lit it up through the air in Thursday night matchups, they've struggled accumulating yards on the ground.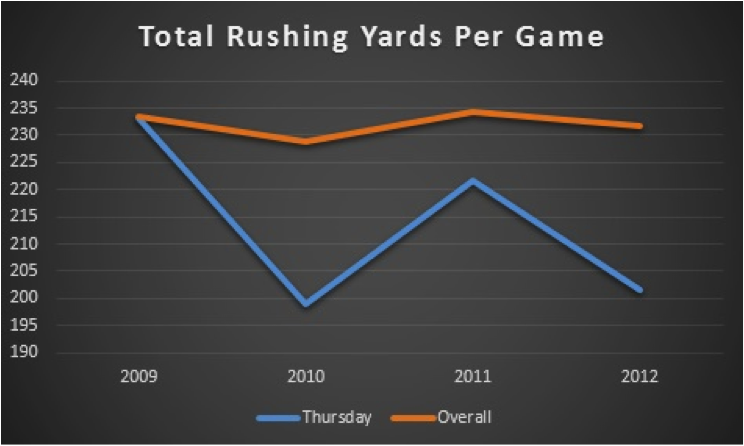 Over the past three seasons, especially, offenses just haven't had much Thursday night rushing success.

• Rushing Touchdowns

Finally, note that teams have rushed for fewer touchdowns on Thursday night in three of the past four seasons.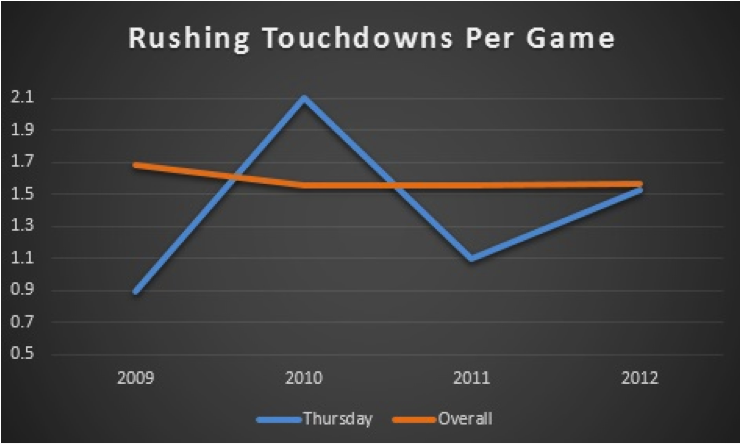 There's a small effect here, but probably not enough to be meaningful. While it makes sense that offenses would score less in Thursday games, and thus rush for fewer touchdowns, we really can't conclude anything from this data.

Wrapping Up

So what the heck are we supposed to make of these numbers? Here's my answer: I have no freakin' clue. The only possible answer I have is that because the NFL knows people are going to tune into Thursday night games no matter what, they don't seem to care much about the quality of the matchup.

Frequently, it seems as though 1) the Thursday night teams are below-average as a whole and 2) the games aren't very close. That could lead to more passing from the losing team that's not completely balanced out by more running from the winning team, inflating the total passing yardage. But because the teams are often slightly worse than in your typical matchup, there's less scoring overall.

Or I could be completely wrong.

Still, there appears to be some actionable data here. Even if we don't know why offenses generally seem worse on Thursday night except when it comes to racking up passing yards, it's still useful to know that a short week, for whatever reason, doesn't appear to affect the passing game as much as the running game.

Jonathan Bales is the author of the Fantasy Football for Smart People book series. He also runs the "Running the Numbers" blog at DallasCowboys.com and writes for the New York Times.