Checking in With My NFFC Team through Week 5

In late-July, I competed in the NFFC 12-Man RotoWire Fantasy Football Online Championship on behalf of RotoWire. It's a 2,400-team tournament consisting of 12-team leagues, with the winner of it all taking down $100,000. It's a full PPR league that starts 1 QB, 2 RB, 3 WR, 1 FLEX, 1 K, and 1 D.

Through Week 5, I have a 3-2 record and I'm ranked fifth of 12 in total points (752.9). Here's a look at my starting roster as it stands right now:

• QB Andrew Luck
• RB Trent Richardson
• RB DeMarco Murray
• WR Demaryius Thomas
• WR Marques Colston
• WR Denarius Moore
• TE Julius Thomas
• FLEX Knowshon Moreno

To say I've been bailed out by the Broncos is an understatement. I drafted Demaryius Thomas and Knowshon Moreno, but picked up Julius Thomas on waivers after Week 1. Other than that trio, my team has been brutal. I'm in six high-stakes leagues this year, and this was by far my worst draft.

Even so, I've been able to post consistent production each week. I've beat the league average in four of five weeks, though usually just barely.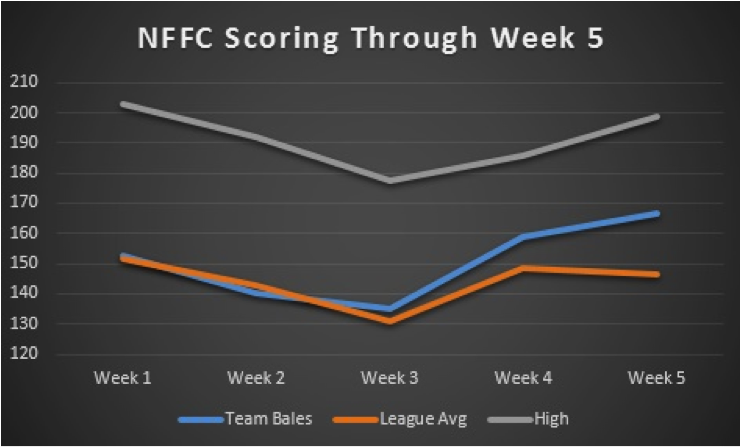 Based on my points scored, my 3-2 record is the most likely at this point. Although not ideal, I still have a shot at making a run to get into the playoffs.

But how good of a chance do I have, really? The truth is that I think it's pretty horrible - worse than the chances for a team I have currently sitting at 2-3.

The reason is that my team possesses little upside. Sitting at 3-2, I'm still very much an underdog to finish in the top two in this league. As I explained in the past, underdogs need to adopt a high-variance approach.

Well I can't trade in this league, so I'm basically stuck with what I got. Now, I have some players on the bench coming back - I lost both Shane Vereen and Andre Brown, seventh and ninth-round picks, respectively, early in the season - and I also have Ryan Mathews and EJ Manuel sitting there.

But of my starting skill players, 62.5 percent of them play on either the Colts or Broncos! Only three of my starters play outside of Indy or Denver. That could be okay for my mediocre team if I had a quarterback and wide receiver/tight end pair, but I don't.

In fact, the production of many of my starters is inversely correlated. As Luck's production increases, Richardson's is likely to do the opposite. The same goes for Moreno and the Thomases (though to less of a degree in Denver's high-powered offense). That might be part of the reason my team has been so consistent this year, but it could eventually be my downfall as well.

At some point, I'm going to score an average number of points and get beat, and that can't happen more than about one more time. I need some big-time scores, but that's just very unlikely with so many teammates working together.

So if you find yourself in this sort of situation in a traditional league, consider making a trade. Your situation might be a little different since you don't necessarily need as much upside as possible in order to win $100k, but the concept is the same; underdogs need variance.

Moving forward, I'll be making lineup decisions based on my opponents. If I'm playing a quality squad, I'll need upside. That means if I have two players at the same position projected near one another, I'll side with the non-Colts/Broncos player.

On the other hand, I won't really have as much of a problem playing Luck and Richardson together, for example, when I face the team in last place. An average score in such a matchup would be a heavy favorite to win.

A final tactic I'll use is playing certain players based on the opponent's lineup. When I face off against the owner with Peyton Manning, for example, you better believe I'll be playing Thomas & Thomas. When I play the owner with Reggie Wayne, I might be more inclined to start Manuel (if he's back) or Joe Flacco (ew) over Luck just to maintain some upside within my head-to-head matchup. If Luck were to go off, chances are the other owner would be ahead anyway.

Ultimately, my team doesn't have much of a shot. But I'll do everything I can to increase my ceiling. If you find yourself in a similar position with a struggling team, you should be making trades, setting your lineup, and putting in waiver claims in such a way that you can take on as much variance as possible.

Jonathan Bales is the author of Fantasy Football for Smart People: How to Dominate Your Draft. He also runs the "Running the Numbers" blog at DallasCowboys.com and writes for the New York Times.