Fantasy Contributions from Players Listed as 'Questionable'

The dreaded 'Q.' Absolutely the worst letter out there for fantasy owners. Not only is it scared to go anywhere without it's big brother 'U,' but it also often necessitates last-minute roster changes. And even if 'Q' plays, who knows if he's going to give you his regular production?

Well, I do. I can't tell you how many times I've made close lineup decisions based on player health. If I were deciding between two players, and one was questionable while the other wasn't on the injury report, you better believe I was getting as far away from 'Q' as possible.

I owe you an apology, 'Q.' You make my life a little harder, I guess, but you aren't as poisonous as I thought. I charted the fantasy points scored by questionable players relative to their average points scored during that season, and here's the distribution: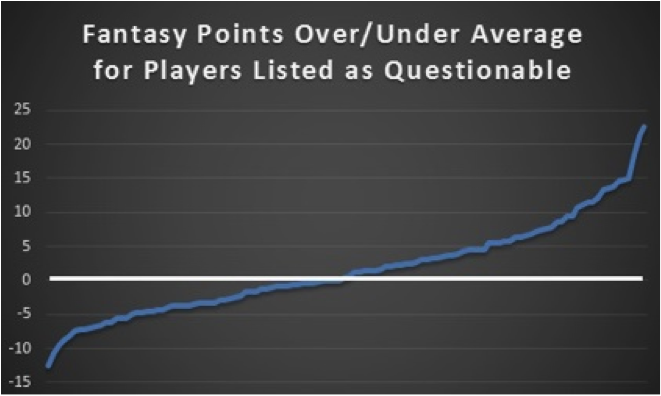 The bold line represents no change from normal. There's slightly more area below the curve and above zero than above it and below zero, suggesting players have actually scored more points than average when listed as questionable. Indeed, that's the case; the average change in fantasy output for the questionable players I analyzed was +1.57.

Now, I don't think questionable players really perform better than normal because they're questionable. You could make an argument that, if the opponent is unsure if they'll play, they might not game plan for them, thus leading to greater success.

However, a more likely explanation is just that there's more room for upside than downside. A player who normally scores 7.0 fantasy points per game can really only underachieve by seven points (and that's highly unlikely), whereas he can easily triple or even quadruple his typically fantasy output with an elite performance.

Thus, in this situation, I think a better way to analyze the data is simple addition: how many players underachieved, and how many overachieved? The answer is the same - as in half of the questionable players performed better than normal and half were worse than average.

In a typical distribution, you'll normally see more games below the average than above it because of the upside effect; there's more room for above-average outliers than below-average ones. Here's a sample 16-game fantasy-point distribution: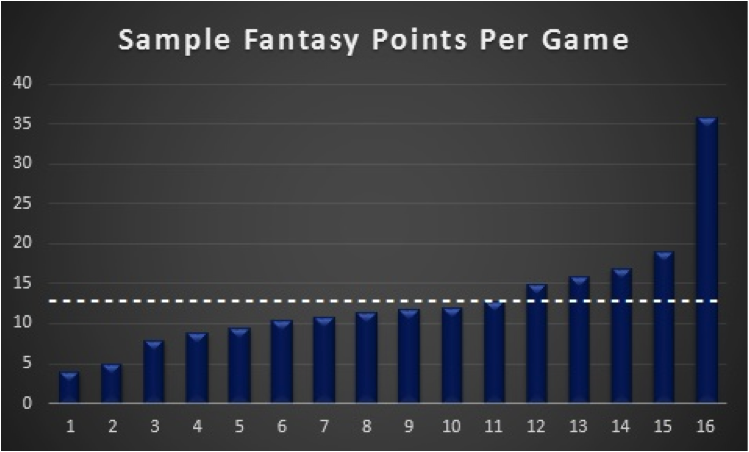 In this case, the sample player scored 13 points per game. But because of one outlier, 11 of the 16 performances occur below the mean. That's just a necessary outcome of point distributions over the long run.

Thus, the fact that half of questionable players have overachieved relative to their season averages hints you can play them without much hesitation. They might still be hurting, but with modern medicine and all of the pain injections they get before and during games, there's probably not as much risk surrounding questionable players as we (or just I) thought.

If a player is healthy enough to start a game, he's healthy enough to be in your starting lineup.

Jonathan Bales is the author of the Fantasy Football for Smart People book series. He also runs the "Running the Numbers" blog at DallasCowboys.com and writes for the New York Times.