This article is part of our Collette Calls series.
If you follow me on Twitter these days (@jasoncollette), you might have noticed that I am using the hashtag #DJ1K lately. I can't take full credit for that as the idea came from Grant Paulsen who hosts the Minors and Majors show on Sirius/XM on Sunday mornings as well as some of the fantasy segments that air during weeknights. He and I were trying to come up with reasons why Desmond Jennings was still in Durham and not in the majors, and outside of his minor injuries of late, we figured the team had some celebration planned to honor DJ's 1000th plate appearance in Durham later this weekend.
I bring this up because everyone is frustrated with the Desmond Jennings situation. The Rays have been shut out 10 times this season with left field being patrolled by the likes of Sam Fuld and Justin Ruggiano and the group has produced below league average production as left fielders putting up just a .682 OPS so far this season. That frustrates Rays fans, and it frustrates fantasy owners who have sat on Jennings all season and have watched many other prospects get called up throughout the season. Jose Altuve, who started the season in the California League, is in the major leagues. Eric Hosmer, Mike Moustakas, Mike Trout, and Dustin Ackley were all ranked around Jennings in preseason lists but just he and Jesus Montero are still in the minor leagues. With the Super Two deadline gone and Jennings healthy, only Andrew Friedman knows why Jennings is still playing in Durham at this point so anyone who offers you a definitive reason why Jennings is down there is using their Jumping to Conclusions mat.
While this situation is frustrating to fantasy owners, it is not unprecedented. Three other prospects that were ranked in the Top 10 by Baseball America spent more time in Triple-A before getting a full-time job in the major leagues than Jennings has: Wilson Betemit, Vernon Wells, and B.J. Upton.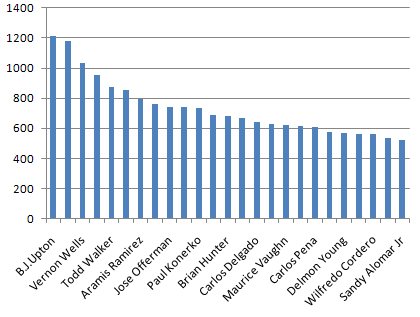 Betemit was ranked as the 8th-best prospect in the 2002 Top 100 list by Baseball America as a member of the Braves' organization. In 2001, he hit .305/.349/.449 while playing for High-A Myrtle Beach and Double-A Greenville at age 19. He would make it to Triple-A Richmond in the 2002 season and stayed there well into the 2004 season while accumulating 1,177 plate appearances. Betemit had a .683 OPS his first season, a .729 OPS his second season, and a .802 OPS in his final season before finally sticking with the Braves in 2005 when he was out of options and hitting .305 with a .794 OPS as a part-time player in three infield spots. Betemit's career can be best described as a disappointment, as he's had trouble hitting righties and more trouble playing defense but he was fantasy gold for anyone that picked him up as a $1 player last season when he hit 13 homers and hit .297 in just 315 plate appearances.
Wells was ranked as the 4th-best prospect in 2000 and the 12th best in 2001 while in the Blue Jays' system. He played at three levels (High-A, Double-A and Triple-A) in 1999 hitting .334/.390/.522 that season with 18 home runs and 24 stolen bases. He had 143 plate appearances in Syracuse in 1999, but Toronto sent him back there for the 2000 season and he hit just .243/.313/.432 in a full season, but had 54 extra-base hits and 23 steals. Toronto sent him back there in 2001 because they had an outfield of Shannon Stewart, Jose Cruz Jr., and Raul Mondesi and liked Brad Fullmer as their Designated Hitter. In that third stint in Syracuse, he hit .281/.333/.453 with 43 extra-base hits and 15 steals before becoming a full-time player the next season for the Blue Jays. Wells is struggling this season but he has been a rather nice fantasy asset for a few seasons, particularly from 2002-2006. Wells ended up with 1,035 plate appearances in Triple-A before staying with Toronto for good.
Upton was promoted to the majors by Devil Rays ownership at the age of 19 after producing at a high level for a season-and-a-half from 2003 to mid 2004. In 2003, he played in Low-A ball and skipped over High-A straight to Double-A and hit .297/.390/.431. Im 2004, he went back to Double-A for 120 plate appearances and then went to Triple-A for 313 more and in that time, he hit .315/.410/.505. He was called up for 177 plate appearances and thus spoiling his rookie status later that season and hit .258/.324/.409 while carrying a 15:46 BB:K. Friedman and company took over the following season and Upton was sent back to Triple-A and stayed there for all of 2005 despite hitting .303/.392/.490 with 60 extra-base hits and 44 stolen bases while striking out 127 times. In 2006, he went back to Triple-A and hit .269/.374/.394 in 470 plate appearances while working on making more contact and finding a defensive home after failing at shortstop, second base, and third base. In all, Upton would see 1,214 plate appearances in Durham before he came up in 2007 for good. That would be the equivalent of Jennings staying down for the rest of the minor league season and waiting until 2012 to permanently stay with the Rays.
In the case of Wells and Upton, the extended time in Triple-A did not stall any development. Upton came up at age 22 and Wells joined the Jays at age 23; Jennings will turn 25 years old this coming offseason. That said, he has had more than 460 plate appearances just once in his entire career due to different injuries and if he is able to stay healthy for the rest of 2011, he may eclipse that total this season as well. If not for the time lost in 2007 and 2008 due to injury and some of the time here in 2011 due to wrist and finger issues, Jennings could already be in left field for the Rays. One argument is that the team wants him to be the center fielder and they are waiting to move Upton to create that space for him, but organizational types like Fuld and Ruggiano should not be getting as much time as they are over a guy like Jennings, or even Brandon Guyer for that matter. The team's insistence on keeping both of these bats down while struggling mightily to generate offense at Tropicana Field and against left-handed pitching is mind-boggling to all that cover and follow the team.
Jennings is not down in Durham due to defensive reasons as he is a very good defender and the passing of the Super Two deadline removes any financial restraints on the team. If it is simply a matter of making him an everyday center fielder, than his future is tied to B.J. Upton's between now and the trade deadline. If it is anything else, we will continue to be in the dark as the Rays are air-tight about sharing information on this matter. I was told in late June to "expect him soon;" it has been four weeks and still there's no sight of the organization's top positional prospect.