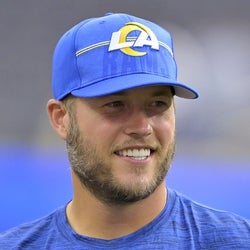 2023 Fantasy Outlook
The Rams turned in the worst Super Bowl title defense in NFL history last year (5-12), and Stafford was a big reason why. Before missing a game with a concussion and then the last seven games with a spinal cord contusion, Stafford struggled to a 10/8 TD/INT in nine games. His YPA dropped by more than a yard from the previous year to 6.9 (21st) while his average target depth dropped by nearly two yards to 6.7, 29th in the NFL. Stafford's downfield passing took a big hit as his on-target percentage sank to 37.5 (30th) on attempts of 20-plus yards. Other than Cooper Kupp, who only played nine games, Stafford didn't have a quality wideout to target -- Allen Robinson was a free-agent bust, Van Jefferson missed the first six games with a knee injury and Ben Skowronek and Tutu Atwell failed to develop. Robinson is gone, but the Rams did not acquire additional receiving weapons through free agency or the draft other than fifth-round pick Puka Nacua. So, it will be Kupp, Jefferson, Skowronek and Atwell again, along with TE Tyler Higbee. Stafford doesn't run and the offensive line is poor (though second-round pick Steve Avila could help at LG). It's not a good fantasy recipe.
Read Past Outlooks
$Signed a four-year, $160 million contract with the Rams in March of 2022.

Coach Sean McVay said Tuesday at the Annual League Meeting that Stafford (neck) is healthy and "there will be no limitations" when he resumes football activities,
Andrew Siciliano of NFL Network
reports.
ANALYSIS
Stafford is recovering from a spinal cord contusion that caused him to miss the last seven games of the 2022 season, but it appears that he's on track to participate in offseason workouts without any significant limitations. The 35-year-old play-caller's health will be one of the more pivotal factors in determining the Rams' success during the upcoming campaign, though the same can be said for star wide receiver
Cooper Kupp
(ankle), who is working his way back from tightrope surgery. Stafford didn't throw in offseason workouts last spring due to elbow tendinitis, so it will be notable if he's indeed able to participate in April's OTAs without any restrictions.
Read More News
NFL Stats
Fantasy/Red Zone Stats
See red zone opportunities inside the 20, 10 and 5-yard lines along with the percentage of time they converted the opportunity into a touchdown.
Loading Fantasy/Red Zone Stats...
Advanced NFL Stats
How do Matthew Stafford's 2022 advanced stats compare to other quarterbacks?
This section compares his advanced stats with players at the same position. The bar represents the player's percentile rank.
The longer the bar, the better it is for the player.
Bad Pass %

The percentage of passes that were considered to be poorly thrown.

Avg Target Depth

The average number of yards thrown per pass by the quarterback – including incomplete passes.

Sack Rate

The percentage of dropbacks where the quartback was sacked. The longer the bar below, the more often they are sacked relative to other QBs.

Avg Receiver YAC

The average number of yards after the catch that receivers gained on passes thrown by this quarterback.

Receiver Drop %

The percentage of passes dropped by receivers on passes thrown by this quarterback. The longer the bar, the more sure-handed his receivers have been.
Loading Advanced NFL Stats...
2022
2021
2020
2019
2018
2017
2016
2022 NFL Game Log

Calculate Stats Over Time
Just click on any two dates.
Scoring
Standard
PPR
Half PPR
FanDuel
DraftKings
Yahoo DFS
2021 NFL Game Log

Calculate Stats Over Time
Just click on any two dates.
Scoring
Standard
PPR
Half PPR
FanDuel
DraftKings
Yahoo DFS
2020 NFL Game Log

Calculate Stats Over Time
Just click on any two dates.
Scoring
Standard
PPR
Half PPR
FanDuel
DraftKings
Yahoo DFS
2019 NFL Game Log

Calculate Stats Over Time
Just click on any two dates.
Scoring
Standard
PPR
Half PPR
FanDuel
DraftKings
Yahoo DFS
2018 NFL Game Log

Calculate Stats Over Time
Just click on any two dates.
Scoring
Standard
PPR
Half PPR
FanDuel
DraftKings
Yahoo DFS
2017 NFL Game Log

Calculate Stats Over Time
Just click on any two dates.
Scoring
Standard
PPR
Half PPR
FanDuel
DraftKings
Yahoo DFS
2016 NFL Game Log

Calculate Stats Over Time
Just click on any two dates.
Scoring
Standard
PPR
Half PPR
FanDuel
DraftKings
Yahoo DFS
Snap Distribution / Depth Chart
2022 Matthew Stafford Split Stats
Loading NFL Split Stats...
How do Matthew Stafford's measurables compare to other quarterbacks?
This section compares his draft workout metrics with players at the same position. The bar represents the player's percentile rank. For example, if the bar is halfway across, then the player falls into the 50th percentile for that metric and it would be considered average.
Recent RotoWire Articles Featuring Matthew Stafford
See More
We asked some of RotoWire's football writers for their favorite sleepers and busts for the 2023 fantasy season. Who's undervalued? Who's overvalued? Here are the results.
Past Fantasy Outlooks
2022
2021
2020
2019
2018
2017
2016
2015
2014
2013
2012
2011
2010
2009
The handsome price paid to acquire Stafford last season proved more than worth it as he led the Rams to a Super Bowl title. He was asked to do what Jared Goff could not - stretch the field and make big plays. Stafford engineered an offense that led the league with 18 plays of 40-plus yards while ranking third in YPA at 8.1, the second most of his career. Stafford tied a career high with 41 TD passes (2nd) to finish QB6 in fantasy, his highest mark in a decade. He wasn't terribly efficient - he led the league with 17 interceptions, nine of which came on attempts of 20-plus yards where he ranked 18th in on-target percentage (46.6 percent). Stafford's intermediate passing, though, helped turn Cooper Kupp into an MVP candidate and delivered plenty of big plays. On attempts of 10-19 yards, Stafford had 10 TD passes and no interceptions, leading the league in passer rating (126.0). A healthy Cam Akers could help the short passing game this season, and while Robert Woods was traded and Odell Beckham likely is out until November with an ACL injury (should he re-sign), the WR corps remains stellar with Allen Robinson joining Kupp and Van Jefferson, in addition to reliable TE Tyler Higbee. Stafford adds nothing on the ground, but he has enough passing-game opportunity in Sean McVay's explosive offense to be a fantasy starter again.
Stafford's final season in Detroit was like most of his career. He topped 4,000 yards passing for the eighth time in 12 seasons and missed the playoffs for the ninth time. In fact, Stafford has the most passing yards (45,109) and TD passes (282) in NFL history of any quarterback without a playoff win. A playoff shot is partly why he agreed to end the Stafford era in Detroit, as he was traded this offseason to the Rams for two first-round picks, a third-round pick and Jared Goff. The Rams have the Super Bowl in mind, which is why they were willing to give up a ton for the 33-year-old, including a $24.7 million dead cap hit by trading Goff's contract. The biggest problem with Goff was his inability to stretch the field with the deep ball. That shouldn't be a problem for the strong-armed Stafford, who ranked second last year with a 60.0 percent on-target rate on attempts of 20-plus yards — Goff's was 38.8 percent, 25th. What's more, Goff's completion percentage on downfield passes was 26.5 with an 8.5 YPA; Stafford's was 40.0 percent at 13.5 YPA. Coach Sean McVay hopes Stafford can help create more chunk plays this season (10.7 YPC last season, 22nd), and to that end the Rams signed DeSean Jackson and drafted Tutu Atwell (4.32 30) to complement WRs Robert Woods and Cooper Kupp and TE Tyler Higbee. Stafford suffered various injuries last season, including a partially torn UCL in his right thumb that required offseason surgery, but he was healty at OTAs in June. He won't add rushing stats to his fantasy profile, but he could become the first 5,000-yard passer in Rams history.
It was an unexpected season for Stafford last year in more ways than one. After Stafford had a career-low number of attempts for a full season in Matt Patricia's first year as head coach in 2018, the Lions hired run-heavy offensive coordinator Darrell Bevell last year. But instead of seeing even fewer attempts, as expected, Stafford came out throwing. By midseason, he was on pace to challenge career highs with nearly 5,000 yards and 38 touchdowns. But then, after not missing a start for eight consecutive years, his season ended thanks to multiple fractures in his back and a hip injury in Week 9. Stafford's production wasn't just about volume; the Lions continually attacked downfield. Despite playing only eight games, Stafford attempted 50 passes of more than 20 yards (19th), throwing six touchdown passes — more than 21 qualified quarterbacks. His percentage of attempts longer than 10 yards (36.4) ranked fourth, as he posted a league-high 11.3-yard average depth of target and the second-highest YPA (8.6). Will the Lions continue the aerial assault this season? They drafted RB D'Andre Swift to pair in the backfield with Kerryon Johnson, perhaps signaling a desire for more balance after ranking 20th in the league last year in run-play percentage (39.9). It also doesn't seem likely at age 32 coming off a serious back injury that Stafford can keep pace over a full season with last year's career-high passing rates, especially his 6.5 TD pass percentage (4th), even with an excellent group of receivers in Kenny Golladay, Marvin Jones, Danny Amendola and 6-5 tight end T.J. Hockenson.
Bad teams tend to throw a lot of passes, and the Lions have chucked it around more than most throughout Stafford's tenure as starting quarterback. But things changed last season under new coach Matt Patricia, with Stafford attempting his fewest passes in a full season even as the team lost 10 games. A seven-year streak with more than 4,000 yards was broken, despite Stafford starting all 16 games for an eighth consecutive year. It didn't help to lose wide receiver Golden Tate to a midseason trade, and things only got worse when wideout Marvin Jones suffered a season-ending knee injury shortly thereafter. Kenny Golladay seized the opportunity and surpassed 1,000 receivng yards, so the Lions shouldn't hurt for receiving weapons even without Tate. They signed slot receiver Danny Amendola and tight end Jesse James, then used the eighth overall pick in this year's draft on tight end T.J. Hockenson. Of course, the team also replaced pass-first offensive coordinator Jim Bob Cooter with the run-heavy Darrell Bevell, who leaned on Marshawn Lynch and Adrian Peterson at his previous NFL stops in Seatte and Minnesota, respectively. Throw in some splash signings on the defensive side and it becomes clear Patricia is trying to win without having Stafford throw 600 passes. It is hard to say if the plan will actually work, but last season gives us hard evidence that Patricia is committed to his way of doing things. For a quarterback who's typically relied on volume more so than efficiency, the fantasy prognosis doesn't look great.
Stafford's efficiency continued to grow last season in Jim Bob Cooter's offense, as he posted a career high in YPA and his second-highest completion percentage. But unlike the previous year and a half under Cooter's play calling, Stafford actually threw the ball downfield consistently. He ranked fourth in attempts beyond 20 yards, tying for the league lead with 29 completions, as the Lions passed up the dink-and-dunk for a more vertical attack, especially in the season's second half. After an up-and down first half, Stafford led the league in the second half in passing yards (2,595) and YPA (8.8), with 17 TDs while completing 70.5 percent of his passes. The result was a four-year high in passing yards despite a career-low number of attempts for a full season. Considering the latter, Stafford's career-high 47 sacks (2nd in NFL) became even more magnified. The extra pressure allowed by an injury-riddled offensive line contributed to Stafford's seven lost fumbles, tied for the league high. The Lions hope better health and rookie interior lineman Frank Ragnow, drafted 20th overall, will keep Stafford upright. While the Lions changed head coaches this offseason, Cooter is back to run the offense, and second-year wideout Kenny Golladay is poised to join Golden Tate and Marvin Jones - the only WR teammates in the league to both top 1,000 receiving yards last season - as a bigger part of the offense after tight end Eric Ebron was released. The Lions also hope they upgraded an almost nonexistent running game with LeGarrette Blount and second-round pick Kerryon Johnson. Even if Stafford loses some attempts, he's proven he's no longer dependent on pure volume to put up big passing numbers.
Stafford fared well in his first season without Calvin Johnson last year, largely thanks to offensive coordinator Jim Bob Cooter's short, quick-strike passing game that spreads the ball. Since Cooter became playcaller mid-2015, only 26.6 percent of Stafford's attempts have traveled more than 10 yards, down from 33.1 percent between 2011 and mid-2015. The result has been a more efficient Stafford, with his completion percentage under Cooter jumping to 66.6 (61.3 pre-Cooter) and his YPA to 7.3 (7.1), while his INT rate has dropped to 1.5 percent from 2.6. And with no Megatron, the Lions became the first team since the record-setting 2013 Broncos with five 50-catch players. Stafford led an NFL-record eight late-game comebacks last season, but tore ligaments in the middle finger of his throwing hand Week 14 and struggled the rest of the way. The finger is healed, but Stafford is without 95-target Anquan Boldin. A healthy backfield -- the top four RB missed a combined 26 games -- will take a chunk of those targets, as could third-round pick Kenny Golladay, who at 6-4 is the tallest wideout on the roster. The team also prioritzed upgrading its middling O-line in the offseason, but left tackle Taylor Decker suffered a torn labrum in June and likely will miss the beginning of the year.
It's the end of an era in Detroit, as for the first time in his career Stafford won't have Calvin Johnson to throw to. The 28-year-old quarterback has made his living putting the ball up for Megatron, posting five consecutive seasons with at least 4,250 passing yards and 20 TDs, and it can't be understated how different the Lions will look without Johnson commanding attention on the outside. One big clue to the team's future offensive philosophy came in the draft, however, when they used three of their first five picks on offensive linemen and none on wide receivers. Stafford is usually among the most-sacked QBs in the NFL (44 last season, tied for sixth most), and the new road-graders are more likely to help with the running game than pass protection. Detroit did bring in Marvin Jones from Cincinnati to help replace Johnson at wide receiver, and Golden Tate has proven himself capableas the No.1 option in the past when Johnson was injured, yet it still seems very possible the team will look to run more in 2016. That said, the passing game sprung to life in the second half last season after quarterbacks coach Jim Bob Cooter replaced Joe Lombardi as offensive coordinator, with Stafford posting a 19:2 TD:INT over the final eight games.
Despite having the best stable of offensive weapons in his career, Stafford largely disappointed last season. Stafford's never been especially efficient, as his best seasons were mostly products of tremendous volume. And last season his YPA (19th) and completion percentage (25th) could not make up for a four-year low in attempts (though he still ranked fifth in the league). Stafford has perhaps the league's strongest arm and utilizes multiple release points, but he might trust his arm too much at times, considering his suspect decision-making and accuracy. Calvin Johnson being limited or out five weeks with an ankle injury surely didn't help, nor did an offensive line that allowed 45 sacks (4th most). Stafford could also use more help in the red zone, where he converted only 19.7 percent of his 76 attempts into touchdowns, ranking 25th. Second-year tight end Eric Ebron, 6-4, 265, certainly has that potential and is expected to be the third option in the passing game this year. The second option, Golden Tate, proved his value as he became the first player other than Megatron to lead the team in receiving since 2007. Reggie Bush is gone, but Joique Bell, Theo Riddick and rookie Ameer Abdullah provide a trio of pass-catching running backs. Despite coach Jim Caldwell's proclamation that the Lions will throw less this season, it wouldn't surprise if Stafford had more attempts, considering the losses of Ndamukong Suh and Nick Fairley weakened the defense.
Despite throwing to one of the league's thinnest receiver rotations and finishing the year with a miserable four-game stretch in which he threw for just two touchdowns and five interceptions, Stafford still managed to finish his fifth season with 4,650 yards and 29 touchdowns. It's safe to expect improvement in 2014, perhaps to a significant extent, especially considering the Lions secured two major pass-catching upgrades in the offseason by signing wide receiver Golden Tate away from Seattle and drafting tight end Eric Ebron with the 10th overall pick. Tate was extremely efficient for the the Seahawks, averaging 9.6 yards per target over the last two seasons. By contrast, second- and third-leading Lions' wideouts, Nate Burleson and Kris Durham, averaged only 8.5 and 5.8 yards per target last season, respectively. Ebron, meanwhile, provides wideout speed on a 6-foot-4, 245-pound frame, and he showed a knack for making spectacular catches at North Carolina. Ebron actually led the Tar Heels in receptions and receiving yardage last season, tallying 62 catches for 973 yards (15.7 YPC). He'll be a major upgrade over Brandon Pettigrew and gives Stafford a legitimate red-zone alternative to Calvin Johnson. Reggie Bush and Joique Bell will continue providing Stafford with solid production both in the running and receiving games.
Coming off of a season in which he attempted 727 passes – the most in NFL history – Stafford has plenty of room to become more efficient. Stafford's 59.8-percent completion rate matched his career mark, but that's not a good thing in the quarterback's fourth season in the league. And his 6.8 YPA ranked him 21st among the 29 QBs with 300 passing attempts. While Stafford passed for nearly 5,000 yards, he threw for only 20 touchdowns – fewer than half of what he mustered in 2011 – and 17 picks. If he can post increases in completion percentage and YPA – something that's likely with the weapons in Detroit, including free agent running back Reggie Bush – Stafford has top-quarterback potential. And his record-setting passing volume was no anomaly – he attempted the fifth-most attempts in league history in 2011. Stafford is also the perfect example of why our perception of "injury proneness" is flawed. After playing in only 13 of the Lions' 32 games in 2009 and 2010, Stafford hasn't missed a game over the past two seasons. It's more likely Stafford was never really any more susceptible to injuries than anyone else, but simply got unlucky.
Stafford might have the lowest floor of the QBs in this range due to durability concerns. Even in last year's 16-game showing, he suffered a fractured finger on his right hand and played through injuries to his ankle and knee. It's encouraging that he was still able to perform at a high level, but coming off a two-year span in which he missed 19 games, it would have been more reassuring had Stafford steered clear of trouble entirely. Still, even if he's a relative risk, his upside is too high for him to be listed any lower. Stafford is a good bet to lead the league in passing attempts, while playing in an offense that might have the NFL's best receiver, as well as four or five other productive targets. He averaged 7.6 yards per pass while throwing the ball 663 times in 2011, resulting in 5,038 yards and 41 touchdowns against just 16 interceptions. As long as he (and Calvin Johnson) stay healthy, Stafford is a virtual lock to put up big numbers.
Stafford would probably be ranked higher if he weren't such a health risk. He has dealt with injuries to his right knee and both shoulders in his two-year career, with two throwing-shoulder injuries limiting him to just three appearances last season. But in the games Stafford did play, he put up very nice fantasy numbers. He totaled 452 yards, six passing touchdowns, one interception and a rushing touchdown against Washington and the Jets. If he could just stay on the field, the strong-armed Stafford would be in a great position to build on those two games, as he has a good supporting cast at the skill positions—Mikel Leshoure and Jahvid Best at running back, Brandon Pettigrew and Tony Scheffler at tight end and Calvin Johnson, Nate Burleson and Titus Young at wideout.
It was a predictably tough rookie year for Stafford after the Lions threw him to the wolves. He got banged up (knee, shoulder) but should be ready for training camp. Take out one big game against the Browns and Stafford threw eight TDs with 18 picks. There is Calvin Johnson, though. He's a freakishly athletic wide receiver who could almost single-handedly carry Stafford to about 20 TDs. Given the indoor environment and the Lions poor defense, you have a QB situation worth considering. In leagues that do not count picks, Stafford can be a late-round bargain and someone who can really help a savvy owner who plays matchups and sticks to Lions home games.
Even though the Lions took Stafford with the No. 1 overall pick in April, Daunte Culpepper will be a caretaker behind center. And he should be one for the whole year because if Stafford goes out there with this team, he will likely get beat up and then could be shell-shocked for years. Throwing Culpepper to the wolves makes the most sense. New head coach Jim Schwartz, the former defensive coordinator of the Titans, is likely to rely on offensive coordinator Scott Linehan to call the plays. Linehan has been QB friendly in the past – especially for the Vikings (three years beginning in 2002). By now most people realize Calvin Johnson is the LeBron James of the NFL – same type of freakish manchild. But the Lions also have some decent complementary weapons – Ronald Curry and Bryant Johnson both have decent speed for their size, tight-end Brandon Pettigrew was the team's first-round pick and tailback Kevin Smith is also a good receiver. Moreover, Linehan likes to call pass plays in the red zone and near the goal-line, so that alone should provide a few extra touchdowns for Lions signal-callers. Of course, if the Lions struggle – which they likely will – there's no telling when Stafford will replace Culpepper, either during particular games, or for good. And if that happens, it's unrealistic to expect Stafford to be Matt Ryan. The consensus is that Stafford is a supremely talented thrower (though there was too much wobble in his passes in the games we reviewed) not remotely prepared to step in and start early. Look at the rookie year of the player to whom he's most compared for valuation guidance. Jay Cutler played five games as a rookie and played well, but was available on the waiver wire in non-keeper formats as Stafford will be in the unlikely event he starts even that meager number of contests after Thanksgiving.
More Fantasy News