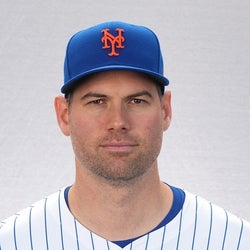 Rest-of-Season Projections
2023 Fantasy Outlook
Ottavino re-signed with the Mets on a 2-year, $14.5 million pact after a standout season at age 36. In 66 games, the right-hander racked up six wins, three saves and 20 holds as one of Edwin Diaz's primary setup men. His 2.06 ERA and 0.97 WHIP were top 20 rates among qualified relievers and several of his Statcast metrics were in the 96th percentile or better, including his 84.8 mph average exit velocity allowed (99th percentile). After five straight seasons with a double-digit walk percentage, Ottavino significantly improved his control, cutting his walk rate (6.2%) in half. His strikeout rate also spiked over 30 percent for the first time since 2019, while he induced more grounders (52%) than he ever has during a full season. Ottavino has not been super consistent throughout his career, but offers plenty of experience and is the clear backup to closer Edwin Diaz.
Read Past Outlooks
$Signed a one-year, $7.75 million contract with the Mets in December of 2022. Declined $6.75 million player option for 2024 in November of 2023.

Free agent after declining option
ANALYSIS
Previous reports had indicated that Ottavino was expected to exercise the option to remain with the Mets, but he's ultimately decided against the move. It's worth noting that $4 million of the $6.75 million salary he would have been due in 2024 would have been deferred, which could have weighed into his decision. Ottavino will now be on the lookout for a new deal after posting a 3.21 ERA and 62:29 K:BB over 61.2 innings in 2023.
Read More News
Pitching Stats
Loading Pitching Stats...
2023
2022
2021
2020
2019
2018
2017
2023 MLB Game Log

Calculate Stats Over Time
Just click on any two dates.
Scoring
FanDuel
DraftKings
Yahoo DFS
Loading Pitching Game Log...
2022 MLB Game Log

Calculate Stats Over Time
Just click on any two dates.
Scoring
FanDuel
DraftKings
Yahoo DFS
Loading Pitching Game Log...
2021 MLB Game Log

Calculate Stats Over Time
Just click on any two dates.
Scoring
FanDuel
DraftKings
Yahoo DFS
Loading Pitching Game Log...
2020 MLB Game Log

Calculate Stats Over Time
Just click on any two dates.
Scoring
FanDuel
DraftKings
Yahoo DFS
Loading Pitching Game Log...
2019 MLB Game Log

Calculate Stats Over Time
Just click on any two dates.
Scoring
FanDuel
DraftKings
Yahoo DFS
Loading Pitching Game Log...
2018 MLB Game Log

Calculate Stats Over Time
Just click on any two dates.
Scoring
FanDuel
DraftKings
Yahoo DFS
Loading Pitching Game Log...
2017 MLB Game Log

Calculate Stats Over Time
Just click on any two dates.
Scoring
FanDuel
DraftKings
Yahoo DFS
Loading Pitching Game Log...
Minor League Game Log

Calculate Stats Over Time
Just click on any two dates.
Loading Minor League Pitching Game Log...
Pitching Appearances Breakdown
How many pitches does Adam Ottavino generally throw?
What part of the game does Adam Ottavino generally pitch?
% Games Reaching Innings Threshold
% Games By Number of Innings Pitched
Left/Right Pitching Splits
BAA
K
BB
H
HR
Since 2021

vs Left

.261
74
30
63
7
Since 2021

vs Right

.193
138
50
86
11
2023

vs Left

.217
25
15
18
5
2023

vs Right

.203
37
14
28
2
2022

vs Left

.301
21
4
22
2
2022

vs Right

.160
58
12
26
4
2021

vs Left

.271
28
11
23
0
2021

vs Right

.221
43
24
32
5
More Splits

→

View More Split Stats
Home/Away Pitching Splits
ERA
WHIP
IP
K/9
BB/9
Since 2021

Home

3.53
1.31
102.0
10.2
4.2
Since 2021

Away

2.68
1.09
87.1
9.9
3.3
2023

Home

3.65
1.24
37.0
9.5
3.9
2023

Away

2.55
1.18
24.2
8.4
4.7
2022

Home

2.57
1.06
35.0
10.5
2.8
2022

Away

1.47
0.88
30.2
11.2
1.5
2021

Home

4.50
1.70
30.0
10.8
6.3
2021

Away

3.94
1.22
32.0
9.8
3.9
More Splits

→

View More Split Stats
Stat Review
How does Adam Ottavino compare to other relievers?
This section compares his stats with all relief pitcher seasons from the previous three seasons (minimum 30 innings)*. The bar represents the player's percentile rank. For example, if the bar is halfway across, then the player falls into the 50th percentile for that stat and it would be considered average.
* Exit Velocity, Barrels/BBE %, Balls Hit 95+ MPH %, and Spin Rate are benchmarked against 2019 data (min 30 IP).
See here for more exit velocity/barrels stats
plus an explanation of current limitations with that data set.
K/BB

Strikeout to walk ratio.

K/9

Average strikeouts per nine innings.

BB/9

Average walks per nine innings.

HR/9

Average home runs allowed per nine innings.

Fastball

Average fastball velocity.

ERA

Earned run average. The average earned runs allowed per nine innings.

WHIP

Walks plus hits per inning pitched.

BABIP

Batting average on balls in play. Measures how many balls in play against a pitcher go for hits.

GB/FB

Groundball to flyball ratio. The higher the number, the more likely a pitcher is to induce groundballs.

Left On Base

The percentage of base runners that a pitcher strands on base over the course of a season.

Exit Velocity

The speed of the baseball as it comes off the bat, immediately after a batter makes contact.

Barrels/BBE

The percentage of batted ball events resulting in a Barrel. A Barrel is a batted ball with similar exit velocity and launch angle to past ones that led to a minimum .500 batting average and 1.500 slugging percentage.

Spin Rate

Spin Rate is the rate of spin on a baseball after it is released. It is measured in revolutions per minute (rpm).

Balls Hit 95+ MPH

The percentage of batted balls hit that met or exceeded the 95 MPH threshold.

Swinging Strike

The percentage of pitches that result in a swing and a miss.
Advanced Pitching Stats
Loading Advanced Pitching Stats...
Loading MLB Defensive Stats...
Recent RotoWire Articles Featuring Adam Ottavino
See More
Past Fantasy Outlooks
2022
2021
2020
2019
2018
2017
2016
2015
2014
2013
2010
2008
A rare trade between the Yankees and Red Sox shipped Ottavino to Boston last January. The veteran entered a murky closer picture with Matt Barnes last spring that Barnes later emerged from, though Ottavino still pitched plenty of high-leverage innings, earning seven wins, 11 saves and 23 holds in 69 games. In his age-35 season, the reliever boosted his fastball velocity (95-mph) and was among the league leaders in hard hit rate and barrel percentage. He maintained a 10.3 K/9 and kept the ball in the park (0.7 HR/9), but his control issues persisted with 35 walks in 62 innings (5.1 BB/9). Ottavino enters free agency with plenty of high-leverage experience, but the free passes will limit his potential for saves wherever he signs. He's likely to continue logging plenty of holds unless he encounters a steep regression.
Ottavino had a down year in terms of his final ERA, though he was really only hit hard in two of 24 outings. He finished with a 5.89 ERA, 1.58 WHIP and a 25:9 K:BB over 18.1 innings. The reliever had numerous high-leverage opportunities, finishing with a 2-3 record, three blown saves and two holds. Ottavino did manage to hold opposing teams to just one run while fanning 10 in his last seven appearances of the regular season (5.2 innings). The 34-year-old's velocity declined slightly in 2020, though his fastball average sat at a respectable 93.5 mph compared to 93.9 a season prior. Ottavino continues to rely on his slider, a pitch he threw 46.3% of the time last year. A trade to Boston boosts Ottavino's fantasy value as Matt Barnes is hardly an immovable object at closer. Even in a setup role, he'll have value since he can snag a few saves to go along with a high number of strikeouts.
Ottavino went home to New York in 2019 after seven seasons in Colorado. The right-hander notched two saves and ranked fourth in the American League with 28 holds while posting a 31.1 K% and holding hitters to a .183 xBA. Ottavino relies heavily on a nasty slider that he throws with a 2,877 rpm average spin rate and elite horizontal movement. In 2019, he went to the pitch 44.9% of the time, generating a 35.3 Whiff%. Despite Ottavino's overall success, there were some red flags. His 3.44 FIP was significantly higher than his 1.90 ERA, and he continued to struggle with his command, posting a distressing 14.1 BB%. In reality, Ottavino's low ERA was largely due to an 87.5 LOB% that was significantly higher than his career norm. Some regression is likely if that number falls back to earth next season, especially if Ottavino is unable to figure out his increasingly concerning control issues.
After cultivating a cutter in the offseason to complement his GIF-worthy slider and surging sinker, Ottavino rebounded with authority from a tough 2017. The righty made several cameos as the Rockies' closer and proved his versatility by pitching more than four outs 10 times, growing into arguably one of baseball's best relievers. He took a step forward with his walk rate, though his control improvement still left him with a 4.2 BB/9, and many slider-heavy arms can burn out on a whim. Leaving Colorado and thin-aired Coors Field should help his breaking pitches gain even more bite, which could improve the way he works around the strike zone. The cutter also will help the 33-year-old adjust to a lower velocity baseline. Ottavino joins the class of Dellin Betances and other high-strikeout relievers who'll help fantasy managers even if they don't own a closer job.
The 2017 version of Ottavino was another painful lesson in reliever volatility. Throughout the ups and downs of his career with injury, Ottavino has been a reliable source of strikeouts from the bullpen thanks to his nasty slider and has been very stingy with walks. It did not take much effort to squint at his skills and see the potential for him to become a closer. That never really happened as the club traded for Jake McGee and then later struck gold in Greg Holland and his impressive comeback season. Ottavino continued striking guys out in 2017, but suddenly his command wavered. He had a career-low first-pitch strike rate as well as a career-worst swinging-strike rate as opponents did not have to chase the slider out of the zone as much and waited on the fastball as he pitched from behind in the count. Overall, 2017 looks like an outlier, so look for a bounce-back year for the solid middle reliever.
Ottavino was forced to miss the beginning of the season after undergoing Tommy John surgery in May of 2015, but he didn't miss a beat once he was back in commission. In 11.2 innings during his first month off the disabled list, the right-hander didn't allow a single run, struck out over a batter per inning, and held a stellar 0.94 WHIP, prompting the Rockies to promote him to the closer's role, where he went 7-for-11 in save opportunities. Although his final 2.67 ERA looks impressive on its own, it's worth noting that five of the eight earned runs he allowed on the season were given up in the same inning, while he gave up more than one hit only one time during every other appearance. He's in line to begin 2017 as the Rockies' closer, and as long as he continues inducing plenty of groundballs and striking out batters at a healthy rate, Ottavino seems primed for success even as a reliever in the most hitter-friendly park in baseball.
Ottavino began 2015 as the most reliable member of the Rockies' bullpen. In 10 April appearances, he pitched 10.1 scoreless innings to produce three saves, a 0.48 WHIP and a 13:2 K:BB. This success was short-lived, however, as Ottavino was forced to undergo Tommy John surgery in mid-May, costing him the rest of the season. Ottavino was really coming into his own as a reliever, especially considering his home park is the daunting Coors Field. He probably will miss the first half of the 2016 season, but if he can make a full recovery, the 29-year-old should be an integral part of the Rockies' bullpen when he returns.
Aside from a bumpy June, Ottavino was one of the few dependable arms in the Rockies' bullpen last season, leading all of the team's relievers in WAR (1.3) and posting a 3.60 ERA and 4.38 K/BB ratio over 65 innings. A long man for the Rockies the previous two seasons, Ottavino leaned on his mid-90s fastball and sharp slider combination to solidify himself as their top setup man. With Rex Brothers failing to take a step forward, Ottavino looks like he could be the top alternative in waiting behind 42-year-old closer LaTroy Hawkins. Ottavino's superior strikeout stuff and comparable control could threaten Hawkins' job security during the upcoming campaign, but the right-hander may need to show more effectiveness against lefties -- who batted .338 against him in 2014 -- before he gets his shot. Even if that fails to materialize, Ottavino will still be perhaps the most malleable member of the bullpen as a pitcher who has shown an ability to pitch effectively in short relief, high-leverage situations and multi-inning scenarios.
Ottavino assumed a hybrid role out of the bullpen last season, swinging between both long relief and shorter, high-leverage work for the Rockies. Ottavino seemed to thrive regardless of the situation, striking out just under a batter per inning to finish with a career-best 2.64 ERA (3.15 FIP). Though the Rockies haven't clarified their plans for Ottavino in 2013, there's a good chance he'll pitch more innings of higher consequence coming off his breakthrough performance. As the most versatile member of the bullpen, Ottavino will be sure to receive an ample workload regardless of how he's used.
Ottavino saw extensive usage last season as a hybrid reliever working in conjunction with the Rockies' four-man rotation experiment, pitching 79 innings in relief. While a move back to a more traditional rotation setup in 2013 should lighten Ottavino's workload, there is a good chance the Rockies continue to deploy him for multiple innings of relief going forward. In the 25 games in which he pitched more than one inning last season, Ottavino rewarded the team with a 2.13 ERA. Previously a starter in the Cardinals organization, Ottavino saw an increase in his fastball velocity and strikeout rate upon moving to relief full time. While he will not be in the mix for save chances, Ottavino should nonetheless remain one of the Rockies' more trusted relievers.
Ottavino has already started 92 games in his four years in the minors, and if he doesn't watch out, he may staying down there for awhile. He's still just 24 and has showcased good strikeout rates every year, but his problem of being too hittable was exacerbated by a high walk rate in 2009. He will probably pitch a lot during spring training, but he doesn't have a realistic shot of making the squad this year.
A first-round pick out of Northeastern University in 2006, Ottavino has already started 41 games in the minors. At High-A Palm Beach last year, Ottavino had a 3.08 ERA and 128 strikeouts in 143 innings. He's still just 22, but he'll be on the fast track to the majors in 2008 and will possibly be competing for a spot in the St. Louis rotation by 2009.
More Fantasy News