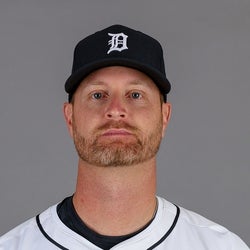 Out
Injury Hip
Est. Return 4/30/2024
Rest-of-Season Projections
2023 Fantasy Outlook
After seven starts, Cobb was sitting on a 6.25 ERA and 1.55 WHIP. A 27.7% strikeout rate and 6.4% walk rate along with a 2.73 FIP and 2.39 xFIP screamed patience while his .411 BABIP and 49% LOB mark regressed. Sure enough, Cobb registered a 3.05 ERA and 1.24 WHIP the rest of the way. After starting 31 games from 2019-2021, the veteran started 28 games, collecting 149.2 frames, his most since 2018. He increased the use of his splitter while bagging his four-seam fastball and cutting back on curves. The 35-year-old righthander will be back in the Giants rotation, so he'll again benefit from a great home pitching venue. Despite avoiding the IL last season, health is a concern, but he's still a potential bargain relative to cost. Cobb is especially useful in formats where streaming is facilitated.
Read Past Outlooks
$Signed a two-year, $20 million contract with the Giants in November of 2021. Giants exercised $10 million team option for 2024 in November of 2023.

Option for 2024 picked up
ANALYSIS
Cobb is expected to be sidelined for at least the first month or so of the 2024 season after having surgery last week to repair his left hip. Even with that, the Giants decided it was worth bringing the right-hander back rather than pay him a $2 million buyout. Cobb pitched well in 2023 when healthy, collecting a 3.87 ERA and 131:37 K:BB over 151.1 frames covering 28 starts.
Read More News
Pitching Stats
Loading Pitching Stats...
2023
2022
2021
2020
2019
2018
2017
2023 MLB Game Log

Calculate Stats Over Time
Just click on any two dates.
Scoring
FanDuel
DraftKings
Yahoo DFS
Loading Pitching Game Log...
2022 MLB Game Log

Calculate Stats Over Time
Just click on any two dates.
Scoring
FanDuel
DraftKings
Yahoo DFS
Loading Pitching Game Log...
2021 MLB Game Log

Calculate Stats Over Time
Just click on any two dates.
Scoring
FanDuel
DraftKings
Yahoo DFS
Loading Pitching Game Log...
2020 MLB Game Log

Calculate Stats Over Time
Just click on any two dates.
Scoring
FanDuel
DraftKings
Yahoo DFS
Loading Pitching Game Log...
2019 MLB Game Log

Calculate Stats Over Time
Just click on any two dates.
Scoring
FanDuel
DraftKings
Yahoo DFS
Loading Pitching Game Log...
2018 MLB Game Log

Calculate Stats Over Time
Just click on any two dates.
Scoring
FanDuel
DraftKings
Yahoo DFS
Loading Pitching Game Log...
2017 MLB Game Log

Calculate Stats Over Time
Just click on any two dates.
Scoring
FanDuel
DraftKings
Yahoo DFS
Loading Pitching Game Log...
Minor League Game Log

Calculate Stats Over Time
Just click on any two dates.
Loading Minor League Pitching Game Log...
Pitching Appearances Breakdown
How many pitches does Alex Cobb generally throw?
What part of the game does Alex Cobb generally pitch?
% Games Reaching Innings Threshold
% Games By Number of Innings Pitched
Left/Right Pitching Splits
BAA
K
BB
H
HR
Since 2021

vs Left

.264
160
75
198
11
Since 2021

vs Right

.258
220
38
202
22
2023

vs Left

.279
47
29
85
7
2023

vs Right

.264
84
8
78
12
2022

vs Left

.269
68
24
74
3
2022

vs Right

.256
83
19
78
6
2021

vs Left

.228
45
22
39
1
2021

vs Right

.251
53
11
46
4
More Splits

→

View More Split Stats
Home/Away Pitching Splits
ERA
WHIP
IP
K/9
BB/9
Since 2021

Home

2.31
1.09
210.0
8.7
2.5
Since 2021

Away

5.47
1.55
184.1
8.7
2.7
2023

Home

1.95
1.04
74.0
7.3
1.8
2023

Away

5.70
1.59
77.1
8.3
2.6
2022

Home

2.68
1.16
87.1
9.6
2.7
2022

Away

5.20
1.51
62.1
8.4
2.5
2021

Home

2.22
1.03
48.2
9.1
3.1
2021

Away

5.44
1.52
44.2
9.9
3.2
More Splits

→

View More Split Stats
Stat Review
How does Alex Cobb compare to other starting pitchers?
This section compares his stats with all starting pitcher seasons from the previous three seasons (minimum 120 innings)*. The bar represents the player's percentile rank. For example, if the bar is halfway across, then the player falls into the 50th percentile for that stat and it would be considered average.
* Exit Velocity, Barrels/BBE %, Balls Hit 95+ MPH %, and Spin Rate are benchmarked against 2019 data (min 120 IP).
See here for more exit velocity/barrels stats
plus an explanation of current limitations with that data set.
K/BB

Strikeout to walk ratio.

K/9

Average strikeouts per nine innings.

BB/9

Average walks per nine innings.

HR/9

Average home runs allowed per nine innings.

Fastball

Average fastball velocity.

ERA

Earned run average. The average earned runs allowed per nine innings.

WHIP

Walks plus hits per inning pitched.

BABIP

Batting average on balls in play. Measures how many balls in play against a pitcher go for hits.

GB/FB

Groundball to flyball ratio. The higher the number, the more likely a pitcher is to induce groundballs.

Left On Base

The percentage of base runners that a pitcher strands on base over the course of a season.

Exit Velocity

The speed of the baseball as it comes off the bat, immediately after a batter makes contact.

Barrels/BBE

The percentage of batted ball events resulting in a Barrel. A Barrel is a batted ball with similar exit velocity and launch angle to past ones that led to a minimum .500 batting average and 1.500 slugging percentage.

Spin Rate

Spin Rate is the rate of spin on a baseball after it is released. It is measured in revolutions per minute (rpm).

Balls Hit 95+ MPH

The percentage of batted balls hit that met or exceeded the 95 MPH threshold.

Swinging Strike

The percentage of pitches that result in a swing and a miss.
Advanced Pitching Stats
Loading Advanced Pitching Stats...
Loading MLB Defensive Stats...
Our full team depth charts are reserved for RotoWire subscribers.
Subscribe Now
Recent RotoWire Articles Featuring Alex Cobb
See More
Past Fantasy Outlooks
2022
2021
2020
2019
2018
2017
2016
2015
2014
2013
2012
2011
The Giants have shown in recent years with the likes of Kevin Gausman, Anthony DeSclafani and Alex Wood that they can help veteran starters get the most out of their stuff. The departure of Buster Posey hurts, but this is still a top-shelf situation for a pitcher such as Cobb, who signed this offseason for $20 million over two years. While Cobb could be in for one of the best years of his career, the renaissance began last year with the Angels. He registered a 3.76 ERA, 1.26 WHIP and career-best 16.5 K-BB%. His 53.3 GB% was tied with Sandy Alcantara for the 11th-best mark among pitchers who threw 90-plus innings. Cobb threw his sinker and splitter a combined 79% of the time, while also mixing in his 83-mph curveball, which has above-average velocity and drop. His splitter was a whiff machine and has elite horizontal break. Finger and wrist injuries limited Cobb to 93.1 innings, and while durability isn't a strength, Cobb's skills seem bankable, especially with a more favorable team context.
Cobb returned to the mound in 2020 after missing most of 2019 with a hip injury. Following his struggles over a limited sample that year, Cobb returned to form, posting a 4.30 ERA and 1.34 WHIP. Although he improved, the right-hander was still a shaky fantasy option. He should be one of the Orioles' top starting options in 2021, but that speaks more to the team's lackluster rotation than to Cobb's potential. The 33-year-old remained steady with a 4.21 xFIP in 2020, but he had a middling 16.8 K% and struggled with an 8.0 BB% that was his worst since his rookie year. His 40.5% hard-hit rate had significantly increased from his marks during full seasons in 2017 and 2018. Cobb hasn't received much run support in his three years with the Orioles, sputtering to a 7-22 record. He's been consistent outside of his 2019 campaign, but his skill set doesn't present much fantasy upside.
Cobb missed most of 2019 with back and hip issues, as he made only three starts. Although last year provided a limited sample, most signs point to more struggles ahead for Cobb. The right-hander -- almost impossibly -- surrendered nine homers over 12.1 innings while fanning eight. While the struggles were extreme and could have been exacerbated by his injuries, Cobb has struggled mightily since signing a four-year deal with the Orioles prior to the 2018 season, with a 5.36 ERA and 110:45 K:BB over 31 starts. The 32-year-old packs a limited strikeout punch, and while his swinging-strike rate rose to 10.5% in 2019 after hitting just 7.3% the year before, that uptick did not result in more Ks. Even if Cobb remains healthy in 2020, his low strikeout rate and high home-run rate make him a fantasy liability. He's not worth rostering outside the deepest of fantasy leagues.
Cobb signed late, joining the Orioles on March 20. He ultimately debuted April 14. Perhaps it was not having a normal spring, or the park change to hitter-friendly Camden Yards, but on July 8, Cobb was sitting with an unsightly 6.67 ERA and 1.62 WHIP. From that point until he was shut down in mid-September after aggravating a blister, Cobb spun a 2.59 ERA and 1.14 WHIP. The thing is, Cobb's strikeout and walk rates were essentially the same in both stretches. The major differences were a .340 BABIP and 61.4 LOB% though July 8 followed by a .249 BABIP and 80.3 LOB% the rest of the way. Cobb was neither as bad as he looked early nor as good as he appeared late. The bottom line is, unless Cobb misses more bats (7.3 SwStr%) he'll be prone to wild fluctuation, especially in such an offense-happy park and division. Fantasy math: volatile ratios plus low wins and whiffs equals no thanks.
Coming off a season with five starts at the major-league level, Cobb made 29 starts spanning a career-high 179.1 innings. His 3.66 ERA looks nice, but a 4.16 FIP and 4.24 xFIP suggest it should have been half a run higher. Cobb's BABIP was a little low and his left-on-base percentage a little high, but not egregiously so. The key with Cobb is strikeouts. To maintain a mid-3.00s ERA, he needs to miss more bats, as a 17.3 percent strikeout rate won't get it done. It's a small sample, but if he can sustain what he did to close the season, Cobb's whiffs will climb. Specifically, in his last seven outings, he recorded a 2.81 ERA, 1.20 WHIP, 38 strikeouts and eight walks in 38.1 innings. In those efforts, he drastically altered his pitch mix, throwing more curves while barely using his changeup. Cobb's low strikeouts should keep his price down. It's worth paying to see if his last seven games were indicative of the future.
Cobb made a generally strong return from May 2015 Tommy John surgery, a pair of disastrous outings to end the season notwithstanding. Before giving up 15 earned runs over 4.1 innings in his last two starts, he'd posted a solid 3.06 ERA and 12:4 K:BB in 17.2 innings over his first three trips to the mound. The 29-year-old has a proven track record, having posted a trio of double-digit win seasons from 2012-14, but it remains to be seen if his arm can fully return to form. While he would seem to have the inside track to a rotation spot entering spring training, Cobb will need to fend off the likes of Matt Andriese and Blake Snell. Otherwise, Cobb could make for an interesting long-term project in a bullpen capacity, an option that may be explored once he exhausts every opportunity to reclaim a starter's role.
Cobb is only draftable in 2016 if you play in a keeper league. Otherwise, rostering him will be a frustrating experience. Don't believe us? Ask those folks who drafted Matt Moore in 2015. Moore came back in early July and was beaten like a drum for five starts before going back to the minors. Once he came back up in September he looked more like the guy we saw before his injury, it was too late. Moore had his surgery in mid-April of 2014 while Cobb had his in mid-May 2015. If you take Moore's timetable and copy it over for Cobb, you get two months of stats for Cobb in a best-case scenario. The more likely scenario is that Cobb doesn't make it back to the majors until sometime later in August, and he won't immediately be the guy we saw flourish in 2014. Re-draft leaguers can put aside some FAAB dollars while keeper leaguers can look to draft and stash him for 2017 and beyond.
Cobb, when healthy, is one of the better pitchers in the game. The problem has been injuries. His 2011 season ended in early August with a shoulder issue that required surgery. In 2012, a batted ball off his leg cost him time. In 2013, Cobb had a batted ball go off his head, costing him two months, and he missed six starts in 2014 after straining his oblique muscle while batting in an interleague game. When he is not in the trainer's room, he's piling up strikeouts with his split-change and generating tons of groundballs. He rarely gets himself into trouble, but has been known to have a stink-bomb of a game once a year. With injuries removed from his profile, Cobb would be a top-15 starting pitcher. As is, he provides the strong ratios, strikeouts and double-digit wins on an annual basis.
Cobb shined in his first 13 starts last season before a scary incident in June in which he was hit in the head by a line drive. He returned to the mound two months later and came back with ferocity. Over his final nine starts of the season, he went 5-1 with a 2.41 ERA and finished the season with a record of 11-3 and an ERA of 2.76. He set career marks in every pitching category as a starter despite making only 22 starts. He had an impressive 8.4 K/9 rate over the course of the season and had three games with 10 or more strikeouts. He went 7-0 at the friendly confines of Tropicana Field, but also had a solid 2.70 ERA on the road. He will head into 2014 as one of the top starters in the Rays' rotation.
Cobb lost out on a spot in the Rays' rotation to start the regular season, but an injury to Jeff Niemann had him called up to start on May 19 and he remained in the rotation for the rest of the year. Over 23 starts, the young right-hander went 11-9 with a 4.09 ERA and 106 strikeouts. These numbers may not blow anyone away but he really turned the corner late in the season. Over his last 11 starts he posted a 7-1 record and a 3.09 ERA that was skewed by one subpar performance. He was able to stretch later into games over that span, something he struggled with earlier in the season. All in all, Cobb will be in the mix with the stable of talented starting pitchers vying for a spot in the 2013 rotation. If he wins a spot, he is a decent late-round option, given his strong finish in 2012.
Cobb mowed down Triple-A hitters to the tune of a 1.87 ERA with a 1.143 WHIP before getting a promotion to the big club. He made his first start for the Rays on May 1 giving up four runs in 4.1 innings but was optioned back to Durham immediately after the game. Cobb came up for good on May 31 and was part of a six-man rotation until he underwent season-ending surgery to repair a blockage near his rib cage. The injury is not expected to be an issue, and he should be ready to go once pitchers and catchers report for camp. Cobb features a fastball in the low-90s, a solid curve and an above-average changeup that has some splitting action to it. While with the Rays he held his own with a 3.42 ERA over nine starts, demonstrating he's ready for the big show. His ERA was aided by a 54 percent groundball rate, which helped mask a drop in his strikeout rate, albeit a small sample size with the Rays. Cobb is expected to compete for a spot in the rotation, though the Rays return all of their starters and have Matt Moore vying for a spot as well. If Cobb lands in the back of the Tampa rotation, he'd make for an interesting sleeper pick considering his success last year with the Rays and his minor league track record.
Cobb turned in an outstanding season at Double-A Montgomery, winning team MVP honors. He finished the season 7-5 with a 2.71 ERA while striking out 128 batters over 119.2 innings. The organization sent him to the AFL where over seven starts (25 innings), he finished 1-3 with a 6.12 ERA. After his time there, he stated that he worked a lot on developing a cutter, which likely explains his struggles. He'll likely start in the rotation at Triple-A Durham with an eye on the bigs in late 2011. The Rays' logjam of starting pitchers could force him into the bullpen for his first taste of the big leagues.
More Fantasy News