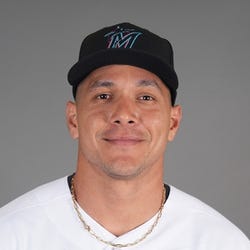 Rest-of-Season Projections
2023 Fantasy Outlook
Garcia joined the Marlins on a four-year, $53 million deal in November 2021, and his first year in Miami was a massive disappointment. He hit .224 with just eight home runs in 98 games during 2022 compared to a .262 average and 29 long balls in the prior campaign. A repeat performance should never have been expected given it was only the second time the veteran had cracked 20 homers in a season, but his 66 wRC+ and 28.7 percent strikeout rate were both career worsts by a significant margin. Garcia should open 2023 in a starting role given his contract and seems likely to bounce back in some form, but it may not be enough to make him more than a fringe fantasy option.
Read Past Outlooks
$Signed a four-year, $53 million contract with the Marlins in November of 2021.

Garcia (hamstring) has begun hitting and running progressions,
MLB.com
reports.
ANALYSIS
Garcia's most recent trip to the injured list came back in late August due to a left hamstring strain. While he's begun to ramp things back up, it's not clear whether there's enough time left in the season for his return. Even if he does make it back this month, Garcia seems unlikely to have much of a role with the Marlins as the team fights for a playoff berth.
Read More News
Batting Stats
2023
2022
2021
2020
2019
2018
2017
2023 MLB Game Log

Calculate Stats Over Time
Just click on any two dates.
Scoring
FanDuel
DraftKings
Yahoo DFS
Loading Batting Game Log...
2022 MLB Game Log

Calculate Stats Over Time
Just click on any two dates.
Scoring
FanDuel
DraftKings
Yahoo DFS
Loading Batting Game Log...
2021 MLB Game Log

Calculate Stats Over Time
Just click on any two dates.
Scoring
FanDuel
DraftKings
Yahoo DFS
Loading Batting Game Log...
2020 MLB Game Log

Calculate Stats Over Time
Just click on any two dates.
Scoring
FanDuel
DraftKings
Yahoo DFS
Loading Batting Game Log...
2019 MLB Game Log

Calculate Stats Over Time
Just click on any two dates.
Scoring
FanDuel
DraftKings
Yahoo DFS
Loading Batting Game Log...
2018 MLB Game Log

Calculate Stats Over Time
Just click on any two dates.
Scoring
FanDuel
DraftKings
Yahoo DFS
Loading Batting Game Log...
2017 MLB Game Log

Calculate Stats Over Time
Just click on any two dates.
Scoring
FanDuel
DraftKings
Yahoo DFS
Loading Batting Game Log...
Minor League Game Log

Calculate Stats Over Time
Just click on any two dates.
Loading Minor League Batting Game Log...
Batting Order Slot Breakdown
#1
#2
#3
#4
#5
#6
#7
#8
#9
#1
#2
#3
#4
#5
#6
#7
#8
#9
Left/Right Batting Splits
OPS
PA
HR
RBI
AVG
Since 2021

vs Left

.756
235
8
27
.244
Since 2021

vs Right

.682
776
32
106
.237
2023

vs Left

.528
39
0
3
.189
2023

vs Right

.571
77
3
9
.183
2022

vs Left

.577
68
2
5
.219
2022

vs Right

.583
312
6
30
.225
2021

vs Left

.935
128
6
19
.279
2021

vs Right

.784
387
23
67
.258
More Splits

→

View More Split Stats
Home/Away Batting Splits
OPS
PA
HR
RBI
AVG
Since 2021

Home

.700
497
18
51
.231
Since 2021

Away

.697
514
22
82
.245
2023

Home

.663
61
1
4
.222
2023

Away

.441
55
2
8
.148
2022

Home

.535
179
3
11
.199
2022

Away

.624
201
5
24
.246
2021

Home

.828
257
14
36
.258
2021

Away

.813
258
15
50
.267
More Splits

→

View More Split Stats
Stat Review
How does Avisail Garcia compare to other hitters?
This section compares his stats with all batting seasons from the previous three seasons (minimum 400 plate appearances)*. The bar represents the player's percentile rank. For example, if the bar is halfway across, then the player falls into the 50th percentile for that stat and it would be considered average.
* Exit Velocity and Barrels/PA % are benchmarked against 2019 data (min 400 PA) and Hard Hit Rate is benchmarked against last season's data (min 400 PA).
See here for more exit velocity/barrels stats
plus an explanation of current limitations with that data set.
BB/K

Walk to strikeout ratio

BB Rate

The percentage of plate appearances resulting in a walk.

K Rate

The percentage of plate appearances resulting in a strikeout.

BABIP

Batting average on balls in play. Measures how many of a batter's balls in play go for hits.

ISO

Isolated Power. Slugging percentage minus batting average. A computation used to measure a batter's raw power.

AVG

Batting average. Hits divided by at bats.

OBP

On Base Percentage. A measure of how often a batters reaches base. Roughly equal to number of times on base divided by plate appearances.

SLG

Slugging Percentage. A measure of the batting productivity of a hitter. It is calculated as total bases divided by at bats.

OPS

On base plus slugging. THe sum of a batter's on-base percentage and slugging percentage.

wOBA

Weighted on-base average. Measures a player's overall offensive contributions per plate appearance. wOBA combines all the different aspects of hitting into one metric, weighting each of them in proportion to their actual run value.

Exit Velocity

The speed of the baseball as it comes off the bat, immediately after a batter makes contact.

Hard Hit Rate

A measure of contact quality from Sports Info Solutions. This stat explains what percentage of batted balls were hit hard vs. medium or soft.

Barrels/PA

The percentage of plate appearances where a batter had a batted ball classified as a Barrel. A Barrel is a batted ball with similar exit velocity and launch angle to past ones that led to a minimum .500 batting average and 1.500 slugging percentage.

Expected BA

Expected Batting Average.

Expected SLG

Expected Slugging Percentage.

Sprint Speed

The speed of a runner from home to first, in feet per second.

Ground Ball %

The percentage of balls put in play that are on the ground.

Line Drive %

The percentage of balls put in play that are line drives.

Fly Ball %

The percentage of balls put in play that are fly balls.
Advanced Batting Stats
Loading Advanced Batting Stats...
Games By Position
Defensive Stats
Loading Games Played by Position...
Loading MLB Defensive Stats...
Batted Ball Stats
Loading Batted Ball Stats...
Stats Vs Upcoming Pitchers
Our full team depth charts are reserved for RotoWire subscribers.
Subscribe Now
Recent RotoWire Articles Featuring Avisail Garcia
See More
Past Fantasy Outlooks
2022
2021
2020
2019
2018
2017
2016
2015
2014
2013
2012
Garcia has never been a particularly exciting player (unless you bought into the Baby Miggy hype), but it's tough to scoff at his 29 homers, eight steals and .262 average from last season. He might provide one of the most balanced profiles available in the middle rounds. There were no major changes to his profile but he did post near career highs in Pull% and maxEV and a near career low in groundball rate. The combination led to a career-high 12.2 Barrel% and 26.1 HR/FB%. Besides the season-to-season stats, he improved from a .782 OPS in the first half to a .882 OPS in the second half. The only issue with him this season is that he'll play half his games in the Marlins' spacious home stadium. At least he will be hitting in the middle of the lineup, so he'll accumulate counting stats.
After posting his first 20-10 season in 2019, Garcia signed a two-year contract with the Brewers last offseason. He was expected to be a big bat in a corner outfield spot, but with Lorenzo Cain opting out early on, the Brewers chose to use Garcia both in center field and atop the order. He did a good job getting on base, posting both the best walk rate and BB:K of his career, but he provided almost nothing in the power department, tallying just 12 extra-base hits and finishing with by far his lowest SLG since becoming a regular player. He also stole just one base and only attempted to steal four. Cain will be back in 2021, which will allow Garcia to move back to his customary spot. He should get a chance to play every day, and he should remain fresher in a less-demanding role. The major decline in speed and power certainly raises a red flag, though, particularly for someone who will turn 30 next summer.
Garcia is an example of how the great is the enemy of the good. It feels like the early "Baby Miggy" label slapped on him because of the physical resemblance has hung around his neck and made Garcia feel like a disappointing player. The fact is he has been an above-average offensive contributor in two of the past three seasons and makes consistent hard contact, sometimes hard enough to hit the banners hanging from the C ring in Tropicana Field. Last season looked a lot like 2017 for Garcia, which is what the Rays were hoping for when they picked him up on a one-year deal. He threw in 10 steals, flashing his deceptive speed (his straight sprint speed is surprisingly excellent for someone his size). Garcia will play in a more hitter-friendly park following a move to Milwaukee, and he has reminded us that he is a good ballplayer even if he cannot achieve the great expectations associated with his nickname.
It was easy to scream regression after Garcia's great 2017 season and indeed the numbers dropped off dramatically, though his struggles were tied closely to injuries. The .392 BABIP from 2017 that everyone pointed to absolutely plummeted to .271, but that's not just normal regression/variance -- it's clear that he was not close to right, physically. A hamstring strain suffered at the end of April lingered and it was announced in mid-August that he was playing through a knee issue which would require a scope after the season. Over the final two months, he hit just .197/.271/.360. One positive was that despite the lower-body injuries, Garcia flashed more power than ever before, setting a new career high in homers despite logging just 385 plate appearances. He was non-tendered by the White Sox, and while his slash line would likely bounce back with regular work, his outfield defense is so poor that he may struggle to find a steady role.
Garcia has long elicited comparisons to Miguel Cabrera for his power hitter's physique (6-foot-4, 240 pounds) and Venezuelan heritage, but it wasn't until 2017 that the 26-year-old's production bore any resemblance to the two-time MVP's. Though Garcia's power numbers tapered off after April with his .176 ISO ranking 83rd among qualified hitters, a .330 average and 137 wRC+ were certainly Miggy-like and offered one of the few silver linings in a bleak season for the South Siders. A stark decline in strikeout percentage (to 19.8%) was instrumental in Garcia's breakthrough, but that wouldn't have been possible without a .392 BABIP, a bloated figure even for someone with a lifetime .340 mark. A decline in batting average seems inevitable even if Garcia further improves his plate discipline, so he'll need to raise his slugging numbers if he's to maintain the overall value he brought in 2017. It's not out of the question for Garcia as he heads into his age-27 campaign, but it will require a bit of faith from those who select him.
Garcia feels much older than he really is. It does seem like we have been teased with his potential for years upon end, but he has yet to turn 26. In the 1500+ major league plate appearances he has amassed thus far, he has a triple slash line of .258/.310/.385 which is only rosterable in deep single-league formats. He is large, but doesn't hit with enough power and that size keeps him in the bottom half of the lineup. He doubles down on the pain by hitting way too many balls into the dirt as his groundball rate has been at least 55 percent in all but one of his seasons in the big leagues. If this were a speedster we were talking about, there is reason for excitement, but this is a lumbering ox that can't loft the ball and strikes out too much. He is still young enough to turn it around, but time's a-wasting.
Garcia's star diminished over the course of the 2015 season. He entered the year as a potential cornerstone in the heart of the order, but he ended up with an 89 OPS+, a .365 slugging percentage, and a 50 percent success rate in 14 stolen-base attempts. He actually had a high average on balls in play (.320 BABIP), but the problem was he rarely put the ball in play (70 percent contact rate). He was also pretty bad in right field, so he could lose playing time moving forward if the club decides to emphasize outfield defense. He's still a young, developing player who has flashed an interesting power/speed combo in the minor leagues. Garcia should get another crack at the White Sox's starting right field gig to start 2016 thanks to the team trading Trayce Thompson to Los Angeles.
Garcia's biggest accomplishment of 2014 was just getting back onto the field. He was expected to sit for the season after tearing his labrum in the ninth game of the year, but defied expectations and was back in the lineup by mid-August. Garcia was less than stellar in his subsequent 156 plate appearances, but the Sox were excited about Garcia's bat before he hit the DL, and he has surprising speed on the basepaths for a man of his size (6-foot-4, 240 pounds). The power should come as he embarks on his age-23 season, and he should be given the keys to a spot in the heart of the order come spring training, along with the team's everyday right field gig.
The White Sox acquired Garcia from the Tigers as part of the Jose Iglesias-Jake Peavy three-way deal with the Red Sox, and he quickly became a fixture in the middle part of their lineup. He assumed right field once Alex Rios was traded to the Rangers, and by most measures, he played the position well enough to slot in as the team's everyday man there in 2014. Garcia slashed .304/.327/.447 after the trade, but that line fell to .219/.256/.384 against left-handed pitching. Garcia drew comparisons to former teammate Miguel Cabrera as he came up through the Tigers' organization. That valuation may be a bit unfair, but Garcia possesses all five tools, and it looks like he began to put it all together with a .960 OPS between the Chicago and Detroit Triple-A affiliates. He could hit as high as third for the 2014 White Sox as long as he continues to produce with his bat, and Garcia's status as a somewhat overlooked prospect may keep some owners from realizing the 20-homer, 20-steal potential that his still tools provide.
While Garcia has always been highly regarded by the Tigers' brass, he did not really make much of a splash in the prospect scene until last season. After hitting .299/.333/.455 with 14 homers and 23 steals in 481 at-bats split between High-A Lakeland and Double-A Erie, Garcia received a surprise promotion at the end of August. He quickly worked his way into the lineup, seeing significant action against left-handed pitchers throughout September and the postseason. The 21-year-old outfielder finished his first cup of coffee in the majors with a slash line of .319/.373/.319 in 47 at-bats. Given the lack of plate discipline (79:451 BB:K) Garcia showcased throughout the minors and his unsustainable BABIP (.405) during his September promotion, struggles with batting average should be expected. That said, Garcia is considered a legitimate five-tool prospect by many scouts and has an alluring mix of power and speed potential. Garcia is expected to be in the mix for a platoon spot in left field to open the 2013 campaign, likely splitting time with left-handed hitter Andy Dirks.
Garcia has flashed five-tool skills over the past few seasons and is considered one of the more promising positional prospects in the Tigers system. He hit .264 with 11 homers and 14 steals in 488 at-bats with High-A Lakeland in 2011. Despite the promise he has shown, Garcia remains a project due to his poor pitch recognition. The 20-year-old struck out 132 times while taking just 18 walks last season. The physical ability is present, but Garcia will have to show marked improvements in his plate discipline before getting a legit look from the Tigers.
More Fantasy News