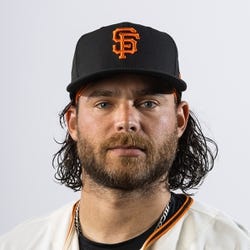 10-Day IL
Injury Hamstring
Est. Return 10/1/2023
Rest-of-Season Projections
2023 Fantasy Outlook
Crawford is in the final year of his most recent deal with San Franciso, the only organization he has ever known since geing taken in the 4th round of the 2008 draft. The perennial defensive wizard was not able to repeat his surprise offensive season of 2021, but rather fell back to his below-average offensive years of 2017-2019 as the taxes of playing a high profile defensive position begin to pile up on him. Crawford did miss some time with knee inflammation in the summer and his offense somewhat recovered upon his return as he hit .256/.324/.363 after his return compared to .215/297/.332 before going to the IL. The plate discipline skills are as stable as ever but the outcomes which surprised all of us in 2021 clearly look like a one-last gasp outlier more than any kind of new norm for him. It briefly appeared Crawford would be moving to third base in 2023, but he'll remain at shortstop since Carlos Correa's megadeal with the Giants fell through.
Read Past Outlooks
$Signed a two-year, $32 million contract extension with the Giants in August of 2021.

ANALYSIS
Crawford suffered the injury Wednesday in what could wind up being his final game in a Giants uniform. The 36-year-old impending free agent is eligible to be activated Oct. 1, but that is the last day of the regular season and it's unclear whether he'd be healthy anyway.
Marco Luciano
and
Tyler Fitzgerald
have both been brought up from Triple-A Sacramento to cover at shortstop down the stretch.
Paul DeJong
was given his release.
Read More News
Batting Stats
2023
2022
2021
2020
2019
2018
2017
2023 MLB Game Log

Calculate Stats Over Time
Just click on any two dates.
Scoring
FanDuel
DraftKings
Yahoo DFS
Loading Batting Game Log...
2022 MLB Game Log

Calculate Stats Over Time
Just click on any two dates.
Scoring
FanDuel
DraftKings
Yahoo DFS
Loading Batting Game Log...
2021 MLB Game Log

Calculate Stats Over Time
Just click on any two dates.
Scoring
FanDuel
DraftKings
Yahoo DFS
Loading Batting Game Log...
2020 MLB Game Log

Calculate Stats Over Time
Just click on any two dates.
Scoring
FanDuel
DraftKings
Yahoo DFS
Loading Batting Game Log...
2019 MLB Game Log

Calculate Stats Over Time
Just click on any two dates.
Scoring
FanDuel
DraftKings
Yahoo DFS
Loading Batting Game Log...
2018 MLB Game Log

Calculate Stats Over Time
Just click on any two dates.
Scoring
FanDuel
DraftKings
Yahoo DFS
Loading Batting Game Log...
2017 MLB Game Log

Calculate Stats Over Time
Just click on any two dates.
Scoring
FanDuel
DraftKings
Yahoo DFS
Loading Batting Game Log...
Minor League Game Log

Calculate Stats Over Time
Just click on any two dates.
Loading Minor League Batting Game Log...
Batting Order Slot Breakdown
#1
#2
#3
#4
#5
#6
#7
#8
#9
#1
#2
#3
#4
#5
#6
#7
#8
#9
Left/Right Batting Splits
OPS
PA
HR
RBI
AVG
Since 2021

vs Left

.677
338
11
54
.237
Since 2021

vs Right

.761
985
29
126
.256
2023

vs Left

.599
70
2
11
.215
2023

vs Right

.594
246
5
27
.192
2022

vs Left

.666
118
3
16
.241
2022

vs Right

.647
340
6
36
.227
2021

vs Left

.722
150
6
27
.244
2021

vs Right

.961
399
18
63
.319
More Splits

→

View More Split Stats
Home/Away Batting Splits
OPS
PA
HR
RBI
AVG
Since 2021

Home

.732
645
18
82
.248
Since 2021

Away

.746
678
22
98
.253
2023

Home

.570
155
4
18
.181
2023

Away

.620
161
3
20
.213
2022

Home

.617
214
3
18
.219
2022

Away

.679
244
6
34
.241
2021

Home

.910
276
11
46
.307
2021

Away

.880
273
13
44
.289
More Splits

→

View More Split Stats
Stat Review
How does Brandon Crawford compare to other hitters?
This section compares his stats with all batting seasons from the previous three seasons (minimum 400 plate appearances)*. The bar represents the player's percentile rank. For example, if the bar is halfway across, then the player falls into the 50th percentile for that stat and it would be considered average.
* Exit Velocity and Barrels/PA % are benchmarked against 2019 data (min 400 PA) and Hard Hit Rate is benchmarked against last season's data (min 400 PA).
See here for more exit velocity/barrels stats
plus an explanation of current limitations with that data set.
BB/K

Walk to strikeout ratio

BB Rate

The percentage of plate appearances resulting in a walk.

K Rate

The percentage of plate appearances resulting in a strikeout.

BABIP

Batting average on balls in play. Measures how many of a batter's balls in play go for hits.

ISO

Isolated Power. Slugging percentage minus batting average. A computation used to measure a batter's raw power.

AVG

Batting average. Hits divided by at bats.

OBP

On Base Percentage. A measure of how often a batters reaches base. Roughly equal to number of times on base divided by plate appearances.

SLG

Slugging Percentage. A measure of the batting productivity of a hitter. It is calculated as total bases divided by at bats.

OPS

On base plus slugging. THe sum of a batter's on-base percentage and slugging percentage.

wOBA

Weighted on-base average. Measures a player's overall offensive contributions per plate appearance. wOBA combines all the different aspects of hitting into one metric, weighting each of them in proportion to their actual run value.

Exit Velocity

The speed of the baseball as it comes off the bat, immediately after a batter makes contact.

Hard Hit Rate

A measure of contact quality from Sports Info Solutions. This stat explains what percentage of batted balls were hit hard vs. medium or soft.

Barrels/PA

The percentage of plate appearances where a batter had a batted ball classified as a Barrel. A Barrel is a batted ball with similar exit velocity and launch angle to past ones that led to a minimum .500 batting average and 1.500 slugging percentage.

Expected BA

Expected Batting Average.

Expected SLG

Expected Slugging Percentage.

Sprint Speed

The speed of a runner from home to first, in feet per second.

Ground Ball %

The percentage of balls put in play that are on the ground.

Line Drive %

The percentage of balls put in play that are line drives.

Fly Ball %

The percentage of balls put in play that are fly balls.
Advanced Batting Stats
Loading Advanced Batting Stats...
Games By Position
Defensive Stats
Loading Games Played by Position...
Loading MLB Defensive Stats...
Batted Ball Stats
Loading Batted Ball Stats...
Stats Vs Upcoming Pitchers
Our full team depth charts are reserved for RotoWire subscribers.
Subscribe Now
Recent RotoWire Articles Featuring Brandon Crawford
See More
Past Fantasy Outlooks
2022
2021
2020
2019
2018
2017
2016
2015
2014
2013
2012
2010
Crawford has not yet received the memo that shortstops are supposed to age poorly into their mid-30s and move off the position. All he did in 2021 was have his best ever offensive season with career bests in every single counting category as well as batting average, OBP and SLG. He even led the league in best hair by an infielder. His improvement was not as much as him doing better versus lefties, as he was still below league average in that split, but he was out of his mind against righties with a 156 wRC+ and a .319/.401/.560 slash line. His previous best against righties was a 120 wRC+ back in 2015. He did all this while adding more walks into his game and returning his strikeout rate to where it was pre-pandemic. Eventually, Father Time is going to win this battle, but in the meantime, Crawford has fully embraced Oracle Park's new profile and is now a game changer at the plate as well as in the field.
Granted, it was only two months, but Crawford rebounded from a down 2019 with one the most productive seasons of his career, uncovering power he hadn't displayed since 2015. The combination of hitting the ball harder and with more loft did the trick, albeit at the expense of the highest strikeout rate of his career. Crawford's defense also improved from the season prior, but nowhere near the level exhibited five years ago. Crawford will be on the last season of his contract and should once again be the Giants' starting shortstop, though there is a chance he could be moved in-season. Even with the rebound, Crawford's production doesn't merit mixed-league consideration, but the volume is still useful in NL-only leagues.
For a few years, Crawford shed the all-glove, no-stick label, combining Gold Glove defense with ample offensive production to be fantasy relevant. Now, both are in question. To be fair, Crawford's defense is still an asset; it's just below the bar set in his salad days. Numbers at the dish are the bigger concern for fantasy enthusiasts. Again though, to be fair, Crawford's underlying metrics weren't too different from 2018; he just didn't enjoy the same level of outcomes, especially with respect to batting average. A BABIP 21 points below his career mark was the culprit. His xBA was higher than his actual average but still well below the norm, particularly for a shortstop, the strongest overall hitting position. Entering his age-33 season, Crawford could incur a reversal of fortune and improve his average, but minimal power and even less speed render him irrelevant in all but the deepest of formats.
Crawford has been incredibly consistent the past few seasons, with a couple exceptions. He had one year where his 21 homers were a surprise, and another where his .275 batting average exceeded expectations. We can pretty much pencil Crawford in with a baseline of 14 homers, 120 runs-plus-RBI, a .255 batting average, and hope for some more of that random variance to repeat itself. He has had a career run of being serviceable against lefties in even-numbered years followed by struggles in odd-numbered years. He has also been below-average offensively against right-handed pitching each of the past two seasons. Baseball projections are not linear, but those are two trends to keep in mind for a shortstop who is a compiler more than a producer. Thankfully, his outstanding defense will keep him in the lineup on a daily basis.
Crawford is a fine player, but he's better in real life than in fantasy and he's probably not going to find another level to his game. He walked just 7.4 percent of the time last season (down from 9.1 percent) and gave a little back in terms of contact, leading to a 37-point drop in OBP and 26-point drop in wOBA (.301 wOBA, .312 xwoBA). While he hit for a little more power, 2015 looks very much like the outlier in that regard (16.2 percent HR/FB in 2015, 8.4 percent for career). Crawford was successful on just three of eight stolen-base attempts last season, and while speed was never a big part of his game, he may be a zero in that category moving forward. He also took a step back against lefties (.239/.295/.366). Crawford will continue to play everyday regardless given his strong defense, but he lacks standout offensive skills and plays in a pitcher's park, so he's unlikely to be a big needle mover.
While Crawford did not replicate the 21 homers from his 2015 breakout campaign, the All-Star shortstop matched his RBI total (84) and exceeded his totals in runs and triples all while improving his slash line to a career-best .275/.342/.430. The regression in home runs coupled with the emergence of a crop of young fantasy stars at the shortstop position kept Crawford's excellent season under the radar. While he may not reach 21 home runs again -- a 16.2 percent HR/FB in 2015 declined to a more normal 7.5 percent last season -- most of his other statistical measures were in line with his career. There's no reason to think that he can't replicate last year's numbers hitting in the heart of the Giants' batting order.
Crawford came into the year as a glove-first shortstop who had limited fantasy appeal. He broke the mold in 2015, leading all shortstops with 21 homers and 84 RBI in what was one of the biggest fantasy surprises of the year. What sticks out when comparing Crawford's 2015 season to the rest of his career is his 16.2% HR/FB rate from 2015 (previous career-high of 7.0%). This appears to be an outlier and should raise red flags when trying to evaluate whether or not he can repeat his power going forward. But if we dig deeper, we can see that his career-high 76.1 Z-Swing% (percentage of pitches swung at in the strike zone) resulted in a 73.6 percent contact rate, which was on par with his career averages. This tells us that Crawford was better at identifying pitches in the strike zone and attacking them more aggressively than he had in the past. His approach seems sustainable, and another 20-homer campaign isn't out of the question.
Crawford turned in his best offensive season for the Giants in 2014, posting a career-high .713 OPS on the strength of 40 extra-base hits and a career-high walk rate (10.5%). Interestingly enough, he didn't hit right-handed pitching well at all, posting a .213/.291/.346 line while raking against lefties (.320/.395/.484) in a reverse platoon split atypical of his career norms. Defensively, he's a perennial Gold Glove candidate at shortstop, but he's fallen short of winning the award over three full seasons as a starter. At age 28, he's likely nearing a plateau in his ability as a hitter, but having an everyday job in a steady lineup should continue to afford him plenty of runs scored and RBI as a cheap middle-infield filler, or even as a shortstop for owners who choose to allocate resources elsewhere on draft day.
Crawford got off to a red-hot start in 2013 (.272 average, five homers, 14 RBI in April) and many had him pegged for a breakout campaign. His power surge ceased, however, as he only clubbed four homers the rest of the season. Crawford did see slight improvements in his strikeout rate (17.5%), walk rate (7.6%), and ISO (.114) from his 2012 numbers. At age 27, there is room for some more improvement with the bat, but it would be wise to keep expectations in check for the Giants' glove-first shortstop.
Crawford appeared in 143 games for the Giants (476 plate appearances) splitting time with Joaquin Arias throughout the year, but became the full-time starter for the Giants down the stretch. Crawford will be the starting shortstop heading into 2013 because of the strength of his glove. His bat played better than expected (.248/.304/.349), but his career 4.4 percent HR/FB rate indicates he is not likely to hit more than seven home runs in a full season. In addition, his 11.7 percent swinging-strike rate might lead to a higher strikeout rate next season and therefore a lower batting average.
Crawford posted a .204/.288/.296 line over 196 at-bats during his first taste of the majors last season as a 24-year-old. His minor league numbers weren't anything special, as he offers very little power with not much speed. However, he's a terrific defender at shortstop, and while it's hardly an ideal situation, the Giants are going to give him every opportunity to be the team's starter at the position in 2012. Crawford's glove will help San Francisco's pitching staff, but his bat is unlikely to do so for fantasy teams.
After posting a 1.045 OPS over 105 at-bats High-A San Jose last season, Crawford struggled upon getting called up to Double-A Connecticut, recording a .654 OPS, with a 100:20 K:BB ratio over 392 at-bats. He's a middling shortstop prospect in the Giants' system and is unlikely to see much time in San Francisco in 2010.
More Fantasy News