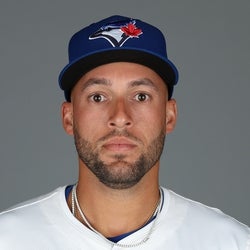 2023 Fantasy Outlook
Most of what was expected of Springer since he signed with Toronto has come true, good and bad. 2022 saw Springer dip back into the fountain of youth and swipe 14 bags in 16 attempts marking the first time since 2015 he finished with a double-digit steals total. He also hit 25 homers for the first time away from Houston and/or minor league parks while continuing his OBP skills thanks to his ability to both accept walks and punish the baseball to all fields. The downside of his tenure in Toronto has been a signfnicant amount of time missed as he has played in 211 of the 324 contests over the past two seasons and dealt with knee and elbow troubles down the stretch in 2022. He had minor elbow surgery to remove a bone spur in his elbow after Toronto was knocked out of the playoffs so Springer should at least begin the season healthy. He has 30/100/100/10/.270 potential if he can figure out a way to avoid the IL in 2023.
Read Past Outlooks
$Signed a six-year, $150 million contract with the Blue Jays in January of 2021.

Springer went 1-for-2 with a walk and two stolen bases in Sunday's Grapefruit League game against the Rays.
ANALYSIS
There wasn't much offense from either team as the game ended in a 1-0 Tampa Bay win, but Springer did his best to generate some action on the basepaths. The 33-year-old has had a strong spring, going 11-for-37 (.297) with three homers and two steals, and after stealing 14 bags in 2022, MLB's new rules and bigger bases could allow Springer to top the 16 stolen bases he racked up back in 2015.
Read More News
Batting Stats
2022
2021
2020
2019
2018
2017
2022 MLB Game Log

Calculate Stats Over Time
Just click on any two dates.
Scoring
FanDuel
DraftKings
Yahoo DFS
FantasyDraft
Head2Head
Loading Batting Game Log...
2021 MLB Game Log

Calculate Stats Over Time
Just click on any two dates.
Scoring
FanDuel
DraftKings
Yahoo DFS
FantasyDraft
Head2Head
Loading Batting Game Log...
2020 MLB Game Log

Calculate Stats Over Time
Just click on any two dates.
Scoring
FanDuel
DraftKings
Yahoo DFS
FantasyDraft
Head2Head
Loading Batting Game Log...
2019 MLB Game Log

Calculate Stats Over Time
Just click on any two dates.
Scoring
FanDuel
DraftKings
Yahoo DFS
FantasyDraft
Head2Head
Loading Batting Game Log...
2018 MLB Game Log

Calculate Stats Over Time
Just click on any two dates.
Scoring
FanDuel
DraftKings
Yahoo DFS
FantasyDraft
Head2Head
Loading Batting Game Log...
2017 MLB Game Log

Calculate Stats Over Time
Just click on any two dates.
Scoring
FanDuel
DraftKings
Yahoo DFS
FantasyDraft
Head2Head
Loading Batting Game Log...
Minor League Game Log

Calculate Stats Over Time
Just click on any two dates.
Loading Minor League Batting Game Log...
Batting Order Slot Breakdown
#1
#2
#3
#4
#5
#6
#7
#8
#9
#1
#2
#3
#4
#5
#6
#7
#8
#9
Left/Right Batting Splits
OPS
PA
HR
RBI
AVG
Since 2020

vs Left

.846
273
15
38
.257
Since 2020

vs Right

.862
860
46
120
.268
2022

vs Left

.788
131
6
18
.252
2022

vs Right

.821
448
19
58
.271
2021

vs Left

.943
92
5
13
.282
2021

vs Right

.894
249
17
37
.258
2020

vs Left

.823
50
4
7
.227
2020

vs Right

.928
163
10
25
.273
More Splits

→

View More Split Stats
Home/Away Batting Splits
OPS
PA
HR
RBI
AVG
Since 2020

Home

.889
609
38
89
.272
Since 2020

Away

.822
528
23
69
.258
2022

Home

.790
304
15
40
.255
2022

Away

.840
275
10
36
.281
2021

Home

1.056
204
15
38
.318
2021

Away

.685
137
7
12
.183
2020

Home

.854
101
8
11
.230
2020

Away

.945
116
6
21
.293
More Splits

→

View More Split Stats
Stat Review
How does George Springer compare to other hitters?
This section compares his stats with all batting seasons from the previous three seasons (minimum 400 plate appearances)*. The bar represents the player's percentile rank. For example, if the bar is halfway across, then the player falls into the 50th percentile for that stat and it would be considered average.
* Exit Velocity and Barrels/PA % are benchmarked against 2019 data (min 400 PA) and Hard Hit Rate is benchmarked against last season's data (min 400 PA).
See here for more exit velocity/barrels stats
plus an explanation of current limitations with that data set.
BB/K

Walk to strikeout ratio

BB Rate

The percentage of plate appearances resulting in a walk.

K Rate

The percentage of plate appearances resulting in a strikeout.

BABIP

Batting average on balls in play. Measures how many of a batter's balls in play go for hits.

ISO

Isolated Power. Slugging percentage minus batting average. A computation used to measure a batter's raw power.

AVG

Batting average. Hits divided by at bats.

OBP

On Base Percentage. A measure of how often a batters reaches base. Roughly equal to number of times on base divided by plate appearances.

SLG

Slugging Percentage. A measure of the batting productivity of a hitter. It is calculated as total bases divided by at bats.

OPS

On base plus slugging. THe sum of a batter's on-base percentage and slugging percentage.

wOBA

Weighted on-base average. Measures a player's overall offensive contributions per plate appearance. wOBA combines all the different aspects of hitting into one metric, weighting each of them in proportion to their actual run value.

Exit Velocity

The speed of the baseball as it comes off the bat, immediately after a batter makes contact.

Hard Hit Rate

A measure of contact quality from Sports Info Solutions. This stat explains what percentage of batted balls were hit hard vs. medium or soft.

Barrels/PA

The percentage of plate appearances where a batter had a batted ball classified as a Barrel. A Barrel is a batted ball with similar exit velocity and launch angle to past ones that led to a minimum .500 batting average and 1.500 slugging percentage.

Expected BA

Expected Batting Average.

Expected SLG

Expected Slugging Percentage.

Sprint Speed

The speed of a runner from home to first, in feet per second.

Ground Ball %

The percentage of balls put in play that are on the ground.

Line Drive %

The percentage of balls put in play that are line drives.

Fly Ball %

The percentage of balls put in play that are fly balls.
Advanced Batting Stats
Loading Advanced Batting Stats...
Games By Position
Defensive Stats
Loading Games Played by Position...
Loading MLB Defensive Stats...
Batted Ball Stats
Loading Batted Ball Stats...
Stats Vs Upcoming Pitchers
Our full team depth charts are reserved for RotoWire subscribers.
Subscribe Now
Recent RotoWire Articles Featuring George Springer
See More
Past Fantasy Outlooks
2022
2021
2020
2019
2018
2017
2016
2015
2014
2013
2012
Springer was hurt to start the 2021 season (quadriceps) and didn't become a fixture in the Blue Jays' lineup until late June. Then his knee started acting up in late August, forcing him to miss some more time. In all, he came to bat just 342 times and still hit over 20 homers with a handful of stolen bases. Over the second half, he hit an outstanding .286/.366/.599 with 17 homers. While he was frustrating to roster, he was near elite when on the field. Generally, he was on par with career norms, with his Barrel% (career high) and strikeout rate (five-year high) being the two exceptions. Fantasy managers know he is going to miss some time since he has only broken 140 games once in his career. He's a near-elite talent... again, when on the field. Each manager is going to have to evaluate how much injury risk they are willing to take on when it's Springer's time to be drafted.
Springer's time in Houston has come to an end. He came up as a rookie who could take a walk and hit homers, but his aggressive approach left him exposed to strikeouts. That got better each year, and Springer actually closed 2020 with a career-best strikeout rate. One would assume Springer had big home/road splits, but in fact he has 12 more homers on the road than at home in his career, and hit 19 points better on the road in his time with Houston. This past season was the first in which Springer hit more flyballs than groundballs, and was also the most pull-heavy season of his big-league career. It is almost as if he was auditioning for a big-budgeted 2021 employer. We're taught to be cautious in the first year of a new big contract, but Springer has all of the tools to be a frontline fantasy producer even if he no longer steals bases as he once did. He can hit in any one of the top four spots of a lineup.
Despite missing a month with a hamstring strain, Springer delivered the best season of his career in 2019. The injury killed Springer's chances of claiming AL MVP honors, but he still met value for those that invested an early-round pick. A recovery in the power department was the key, as Springer bounced back from a career-worst .780 OPS in 2018 to rank eighth in the majors (1.015). Juiced ball notwithstanding, Springer's gains look sustainable on some level, as his Statcast expected slugging percentage placed him in the 96th percentile of hitters. And though his three-year streak of 100-plus runs ended due to the low games total, Springer rode the wave of a prolific offense to 96 RBI, the sixth most in MLB history for a leadoff man. With Houston retaining most of its core lineup pieces in 2020, Springer won't be asked to steal much, but huge numbers in the other counting categories remain in the forecast.
Despite playing as many games last year as he did the year before, Springer's numbers took a noticeable dip, mainly due to his ISO dropping from a career-best .239 to a career-worst .169. He still managed to top 100 runs for the third year in a row while serving as the Astros' leadoff hitter, and outside of the power dip, he showed the same plate skills as the year before. There is some rebound potential for Springer -- he has pedigree (first-round pick in 2011) on his side and the Astros have a potent offense. He also logged a 15.0% HR/FB last season, well below his career mark of 20.2%. However, he will, possibly surprisingly, turn 30 late next season, so it is quite possible 2016 and 2017 will go down as the best years of his career, with 2018 representing the beginning of a slight decline. Regardless, he will patrol center field every day for the Astros again in 2019.
Springer hit 34 homers out of the leadoff spot last season, and did not even lead baseball in that department (Charlie Blackmon did). The early version of Springer struck out too much, but he has improved his strikeout rate in each of his four seasons at the major-league level (down to a 17.6 percent K% last season) while maintaining a double-digit walk rate. That ability to draw walks is what makes him the best fit for leading off, and the historically deep Astros lineup allowed him the opportunity to drive in 85 runs as well. To put that into perspective, fewer than 30 players have ever driven in as many as 80 runs out of the leadoff spot in a single season. Everything is in place for Springer to repeat his 2017 output, but don't expect a resurgence in the stolen-base category as he's gone 14-for-31 on the basepaths over the last two seasons combined.
Springer addressed durability concerns by playing in every game of the 2016 season. His metrics were very much in line with his 2015 efforts nearly across the board. He did set career highs in the counting categories with 29 homers and benefitted from Jose Altuve hitting behind him to score 116 runs. As long as Springer maintains his ability to get on base (.356 career OBP), there is little reason to move him out of the leadoff spot. While he does strike out a bit, he has improved his rate each season to date. Splits-wise, he does prefer lefties (.267/.391/.517; 14 percent walk rate, 23 percent strikeout rate) over righties (.255/.342/.437; 11 percent walks, 27 percent Ks) but his numbers against right-handers are not a killer, though it does help frame why it will be tougher for him to hit for a higher average. The next phase of improvement will be to get more loft on the ball, as a near 50 percent groudball rate is too high for someone with his pop.
Springer struggled out of the gates in 2015, hitting just .222 with seven home runs and 17 RBI through the first two months of the season. He did swipe 11 bases during that span, however, and showed solid plate discipline with 32 walks. When the calendar flipped to June, something clicked for the 26-year-old, as he hit .321/.387/.518 with six long balls and 12 RBI while seeing time atop the order for Houston. Unfortunately, Springer was hit by a pitch during a game on July 1 and ended up missing two months of the season due to a fractured right wrist. Springer has missed significant time in each of the past two seasons, which is a bit concerning for someone who was a second- or third-round fantasy pick last year. His 30/20 upside is too great to ignore, however, and he may even be had at a discount in 2016 drafts.
With nothing left to prove in the minors, Springer made his much-anticipated major league debut for the Astros in mid-April. He struggled initially, hitting .182 in 14 homer-less games before finally flashing his power potential when the calendar flipped to May. The 25-year-old hit .294 with 10 long balls and 25 RBI during the month, which brought much relief to fantasy owners who had been anxiously awaiting his callup. Springer did have issues making contact (61%) and he struck out at an incredibly high rate (33%), but he still turned in a respectable stat line, hitting .231/.336/.468 with 20 home runs, 51 RBI and five steals before knee and quadriceps injuries interfered in July, ultimately ending his season. Expected to be fully healthy entering camp, Springer is likely to run more on the basepaths than he did in his rookie season, which bodes well for those who invest in the powerful outfielder. A 40/20 season is certainly attainable if he maintains his health over a full season.
Springer, 24, was a finalist for USA Today's 2013 Minor League Player of the Year award after hitting a combined .303 with 37 home runs, 108 RBI and 45 steals over 135 games between Double-A and Triple-A. The right-handed slugger's 1.050 OPS at Triple-A would have led the league if he had played in enough games to qualify. Perhaps one of the only knocks on Springer is his high strikeout rate (26.5 percent in the minors for his career), but he possesses the rare combination of power and speed that fantasy owners drool over. Springer is one of the most exciting prospect in baseball, and he appears likely to take over as the Astros' starting center fielder at some point in 2014, although the short-term plans for him became cloudy when the Astros acquired Dexter Fowler from the Rockies in December.
Springer's first full season line was pretty much as anticipated: lots of homers, steals and strikeouts. Despite the big 6-foot-3 frame, he is fairly lean, weighing just 200 pounds. As he matures, Springer figures to put on some muscle, which should only add to his power potential. He is going to need to fix the hole in his swing if he wants to continue to succeed in the upper minors. Springer has outstanding upside, and in Minute Maid Park he could emerge as a five-tool player. He will need more seasoning, though, so do not expect him to arrive this year as anything more than a September callup.
The Astros' toolsy 2011 first-round draft pick arrived with much fanfare, signing with the team right before the August deadline. Athletic and fast, he figures to play a competent center field with decent power and speed. Springer may always struggle with contact, as his college numbers reveal serious holes in his swing (161 strikeouts in 692 at-bats). He's probably two years away from being a major league regular and will likely open at Low-A Lexington. For now, he's considered the Astros' center fielder of the future.
More Fantasy News