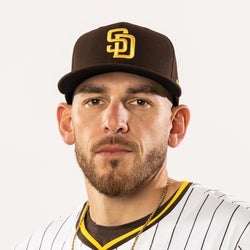 60-Day IL
Injury Shoulder
Est. Return 2/1/2024
Rest-of-Season Projections
2023 Fantasy Outlook
Stop me if you have heard this plot before: talented pitcher leaves Pittsburgh and finds the success which long evaded him in another organization. Java Joe Musgrove has enjoyed his homecoming to SoCal with consecutive strong seasons which are nearly identical across the statistical outcomes in every category. San Diego tweaked his repertoire to throw more cutters and work all corners of the strike zone as opposed to the preferred downward attack in Pittsburgh and Musgrove has done exceedingly well with this new approach despite below average starting pitcher velocity. Opponents hit below .230 against five of his six pitch offerings with only the sinker being hittable (Pittsburgh PTSD?) but it was used just seven percent of the time. He earned a win in a third of his 30 starts but delivered quality starts in 70% of his outings so perhaps there is more win fortune coming his way in 2023 because there is otherwise little variance in his production.
Read Past Outlooks
$Signed a five-year, $100 million contract extension with the Padres in August of 2022.

The Padres
transferred
Musgrove (shoulder) to the 60-day injured list Saturday.
ANALYSIS
Musgrove has been on the injured list since early August due to inflammation in his right shoulder. He was able to resume throwing last Friday, but with the Padres officially eliminated from playoff contention, his focus has shifted to getting ready for 2024. Musgrove's spot on the 40-man roster will be filled by
Chandler Seagle
, who was selected from Triple-A El Paso on Saturday.
Read More News
Pitching Stats
Loading Pitching Stats...
2023
2022
2021
2020
2019
2018
2017
2023 MLB Game Log

Calculate Stats Over Time
Just click on any two dates.
Scoring
FanDuel
DraftKings
Yahoo DFS
Loading Pitching Game Log...
2022 MLB Game Log

Calculate Stats Over Time
Just click on any two dates.
Scoring
FanDuel
DraftKings
Yahoo DFS
Loading Pitching Game Log...
2021 MLB Game Log

Calculate Stats Over Time
Just click on any two dates.
Scoring
FanDuel
DraftKings
Yahoo DFS
Loading Pitching Game Log...
2020 MLB Game Log

Calculate Stats Over Time
Just click on any two dates.
Scoring
FanDuel
DraftKings
Yahoo DFS
Loading Pitching Game Log...
2019 MLB Game Log

Calculate Stats Over Time
Just click on any two dates.
Scoring
FanDuel
DraftKings
Yahoo DFS
Loading Pitching Game Log...
2018 MLB Game Log

Calculate Stats Over Time
Just click on any two dates.
Scoring
FanDuel
DraftKings
Yahoo DFS
Loading Pitching Game Log...
2017 MLB Game Log

Calculate Stats Over Time
Just click on any two dates.
Scoring
FanDuel
DraftKings
Yahoo DFS
Loading Pitching Game Log...
Minor League Game Log

Calculate Stats Over Time
Just click on any two dates.
Loading Minor League Pitching Game Log...
Pitching Appearances Breakdown
How many pitches does Joe Musgrove generally throw?
What part of the game does Joe Musgrove generally pitch?
% Games Reaching Innings Threshold
% Games By Number of Innings Pitched
Left/Right Pitching Splits
BAA
K
BB
H
HR
Since 2021

vs Left

.216
265
67
195
28
Since 2021

vs Right

.236
219
50
191
26
2023

vs Left

.215
58
10
42
4
2023

vs Right

.282
39
11
48
6
2022

vs Left

.203
106
29
74
10
2022

vs Right

.254
78
13
80
12
2021

vs Left

.230
101
28
79
14
2021

vs Right

.194
102
26
63
8
More Splits

→

View More Split Stats
Home/Away Pitching Splits
ERA
WHIP
IP
K/9
BB/9
Since 2021

Home

2.93
1.09
243.0
10.0
2.3
Since 2021

Away

3.20
1.09
216.2
8.9
2.2
2023

Home

3.04
1.03
56.1
9.3
1.8
2023

Away

3.07
1.29
41.0
8.6
2.2
2022

Home

2.86
1.10
94.1
9.1
2.4
2022

Away

3.01
1.06
86.2
9.2
1.8
2021

Home

2.92
1.13
92.1
11.4
2.6
2021

Away

3.44
1.03
89.0
8.7
2.7
More Splits

→

View More Split Stats
Stat Review
How does Joe Musgrove compare to other starting pitchers?
This section compares his stats with all starting pitcher seasons from the previous three seasons (minimum 120 innings)*. The bar represents the player's percentile rank. For example, if the bar is halfway across, then the player falls into the 50th percentile for that stat and it would be considered average.
* Exit Velocity, Barrels/BBE %, Balls Hit 95+ MPH %, and Spin Rate are benchmarked against 2019 data (min 120 IP).
See here for more exit velocity/barrels stats
plus an explanation of current limitations with that data set.
K/BB

Strikeout to walk ratio.

K/9

Average strikeouts per nine innings.

BB/9

Average walks per nine innings.

HR/9

Average home runs allowed per nine innings.

Fastball

Average fastball velocity.

ERA

Earned run average. The average earned runs allowed per nine innings.

WHIP

Walks plus hits per inning pitched.

BABIP

Batting average on balls in play. Measures how many balls in play against a pitcher go for hits.

GB/FB

Groundball to flyball ratio. The higher the number, the more likely a pitcher is to induce groundballs.

Left On Base

The percentage of base runners that a pitcher strands on base over the course of a season.

Exit Velocity

The speed of the baseball as it comes off the bat, immediately after a batter makes contact.

Barrels/BBE

The percentage of batted ball events resulting in a Barrel. A Barrel is a batted ball with similar exit velocity and launch angle to past ones that led to a minimum .500 batting average and 1.500 slugging percentage.

Spin Rate

Spin Rate is the rate of spin on a baseball after it is released. It is measured in revolutions per minute (rpm).

Balls Hit 95+ MPH

The percentage of batted balls hit that met or exceeded the 95 MPH threshold.

Swinging Strike

The percentage of pitches that result in a swing and a miss.
Advanced Pitching Stats
Loading Advanced Pitching Stats...
Loading MLB Defensive Stats...
Our full team depth charts are reserved for RotoWire subscribers.
Subscribe Now
Recent RotoWire Articles Featuring Joe Musgrove
See More
Past Fantasy Outlooks
2022
2021
2020
2019
2018
2017
2016
Musgrove was another pitcher to find a new level of success upon leaving Pittsburgh, as he posted a career-best 3.18 ERA across 181.1 innings in 2021. He saw a slight increase in velocity across the board while also featuring a cutter in his pitch arsenal for the first time. That resulted in limiting right-handed hitters to just a .252 wOBA and 0.80 HR/9, well better than his career marks of .289 and 1.1, respectively. Musgrove was particularly hot out of the gate -- he threw the first no-hitter in Padres history in his second start of the season -- and maintained a 2.22 ERA with a 0.84 WHIP with a 103:19 K:BB across his first 15 outings. He couldn't carry that success into the second half, as he closed the campaign by posting a 4.02 ERA and 1.30 WHIP with a 100:35 K:BB across his final 17 appearances. That makes it difficult to project additional growth in 2022, though he'll be locked into the rotation and it's reasonable to expect an ERA in the mid 3s and WHIP in the low 1.20s across 170 innings in 2022.
Musgrove's 3.82 FIP in 2019 indicated that he deserved better than his 4.44 ERA. As it turns out, that number was a near-perfect estimation of his ERA in 2020, which came in at 3.86 in eight starts, a number cut short by a spell on the injured list due to triceps inflammation. For the fourth consecutive year, Musgrove's FIP beat his ERA, coming in at a career-low 3.42. His underlying numbers looked like they belonged to an entirely different pitcher than who he was in his first four seasons. His K% sat in a very narrow band between 20.6% and 21.9% in those years before shooting up to 33.1% in 2020. That did come with some control problems, as he posted a 9.6 BB%, well above his previous career high of 6.3%, though he also produced a career-high 48.4% groundball rate. The good here definitely outweighs the bad, and while the sample was quite small, Musgrove looks more interesting than ever heading into 2021.
Musgrove's baseline skills look better than a pitcher who ended up with a 4.44 ERA. Last season marked the second consecutive year where Musgrove's FIP was at least half a run lower than his ERA, as he and the Pirates struggled to strand baserunners. He allowed four or more earned runs in nine of his 31 outings, and had a 7.17 ERA the third time through a lineup. His slider took a big step forward in 2019 in terms of pitch value, but it did not have a sufficient supporting cast despite his fastball spin rate being in the 80th percentile league-wide. Last season was the first with a significant workload for Musgrove, but the overall results did not look much different from previous efforts. This feels like yet another example of the team's strategy holding back a talented arm, so perhaps the change in pitching coach may lead to a different path forward for Musgrove. The skills are there for better results.
Musgrove was limited by injuries but performed at a high level between DL stints, creating some excitement heading into 2019. After turning the page on a shoulder issue, Musgrove made his Pirates debut May 20 and blanked the Cardinals over seven innings. A finger infection sidelined Musgrove again in July, but he returned to post an even 1.0 BB/9 in 62.1 innings after the break, lowering his walk rate to just 4.7% for the season. His 20.6 K% was underwhelming, though an 11.4% swinging-strike rate and an excellent 68.3% first-pitch-strike rate hint at room for growth in that department. The Pirates were forced to shut Musgrove down early and sent him for surgery to repair his right abdominal wall and to heal a stress reaction in his pelvic bone, but he was expected to have a relatively normal offseason. There's no doubt that Musgrove will have a rotation spot when healthy. The command is there for him to take his performance to the next level.
For some, it is a tale of two halves. For Musgrove, it was a tale of two roles. As a starter, Musgrove posted a 6.12 ERA with a 1.51 WHIP. After being demoted to the bullpen, he registered a sparkling 1.44 ERA with a stingy 0.86 WHIP. Sometimes, this is just happenstance, with regression occurring after the role change, not because of it. However, in this instance, Musgrove increased the use of his fastball (adding three mph), slider and cutter while barely throwing his sinker and curveball. The results were astounding, as Musgrove's swinging-strike rate gained three percentage points, while his walks and homers dropped significantly. Focusing on homers, as a starter, Musgrove surrendered 16 in just 78 innings compared to only two in 31.1 frames out of the bullpen. Just when it seemed he was poised to become one of the useful non-closer fantasy relievers in the Chris Devenski or Chad Green mold, Musgrove was dealt to the Pirates as part of the Gerrit Cole trade. He will return to starting in Pittsburgh, and more growing pains should be expected.
Musgrove excelled at the upper levels of the minor leagues in 2016, earning a look in the Astros' rotation over the final two months. Aside from one eight-run blowup at Baltimore, Musgrove was mostly impressive as he was able to maintain a good walk rate against more advance hitters while continuing to miss bats at a strong clip. His 4.23 FIP suggests he may have overachieved slightly in the ratio categories, but command and control give Musgrove a nice floor as he enters his age-24 season and continues along the major-league learning curve. The Astros' signing of Charlie Morton and a potential role change for Chris Devenski cloud Musgrove's status somewhat, but there are health concerns at the top of the rotation, and Musgrove should serve as the top fill-in if he misses out on a rotation spot out of camp. He's more than an AL-only consideration.
Musgrove, Toronto's first pick in the compensation round of the 2011 draft (46th overall), was acquired by the Astros in 2012 and has spent the past four years in the lower levels of their minor league system. His stock has finally started to rise, however, as he opened 2015 with Low-A Quad Cities and finished the year at Double-A Corpus Christi. Between three levels last season, he appeared In 19 games (14 starts) and went 12-1 with a 1.88 ERA, 0.92 WHIP and 99:8 K:BB ratio over 100.2 innings. The 23-year-old right-hander sports a mid-to-low 90s fastball, plus slider and plus-plus command, but his future as a big league starter or reliever is unclear. He's likely to return to Corpus Christi or open 2016 with Triple-A Fresno.
More Fantasy News