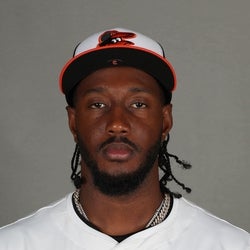 Rest-of-Season Projections
2023 Fantasy Outlook
Mateo played all over the diamond in his first two seasons, but he was installed as the Orioles every day shortstop and stayed there all season. Defensively, Mateo was superb, but at the dish, a poor approach resulted in an up and down campaign, though through it all Mateo ran as he led the American League with 35 steals. A 27.6% strikeout rate and a .286 BABIP suppressed his average. The low BABIP came from a 41% fly ball rate, which supports low double-digit power, but clashes with a player possessing below average exit velocity and hard-hit rate but runs with 90th percentile sprint speed. Entering his 28-year-old campaign, Mateo could still improve his contact and hit more grounders, but there are no indications he'll adjust. Baltimore signed Adam Frazier and has a wave of more well-rounded infield prospects ready to help in 2023, so Mateo may start shifting to a utility role sooner than later
Read Past Outlooks
$Signed a one-year, $2 million contract with the Orioles in January of 2023.

Mateo went 0-for-1 with one RBI, two runs scored and two steals in Saturday's 5-2 victory over Boston.
ANALYSIS
While Mateo didn't start Saturday's game, he managed to make an impact after pinch running for
Adley Rutschman
in the seventh frame. The shortstop stole two bases and managed to cross home plate twice despite only receiving one at-bat. Mateo is now up to 32 pilfers on the year while slashing .218/.268/.341.
Read More News
Batting Stats
2023 MLB Game Log

Calculate Stats Over Time
Just click on any two dates.
Scoring
FanDuel
DraftKings
Yahoo DFS
Loading Batting Game Log...
2022 MLB Game Log

Calculate Stats Over Time
Just click on any two dates.
Scoring
FanDuel
DraftKings
Yahoo DFS
Loading Batting Game Log...
2021 MLB Game Log

Calculate Stats Over Time
Just click on any two dates.
Scoring
FanDuel
DraftKings
Yahoo DFS
Loading Batting Game Log...
2020 MLB Game Log

Calculate Stats Over Time
Just click on any two dates.
Scoring
FanDuel
DraftKings
Yahoo DFS
Loading Batting Game Log...
Minor League Game Log

Calculate Stats Over Time
Just click on any two dates.
Loading Minor League Batting Game Log...
Batting Order Slot Breakdown
#1
#2
#3
#4
#5
#6
#7
#8
#9
#1
#2
#3
#4
#5
#6
#7
#8
#9
Left/Right Batting Splits
OPS
PA
HR
RBI
AVG
Since 2021

vs Left

.675
371
9
33
.240
Since 2021

vs Right

.619
718
15
65
.217
2023

vs Left

.746
138
3
13
.276
2023

vs Right

.515
211
4
21
.178
2022

vs Left

.618
158
5
14
.203
2022

vs Right

.657
373
8
36
.228
2021

vs Left

.664
75
1
6
.254
2021

vs Right

.672
134
3
8
.244
More Splits

→

View More Split Stats
Home/Away Batting Splits
OPS
PA
HR
RBI
AVG
Since 2021

Home

.570
519
7
45
.211
Since 2021

Away

.701
570
17
53
.237
2023

Home

.564
147
1
12
.215
2023

Away

.639
202
6
22
.219
2022

Home

.550
260
5
28
.195
2022

Away

.739
271
8
22
.246
2021

Home

.625
112
1
5
.245
2021

Away

.723
97
3
9
.250
More Splits

→

View More Split Stats
Stat Review
How does Jorge Mateo compare to other hitters?
This section compares his stats with all batting seasons from the previous three seasons (minimum 400 plate appearances)*. The bar represents the player's percentile rank. For example, if the bar is halfway across, then the player falls into the 50th percentile for that stat and it would be considered average.
* Exit Velocity and Barrels/PA % are benchmarked against 2019 data (min 400 PA) and Hard Hit Rate is benchmarked against last season's data (min 400 PA).
See here for more exit velocity/barrels stats
plus an explanation of current limitations with that data set.
BB/K

Walk to strikeout ratio

BB Rate

The percentage of plate appearances resulting in a walk.

K Rate

The percentage of plate appearances resulting in a strikeout.

BABIP

Batting average on balls in play. Measures how many of a batter's balls in play go for hits.

ISO

Isolated Power. Slugging percentage minus batting average. A computation used to measure a batter's raw power.

AVG

Batting average. Hits divided by at bats.

OBP

On Base Percentage. A measure of how often a batters reaches base. Roughly equal to number of times on base divided by plate appearances.

SLG

Slugging Percentage. A measure of the batting productivity of a hitter. It is calculated as total bases divided by at bats.

OPS

On base plus slugging. THe sum of a batter's on-base percentage and slugging percentage.

wOBA

Weighted on-base average. Measures a player's overall offensive contributions per plate appearance. wOBA combines all the different aspects of hitting into one metric, weighting each of them in proportion to their actual run value.

Exit Velocity

The speed of the baseball as it comes off the bat, immediately after a batter makes contact.

Hard Hit Rate

A measure of contact quality from Sports Info Solutions. This stat explains what percentage of batted balls were hit hard vs. medium or soft.

Barrels/PA

The percentage of plate appearances where a batter had a batted ball classified as a Barrel. A Barrel is a batted ball with similar exit velocity and launch angle to past ones that led to a minimum .500 batting average and 1.500 slugging percentage.

Expected BA

Expected Batting Average.

Expected SLG

Expected Slugging Percentage.

Sprint Speed

The speed of a runner from home to first, in feet per second.

Ground Ball %

The percentage of balls put in play that are on the ground.

Line Drive %

The percentage of balls put in play that are line drives.

Fly Ball %

The percentage of balls put in play that are fly balls.
Prospect Rankings History
Advanced Batting Stats
Loading Advanced Batting Stats...
Games By Position
Defensive Stats
Loading Games Played by Position...
Loading MLB Defensive Stats...
Batted Ball Stats
Loading Batted Ball Stats...
Stats Vs Upcoming Pitchers
Our full team depth charts are reserved for RotoWire subscribers.
Subscribe Now
Recent RotoWire Articles Featuring Jorge Mateo
See More
Past Fantasy Outlooks
2022
2021
2020
2019
2018
2017
2016
Mateo has a perfect situation in 2022 in that he plays for a terrible club and he is out of minor-league options, so he should be given ample opportunity to show his athleticism can stick in the major leagues. Mateo has stolen nearly 300 bases in the minors with a 78% success rate with his only power coming in the year of the rabbit ball combined with playing in the PCL (19 homers in 2019). He has otherwise made a career of slashing and dashing impatiently, putting the ball into play to leverage his lightning-quick speed. He played five different positions for Baltimore last season, and comes into the season qualifying at both middle infield spots with the likelihood to earn outfield eligibility in-season. If you are looking for a late-round speed gamble, this is your guy. Ramon Urias and Kelvin Gutierrez are also out of options, making the early part of the season almost an open tryout to see which infielder sticks.
A mid-summer trade to San Diego appeared to crack open a door for Mateo as the Padres had yet to identify a starter at second base at the time. However, Mateo was set back after contracting COVID-19 and consequently missed most of summer camp. When he made his big-league debut, it was as a left-fielder, and he ended up logging more time in the outfield than the infield over the course of the campaign. That versatility could help him get opportunities, but San Diego's roster is even stronger than it was a year ago, so the speedster is certain to be limited to a reserve role if he does make the cut. That's far from a sure thing, as Mateo struggled mightily at the plate last season, collecting only four hits in 26 at-bats and registering a 39.3 K%. Strikeouts and poor pitch recognition have dogged Mateo throughout his professional career, snuffing much of the excitement over his top-flight speed.
The second-base job was there for the taking, but Mateo could not make the necessary offensive improvements at Triple-A for the A's to start his clock in a season where every win mattered. He can handle either middle-infield position, but was slightly below league-average (96 wRC+) in a repeat tour of the Pacific Coast League, and his 5.1 BB% and 25.6 K% portend significant struggles against MLB pitching. Mateo made significant improvements in some areas, but it's hard to say how much of that was the product of the juiced ball being introduced at Triple-A. His Hard% went up from 22.5% to 36.1% and his ISO jumped from .123 to .214. His batted-ball profile has been excellent in back-to-back seasons, it's just a matter of strike zone awareness and pitch recognition. Fantasy owners are rightfully dreaming on his 80-grade speed, but if 2020 is finally the year, his AVG/OBP figure to be pretty poor.
Mateo's first season at Triple-A was a disaster, but he is extremely close to the majors and has 80-grade speed, so it would be a mistake to write him off. Underperformance was like a plague on Nashville's hitters last season, and there are rumors that the Triple-A field staff did some fruitless tinkering with the swings and approaches of some top prospects, Mateo included. There have been makeup concerns with the speedster for a while, and he has struggled with pitch recognition. That said, he hit .296/.357/.521 with a 22.7 K% in 60 games at Double-A in 2017, so it is not like he has been a lost cause in the upper levels. Mateo does not turn 24 until late June, and if something clicks for him at the plate, he could make his MLB debut this summer. His defensive home will likely be second base or center field, and he may start out in a utility role. He could steal 40 bases over a full season even if he is only getting on base at a .300 clip.
It was an eventful year for Mateo. He completely underwhelmed in a repeat trip to High-A, received a promotion to Double-A anyway, raked, got dealt to the A's, and kept raking. From a fantasy perspective, Mateo is the best prospect Oakland received in the Sonny Gray trade. He has legitimate 80-grade speed -- a tool that has allowed Billy Hamilton and Dee Gordon to not only be relevant, but coveted in roto leagues, despite posting isolated power figures that look more like fahrenheit readings. Unlike Hamilton and Gordon, Mateo is not a zero in the power department, and could pull 8-to-12 balls out per year at peak. His batting average will likely fluctuate quite a bit based on BABIP, but he could be a .250 or .260 hitter who occasionally flirts with hitting .280. Since the trade, he is back to being developed as a shortstop. He could be ready for a callup in the second half, but the A's have an annoying amount of controllable, albeit uninspiring middle infielders, so it's hard to say when Mateo will be handed an everyday gig.
Mateo had a rocky 2016, including a suspension midseason for conduct detrimental to the team. He started the season at High-A Tampa and apparently was dissatisfied with the lack of a promotion to Double-A Trenton. On the field, Mateo's average was down, his strikeouts were up, and he stole less than half as many bases as he did in 2015. He hit just .254 with 36 steals in 2016, as compared to a .278 average and 82 steals in 2015. In addition, with the acquisition of Gleyber Torres from the Cubs, the Yankees have been trying out new positions for the 21-year-old, including second base and center field. Despite the bumps in the road, Mateo's speed is elite, and he also posted career bests in home runs and RBI in 2016. He should finally get his wish and begin the 2017 campaign at Double-A, though where Mateo will play in the field remains to be seen.
A highly coveted asset at the 2015 trade deadline, Mateo was one of four Yankees prospects GM Brian Cashman deemed untouchable. At just 20 years old and never playing above the High-A level, the shortstop has already made a name for himself in the organization, both with his bat and his legs. The 20-year-old swiped 82 bags last season between Low-A and High-A while being caught just 17 times, and he posted an impressive .321/.374/.452 line once being promoted. Didi Gregorius currently poses a potential roadblock to Mateo at short at the big league level, but the youngster doesn't have any minor league experience at any other position in the field. Mateo is still at least a year away from getting his first taste of the big leagues, if not more, but should continue to move up through the organizational ranks in 2016 and could be worth a look in dynasty formats.
More Fantasy News