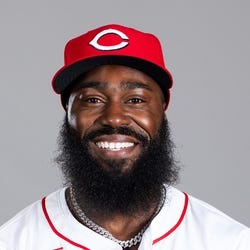 Rest-of-Season Projections
2023 Fantasy Outlook
After spending the first eight seasons of his career with the Pirates, signing with the White Sox made it four teams in four years for the veteran infielder. Harrison's numbers took a downturn, but his skills matched those of the prior campaign. If he were younger, the dip would be written off as variance, but when you're 35 years old, the assumption is an age-related decline. His plate skills did erode a bit with more whiffs and fewer walks that 2021, but Harrison's exit velocity and Hard Hit rate were the same. His defense remains above average at both second and third, so Harrison has a chance to latch on as a utility infielder. He carries a bit of single league allure with a contract-driven, batting average floor, but he hasn't collected double-digit homers or steals in a season since achieving both in 2017.
Read Past Outlooks
$Signed a one-year, minor-league contract with the Rangers in August of 2023. Released by the Rangers in August of 2023.

ANALYSIS
Heyman says Harrison exercised an opt-out clause in his minor-league contract with the Rangers after it became apparent that no promotion to the big leagues was on the horizon. The veteran utility player lasted only six games with Triple-A Round Rock, going 6-for-27 with one home run. Harrison has just a .659 OPS in 159 games at the major-league level since the beginning of last season.
Read More News
Batting Stats
2023
2022
2021
2020
2019
2018
2017
2023 MLB Game Log

Calculate Stats Over Time
Just click on any two dates.
Scoring
FanDuel
DraftKings
Yahoo DFS
Loading Batting Game Log...
2022 MLB Game Log

Calculate Stats Over Time
Just click on any two dates.
Scoring
FanDuel
DraftKings
Yahoo DFS
Loading Batting Game Log...
2021 MLB Game Log

Calculate Stats Over Time
Just click on any two dates.
Scoring
FanDuel
DraftKings
Yahoo DFS
Loading Batting Game Log...
2020 MLB Game Log

Calculate Stats Over Time
Just click on any two dates.
Scoring
FanDuel
DraftKings
Yahoo DFS
Loading Batting Game Log...
2019 MLB Game Log

Calculate Stats Over Time
Just click on any two dates.
Scoring
FanDuel
DraftKings
Yahoo DFS
Loading Batting Game Log...
2018 MLB Game Log

Calculate Stats Over Time
Just click on any two dates.
Scoring
FanDuel
DraftKings
Yahoo DFS
Loading Batting Game Log...
2017 MLB Game Log

Calculate Stats Over Time
Just click on any two dates.
Scoring
FanDuel
DraftKings
Yahoo DFS
Loading Batting Game Log...
Minor League Game Log

Calculate Stats Over Time
Just click on any two dates.
Loading Minor League Batting Game Log...
Batting Order Slot Breakdown
#1
#2
#3
#4
#5
#6
#7
#8
#9
#1
#2
#3
#4
#5
#6
#7
#8
#9
Left/Right Batting Splits
OPS
PA
HR
RBI
AVG
Since 2021

vs Left

.675
319
4
33
.260
Since 2021

vs Right

.711
777
13
64
.264
2023

vs Left

.433
60
0
3
.182
2023

vs Right

.692
54
2
7
.229
2022

vs Left

.667
98
1
5
.250
2022

vs Right

.693
327
6
22
.258
2021

vs Left

.771
161
3
25
.295
2021

vs Right

.729
396
5
35
.273
More Splits

→

View More Split Stats
Home/Away Batting Splits
OPS
PA
HR
RBI
AVG
Since 2021

Home

.694
528
7
40
.263
Since 2021

Away

.707
568
10
57
.263
2023

Home

.454
40
0
2
.171
2023

Away

.607
74
2
8
.221
2022

Home

.692
213
3
13
.260
2022

Away

.682
212
4
14
.253
2021

Home

.730
275
4
25
.277
2021

Away

.752
282
4
35
.282
More Splits

→

View More Split Stats
Stat Review
How does Josh Harrison compare to other hitters?
This section compares his stats with all batting seasons from the previous three seasons (minimum 400 plate appearances)*. The bar represents the player's percentile rank. For example, if the bar is halfway across, then the player falls into the 50th percentile for that stat and it would be considered average.
* Exit Velocity and Barrels/PA % are benchmarked against 2019 data (min 400 PA) and Hard Hit Rate is benchmarked against last season's data (min 400 PA).
See here for more exit velocity/barrels stats
plus an explanation of current limitations with that data set.
BB/K

Walk to strikeout ratio

BB Rate

The percentage of plate appearances resulting in a walk.

K Rate

The percentage of plate appearances resulting in a strikeout.

BABIP

Batting average on balls in play. Measures how many of a batter's balls in play go for hits.

ISO

Isolated Power. Slugging percentage minus batting average. A computation used to measure a batter's raw power.

AVG

Batting average. Hits divided by at bats.

OBP

On Base Percentage. A measure of how often a batters reaches base. Roughly equal to number of times on base divided by plate appearances.

SLG

Slugging Percentage. A measure of the batting productivity of a hitter. It is calculated as total bases divided by at bats.

OPS

On base plus slugging. THe sum of a batter's on-base percentage and slugging percentage.

wOBA

Weighted on-base average. Measures a player's overall offensive contributions per plate appearance. wOBA combines all the different aspects of hitting into one metric, weighting each of them in proportion to their actual run value.

Exit Velocity

The speed of the baseball as it comes off the bat, immediately after a batter makes contact.

Hard Hit Rate

A measure of contact quality from Sports Info Solutions. This stat explains what percentage of batted balls were hit hard vs. medium or soft.

Barrels/PA

The percentage of plate appearances where a batter had a batted ball classified as a Barrel. A Barrel is a batted ball with similar exit velocity and launch angle to past ones that led to a minimum .500 batting average and 1.500 slugging percentage.

Expected BA

Expected Batting Average.

Expected SLG

Expected Slugging Percentage.

Sprint Speed

The speed of a runner from home to first, in feet per second.

Ground Ball %

The percentage of balls put in play that are on the ground.

Line Drive %

The percentage of balls put in play that are line drives.

Fly Ball %

The percentage of balls put in play that are fly balls.
Advanced Batting Stats
Loading Advanced Batting Stats...
Games By Position
Defensive Stats
Loading Games Played by Position...
Loading MLB Defensive Stats...
Batted Ball Stats
Loading Batted Ball Stats...
Stats Vs Upcoming Pitchers
Recent RotoWire Articles Featuring Josh Harrison
See More
Past Fantasy Outlooks
2022
2021
2020
2019
2018
2017
2016
2015
2014
2013
2012
Harrison's season was delayed a week as he cleared COVID-19 protocol, but then he played regularly, posting a solid .294/.366/.434 line before the Nationals dealt the veteran to the Athletics at the trading deadline. Harrison started out well with Oakland, slashing .296/.367/.444 with two steals in eight games before missing three contests with a strained quad. Harrison didn't require an IL stint, but he was likely playing hurt as he dropped to .247/.284/.323 the rest of the way. Harrison's 138 games and 557 plate appearances were both career highs, but he'll be hard-pressed to approach either level this season. Harrison's fantasy, and real-life allure is the ability to play all over the diamond, on a fill-in but not regular basis. His second base, third base and outfield eligibility are perfect for a mixed league reserve spot. He signed with the White Sox shortly after the end of the lockout and is likely to see most of his time at second base.
Admit it. You were checking box scores the evening of Aug. 4 and saw "HR: Harrison (1)" and had no idea who that hitter was in the Washington lineup. I mean, that could not possibly be the same Josh Harrison that hit .175 for Detroit in 2019 before being DFA'd. Yet, there he was, and by season's end, he hit .278/.352/.418 as a niche player and even earned a guaranteed, albeit low-salaried, 2021 contract with the Nationals. Harrison is precisely what the Nationals need: a veteran bat who won't complain about a lack of playing time behind their younger and more talented kids. He can man the corner positions much like Howie Kendrick did before him, with the understanding his bat skills will never be what Kendrick's were for the club. He is three seasons removed from fantasy viability unless you are in a deep NL-only situation.
A highly prominent player just a few short years ago, Harrison is barely still on the radar heading into 2020. He played in 97 games in his final year with Pittsburgh and only 36 last season before being unceremoniously dumped by Detroit. Harrison went down in late May with a partial tear of his left hamstring, underwent surgery, suffered a setback and never got going at Triple-A. While his K% has held steady around 18% over the past couple seasons, he just hasn't driven the ball with authority, and really, he never did. Even from 2016-18, Harrison ranked in the bottom 10% in exit velo and hard-hit rate. He's never walked (career 4.0 BB%) and his sprint speed is pretty much middle of the pack nowadays (27.2 ft/sec). Perhaps with better health and on a team that gives him the green light to run, Harrison could return to mixed-league relevance, but he won't be assured of anything heading into spring training.
A two-time All-Star, Harrison turned in what amounted to replacement-level value over 97 games in 2018, resulting in the Pirates declining his $10.5 million option early in the offseason. He was hampered by injuries throughout most of the campaign; first it was a broken hand that knocked Harrison out for more than a month and he then dealt with hamstring issues throughout the second half. The hand injury seemed to sap Harrison's power as he lost close to 70 points from his slugging percentage and almost 50 points from his ISO, and the hamstring problems kept him from running hardly at all, though he wasn't running much before that injury popped up either. Now 31, Harrison has seen his bat-to-ball skills take a hit over the past two seasons, with his K-rate jumping to a career-high 18.2%. There was never much upside here and now the floor has been reduced significantly, leaving Harrison as a fringe MI option in mixed leagues.
Harrison has held a consistent role in Pittsburgh over the three years since his 2014 breakout, but 2017 marked the first time he produced at that level again. Although his batting average dropped for the third straight season (.272), Harrison delivered 16 homers and 12 steals, moving between second and third base enough to qualify at both positions in 2018. The home-run spike is founded on a career-high 10.0 percent HR/FB, paired with the highest flyball rate he's posted since 2013. As splits go, Harrison is good enough against righties to see near everyday playing time against them (.745 OPS) when you factor in his defensive value, but he does more damage against lefties (.857 OPS). A similar role is expected in 2018, and another uptick in value in the form of more runs scored may be in store if he returns to one of the top two spots in the batting order. While a 20-homer season isn't out of the question, expecting a combo of 10-15 homers and 10-15 steals is more prudent.
It's pretty well established that Harrison's 2014 campaign was the outlier. He hit 13 homers that year but has gone deep only 15 times (combined) in his five other seasons. In 2016, Harrison started 122 games at second base, more than double his highest previous total (57 games). At the beginning of August, he was batting .266/.297/.375 primarily as a sixth or seventh hitter when Pittsburgh slotted him into the leadoff spot. In his final 33 games, Harrison hit .326/.345/.420 before suffering a season-ending groin injury. He's too much of a free swinger to profile as an ideal leadoff man, but he may be Pittsburgh's best choice once again in 2017. Harrison swiped a career-high 19 bases (on 23 attempts) and while he's hit .283 or better in each of the last three seasons, his lack of power limits his overall fantasy value.
Harrison followed up his 2014 All-Star campaign with an uneven roller coaster ride in 2015. Slowed by a chronic ankle injury in spring training, he got off to a dreadful start, hitting .173/.209/.282 in his first 117 plate appearances. Perhaps he was pressing after signing a $27.3 million deal in the offseason. From that point on, Harrison hit .328/.369/.429 in his final 332 plate appearances, though a torn thumb ligament in early July forced him to miss six weeks. With Aramis Ramirez retired, Neil Walker traded to the Mets, and Jung-Ho Kang recovering from a serious knee injury, manager Clint Hurdle figures to write Harrison's name in the lineup nearly everyday in 2016. The odds are against the Cincinnati native hitting 13 homers again in spacious PNC Park, but a batting average in the .280-plus range with double-digits steals isn't out of the question.
The opportunistic Harrison turned several years of utility play into a full-time gig at third base in 2014 and never looked back. Despite struggling to crack the Opening Day roster, the multi-positional 27-year-old settled into Pedro Alvarez's prior spot at the hot corner and produced a .315/.347/.490 line with 38 doubles, 13 homers and 18 steals in 550 plate appearances. He enters 2015 with a leg up on the competition at third base, but it's possible he could move around the infield/outfield due to injuries or a return to form by Alvarez. General manager Neal Huntington confirmed Harrison as his third baseman, but with only one season as a starter, there are still a number of skeptics. He's not the safest pick, but he offers more defensive versatility than nearly any other starter in the major leagues.
The versatile Harrison saw his time in the big leagues shrink in 2013. The 26-year-old infielder/outfielder totaled only 88 at-bats in the majors, after batting 249 times in 2012. The addition of Jordy Mercer into the mix took away some of Harrison's backup playing time, and there's no guarantee he gets any of it back in 2014. Harrison hit .317 with an .880 OPS at Triple-A but compiled a .250 batting average, three homers, and 14 RBI for the Bucs. On the positive side, he hit .350 with a .981 OPS in 40 at-bats against lefties. While Harrison might not have enough of a role to merit consideration on draft day, he has the ability to go on short spurts that can help owners as an in-season, waiver-wire pickup.
If only every major leaguer played with the passion and reckless abandon Harrison exhibits, baseball would be the better for it. From a fantasy perspective, however, he's little more than a waiver-wire option. Harrison hit .233/.279/.345 in 249 at-bats last year after batting a punchless .272 as a rookie. As a right-handed batter, PNC Park's dimensions don't play well for whatever power he does have. He'll qualify in many leagues at both second base (28 games) and shortstop (25), but there's simply not enough oomph in his bat for fantasy owners.
Harrison's lack of fear served him well in 2011. The Pirates recalled him with little fanfare at the beginning of June and he responded with an impressive 88 percent contact rate, a number in stark contrast to Pedro Alvarez's 66 percent. From a fantasy perspective, the infielder offers little more than a decent batting average -- he has a career .306 minor league mark and hit .272 with Pittsburgh (in 195 at-bats). He lacks power and is blocked by Neil Walker at second base, making Harrison little more than a bat off the bench. The Pirates figure to use him in a reserve role with an opportunity to fill in due to injury.
More Fantasy News