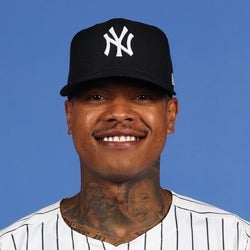 Rest-of-Season Projections
2023 Fantasy Outlook
After making 33 starts the previous year, a bout with COVID-19 and a shoulder issue limited Stroman to just 25 starts and 138.2 innings last season. His 14.6% K-BB% was in sync with his past few campaigns. However, for the first time in his career, Stroman yielded more than a homer per nine frames, albeit just a tad at 1.04 HR/9. Stroman performed much worse at home, sporting a 5.18 ERA and 1.32 WHIP at Wrigley Field as compared to 2.06/1.00 away from Waveland Avenue. This is likely just noise, but streaming Stroman at home last season backfired. The catch is Stroman's low 21% strikeout rate is best utilized in a streaming capacity, especially in leagues with an innings or starts limit where the strikeout category is essentially K/9. Stroman's low dominance, heavy groundball approach is usually effective, but he's subject to more variance than most hurlers, adding risk to his role as a ratio stabilizer.
Read Past Outlooks
$Signed a two-year, $50 million contract with the Cubs in December of 2021. Contract includes $2 million salary escalators for 2022 and 2023 with at least 160 innings pitched. Contract includes $21 million player option for 2024. Declined the option in November of 2023.

ANALYSIS
Stroman was set to make $21 million during the final season of the three-year deal he signed in 2021, but he will forego the money and instead test the free agent market during the offseason. Across 136.2 innings, the 32-year-old righty put up a 3.95 ERA -- his worst mark since 2018 -- but he's been reliable enough throughout his career to warrant a multi-year contract.
Read More News
Pitching Stats
Loading Pitching Stats...
2023
2022
2021
2020
2019
2018
2017
2023 MLB Game Log

Calculate Stats Over Time
Just click on any two dates.
Scoring
FanDuel
DraftKings
Yahoo DFS
Loading Pitching Game Log...
2022 MLB Game Log

Calculate Stats Over Time
Just click on any two dates.
Scoring
FanDuel
DraftKings
Yahoo DFS
Loading Pitching Game Log...
2021 MLB Game Log

Calculate Stats Over Time
Just click on any two dates.
Scoring
FanDuel
DraftKings
Yahoo DFS
Loading Pitching Game Log...
2020 MLB Game Log

Calculate Stats Over Time
Just click on any two dates.
Scoring
FanDuel
DraftKings
Yahoo DFS
Loading Pitching Game Log...
2019 MLB Game Log

Calculate Stats Over Time
Just click on any two dates.
Scoring
FanDuel
DraftKings
Yahoo DFS
Loading Pitching Game Log...
2018 MLB Game Log

Calculate Stats Over Time
Just click on any two dates.
Scoring
FanDuel
DraftKings
Yahoo DFS
Loading Pitching Game Log...
2017 MLB Game Log

Calculate Stats Over Time
Just click on any two dates.
Scoring
FanDuel
DraftKings
Yahoo DFS
Loading Pitching Game Log...
Minor League Game Log

Calculate Stats Over Time
Just click on any two dates.
Loading Minor League Pitching Game Log...
Pitching Appearances Breakdown
How many pitches does Marcus Stroman generally throw?
What part of the game does Marcus Stroman generally pitch?
% Games Reaching Innings Threshold
% Games By Number of Innings Pitched
Left/Right Pitching Splits
BAA
K
BB
H
HR
Since 2021

vs Left

.231
196
73
200
21
Since 2021

vs Right

.243
200
59
205
21
2023

vs Left

.194
59
35
53
4
2023

vs Right

.272
60
17
67
5
2022

vs Left

.257
66
15
69
9
2022

vs Right

.213
53
21
55
7
2021

vs Left

.239
71
23
78
8
2021

vs Right

.245
87
21
83
9
More Splits

→

View More Split Stats
Home/Away Pitching Splits
ERA
WHIP
IP
K/9
BB/9
Since 2021

Home

3.96
1.21
215.2
8.3
2.8
Since 2021

Away

2.98
1.15
238.2
7.4
2.4
2023

Home

3.93
1.09
73.1
8.0
3.1
2023

Away

3.98
1.45
63.1
7.7
3.8
2022

Home

5.18
1.32
64.1
8.8
3.1
2022

Away

2.06
1.00
74.1
6.8
1.7
2021

Home

3.00
1.24
78.0
8.3
2.4
2021

Away

3.03
1.07
101.0
7.7
2.0
More Splits

→

View More Split Stats
Stat Review
How does Marcus Stroman compare to other starting pitchers?
This section compares his stats with all starting pitcher seasons from the previous three seasons (minimum 120 innings)*. The bar represents the player's percentile rank. For example, if the bar is halfway across, then the player falls into the 50th percentile for that stat and it would be considered average.
* Exit Velocity, Barrels/BBE %, Balls Hit 95+ MPH %, and Spin Rate are benchmarked against 2019 data (min 120 IP).
See here for more exit velocity/barrels stats
plus an explanation of current limitations with that data set.
K/BB

Strikeout to walk ratio.

K/9

Average strikeouts per nine innings.

BB/9

Average walks per nine innings.

HR/9

Average home runs allowed per nine innings.

Fastball

Average fastball velocity.

ERA

Earned run average. The average earned runs allowed per nine innings.

WHIP

Walks plus hits per inning pitched.

BABIP

Batting average on balls in play. Measures how many balls in play against a pitcher go for hits.

GB/FB

Groundball to flyball ratio. The higher the number, the more likely a pitcher is to induce groundballs.

Left On Base

The percentage of base runners that a pitcher strands on base over the course of a season.

Exit Velocity

The speed of the baseball as it comes off the bat, immediately after a batter makes contact.

Barrels/BBE

The percentage of batted ball events resulting in a Barrel. A Barrel is a batted ball with similar exit velocity and launch angle to past ones that led to a minimum .500 batting average and 1.500 slugging percentage.

Spin Rate

Spin Rate is the rate of spin on a baseball after it is released. It is measured in revolutions per minute (rpm).

Balls Hit 95+ MPH

The percentage of batted balls hit that met or exceeded the 95 MPH threshold.

Swinging Strike

The percentage of pitches that result in a swing and a miss.
Advanced Pitching Stats
Loading Advanced Pitching Stats...
Loading MLB Defensive Stats...
Recent RotoWire Articles Featuring Marcus Stroman
See More
Past Fantasy Outlooks
2022
2021
2020
2019
2018
2017
2016
2015
2014
2013
Consistency is oftentimes undervalued in both real life and in sports. The Cubs will pay Stroman $71 million for his services from 2022-24, so you make up your mind in this particular instance. Stroman missed the start of the shortened 2020 campaign with a calf injury and ultimately opted out of playing that season. He returned in 2021 arguably better than ever; his 15.6 K-BB% was a career high and his 1.15 WHIP was his lowest in any season with 100-plus innings. Stroman kept his groundball rate north of 50% (just barely) for the seventh consecutive season, a byproduct of his heavy-sinker approach, and when pitching at Citi Field, the ball almost never got out against the righty (five homers in 78 innings). He has now made 32-plus starts in four of his past five seasons. Stroman is consistent with both workload and performance, and that is not "boring" consistency, but in our game the low strikeout totals make him more staff filler than frontline starter.
There's not much to say about Stroman's 2020 campaign, as it never got the chance to get off the ground. He missed the start of the season with a calf strain before opting out in mid-August right when it looked like he was about to return. He accepted a qualifying offer from the Mets in November, leaving him set to do in 2021 what he was expected to do in 2020. Just what exactly those expectations should be isn't entirely clear, however. His ERAs in his last three seasons (3.09, 5.54 and 3.22) have been all over the place, and taking a full year off from pitching doesn't exactly clarify things. He's actually produced a FIP in a narrow band between 3.71 and 3.91 in each of the last four seasons, however, and an ERA in that range would make him perfectly serviceable for both fantasy players and the Mets. He doesn't offer a whole lot else, though, as his unimpressive 20.5 K% in 2019 was his highest since 2014.
After recording a 2.96 ERA and 99:35 K:BB over the first half of the season, Stroman was traded to the Mets at the deadline and slotted into the team's talented rotation. Stroman's surface numbers suffered after the move but he performed well enough in New York, recording a 60:23 K:BB en route to a 20.5 K% on the year that was his highest since his rookie season. For the season, the right-hander carried a 10.1% swinging-strike rate, the highest rate of his career. He struggled to limit home runs after the trade, allowing nine in his final 11 starts in 2019, coinciding with a dip in groundball rate (from 56.3% to 48.3%). Stroman's BB% ticked up in Queens, as did his opponents' BABIP, from .293 to .337. The Mets had a bottom-five defense in MLB last season and they have not upgraded this winter, so Stroman will continue to contend with a high hit rate as a groundball pitcher.
Stroman had his worst professional season in a 2018, a year marred by two trips to the disabled list (shoulder fatigue and a blister on his pitching hand). The extreme groundballer (62.1 GB% in 2018) endured miserable results when on the field, though the peripherals and estimators point to a lot of bad luck. His ERA-minus-FIP came in at 1.63, one of the highest among starters with 100-plus innings, and his 3.91 FIP nearly matched what he did in 2017, when he had a 3.09 ERA. Considering all the contact Stroman allows -- he has never posted a K/9 higher than 7.7 (2014) -- it's only natural that the results would fluctuate more than they do for most pitchers. Determine whether you can buy this volatility with the hope of him repeating 2017 and 2014, not 2016 and 2018. The best part about his 2019: expectations will be subterranean, so fantasy players in position to take on risk could snatch him at a clearance rate.
Stroman built on a strong finish to 2016 to become the Blue Jays' staff ace last season after Aaron Sanchez battled persistent blister problems. Rather than leaning on his cutter as an out pitch as he had earlier in his career, Stroman instead increased the usage of his fastball and slider, with both pitches yielding favorable results. Stroman's diverse arsenal kept hitters off balance and generated plenty of weak contact, with his 62.1 percent GB% pacing all qualified pitchers. His ability to induce groundouts and avoid the home-run ball offers optimism that Stroman will remain an asset in ERA, despite his meager strikeout rate and the 3.90 FIP he posted in 2017 pointing to some regression in that area. Since Stroman is just 26 years old, it wouldn't be unprecedented if he added more strikeouts to his ledger to stave off an ERA decline, but his approach worked so well for him last season, it seems unlikely he would deviate from a successful formula.
Stroman entered 2016 with high expectations, and in hindsight, those expectations were probably unfair for a 25-year-old who made just four starts in 2015 following ACL surgery. It took Stroman time to get his bearings, but he demonstrated growth as the season wore on, managing a 3.68 ERA post All-Star break versus a 4.89 ERA in the first half. He also saw a significant uptick in strikeout rate after the break, from 16.9 percent to 22.7 percent, as he used his cutter more as an out pitch. Of course, it's all about the groundball with Stroman, and indeed his 60.1 percent groundball rate was the highest among qualified starters. Stroman has immense talent and could take a leap forward if he can continue to increase his strikeout rate.
When Stroman tore his ACL in early March, his season was declared over before it ever began and no one seemed to quibble with that. . . except Stroman. He made the best of a bad break. He went back to Duke to finish off his degree, but also got with the medical staff there for an aggressive rehab on the knee. All of a sudden there were reports that he could contribute late in the season, maybe as a reliever. Not only did he start, but he was really good. His swing-and-miss stuff wasn't quite there, but he ramped the groundball rate up to 64 percent to cover. The strikeouts might be more of a slow climb as he uses the command of his deep arsenal (5 pitches all w/at least 10% usage) to keep the ball down and mow down hitters, but the swing-and-miss upside is definitely there. With all of 158 MLB innings on his arm, the Jays might not be ready for 200-plus-inning season, but even 180 from him has big potential.
The 5-foot-9 right-hander spent most of his age-23 season as the most effective starter in the Blue Jays' rotation. After graduating from Triple-A Buffalo and Toronto's bullpen, Stroman compiled a 3.29 ERA, 1.14 WHIP and 103:27 K:BB ratio in 120.1 innings as a starter in his debut season in the big leagues. Were it not for Jose Abreu, Stroman would have had a legitimate case to be the American League Rookie of the Year. He relied heavily on his mid-90s fastball, and only used his deadly 88-mph slider roughly 7.5% of the time. That plus-plus offering generated a 17.6% whiff rate and a 63.2% groundball rate and could be a major weapon if he unleashes it more often in his second season. Considering his fielding independent numbers (2.84 FIP, 3.17 xFIP) and the addition of defensive wiz Russell Martin behind the plate, there was reason to expect an even better 2015 out of Stroman, but he suffered a torn ACL during fielding drills in March and is expected to miss the entire season as a result.
A first-round pick in the 2012 MLB Draft, Stroman put together a fantastic 2013 campaign for Double-A New Hampshire after serving a 50-game drug suspension to start the season. His 3.30 ERA was backed by 10.4 K/9 and 2.2 BB/9 rates, and he even finished on a high note with an 11-strikeout gem in his final start. The 5-foot-9 Stroman boasts a mid-90s fastball with plus command, and he is one of the top prospects in the Toronto organization, despite murmurs that he may eventually wind up in the bullpen. Having already proven his merit at the Double-A level, Stroman will likely join the starting rotation at Triple-A Buffalo to open 2014. Don't be surprised if he earns his first call-up before the end of the year.
Stroman was selected 22nd overall by the Blue Jays in the 2012 draft and the general thought was that he would move quickly through the Jays' system. After 19 minor league relief innings, posting a 3.26 ERA over two levels, Stroman was suspended 50 games for violating baseball's minor league drug program. After the completion of his suspension, he will start 2013 in the minors, but could find his way into Toronto's bullpen if he pitches well.
More Fantasy News