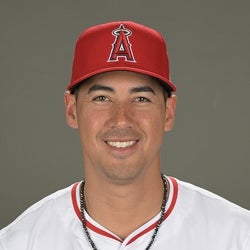 Rest-of-Season Projections
2023 Fantasy Outlook
Stephenson was excellent down the stretch last season after being claimed off waivers by the Pirates, holding a 3.38 ERA and 18:1 K:BB over 13.1 innings. The team had the reliever go slider-heavy, which makes sense because he's always gotten terrific results with the pitch, unlike with his fastball. The former first-round pick has the potential to finally break out if he continues to stick with his best pitch and throws enough strikes. He could even be next-in-line for saves if David Bednar gets hurt or traded, although Stephenson would be a trade candidate himself as an impending free agent. The 30-year-old has dealt with some arm soreness in spring training, although indications are that it could be minor.
Read Past Outlooks
$Signed a one-year, $1.75 million contract with the Pirates in January of 2023. Traded to the Rays in June of 2023.

Stephenson struck out the only batter he faced to earn the save Wednesday against the Twins.
ANALYSIS
Colin Poche
was called upon to protect a one-run lead in the ninth inning and got the first two outs while also allowing a walk. Stephenson followed and struck out
Christian Vazquez
on three pitches to end the game and tally his first save of the season. Stephenson has been excellent since joining the Rays by maintaining a 2.43 ERA and 0.69 WHIP with a 53:8 K:BB across 33.1 innings. However, he isn't likely to see more save chances with
Pete Fairbanks
-- who was likely unavailable Wednesday due to a heavy recent workload -- locked in as the team's closer.
Read More News
Pitching Stats
Loading Pitching Stats...
2023
2022
2021
2020
2019
2018
2017
2023 MLB Game Log

Calculate Stats Over Time
Just click on any two dates.
Scoring
FanDuel
DraftKings
Yahoo DFS
Loading Pitching Game Log...
2022 MLB Game Log

Calculate Stats Over Time
Just click on any two dates.
Scoring
FanDuel
DraftKings
Yahoo DFS
Loading Pitching Game Log...
2021 MLB Game Log

Calculate Stats Over Time
Just click on any two dates.
Scoring
FanDuel
DraftKings
Yahoo DFS
Loading Pitching Game Log...
2020 MLB Game Log

Calculate Stats Over Time
Just click on any two dates.
Scoring
FanDuel
DraftKings
Yahoo DFS
Loading Pitching Game Log...
2019 MLB Game Log

Calculate Stats Over Time
Just click on any two dates.
Scoring
FanDuel
DraftKings
Yahoo DFS
Loading Pitching Game Log...
2018 MLB Game Log

Calculate Stats Over Time
Just click on any two dates.
Scoring
FanDuel
DraftKings
Yahoo DFS
Loading Pitching Game Log...
2017 MLB Game Log

Calculate Stats Over Time
Just click on any two dates.
Scoring
FanDuel
DraftKings
Yahoo DFS
Loading Pitching Game Log...
Minor League Game Log

Calculate Stats Over Time
Just click on any two dates.
Loading Minor League Pitching Game Log...
Pitching Appearances Breakdown
How many pitches does Robert Stephenson generally throw?
What part of the game does Robert Stephenson generally pitch?
% Games Reaching Innings Threshold
% Games By Number of Innings Pitched
Left/Right Pitching Splits
BAA
K
BB
H
HR
Since 2021

vs Left

.240
75
21
60
11
Since 2021

vs Right

.224
109
27
75
12
2023

vs Left

.206
22
8
13
4
2023

vs Right

.143
55
8
17
4
2022

vs Left

.260
25
7
27
4
2022

vs Right

.288
30
7
36
6
2021

vs Left

.241
28
6
20
3
2021

vs Right

.242
24
12
22
2
More Splits

→

View More Split Stats
Home/Away Pitching Splits
ERA
WHIP
IP
K/9
BB/9
Since 2021

Home

4.74
1.21
81.2
10.7
2.3
Since 2021

Away

3.13
1.13
74.2
10.5
3.3
2023

Home

3.80
0.97
23.2
11.0
2.3
2023

Away

2.51
0.80
28.2
15.1
3.1
2022

Home

5.82
1.32
34.0
9.0
1.6
2022

Away

4.88
1.33
24.0
7.9
3.0
2021

Home

4.13
1.29
24.0
12.8
3.4
2021

Away

2.05
1.32
22.0
7.4
3.7
More Splits

→

View More Split Stats
Stat Review
How does Robert Stephenson compare to other relievers?
This section compares his stats with all relief pitcher seasons from the previous three seasons (minimum 30 innings)*. The bar represents the player's percentile rank. For example, if the bar is halfway across, then the player falls into the 50th percentile for that stat and it would be considered average.
* Exit Velocity, Barrels/BBE %, Balls Hit 95+ MPH %, and Spin Rate are benchmarked against 2019 data (min 30 IP).
See here for more exit velocity/barrels stats
plus an explanation of current limitations with that data set.
K/BB

Strikeout to walk ratio.

K/9

Average strikeouts per nine innings.

BB/9

Average walks per nine innings.

HR/9

Average home runs allowed per nine innings.

Fastball

Average fastball velocity.

ERA

Earned run average. The average earned runs allowed per nine innings.

WHIP

Walks plus hits per inning pitched.

BABIP

Batting average on balls in play. Measures how many balls in play against a pitcher go for hits.

GB/FB

Groundball to flyball ratio. The higher the number, the more likely a pitcher is to induce groundballs.

Left On Base

The percentage of base runners that a pitcher strands on base over the course of a season.

Exit Velocity

The speed of the baseball as it comes off the bat, immediately after a batter makes contact.

Barrels/BBE

The percentage of batted ball events resulting in a Barrel. A Barrel is a batted ball with similar exit velocity and launch angle to past ones that led to a minimum .500 batting average and 1.500 slugging percentage.

Spin Rate

Spin Rate is the rate of spin on a baseball after it is released. It is measured in revolutions per minute (rpm).

Balls Hit 95+ MPH

The percentage of batted balls hit that met or exceeded the 95 MPH threshold.

Swinging Strike

The percentage of pitches that result in a swing and a miss.
Advanced Pitching Stats
Loading Advanced Pitching Stats...
Loading MLB Defensive Stats...
Recent RotoWire Articles Featuring Robert Stephenson
See More
Past Fantasy Outlooks
2021
2020
2019
2018
2017
2016
2015
2014
2013
2012
While the dream of Stephenson blossoming from top prospect into ace starter died long ago, the right-hander seemed to be finding his niche in relief in 2019. In fact, he ranked third among all qualified relievers in swinging-strike rate that year (18.9%), behind only Josh Hader and Nick Anderson. This past year saw Stephenson battle a wrist injury in summer camp, allow five homers in his first five appearances and earn just a single hold. Homers aside, Stephenson was good, posting a 23.3 K-BB% and ranking among the elite in terms of expected outcomes. Regardless the Reds sent their 2011 first-round pick packing to Colorado in November. Coors Field is a terrible place to pitch, but there is opportunity for advancement in the Rockies' bullpen and saves are not out of the question in 2021.
Stephenson might not have been done as a big-league pitcher after 2018, but he was extremely crispy. The Reds transitioned him to the bullpen, and while it's not exactly a novel idea to see a struggling young starter thrive as a reliever, the degree of Stephenson's transformation was startling. Not only did he post good overall numbers, but he dominated over the second half. From the All-Star break to the end of the season, covering 26 innings, Stephenson posted a 1.38 ERA, 0.73 WHIP and 28:7 K:BB. Pitching coach Derek Johnson was able to get Stephenson to generate more velocity and spin on his slider and four-seamer, and encouraged him to use that wipeout slider even more than he had in 2018, throwing it a whopping 57.7% of the time. It was a positive change -- opposing hitters hit a paltry .122 and slugged .245 against that slider, whiffing 52.2% of the time.
Last year we expressed concern about the extremely negative results Stephenson had with his fastball (17.1 runs below average per Fangraphs). The Reds and Stephenson noticed those results as well, and adjusted by having him throw it less frequently, down to 36.2% from 54.3% in 2017. He replaced his fastball use with more sliders, his best pitch. Unfortunately he still had the same negative results. In 11.2 innings he managed to be -6.0 runs below average with that fastball. Command and control are both issues for him. Stephenson can't reliably throw his slider for strikes, and he can't locate his fastball in the right spot in the strike zone. Occasionally Stephenson has had good stretches at Triple-A Louisville, but even those were marred by the occasional high-walk game. New pitching coach Derrick Johnson will have his hands full to see if he can turn Stephenson around.
Is Stephenson's strong finish to the 2017 season (2.50 ERA, 1.27 WHIP over 50.1 innings) real or a mirage? The 2011 first-round pick was routinely getting cuffed around at the big-league level prior to that end-run, frequently falling behind in the count and then getting punished after putting runners on. He stopped throwing his curveball, and started using his slider and changeup more often, bringing positive results. His fastball remains a big problem -- it was a whopping 17.1 runs below league average last year, albeit not quite as bad later in the season. And therein lies a problem -- it's not as if Stephenson can scrap his fastball. Maybe he can change his grip, or find a better way to improve his location, but at the end of the day, he's going to need a decent fastball to get by. The Reds owe it to themselves to see if he can do that, but you owe it to yourself to invest no more than an endgame pick to find out if he'll be successful.
Stephenson is one of the Reds' most highly-touted prospects, but the window for him to make it as a starting pitcher is closing. He can miss bats with a three pitch-mix -- highlighted by a fastball that routinely sits in the mid- to upper-90s -- but he struggles to locate with consistency. Stephenson made eight starts for the big club in 2016, seeing mixed results. His tenure with Cincinnati started well enough, as he went 2-0 with a 3.00 ERA and 1.08 WHIP in his first two starts in the big leagues. He was sent back to Triple-A afterward and stayed there until September, and he was far less successful upon his return. In six September starts, he only got through five innings once and amassed a 7.56 ERA and 1.88 WHIP thanks to a 5.4 BB/9 and 2.5 HR/9. Stephenson is still an intriguing arm, but if he doesn't take that next step in his development, we could see him in the Cincinnati bullpen before the end of the year.
Stephenson's start to the 2015 season at Double-A Pensacola raised a lot of concerns in Reds-land. It began in spring training, when a sore shoulder prevented him from seeing any meaningful action against big league hitters. That spilled over to the regular season, where he really struggled to throw strikes despite repeating the level. However, he made an adjustment in late May and with that came a big spike in his strikeout rate along with a semblance of control. He earned a promotion to Triple-A Louisville at the beginning of July, but missed out on a September callup to the big leagues due to a forearm strain that put him on the DL. He'll probably start 2016 back at Louisville, if for no other reason than to slow down his service time, but expect him to be up with the Reds by midseason.
Stephenson hit the Double-A wall in 2014, and the wall hit right back, giving him his worst professional season. Stephenson's command, in part defined by how he uses his stuff, was his big problem. His walk rate skyrocketed to 12.3%, and all too often he would fall behind hitters and resort to challenging them with his 97 mph fastball high in the strike zone. Shockingly enough, Double-A hitters were better equipped to handle it when they knew it was coming. The Reds seem confident that he'll adjust accordingly with another year of experience. Keep in mind that he hit Double-A as a 21-year old, and remain optimistic about him despite the down year.
After a couple of rocky starts in April, Stephenson dominated both Low-A and High-A last season before landing in Double-A Pensacola to finish the year. The Reds took a slow approach to developing him after making him their first-round pick out of high school in the 2011 draft, and it is starting to pay dividends, as most prospect lists out there have him leapfrogging Billy Hamilton as the Reds' top prospect. His fastball has been clocked as fast as 101 mph (albeit on scoreboard radars, which are notoriously fast) and he typically works in the 96-98 mph range. A hamstring injury limited his innings last year, which isn't all bad given that he was just 20 years old. It wouldn't be a surprise to see him spend most of the year in Double-A, but a 2015 major league debut seems likely.
The Reds' first-round pick in 2011, Stephenson made his professional debut last season and impressed at two levels, striking out a combined 72 batters in 65 innings. The Reds will probably take a deliberate approach with Stephenson, though they're faced with the conundrum of going from an extreme pitcher's park at Low-A Dayton to a hitter's park at High-A Bakersfield. The Reds avoided that with Daniel Corcino, skipping him right from Dayton to Double-A Pensacola, so we'll see if they take that approach here as well.
Stephenson was the Reds' first-round pick in the 2011 June draft. A high school pitcher from California, Stephenson signed late and will make his professional debut in 2012. He's a big right-hander who throws in the mid-90s. The Reds tend to move their high school draftees along slowly, so Stephenson may not even make it to Low-A Dayton this season, barring a stretch of dominance in rookie ball.
More Fantasy News