This article is part of our DFS College Basketball series.
Today's college hoops slate is headlined by the explosive matchup between North Carolina and Iowa. This game easily projects to have the most points scored on tonight's slate so it's a perfect starting point for filling out your lineup. Here's the entire list of implied totals contests hosted on the DraftKings main slate: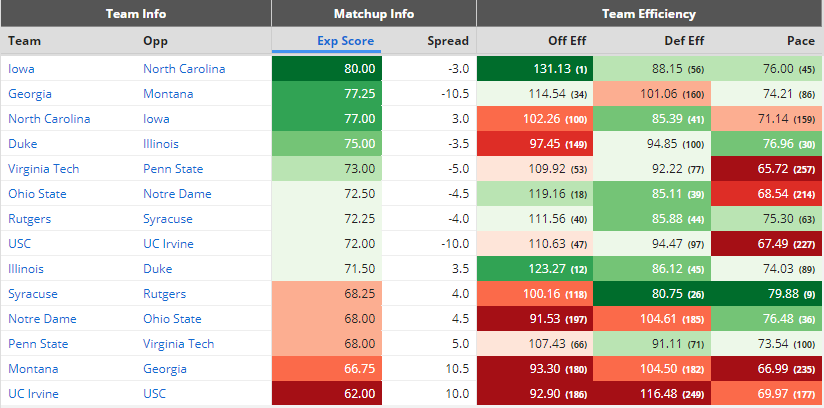 Targets
1. Garrison Brooks, F, North Carolina ($8,000 DK, $7,100 FD)

Brooks is currently listed as questionable, but it sounds like he's going to play. Assuming he suits up, he's my number one target for this game. North Carolina is projected to score around 76 points and the star senior should play a prominent role, assuming his ankle holds up.
If Brooks doesn't play, then Armando Bacot ($5,900 DK, $5,800 FD) or Day'Ron Sharpe ($6,400 DK, $5,900 FD) could provide excellent value. RJ Davis ($5,400 DK, $5,700 FD) is another great value pick, as he has a 20 percent usage rate while playing at least 27 minutes every game this season.
I can't argue with targeting any Iowa players, however I'm leaning toward North Carolina because I'm thinking they're going to pull off the upset. Iowa has had one of the weakest schedules in the country, so I'm hesitant in trusting them against a North Carolina team that has already faced stiff competition. Luka Garza ($,9500 DK, $9,200 FD) will no doubt put up points, but could have trouble hitting value given North Carolina's length. I'm passing on him for tonight's matchup.
2. Matthew Hurt, F, Duke ($7,400 DK, $7,400 FD)

Hurt has been on a rampage in his last two games, scoring 45 points and grabbing 19 rebounds combined. He currently leads the team in minutes played while also taking the highest percentage of his team's shots while on the court. The Blue Devils are projected to score around 76 points today, one of the highest totals on the slate. All in all, Hurt seems like the safest Blue Devil pick while also offering plenty of upside.
3. Keve Aluma, F, Virginia Tech ($7,100 DK, $7,000 FD)

The junior-transfer from Wofford has been scorching hot since donning a Hokie uniform. Aluma leads the team in usage rate and has been major contributor for a team that should score upwards of 74 points tonight. The Nittany Lions aren't bad on defense although they have been particularly vulnerable against 2-point attempts, ranking at No. 248 in the country at defending shots inside the arc (per KenPom).
Interesting side note: Aluma's head coach when he played at Wofford was Mike Young, current coach of Virginia Tech.
Bonus - DraftKings Exclusive
DK has two exclusive matchups in today's slate, and it's probably a good idea to target one or both of them, because USC and Georgia are both expected to win their games by double-digit points.

Georgia Bulldogs
Montana is one of the worst rebounding teams in the country this season, so I'm really liking Toumani Camara ($6,200) and Tye Fagan ($5,400) in this matchup. Sahvir Wheeler ($8,300) is also hard to overlook. He's scored 10-plus points and assisted 10-plus times in all three games this season.

USC Trojans
USC is projected to have the biggest blowout of the day, so Evan Mobley ($9,000) and Isaiah Mobley ($7,600) are two players to highlight. These are your two safest bets, although Drew Peterson ($7,200) is another option if you want to go against the grain.
Fades
1. Jamari Wheeler, G, Penn State ($5,800 DK, $6,600 FD)

Wheeler currently has the lowest usage rate among Penn State's starting five, using just 12 percent of possessions while on the court. Penn State is projected to score around 68 points in today's game, one of the lowest totals among all the teams on the slate. Not a good combination. Not much upside.
2. Juwan Durham, F, Notre Dame ($6,600 DK, $5,900 FD)

Durham finds himself in a very similar situation to Wheeler. He has one of the lowest usage rates among the starting five players, and he's faced with a formidable defensive matchup. Ohio State's defense is currently ranked No. 15 in the country in terms of adjusted efficiency (per KenPom). This would explain why Notre Dame is expected to score just 67 points in today's game. Another combination I like to avoid.
3. Marek Dolezaj, F, Syracuse ($6,900 DK, $6,700 FD)

He's scored just 11 total points in the past two games and faces a tough Rutgers defense that is currently ranked No. 12 in the country in terms of KenPom's adjusted efficiency. Dolezaj also has one of the lowest usage rates among Syracuse starters. He has a chance to put up defensive stats but I'm not sure it's going to be enough.
The author(s) of this article may play in daily fantasy contests including – but not limited to – games that they have provided recommendations or advice on in this article. In the course of playing in these games using their personal accounts, it's possible that they will use players in their lineups or other strategies that differ from the recommendations they have provided above. The recommendations in this article do not necessarily reflect the views of RotoWire. Steve Peralta plays in daily fantasy contests using the following accounts: FanDuel: Buddusky, DraftKings: Buddusky24.