This article is part of our DFS College Basketball series.
There are eight games on tap tonight for DraftKings' featured main slate after the Michigan St.-Virginia showdown was postponed. The top prize is $25k in their $15 Pull Up Jumper, while FanDuel has a $10k top prize in the $5.55 All American, which has five games on their slate. Let's get to the action!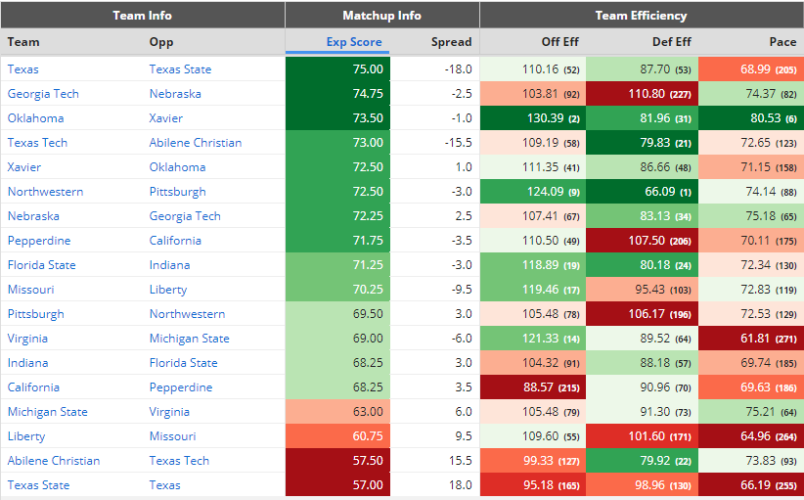 Targets
1. Paul Scruggs, G, Xavier ($8,300 DK, $6,500 FD)

Scruggs is a great value on FanDuel, coming it at a whopping $1,800 cheaper than DraftKings. Even as the sixth most expensive player on DraftKings, he provides 40+ point fantasy potential and is a reliable option on both sites. The matchup with Oklahoma could turn into a high scoring affair, with Oklahoma being better on the offensive side of the ball while playing at a top-50 tempo. Scruggs has shot 37 percent from three in each of the last two seasons, and the Sooners are much better at defending the post.
2. Dalano Banton, G/F, Nebraska ($7,500 DK, $6,800 FD)

Nebraska's home match-up tonight against Georgia Tech features the highest over/under total, so it will be important to target players in this game. That shouldn't be a surprise under head coach Fred Hoiberg, as Nebraska plays at one of the highest tempos of any team in the country. Banton has scored double digits in all four games and contributes in several other categories with 6.8 boards, 5.8 assists and 3.5 forced turnovers per game.
3. Scottie Barnes, G, Florida St. ($5,300 DK, $4,700 FD)

Florida St. is a bit of a tougher team to decipher as they've only played one game this season – a blowout victory over North Florida. Barnes received the start in his collegiate debut and contributed eight points in 24 minutes, while also posting six boards and six assists. In a much more competitive game tonight against Indiana, Barnes is likely to get an increase in minutes. He was a top-10 recruit in the 2020 class and is a double-double candidate at a cheap cost.
Fades
1. Matt Coleman, G, Texas ($8,400 DK)

Coleman is only on the DraftKings slate tonight in what is the lowest over/under total of the eight games. Texas will have to deal with Texas St., a team that plays at a slow pace and hasn't allowed 70+ points through four games. It's the type of game where it could get out of hand and cost Coleman minutes towards the end of the game. He's also not a big help in other areas besides scoring, averaging less than two rebounds and three assists per game over his last three.
2. Kyler Edwards, G, Texas Tech ($7,300 DK)

Edwards typically only plays about 20-25 minutes in games that aren't competitive, as Texas Tech will look to give more playing time to their bench. Tonight's match-up is against Abilene Christian in a game that isn't expected to be close. Edwards is also scoring over half his points from three, while Abilene has held opponents to just 18 percent from deep through four games. He also checks in with just an 18.4 usage rate. There are just too many negatives at this price tag.
3. Robbie Beran, F, Northwestern ($6,800 DK, $5,200 FD)

Beran is coming off a nice game in which he contributed 19 points and five boards but consider the competition. Northwestern put up 111 points against lowly Chicago St. and Beran was efficient, shooting 6-of-8 from the floor with three 3-pointers. His high price tag reflects his last game and not what he's representative of in a tougher match-up against Pittsburgh. Beran is primarily used as the fourth or fifth option offensively and his minutes are only up slightly, from 19 per game last season to 23.5 through two games.
The author(s) of this article may play in daily fantasy contests including – but not limited to – games that they have provided recommendations or advice on in this article. In the course of playing in these games using their personal accounts, it's possible that they will use players in their lineups or other strategies that differ from the recommendations they have provided above. The recommendations in this article do not necessarily reflect the views of RotoWire.