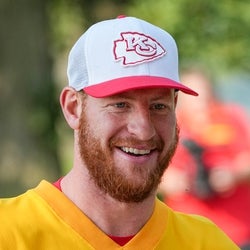 2022 Fantasy Outlook
Credit the Colts for needing just one year to cut bait on Wentz — it took the Eagles five years, after all. Wentz wasn't necessarily awful for fantasy (QB13), but he was both inefficient (6.9 YPA, 22nd) and inconsistent. He often held the ball too long (136 pressures, 10th); other times he rushed throws, missing easy completions (or what GM Chris Ballard referred to as "making the layups"). On attempts of less than 10 yards, he ranked 26th in completion percentage (66.5) and 28th in on-target percentage (75.9). With the playoffs in sight, losses in the final two games were the final straw. Washington, though, was desperate enough to trade for Wentz in March. He has a couple quality targets in Terry McLaurin and Curtis Samuel, and the team drafted WR Jahan Dotson 16th overall as a deep threat. Washington also has a decent backfield with Antonio Gibson and J.D. McKissic. Wentz will need to make a few more of those layups, though, to increase his fantasy value beyond two-QB leagues.
Read Past Outlooks
RANKS
#

Overall
$Released by the Commanders in February of 2023.

The Commanders
released
Wentz on Monday.
ANALYSIS
As expected, Wentz has been let go to save over $26 million in cap space before his roster bonus triggered March 17. The veteran quarterback was traded to Washington ahead of the 2022 campaign, but after two solid outings to start the season, he completed just 60.8 percent of his passes over his next six appearances and threw six interceptions to just four touchdowns during that stretch. There's plenty of teams in need of a starting quarterback, but Wentz's recent track record may force him to settle for a backup gig in 2023. If he joins a new team this summer, it'll mark his fourth squad in as many years.
Read More News
NFL Stats
Fantasy/Red Zone Stats
See red zone opportunities inside the 20, 10 and 5-yard lines along with the percentage of time they converted the opportunity into a touchdown.
Loading Fantasy/Red Zone Stats...
Advanced NFL Stats
How do Carson Wentz's 2022 advanced stats compare to other quarterbacks?
This section compares his advanced stats with players at the same position. The bar represents the player's percentile rank.
The longer the bar, the better it is for the player.
Bad Pass %

The percentage of passes that were considered to be poorly thrown.

Avg Target Depth

The average number of yards thrown per pass by the quarterback – including incomplete passes.

Sack Rate

The percentage of dropbacks where the quartback was sacked. The longer the bar below, the more often they are sacked relative to other QBs.

Avg Receiver YAC

The average number of yards after the catch that receivers gained on passes thrown by this quarterback.

Receiver Drop %

The percentage of passes dropped by receivers on passes thrown by this quarterback. The longer the bar, the more sure-handed his receivers have been.
Loading Advanced NFL Stats...
2022
2021
2020
2019
2018
2017
2016
2022 NFL Game Log

Calculate Stats Over Time
Just click on any two dates.
Scoring
Standard
PPR
Half PPR
FanDuel
DraftKings
Yahoo DFS
2021 NFL Game Log

Calculate Stats Over Time
Just click on any two dates.
Scoring
Standard
PPR
Half PPR
FanDuel
DraftKings
Yahoo DFS
2020 NFL Game Log

Calculate Stats Over Time
Just click on any two dates.
Scoring
Standard
PPR
Half PPR
FanDuel
DraftKings
Yahoo DFS
2019 NFL Game Log

Calculate Stats Over Time
Just click on any two dates.
Scoring
Standard
PPR
Half PPR
FanDuel
DraftKings
Yahoo DFS
2018 NFL Game Log

Calculate Stats Over Time
Just click on any two dates.
Scoring
Standard
PPR
Half PPR
FanDuel
DraftKings
Yahoo DFS
2017 NFL Game Log

Calculate Stats Over Time
Just click on any two dates.
Scoring
Standard
PPR
Half PPR
FanDuel
DraftKings
Yahoo DFS
2016 NFL Game Log

Calculate Stats Over Time
Just click on any two dates.
Scoring
Standard
PPR
Half PPR
FanDuel
DraftKings
Yahoo DFS
2022 Carson Wentz Split Stats
Loading NFL Split Stats...
Measurables Review
How do Carson Wentz's measurables compare to other quarterbacks?
This section compares his draft workout metrics with players at the same position. The bar represents the player's percentile rank. For example, if the bar is halfway across, then the player falls into the 50th percentile for that metric and it would be considered average.
Recent RotoWire Articles Featuring Carson Wentz
See More
Past Fantasy Outlooks
2021
2020
2019
2018
2017
2016
It took all of three months last season for Wentz to go from franchise quarterback to outcast. While the Eagles didn't give him much help, he brought most of it upon himself. The same guy who completed nearly 70 percent of his passes in 2018 couldn't hit anything last season. His 28.4 bad-pass percentage was highest in the league, while his 57.4 completion percentage was second lowest, and his 6.0 YPA third lowest. Wentz really struggled under pressure, with a league-low 29.5 completion percentage. By halftime of Week 13, the Eagles had seen enough. Wentz was benched for rookie Jalen Hurts and never took another snap. Despite playing just 12 games, Wentz led the league in sacks (50), tied for the league lead in interceptions (15) and ranked third in fumbles (10). In February, he was traded to the Colts, reuniting with Frank Reich, the Eagles offensive coordinator in 2017-18. In Indianapolis, Wentz will be protected by a strong offensive line that allowed a QB pressure rate of only 15.5 percent last season, fourth lowest (Wentz's was 28.3 percent, fifth highest). T.Y. Hilton is still a downfield threat even if he's lost a step, and Michael Pittman, last year's 34th overall pick, is coming off an encouraging rookie season. Parris Campbell, a 2019 second-round pick, has plenty of upside if he finally stays healthy, and Zach Pascal has plenty of experience (31 NFL starts) in the No. 3 receiver role. Wentz also will have capable short-area receivers in Nyheim Hines, Jonathan Taylor and Jack Doyle. Unfortunately for Wentz, it was announced in early August that he'd need surgery for a foot injury. He's facing a broad timeline (5-to-12 weeks) for a return to action, with most reports putting him at the front end after he returned to practice late in August.
Wentz was much less efficient last year, but he got 607 attempts, which propelled him to his first 4,000-yard season and the fifth-most TD passes in the league (27). His completion percentage dropped by nearly six points (69.6 to 63.9) from the year prior, and his YPA was a full yard less, ranking 26th at 6.7, but he played 16 games for the first time since his rookie season and finished with a QB10 fantasy ranking. Wentz had to deal with a receiving corps that was decimated by injuries, which impacted his downfield passing. Just 10.3 percent of his attempts traveled longer than 20 yards (19th), and he completed only 30.2 percent (23rd) for a 9.8 YPA (25th) with five interceptions (fourth most). The Eagles made improving their downfield attack an offseason priority, drafting Jalen Reagor (4.47 40) in the first round, John Hightower (4.43) in the fifth and Quez Watkins (4.35) in the sixth. DeSean Jackson also is healthy after season-ending core muscle surgery. Stretching the field theoretically should give Wentz more open looks underneath to the team's tight ends, Zach Ertz and Dallas Goedert. And Wentz loves his tight ends in the red zone - 27 targets last season, tied for the most by a TE duo. Wentz's red-zone TD pass percentage was 27.5 (8th), but he's been highly efficient in the red zone three years running, so perhaps regression is not imminent. The Eagles drafted quarterback Jalen Hurts in the second round, but he's no threat to Wentz, whose rushing ability adds to his fantasy value.
Wentz missed the first two games last season while recovering from his 2017 ACL tear and later missed the final three games (plus playoffs) with a stress fracture in his back. Between injuries, he was a middling fantasy quarterback, ranking 18th in points per game (17.5). Wentz showed impressive accuracy last season, albeit with a more cautious approach. His bad pass rate was 17.4 percent, seventh lowest in the league, which helped improve his completion rate nearly 10 percentage points to 69.9 (3rd). He fared well when targeting receivers downfield, posting a 15.3 YPA (6th) on attempts longer than 20 yards, but he also threw four interceptions and just two touchdowns on deep passes. And thanks to the knee injury, his running prowess pretty much disappeared - he lost 30 rushing attempts and 206 rushing yards from the previous year. It could be more of the same this season, even though he avoided surgery and wasn't limited at OTAs in May. The Eagles upgraded the supporting cast in the offseason, adding DeSean Jackson and Jordan Howard. Jackson, who can still stretch the field with the best of them, joins Alshon Jeffery, Zach Ertz and Nelson Agholor to give Wentz a diverse group of targets. Philadelphia also added second-round pick J.J. Arcega-Whiteside, a 6-3 wideout with the ability to play both inside and outside. Even with all the weapons, Wentz's fantasy prospects begin and end with his ability to stay healthy.
Wentz was on his way to an MVP season before he blew out his left knee Week 14. He set a franchise record for touchdowns, finishing second in the league despite ranking 23rd in attempts, and he was arguably the league's best passer on third down, leading the NFL with 9.5 YPA and converting a league-high 49.2 percent (min. 55 attempts). He was also untouchable in the red zone, where he was one of three quarterbacks with at least 23 TD passes and no interceptions. If Wentz improves his middling downfield passing numbers (12th in YPA, 18th in completion percentage), look out. That would help him boost his overall accuracy (25th in completion percentage) and efficiency (11th in YPA). The Eagles signed wide receiver Mike Wallace to stretch the field and took a chance on the quick Markus Wheaton, in addition to bringing back last year's top three targets, wide receivers Alshon Jeffery and Nelson Agholor and tight end Zach Ertz. But health, obviously, is critical. The timing and complexity of Wentz's injury work against him, as the expected recovery time for ACL injuries is eight to 10 months. Wentz suffered his in early December, and with the Eagles if no mind to rush him, the injury is expected to keep him out of Week 1 action. Nick Foles will thus hold down the team's QB slot until Wentz is turned loose, possibly as soon as Week 2.
Wentz's rookie season started promising enough with five touchdowns, no interceptions and 7.5 YPA as the Eagles opened the year 3-0. It was pretty much downhill thereafter, though. The Eagles went 4-9 the rest of the way, with Wentz throwing 14 interceptions to 11 touchdowns as his YPA slipped to 5.9. While Wentz had the expected growing pains after being the second overall pick in last year's draft, he also didn't have a whole lot around him to help. The running game was not a threat, allowing defenses to sell out against the pass, especially after seeing Wentz's hot start. Of the team's top four pass catchers last season, only one, Jordan Matthews, was a wide receiver, and he isn't on the roster anymore. The Eagles brought in some help for Wentz this season, beefing up the running game with LeGarrette Blount, who's coming off a 1,000-yard/18-TD season in New England. They also added Alshon Jeffery and Torrey Smith, which should revitalize the passing game. Jeffery is coming off an injury but is the clear No. 1 target, and Smith gives Wentz a downfield threat that can help open things underneath for 6-5 tight end Zach Ertz. The strong-armed, athletic Wentz, who had corrective vision surgery this offseason, figures to be in a much better position to succeed this season.
Wentz went from relative obscurity at FCS powerhouse North Dakota State to the second overall pick in the 2016 draft by virtue of an outstanding collection of tools. At 6-5, 235, Wentz possesses prototypical size and arm strength in addition to impressive athleticism, rushing for 936 yards and 12 TDs in his final two collegiate seasons and then running a 4.77 40 at the Combine. His arm strength is among the best in his class, and his footwork and mechanics require little refinement, leaving him with a quick release and impressive accuracy. Wentz is also one of the increasingly rare QBs to play in a pro-style offense in college, which should reduce the time to adapt to the NFL despite the extremely large jump in competition. While there are durability concems given his history of arm and shoulder injuries dating to high school, including a broken wrist his senior year, the total package appears to be one of a true franchise QB. Wentz is a good fit for new coach Doug Pederson's offense, which is similar to the Andy Reid offense that thrived with mobile QBs like Donovan McNabb and Alex Smith and the rookie has a chance to be a special player in time.
More Fantasy News