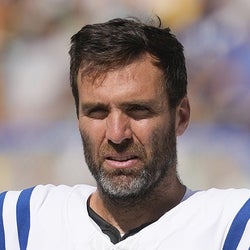 Rest-of-Season Projections
2023 Fantasy Outlook
There was no outlook written for Joe Flacco in 2023. Check out the latest news below for more on his current fantasy value.
RANKS
#

Overall
$Signed a one-year, $3.5 million contract with the Jets in March of 2022.

No TDs in possible swan song
Flacco completed 18 of 33 passes for 149 yards in Sunday's 11-6 loss to the Dolphins.
ANALYSIS
Flacco failed to lead a touchdown drive, but that had already been a common theme down the stretch for the banged-up and ineffective Jets offense. The veteran quarterback made his 180th career NFL start just eight days before his 38th birthday. It's fair to wonder how many more starts Flacco -- who will be an unrestricted free agent this offseason -- has left in him. The Super Bowl XLVII MVP appeared in five games (four starts) in 2022, throwing for 1,051 yards and a 5:3 TD:INT.
Read More News
NFL Stats
Fantasy/Red Zone Stats
See red zone opportunities inside the 20, 10 and 5-yard lines along with the percentage of time they converted the opportunity into a touchdown.
Loading Fantasy/Red Zone Stats...
Advanced NFL Stats
Loading Advanced NFL Stats...
2022
2021
2020
2019
2018
2017
2016
2022 NFL Game Log

Calculate Stats Over Time
Just click on any two dates.
Scoring
Standard
PPR
Half PPR
FanDuel
DraftKings
Yahoo DFS
2021 NFL Game Log

Calculate Stats Over Time
Just click on any two dates.
Scoring
Standard
PPR
Half PPR
FanDuel
DraftKings
Yahoo DFS
2020 NFL Game Log

Calculate Stats Over Time
Just click on any two dates.
Scoring
Standard
PPR
Half PPR
FanDuel
DraftKings
Yahoo DFS
2019 NFL Game Log

Calculate Stats Over Time
Just click on any two dates.
Scoring
Standard
PPR
Half PPR
FanDuel
DraftKings
Yahoo DFS
2018 NFL Game Log

Calculate Stats Over Time
Just click on any two dates.
Scoring
Standard
PPR
Half PPR
FanDuel
DraftKings
Yahoo DFS
2017 NFL Game Log

Calculate Stats Over Time
Just click on any two dates.
Scoring
Standard
PPR
Half PPR
FanDuel
DraftKings
Yahoo DFS
2016 NFL Game Log

Calculate Stats Over Time
Just click on any two dates.
Scoring
Standard
PPR
Half PPR
FanDuel
DraftKings
Yahoo DFS
2023 Joe Flacco Split Stats
Loading NFL Split Stats...
Measurables Review
How do Joe Flacco's measurables compare to other quarterbacks?
This section compares his draft workout metrics with players at the same position. The bar represents the player's percentile rank. For example, if the bar is halfway across, then the player falls into the 50th percentile for that metric and it would be considered average.
Recent RotoWire Articles Featuring Joe Flacco
See More
Past Fantasy Outlooks
2022
2021
2020
2019
2018
2017
2016
2015
2014
2013
2012
2011
2010
2009
2008
Flacco re-signed with the Jets during the offseason and enters camp as the favorite to beat out Mike White for the backup spot behind 2021 second overall pick Zach Wilson. The 37-year-old Flacco played well in limited action last year, coming nine yards short of 300 in his lone start of the season. Flacco could end up making the Week 1 start after Wilson injured his knee in the preseason opener.
Since leaving Baltimore after the 2018 season, Flacco has served as a backup signal-caller for the Broncos and Jets. In that span, he's appeared in 13 games (12 starts), throwing for 2,686 yards and 12 touchdowns with eight interceptions. In Philadelphia, he'll once again back up and mentor a young quarterback, this time Jalen Hurts.
Flacco completed 171 of 262 passes for 1,822 yards, six touchdowns and five interceptions during an injury-shortened 2019 campaign with the Broncos. He added 20 yards on 12 carries and fumbled the ball eight times during his eight games played. With Denver having transitioned to Drew Lock, Flacco waited until late May to find a new home with the Jets. Sam Darnold is locked in as the starter, so Flacco will serve as a mentor and potential fill-in for the third-year pro. First, though, Flacco will focus on his recovery from a disc repair procedure in April, which is expected to last until early September, at the earliest.
Flacco's lengthy run as an NFL starter appeared finished when Lamar Jackson took the reins for Baltimore in Week 11 last season. Alas, Broncos general manager John Elway had other ideas, giving up a fourth-round pick for the 34-year-old quarterback. It's true that Flacco didn't have much receiving help his final few seasons in Baltimore, but it's equally true that he did nothing to elevate the players around him. He heads to Denver with a four-year streak finishing with less than 7.0 yards per attempt, maxing out at 20 passing touchdowns and 58 rushing yards in that stretch. The plan is to win with a running-and-defense gameplan, sparked by running back Phillip Lindsay and pass rushers Von Miller and Bradley Chubb. The game-manager role should be quite familiar to Flacco, who fell shy of 550 pass attempts each of his first five NFL seasons, all of which ended in a playoff appearance for Baltimore. The Broncos' attempt to recreate that plan seems rather optimistic, but they at least have rookie second-round pick Drew Lock waiting in the wings to pivot toward the future if it doesn't work out. With Emmanuel Sanders coming off a late-season Achilles tear and the rest of the pass-catching corps dominated by second-year players (WRs Courtland Sutton and DaeSean Hamilton) and a rookie (TE Noah Fant), the Broncos must be counting on big things from their offensive line and backfield. Even if the plan comes to fruition, Flacco won't have much chance to post a prolific stat line.
A back injury kept Flacco out of training camp and preseason games last year and seemed to linger into the regular season. He struggled most of the year, not looking decent until the final five games when he finally broke 265 yards passing and had nine touchdowns to two interceptions. But maxing out at 288 yards (Week 15) is nothing to get excited about. For the season, he posted the lowest YPA in the league and his fewest yards in a full season since his rookie year in 2008. Flacco's bigger problem now is holding off Lamar Jackson, the No. 32 overall pick from this year's draft. With $10.5 million in salary cap relief on the table for 2019, there's a good chance this will be Flacco's final year in Baltimore. If so, will Jackson get a shot this season? The 33-year-old Flacco better come out firing if he wants to hold onto the job. He'll have some better targets than last year's uninspiring lot, as the Ravens signed wide receivers Michael Crabtree, John Brown and Willie Snead, then drafted tight ends Hayden Hurst and Mark Andrews. For now, coach John Harbaugh insists that Jackson will develop behind Flacco this season. If he wants to keep his job, Flacco needs to reverse a three-year trend of diminishing efficiency, and even that might not be enough.
Flacco topped 4,000 yards for the first time last season, but he did it thanks to volume. His YPA was the second lowest of his career as he attempted the second most passes in the league. What's more, his 3.0 touchdown percentage was a career low. Pass-happy OC Marc Trestman was fired after Week 5, but the gameplan didn't change much under Marty Mornhinweg (1.7 fewer passes per game). A torn ACL from the previous year played a part in his struggles, though more significant probably was the dearth of playmakers at his disposal. The running game was mediocre at best (4.0 YPC, 21st) and the passing game lacked weapons. Unfortunately for Flacco, the Ravens did little to improve the talent around him this offseason. The team did not replace the retired Steve Smith nor free-agent Kamar Aiken, and, surprisingly, did not draft any skill position players, apparently counting on Breshad Perriman to blossom alongside Mike Wallace. Knee injuries have stunted Perriman's career, but he has elite speed to stretch the field, which the strong-armed Flacco struggled with last season (63.5 passer rating on attempts of 21-plus yards). Flacco doesn't have great red-zone targets, nor does he have 2016 safety valve Dennis Pitta, who caught 86 passes last season but was released after re-injuring his hip in June. Flacco missed all of training camp and the preseason with a back injury, but the Ravens consistently have expressed confidence he'll be ready for Week 1.
Even before he tore his ACL in Week 11, 2015 wasn't shaping up to be a particularly good season for Flacco. While he was on pace for over 4,400 passing yards, which would have been a career high, his poor TD:INT indicated he was having some difficulty adjusting to new offensive coordinator Marc Trestman's system, and his YPA and QB rating ranked towards the bottom of the league. It's easy to see why the two may not have been completely on the same page, as Trestman's offense favors quick, accurate strikes while Flacco's primary asset is his ability to stand in the pocket and launch the ball down the field with excellent arm strength. The Ravens also lacked quality receiving options, especially after Steve Smith suffered a torn Achilles in Week 8. The team did sign free-agent Mike Wallace, a possible deep threat who hasn't topped 1,000 receiving yards since 2011 and disappointed in both Miami and Minnesota, but otherwise did little to provide Flacco with new targets, and now second-year player Breshad Perriman looks like he could miss another season with another knee injury. There's no guarantee Flacco will be recovered in time for Week 1, but even if he is, his upside appears limited by his scheme and supporting cast.
Flacco bounced back from a disappointing 2013 to post career highs in touchdowns and yards and complete at least 60 percent of his passes for the first time since 2010 as the Ravens set franchise records for points and yards. Perhaps most important, Flacco rolled back his interceptions by 10 after throwing 22 the previous season. Flacco's YPA has never impressed, though it rebounded to its 2012 level last season. Perhaps that might change this year with the hiring of offensive coordinator Marc Trestman, who said he plans to keep former OC Gary Kubiak's zone-blocking scheme but with a passing game that will look downfield more often. The next question is whether Flacco will have downfield weapons to target. Torrey Smith left in free agency, and 36-year-old Steve Smith Sr. could have a reduced role to stay fresh late into the season. Tight end Owen Daniels followed Kubiak to Denver, and Dennis Pitta is attempting to return from major hip surgery for the second straight season. The Ravens used their first-round draft pick on the 6-2, 212-pound Breshad Perriman, who ran a 4.27 40 at his pro day, later adding second-round pick Maxx Williams, the top tight end in the draft. Third-year receiver Marlon Brown, who had seven touchdowns as a rookie but none last year, also figures to see a bigger role. The development of those three will be key to Flacco's season.
Flacco's follow-up to 2012's Super Bowl-winning campaign was a major disappointment, as his YPA dropped from 7.2 to 6.4 and he threw as many interceptions (22) as he did in 2011 and 2012 combined. He'll likely bounce back nicely in 2014, however, reestablishing himself as a middle-tier QB2 in leagues with 12 or more teams. After missing 12 games in 2013 due to a dislocated hip, Dennis Pitta should be in line for 16 games this year, which should help Flacco's efficiency considerably. In addition to Pitta, the Ravens added weapons in free agency, signing wideout Steve Smith and tight end Owen Daniels. The addition of offensive coordinator Gary Kubiak is also good news, as Kubiak managed to coax three seasons of at least 4,000 yards and 22 touchdowns out of Matt Schaub in Houston.
The Ravens signal-caller lit it up in the playoffs with 11 touchdowns and no interceptions, including 285 passing yards per game and a remarkable 117.2 passer rating, amazingly leading one of the league's moderately talented squads to a Super Bowl victory. We need to be careful not to let Flacco's postseason surge affect how we view him as a fantasy option, however. Remember this is a player who, through five seasons in the NFL, has never thrown more than 25 touchdowns in a year. He has a career completion rate of 60.5 percent, and it's been below that mark in each of the last two seasons. Flacco also has a career-high YPA of just 7.4 (in 2010), meaning he simply isn't an elite player. You know what you'll get with Flacco – he's thrown no fewer than 10 but no more than 12 interceptions in every season of his career. Outside of a miraculous increase in both passing attempts and efficiency, Flacco isn't likely to take a major leap. The 28-year old quarterback, now without Anquan Boldin on the outside, is firmly established as a medium floor/low ceiling player, the kind one might want to target in deeper two-QB leagues where reliability has significant value.
Although Flacco claims to believe he's the best quarterback in the NFL, he more likely has maxed out as an average starter for the Ravens. He completed just 57.6 percent of his passes in 2011, with his average per attempt dropping from 7.4 in 2010 to 6.7. His 20 passing touchdowns were his lowest total since he threw 14 in his 2008 rookie year, and his quarterback rating (80.9) was barely better than the career-low 80.3 he posted in 2008. It's true that Anquan Boldin and Torrey Smith are an average duo at receiver, but an above average quarterback would find a way to make it work. Flacco will need to, in fact, because the only receivers the Ravens added in the offseason were sixth-round pick Tommy Streeter and Texans exile Jacoby Jones. Considering he was significantly better the two years prior to 2011, in any case, Flacco should improve in 2012.
He's limited by the run-heavy nature of his offense, but Flacco has been an efficient producer in his three-year career and has improved slightly with each season of experience he gains. Heading into his fourth season, the Ravens hope he'll take the next step – from good to great. While Anquan Boldin and Derrick Mason (if he re-signs) are aging, they remain generally effective possession targets, and second-round pick Torrey Smith provides Flacco with a big-play threat he's never had. With three solid wideout targets, a deep group of tight ends and Ray Rice serving both as an efficient runner and standout backfield target, the conditions should be favorable for Flacco in 2011.
The expectations are lofty this year for Flacco now that Anquan Boldin is in tow. But can Derrick Mason hang on for one more year at age 36? Behind Mason there are question marks such as Mark Clayton and Donte Stallworth. The tight end position is going to be average at best. Boldin has starred as a No. 1 guy and is at the peak of his powers so you have to assume that Flacco has a top-10 weapon. If Mason doesn't suffer a major decline, Flacco's environment is good. But that Mason decline can happen at any moment, as could an injury — the risk of which increases with age. Flacco is a target in the last starting QB/first backup strategy.
There's a lot of hype with Flacco because he won last year as a rookie, which is quite an accomplishment but worthless for fantasy owners as "QB wins" are not a scoring category. Alas, he had a sub-7.0 YPA overall, and even on first downs. He was 21st in red-zone opportunities and 24th in red-zone points. Sure, he'll be given a longer leash now as a sophomore, but it's a long way up even to being average for Flacco from a fantasy standpoint. The arm strength is real. He made a couple of incredible throws last year, including one 30-yard out pattern against the Dolphins in the playoffs. But the arm strength wasn't there in ways that can be qualitatively measured – just a 79.1 QB rating on FAS (11-to-20-yard throws), slightly below average. His poor throw percentage of 15.7 was very high. And his yards per completion were just slightly above average – 11.6 to the average rate of 11.4. Given the construction of the Ravens team and the reliance on their defense and offset running game (when they often deploy three tackles so defenses can't identify their gap responsibility), it's hard to see Flacco making the leap up to the 20-TD threshold, the bare minimum for fantasy starter consideration.
The Ravens QB position has been a disaster since even their Super Bowl days. It hasn't been for lack of trying. They invested heavily in Kyle Boller, tried to move up in the draft to take Byron Leftwich and then cast their lot with Steve McNair. That's three strikes and you're out for Brian Billick, who actually had a reputation for being a QB-maker when he was with the Vikings. There are no QB makers, only good QBs. And those are impossible to identify until NFL bullets are flying for real. The Ravens reached for Joe Flacco after at least trading down for once in the draft. He was a second-round talent, say the draftniks. But they don't know who the good QBs are going to be, either. The Flacco projection is pure guesswork. He has no big-game experience playing at Delaware. He is 6-6, which is useful in seeing over linemen. While he has a big arm, he isn't athletic and played in a weak conference that didn't even have NCAA-caliber speed on defense. Now he's going to see NFL speed. That's like going from the slow batting cages into the big leagues. Cam Cameron's offense will look to emphasize the run. Boller will have a short leash even if he's playing well. He wasn't awful last year, though, and might be a short-term solution if the matchup that week is right. But he and Flacco are both waiver wire fantasy guys at best.
More Fantasy News