This article is part of our DFS College Basketball series.
Today's college hoops slate offers a wide assortment of matchups but the marquee game of the day is Alabama-LSU. Both teams are expected to score at least 80 points so that's where we'll begin today's preview.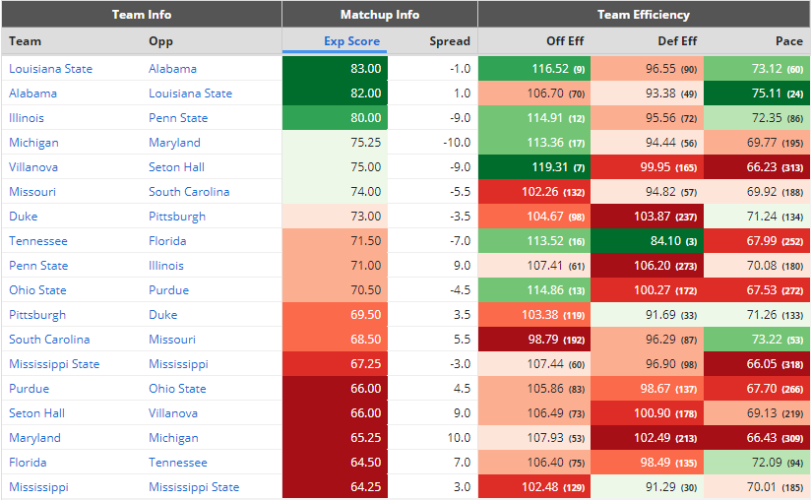 Targets
Herbert Jones, G, Alabama ($6,600 DK, $6,500 FD)

Alabama's best fantasy scorer versus the third worst defense in the SEC, per KenPom. I like my odds here and I especially like them considering the undervaluation with today's salary. Jones recently suffered a hand injury which limited his production two games ago against Kentucky. His current salary reflects the outcomes of the past two games but the good news here is that Jones had a strong outing in the team's previous game in only 22 minutes of playing time. Alabama blew out Arkansas, so Jones received extra rest late in the game. Jones appears ready to go, poised to have a big game in a high scoring duel against LSU.
Kofi Cockburn, F, Illinois ($8,200 DK, $8,000 FD)

Illinois currently has the seventh-best offense in the country and is taking on the third-worst defense in the Big Ten per KenPom. This would explain why the Illini are expected to put up 80 points tonight. Ayo Dosunmu will be a popular pick in this game for obvious reasons, although ultimately I'm going with Cockburn because of his ability to grab rebounds. Penn State has been terrible at guarding against offensive rebounds this season and Cockburn has one of the best offensive rebounding rates in the country. On paper, this is a ripe matchup for Cockburn so I'm expecting him to put on a show.
Mike Smith, G, Michigan ($5,100 DK, $4,700 FD)

The Wolverines are projected to score around 75 points tonight, and if you believe in personal motivation then you have to believe Michigan is going to be fired up after taking a beating at Minnesota in their first loss of the season last Saturday. Maryland's defense is currently ranked second worst in the Big Ten in terms of adjusted efficiency so this looks like a prime bounce-back opportunity for Michigan. Any of the Wolverine starters can make a strong case for entering your lineup, but I like Smith as a value prospect for two key reasons. One, Maryland has been particularly vulnerable against three-point shooting while Smith is making 43 percent of his shots from behind the arc this season. Two, Smith offers an intriguing buy-low opportunity as he scored zero points in his previous game so his salary has taken a slight dip. This would normally be a cause for concern but Smith is still averaging over eight points per game this season so I'm expecting a bounce-back performance in a favorable matchup. I would be remiss if I didn't also note that Smith has been scorching hot since conference play started. Through seven conference games, Smith has made 10-of-16 three-point attempts while posting the third highest assist rate in the Big Ten. All in all, Smith offers plenty of upside with a manager-friendly salary.
DraftKings Exclusive
Jeremiah Tilmon, F, Missouri ($6,700)

Missouri is expected to score around 75 points tonight, putting Tilmon in line for a productive game given that he uses over 20 percent of possessions when on the court. Tilmon was hit-or-miss early in the year but now seems locked into a productive rhythm, averaging over 29 fantasy points per game over his last five contests. South Carolina's defense is weaker against two-point shots so Tilmon has a chance to benefit in this spot as he's made the most two-point baskets on the team this season. Tilmon also leads the Tigers in rebounding while boasting the highest offensive efficiency rating on the team.
Fades
Aaron Wiggins, G, Maryland ($7,100 DK, $7,000 FD)

Maryland is going against a Michigan defense that is currently ranked No. 10 in the country per KenPom so I'm avoiding the road team today if at all possible. Wiggins will especially have his work cut out for him because he relies on inside scoring but Michigan is defending two-point shots at the third best rate in the country. Wiggins is shooting below 30 percent from behind the arc this season so he might struggle scoring if Michigan's interior defense shows up. Wiggins does have the highest usage rate on the teams so this pick might backfire if he gets hot but it's hard to ignore the Wolverines' defense.
Jared Rhoden, G, Seton Hall ($7,200 DK, $7,000 FD)

Not a great forecast for Seton Hall. The numbers are suggesting a rough loss in which the Pirates only score around 65 points, easily one of the lowest over/under totals in the common pool of games. The low projection can mostly be attributed to Villanova's defense, ranked third best in the Big East per KenPom, combined with the slow pace that the Wildcats usually impose. I'm not too keen on any of the Pirates tonight but if you're determined to fade the Wildcats (who haven't played since Dec. 23 due to COVID issues), then I would simply find a way to squeeze Sandro Mamukelashvili into your lineup.
Tre Mann, G, Florida ($8,000 DK, $7,200 FD)

We have two significant wrinkles in this game. The first and foremost is Tennessee's defense. The Vols defense is currently ranked second best in the country (per KenPom), so any Gator selection carries serious risk. Mann's current salary is a season-high, so now's the perfect time to sell. Mann often pads his fantasy scoring with plenty of assists, but I find it hard to imagine he'll be able to collect his usual number of assists if Tennessee's defense lives up to its lofty standards. The other wrinkle is the status of guard Scottie Lewis, who's currently expected to miss the game. Florida was already short-handed even before his absence so this means we can expect to see all five starters play most of the game (assuming no significant foul trouble). Mann is Florida's primary player these days, so there's definitely a chance this pick comes back to haunt me, but when it comes down to it I'd rather trust the elite defense in this situation.
The author(s) of this article may play in daily fantasy contests including – but not limited to – games that they have provided recommendations or advice on in this article. In the course of playing in these games using their personal accounts, it's possible that they will use players in their lineups or other strategies that differ from the recommendations they have provided above. The recommendations in this article do not necessarily reflect the views of RotoWire. Steve Peralta plays in daily fantasy contests using the following accounts: FanDuel: Buddusky, DraftKings: Buddusky24.