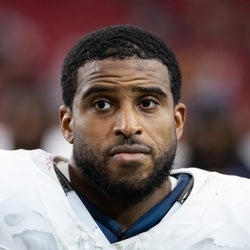 Rest-of-Season Projections
2023 Fantasy Outlook
After spending the first decade of his career in Seattle, Wagner departed for the defending Super Bowl champs last year as they futilely tried to repeat. The Rams let him go this offseason as they retooled, and Wagner re-upped with the Seahawks on a one-year deal. The 32-year-old has recorded at least 130 tackles in seven consecutive seasons, and in 2022 the old dog learned some new pass-rush tricks, racking up a career-high six sacks. With Jordyn Brooks on the mend from an ACL tear, Wagner should have opportunities for all the tackles he can handle.
Read Past Outlooks
$Signed a one-year, $7 million contract with the Seahawks in March of 2023.

Racks up 14 stops against Dallas
Wagner registered 14 tackles (seven solo) in Thursday's Week 13 loss to the Cowboys.
ANALYSIS
Wagner led Seattle in stops in the defeat, posting his third double-digit tackle total over the past four weeks. The veteran linebacker has had some big tackle totals this season, finishing with 13 or more stops on four different occasions. Wagner is currently tied for the NFL lead with 127 tackles on the campaign.
Read More News
NFL Stats
2023
2022
2021
2020
2019
2018
2017
2016
2023 NFL Game Log

Calculate Stats Over Time
Just click on any two dates.
2022 NFL Game Log

Calculate Stats Over Time
Just click on any two dates.
2021 NFL Game Log

Calculate Stats Over Time
Just click on any two dates.
2020 NFL Game Log

Calculate Stats Over Time
Just click on any two dates.
2019 NFL Game Log

Calculate Stats Over Time
Just click on any two dates.
2018 NFL Game Log

Calculate Stats Over Time
Just click on any two dates.
2017 NFL Game Log

Calculate Stats Over Time
Just click on any two dates.
2016 NFL Game Log

Calculate Stats Over Time
Just click on any two dates.
Snap Distribution / Depth Chart
2023 Bobby Wagner Split Stats
Loading NFL Split Stats...
Measurables Review
How do Bobby Wagner's measurables compare to other linebackers?
This section compares his draft workout metrics with players at the same position. The bar represents the player's percentile rank. For example, if the bar is halfway across, then the player falls into the 50th percentile for that metric and it would be considered average.
* All metrics are from his Pro Day (not the combine).
Recent RotoWire Articles Featuring Bobby Wagner
See More
Past Fantasy Outlooks
2022
2021
2020
2019
2018
2017
2016
2015
2014
2013
2012
Wagner isn't the player he once was, but he's the best the Rams have at inside linebacker and now inherits a role that has recently been fruitful to other, lesser IDPs. Troy Reeder comes to mind – he was a liability in the Rams defense yet raced to 172 tackles and five sacks on 1,077 snaps the last two years. Wagner was in the league tackle title hunt almost every year in Seattle and might do the same with the Rams.
Wagner has to fall off eventually, and perhaps his age-31 season presents such a risk. In the meantime, though, he remains about as prolific as he was in his memorable 2012 rookie season, and last year he logged a career-high snap count, 61 more than his second-highest season. Seattle remains dependent on Wagner, who entered the league an elite athlete out of Utah State, so another busy season likely awaits even as he heads further past 30. Wagner has surpassed 100 tackles in each of his nine NFL seasons, and in each his 16-game baseline was north of 120 tackles.
Wagner played through knee and ankle issues late in 2019, and his performance suffered a bit for it, but his IDP production was about as strong as ever. As much as the age-30 mark looms for Wagner and brings all the typical concerns with it, the fact that he produced 159 tackles and three sacks on 1,080 snaps last year makes it look like he should age well as long as he avoids injury. He's an extremely athletic linebacker and can afford to lose some speed, as he ran a 4.46 40 with a 39.5-inch vertical and 132-inch broad jump out of Utah State. First-round pick Jordyn Brooks should pose more of a threat to K.J. Wright's snap count than Wagner's, so Wagner once again should rank atop the IDP leaderboard this year.
Wagner has the ability to finish No. 1 among linebackers. He is three years removed from a 167-tackle, four-sack season, and despite playing through injury, his tackle rate from last year would project to 149 on 1,000 snaps. Wagner's missile-like playing style gets him nicked up occasionally, but he is an automatic elite asset when he is on the field. He also has great playmaking ability, offering sack and interception upside while scoring four touchdowns in the last four years for the Seahawks.
Wagner is a high-velocity wrecking ball that gets nicked up from time to time – he was limited by a hamstring injury for a stretch even as he played 16 games last year – but that speed and violence are the same traits that make him so effective. With 4.5 speed and 300 tackles over the last two years, few linebackers pose the danger he does, including as a blitzer and turnover source. With the Seattle dynasty in seeming decline, it's possible his per-snap tackle rate will increase as opponents perhaps call more run plays due to having more leads than they did against the Legion of Boom at its greatest heights.
Wagner had a career year in 2016, mainly because he stayed healthy. It was the first time since his 2012 rookie year that he played 16 games, as he dealt with a combination of ankle, toe, and pectoral issues the three years prior. Perhaps last season was a fortunate aberration, or perhaps it was the new normal. Either way, even if he misses a couple games this year, Wagner's nose for the ball and elite athleticism give him high weekly upside. He is capable of producing in all phases of defensive play.
If Wagner could stay healthy for 16 games, he would be a good bet to outperform this ranking. Unfortunately, he missed games in each of the last three years, eight in total, due to ankle, turf toe and pectoral troubles. When on the field, Wagner is an elite player in both real life and IDP terms, combining crushing physicality and DB-like speed to pose a threat in all phases of defensive play. The bottom line is his upside makes him worth the injury risk after he produced at a pace that projects to 136 tackles, three sacks and one pick per 16 games over his first four seasons.
Two years too late, Wagner finally received his first All-Pro honor last season, despite missing five games with a turf toe injury. Even on a defense that has ranked no higher than 27th in snaps each of the last three years, Wagner has been an unstoppable tackle machine, averaging nearly 10 a game last season. Considering he hit triple-digit tackles on just 658 snaps last year, Wagner has 160-tackle upside if he ever sees close to 1,000 snaps, though Seattle's ability to consistently force punts and turnovers make that unlikely. As perhaps the league's most athletic linebacker with 4.46 speed, he also has more upside for sacks and interceptions than his career numbers suggest.
Wagner was, as expected, a big hit in 2013, posting 120 tackles (72 solo), five sacks and two interceptions despite missing two games with a high ankle sprain. Measuring in at 6-0, 241-pounds, Wagner possesses 4.4 speed to go along with elite lower body strength and explosiveness (39.5-inch vertical, 132-inch broad jump), and he possesses blitzing skills very few linebackers can match. That makes him a lethal fit in Seattle's swarming defense, as offensive lines can't account for both Wagner and the defensive line, leaving creases between blockers that allow Wagner to fly to quarterbacks and other ballcarriers. The result has been 259 tackles (158 solo) and seven sacks in his first two years, and there's no reason to think he'll slow down from here. Since Seattle is so good at pressuring quarterbacks, Wagner also gets the opportunity to intercept hurried and off-target passes, something he's done five times thus far in his two-year career. His ankle sprain from last year appears to mostly be a fluke, as he didn't miss a game in any of the four years prior to last, dating back to his days at Utah State. He's a high-floor, high-ceiling IDP investment and a dark horse candidate to finish atop the linebacker IDP point total this year.
If you're the gambling sort, you might want to rank Wagner ahead of James Laurinaitis and perhaps even on a plane similar to Luke Kuechly's. Like Kuechly, Wagner was a rookie last year who, despite possessing much less hype than the Carolina star, quickly established himself as one of the league's most dominant defenders. Although he began the year in a two-down role, it didn't take long for Wagner to emerge as Seattle's top linebacker, and he finished with 139 tackles (86 solo), two sacks and three interceptions. Wagner is a highly disruptive player with exceptional speed, and he should continue to supplement his high tackle totals with impact plays in coverage and behind the line of scrimmage. And there's actually reason to suspect Wagner can improve on his stats in 2013. He posted those 139 tackles while playing just 849 snaps on defense, whereas Kuechly and Laurinaitis played 923 and 1,080, respectively. If Wagner can approach 1,000 snaps on defense, 160 tackles might come with them.
David Hawthorne's departure leaves the middle linebacker spot open, but Wagner will have to beat out veteran Barrett Ruud. Like Mychal Kendricks in Philadelphia, Wagner has athleticism that rivals that of the typical NFL cornerback – he posted a 40-yard dash of 4.46 seconds at his pro day while adding a 39.5-inch vertical. A gifted blitzer, Wagner should be a frightening presence in an amorphous Seattle front seven that is loaded with versatility and speed. Wagner finished his last 37 games at Utah State with 394 tackles, including 26.5 for a loss. He just needs to get on the field.
More Fantasy News