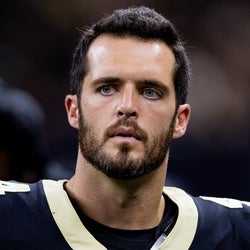 Questionable
Injury Ribs
Est. Return 12/10/2023
Rest-of-Season Projections
2023 Fantasy Outlook
Pick a metric from last year and chances are it was Carr's worst since his rookie season. And that's saying something considering he had one of the league's best wide receivers in Davante Adams. Carr's on-target percentage was 67.9 -- only Baker Mayfield and Zach Wilson were lower among qualified QBs. Carr looked deep plenty (71 targets beyond 20 yards, 5th), but he couldn't connect on many of those throws, ranking 25th in completion percentage (32.4). He was benched the final two games and then released shortly after the season. In March, he signed a four-year $150 million deal with New Orleans, where he'll have two reliable weapons in WR Chris Olave and RB Alvin Kamara. A healthy season out of Michael Thomas, who played 10 games the past three years, would go a long way, as the Saints otherwise will need sustained contributions from 2022 UDFA Rashid Shaheed (377 receiving yards in Weeks 13-18) or undersized tight end Juwan Johnson (seven TDs in a seven-game stretch). Carr should have value in two-QB leagues, but he's got a tough path to value in single-QB formats as a sub-elite passer who doesn't have dominant weapons and provides next to nothing on the ground (845 yards, six TDs in nine seasons).
Read Past Outlooks
RANKS
#

Overall
$Signed a four-year, $150 million contract with the Saints in March of 2023.

Clears protocol, on tap for start
Carr (ribs/right shoulder) remains listed as questionable for Sunday's game against the Panthers, but he's on track to start after he cleared the NFL's five-step concussion protocol, a source tells
Nick Underhill of NewOrleans.Football
.
ANALYSIS
Head coach Dennis Allen said Carr was still in the protocol when he met with the media Friday, but after he was a full participant in the Saints' practice later in the day, the quarterback apparently gained clearance when he met with an independent neurologist following practice. The Saints are unlikely to officially confirm Carr's availability for the Week 14 matchup until the team releases its inactive list 90 minutes prior to Sunday's 1 p.m. ET kickoff, but the 32-year-old is poised to direct the New Orleans as he usually does, provided he doesn't re-enter the protocol or experience a setback in his recovery from the other two injuries. Carr has yet to miss a game this season but has been included in the concussion protocol on two occasions and also exited early in a Week 3 loss in Green Bay due to a sprained AC joint in his throwing shoulder.
Read More News
NFL Stats
Fantasy/Red Zone Stats
See red zone opportunities inside the 20, 10 and 5-yard lines along with the percentage of time they converted the opportunity into a touchdown.
Loading Fantasy/Red Zone Stats...
Advanced NFL Stats
How do Derek Carr's 2023 advanced stats compare to other quarterbacks?
This section compares his advanced stats with players at the same position. The bar represents the player's percentile rank.
The longer the bar, the better it is for the player.
Bad Pass %

The percentage of passes that were considered to be poorly thrown.

Avg Target Depth

The average number of yards thrown per pass by the quarterback – including incomplete passes.

Sack Rate

The percentage of dropbacks where the quartback was sacked. The longer the bar below, the more often they are sacked relative to other QBs.

Avg Receiver YAC

The average number of yards after the catch that receivers gained on passes thrown by this quarterback.

Receiver Drop %

The percentage of passes dropped by receivers on passes thrown by this quarterback. The longer the bar, the more sure-handed his receivers have been.
Loading Advanced NFL Stats...
2023
2022
2021
2020
2019
2018
2017
2016
2023 NFL Game Log

Calculate Stats Over Time
Just click on any two dates.
Scoring
Standard
PPR
Half PPR
FanDuel
DraftKings
Yahoo DFS
2022 NFL Game Log

Calculate Stats Over Time
Just click on any two dates.
Scoring
Standard
PPR
Half PPR
FanDuel
DraftKings
Yahoo DFS
2021 NFL Game Log

Calculate Stats Over Time
Just click on any two dates.
Scoring
Standard
PPR
Half PPR
FanDuel
DraftKings
Yahoo DFS
2020 NFL Game Log

Calculate Stats Over Time
Just click on any two dates.
Scoring
Standard
PPR
Half PPR
FanDuel
DraftKings
Yahoo DFS
2019 NFL Game Log

Calculate Stats Over Time
Just click on any two dates.
Scoring
Standard
PPR
Half PPR
FanDuel
DraftKings
Yahoo DFS
2018 NFL Game Log

Calculate Stats Over Time
Just click on any two dates.
Scoring
Standard
PPR
Half PPR
FanDuel
DraftKings
Yahoo DFS
2017 NFL Game Log

Calculate Stats Over Time
Just click on any two dates.
Scoring
Standard
PPR
Half PPR
FanDuel
DraftKings
Yahoo DFS
2016 NFL Game Log

Calculate Stats Over Time
Just click on any two dates.
Scoring
Standard
PPR
Half PPR
FanDuel
DraftKings
Yahoo DFS
Snap Distribution / Depth Chart
This Week's Opposing Pass Defense
How does the Panthers pass defense compare to other NFL teams this season?
The bars represents the team's percentile rank (based on QB Rating Against). The longer the bar, the better their pass defense is.
The team and position group ratings only include players that are currently on the roster and not on injured reserve. The list of players in the table only includes defenders with at least 3 attempts against them.

vs Panthers
Sunday, Dec 10th at 1:00PM
Overall QB Rating Against
77.3
Loading Opponent Pass Defense Stats...
2023 Derek Carr Split Stats
Loading NFL Split Stats...
How do Derek Carr's measurables compare to other quarterbacks?
This section compares his draft workout metrics with players at the same position. The bar represents the player's percentile rank. For example, if the bar is halfway across, then the player falls into the 50th percentile for that metric and it would be considered average.
Recent RotoWire Articles Featuring Derek Carr
See More
Past Fantasy Outlooks
2022
2021
2020
2019
2018
2017
2016
2015
2014
For the second year in a row, Carr thrived with the long ball. Unlike his dink-and-dunk Oakland years, Carr is now a downfield passer, using his strong arm to stretch the field. He attempted 81 passes of at least 20 yards last season, second only to Tom Brady and twice as many as he had just two years before. He went downfield on 12.9 percent of his passes, fifth most in the league (min. 450 attempts). While his average target depth dropped slightly from 2020, he still ranked ninth at 8.1 yards. His YPA was nearly the same as the year before (7th), and the aggressive approach combined with a 17-game schedule and a career-high 626 attempts resulted in 701 more passing yards than his career high from 2020. And all of that came during a tumultuous season for the franchise (on multiple fronts) and with a thin receiving corps that saw TE Darren Waller limited to 11 games. With Davante Adams now joining Waller and 1,000-yard slot receiver Hunter Renfrow, Carr has more fantasy upside than ever. Even if he loses some attempts (no certainty) under new head coach and play caller Josh McDaniels, the veteran QB should make up for it with additional TD passes. Assuming McDaniels doesn't throttle back the downfield passing game, Carr will be viable in one-QB leagues, though his lack of rushing probably prevents him from jumping into the top 10 of quarterbacks.
The king of dink-and-dunk in recent years, Carr actually dared to go downfield last season. He took 22 more deep shots last season than in 2019, with 12.2 percent of his attempts spanning at least 20 yards (9th). After a league-low 6.6-yard average depth of target the previous year, Carr ranked sixth last season at 8.9. Among QBs with at least 30 attempts of 20-plus yards, Carr ranked second in completion percentage (46.0), connecting for 10 TD passes (T-3rd) after having just two the year before. That helped boost his TD total to a four-year-high 27. Nelson Agholor emerged as the team's No. 1 WR and top deep threat last season, but he signed this offseason with New England, leaving a young wideout group behind. Henry Ruggs and 
Bryan Edwards had underwhelming rookie years with limited volume, but the former averaged 17.4 YPC and the latter averaged 17.5, so there were at least flashes of potential. Slot man Hunter Renfrow is the leading returning WR, but 100-catch TE Darren Waller is the go-to receiver. The Raiders added veterans in WRs John Brown and Willie Snead and RB Kenyan Drake, who could be used as a receiver while Josh Jacobs handles most of the rushing. Carr will lean on Waller as much as possible, but he needs a reliable deep threat to emerge. If he reverts to dink-and-dunk again, the little upside he has (with no rushing stats to speak of) will disappear.
Carr set career highs in passing yards (4,054), completion percentage (70.4) and YPA (7.9) for the second year in a row last season. And like the year before, Carr ran up his numbers thanks to a dink-and-dunk passing game that rarely tried to stretch the field. A league-high 61.4 percent of Carr's attempts were within five yards of the line of scrimmage, with just 7.2 percent going beyond 20 yards. No surprise, his 6.6-yard average depth of target was the lowest in the NFL. In Carr's defense, the Raiders intended for Antonio Brown to be their deep threat, but that plan blew up in training camp. And Tyrell Williams, who has a career 16.1 YPC, dealt with plantar fasciitis for much of the year. The big winner was TE Darren Waller with a team-high 117 targets. He'll be back for more this season, as will the promising Hunter Renfrow. And with a healthy Williams on the outside opposite 12th overall pick Henry Ruggs, who runs a 4.27 40, Carr theoretically has the weapons to exploit defenses. But on a team that ranked eighth in rushing percentage (44.2) — and with an RB in Josh Jacobs who will see north of 250 carries — Carr's volume isn't likely to increase much (513 last year). With no scrambling threat, his upside is limited, especially if he reverts to checkdowns again. The Raiders also made Marcus Mariota the highest-paid backup in the league, so the leash on Carr appears shorter than ever.
Carr finished 2018 with career highs in completion percentage (68.9), passing yards (4,049) and yards per attempt (7.3), but he left fantasy owners hanging with a career-low 19 touchdown passes. Carr was effective throwing downfield last season, as his completion percentage (44.9) on passes longer than 20 yards ranked fourth and his 14.5 YPA ranked ninth. The problem was he didn't go deep often, ranking 19th in the league with 49 downfield attempts. His average depth of target was 7.3 yards, tied with Cam Newton for second lowest in the league, largely because of the team's utter lack of playmaking wideouts, especially after Amari Cooper was traded to Dallas midseason. That should change this year with the additions of Antonio Brown and Tyrell Williams, who could help take Carr to the next level as a downfield passer. Meanwhile, first-round draft pick Josh Jacobs figures to give the Raiders a running game that will actually contribute after ranking 25th in 2018. The Raiders also made over an offensive line that gave up 52 sacks last season, most notably signing tackle Trent Brown, a mountain of a man at 6-8, 380. Carr did enough in Jon Gruden's first year as head coach to buy himself another season as the starter, but if the 28-year-old can't produce now, it likely will be his last in Oakland.
After a promising 2016 season, Carr watched most of his numbers go in the wrong direction last year. Perhaps the most disappointing was his regression on downfield passing, as his quarterback rating on attempts longer than 20 yards dipped steeply from 111.5 (8th, min. 20 attempts) to 78.0 (20th). A Week 4 back injury that cost him a game was blamed for his troubles, but he wasn't that good in the first three weeks, either. And truthfully, the previous season that got many excited over his prospects had red flags - his YPA and third-down completion rate to name two. The hope is new coach Jon Gruden can get Carr to live up to his billing, but Gruden's history with quarterbacks is not as impressive as his reputation suggests. The Raiders overhauled a receiving unit that had the fourth most dropped passes last year (28), signing Jordy Nelson and trading for Martavis Bryant. But the former, at 33, is past his difference-making prime, and while the latter has size and skills, he's a bit of a head case, to say the least. Amari Cooper is supposed to be the playmaker, but he only had two big games last year and disappeared for weeks at a time. Carr gets rid of the ball quickly, which is necessary in a West Coast offense, and he reunites with his rookie-year offensive coordinator, Greg Olson, but how Gruden's playbook unfolds and what it means for Carr is a wild card.
Carr had the Raiders humming last year, averaging 27.3 points per game while sitting atop the AFC West, and then he broke his right fibula in Week 16 and the team's Super Bowl hopes broke with it. A loss in Week 17 cost Oakland the division title, and a wild-card loss the next week ended the season, with the team totaling 21 points in those games. A second-round pick in 2014, Carr took another step in his development last year, posting a 1.1 percent interception rate (4th) and a career-high 111.5 passer rating on attempts over 20 yards (8th). He showed his maturation in leading seven late-game comebacks. His 18th-ranked YPA needs work, as does his 56.8 third-down completion rate (25th), but the Raiders are confident he can take another step this season under new offensive coordinator Todd Downing, the former quarterbacks coach who replaced Bill Musgrave. Downing plans to give Carr more autonomy in the offense and to use more no-huddle behind one of the league's best offensive lines. The Raiders added another receiving weapon at tight end in Jared Cook, and they believe Marshawn Lynch can come out of retirement to help provide a viable running game that keeps defenses honest. Carr, who participated in offseason workouts and is expected to be ready for training camp, appears poised for his best season yet.
Carr took a big step forward in his second season in the NFL as the additions of receivers Amari Cooper and Michael Crabtree allowed the Raiders' passing game to blossom. An athletic pocket passer, Carr doesn't have ideal size and possesses just OK arm strength, but he's done a good job of limiting mistakes and making smart decisions, despite coming out of Fresno State with a reputation for being something of a gunslinger. He also showed huge improvement on deep passes in 2015, as his QB rating rose from 59.3 to 107.9 (third in the league behind Russell Wilson and Andy Dalton) on passes longer than 15 yards. His 7.0 YPA was mediocre, however, putting him in thecompany of quarterbacks like Ryan Fitzpatrick and Sam Bradford. He also had seven of his 13 INTs in the final five weeks of the season, as well as his only two games with a sub-50 percent completion rate — a sign that perhaps the league was catching on to offensive coordinator Bill Musgrave's scheme. There's still a lot to like with Carr, especially as Cooper continues hisown development, but despite his big TD total in 2015 he still has a ways to go before joining the upper tier of NFL quarterbacks.
Carr earned the starting job in training camp last year and battled through an at times frustrating, though promising, rookie season. His counting stats were decent enough for a first-year quarterback, but he was incredibly inefficient, finishing 30th in completion percentage and last in YPA among 33 qualified passers. Carr was often too quick to check down — he ranked third in attempts of 10 yards or less (and the two quarterbacks with more, Drew Brees and Matt Ryan, were first and second in total attempts) — but that was partly because he lacked downfield playmakers. Carr attempted 55 passes of 21-plus yards (7th) but completed just 14 (25.5 percent). The running game was of little use as the Raiders were on pace to break the NFL record for fewest rushing yards in a 16-game season until Latavius Murray saved them from embarrassment late in the year. With Darren McFadden out of the way, Murray, who averaged 5.2 YPC, should make defenses respect the running game this season. And Carr should have more weapons after the Raiders rebuilt their receiving corps, notably nabbing the draft's top wideout in Amari Cooper. The team also signed veteran receiver Michael Crabtree, giving Carr starting wideouts who are much better than the complementary pieces he threw to last season. What's more, new offensive coordinator Bill Musgrave plans to run an up-tempo offense similar to what he used last season as quarterbacks coach for Chip Kelly's Eagles.
Although the Raiders selected Carr 36th overall in the draft, it doesn't appear that they have any intention of playing him as a rookie. General manager Reggie McKenzie traded for former Houston starter Matt Schaub in the offseason and gave him a two-year, $13.5 million deal with $8 million guaranteed, so Carr won't have a real chance to compete for a starting role. If Schaub gets hurt or the Raiders give up on their meager playoff hopes, however, Carr might be worth a glance as a QB2. He has a very powerful arm and underrated running ability with 4.69 speed.
More Fantasy News