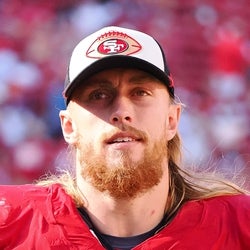 Rest-of-Season Projections
2022 Fantasy Outlook
Kittle is extremely effective on a per-game basis, but injuries have taken off some of the shine. After averaging 86.5 catches for 1,215 yards and five touchdowns between the 2018 and 2019 seasons, Kittle was limited to just 22 of a possible 33 appearances the last two seasons, bothered mostly by knee, foot and calf injuries. The last two required stints on injured reserve, though Kittle wound up sitting out only three games last season after missing half the 2020 campaign. Considering he got off to a slow start and attempted to play hurt a couple times last season, Kittle's top-6 numbers among tight ends in catches (71) and receiving yards (910) don't look too bad at all. He also did not lose any of his signature ability to elude defenders after the catch, finishing third behind Travis Kelce and Mark Andrews among tight ends and 17th among all players with 465 yards after the catch. The star tight end rarely comes off the field, and his toughness and blocking are just as important for San Francisco's smash-mouth style as his pass-catching and YAC abilities. Kittle has thrived despite lackluster quarterback play, so San Francisco's uncertainty under center this season is unlikely to impact his performance much. It is worth noting, however, he was targeted only twice in Trey Lance's lone start for which Kittle was available last season.
Read Past Outlooks
$Signed a five-year, $75 million contract with the 49ers in August of 2020.

Nabs four receptions in 2022 debut
Kittle (groin) hauled in four of five targets for 28 yards in Sunday's 11-10 loss to the Broncos.
ANALYSIS
Kittle made his much-anticipated return from a groin injury that kept him out of the first two games of the season. The star tight end looked like his old self, throwing his weight around in the run game like the pseudo offensive lineman that he is. The 28-year-old's fantasy line left much to be desired, as head coach Kyle Shanahan inexplicably failed to get his explosive tight end the ball more than four times in a game during which the 49ers showed no life offensively outside of a lone drive in the first quarter. The positive news to take away from a fantasy perspective is that Kittle didn't appear to be limited physically, nor did he suffer a setback. Kittle will look to make his first fantasy splash in a divisional matchup against the Rams on Monday Night Football in Week 4.
Read More News
NFL Stats
Fantasy/Red Zone Stats
See red zone opportunities inside the 20, 10 and 5-yard lines along with the percentage of time they converted the opportunity into a touchdown.
Loading Fantasy/Red Zone Stats...
Advanced NFL Stats
Loading Advanced NFL Stats...
2022
2021
2020
2019
2018
2017
2022 NFL Game Log

Calculate Stats Over Time
Just click on any two dates.
Scoring
Standard
PPR
Half PPR
FanDuel
DraftKings
Yahoo DFS
2021 NFL Game Log

Calculate Stats Over Time
Just click on any two dates.
Scoring
Standard
PPR
Half PPR
FanDuel
DraftKings
Yahoo DFS
2020 NFL Game Log

Calculate Stats Over Time
Just click on any two dates.
Scoring
Standard
PPR
Half PPR
FanDuel
DraftKings
Yahoo DFS
2019 NFL Game Log

Calculate Stats Over Time
Just click on any two dates.
Scoring
Standard
PPR
Half PPR
FanDuel
DraftKings
Yahoo DFS
2018 NFL Game Log

Calculate Stats Over Time
Just click on any two dates.
Scoring
Standard
PPR
Half PPR
FanDuel
DraftKings
Yahoo DFS
2017 NFL Game Log

Calculate Stats Over Time
Just click on any two dates.
Scoring
Standard
PPR
Half PPR
FanDuel
DraftKings
Yahoo DFS
Snap Distribution / Depth Chart
How often does George Kittle run a route when on the field for a pass play?
This data will let you see how George Kittle and the other tight ends for the 49ers are being used. Some tight ends may have a lot of snaps, but they're not that useful for fantasy purposes because they're not actually running routes. This data will help you see when this is the case.
Receiving Alignment Breakdown
See where George Kittle lined up on the field and how he performed at each spot.
Loading Alignment Breakdown...
Loading Alignment Breakdown...
Loading Alignment Breakdown...
Loading Team Alignment Breakdown...
This Week's Opposing Pass Defense
How does the Broncos pass defense compare to other NFL teams this season?
The bars represents the team's percentile rank (based on QB Rating Against). The longer the bar, the better their pass defense is.
The team and position group ratings only include players that are currently on the roster and not on injured reserve. The list of players in the table only includes defenders with at least 3 attempts against them.

@ Broncos
Sunday, Sep 25th at 8:20PM
Overall QB Rating Against
70.8
Loading Opponent Pass Defense Stats...
2022 George Kittle Split Stats
Loading NFL Split Stats...
How do George Kittle's measurables compare to other tight ends?
This section compares his draft workout metrics with players at the same position. The bar represents the player's percentile rank. For example, if the bar is halfway across, then the player falls into the 50th percentile for that metric and it would be considered average.
Recent RotoWire Articles Featuring George Kittle
Past Fantasy Outlooks
Kittle entered last season with a five-year, $75 million extension in hand, hoping to take aim at his NFL single-season tight end record of 1,377 receiving yards. Instead, it was Travis Kelce who broke the record, while an MCL sprain and a foot fracture limited Kittle to eight games for the 49ers. Kittle played at least 14 games in each of his first three NFL seasons, but that was largely on account of playing through injuries rather than avoiding them. Even last year, Kittle was fortunate to play as many games as he did, returning from the foot fracture to total 11 receptions for 160 yards in Weeks 16 and 17. He finished the season with only two touchdowns, but his numbers otherwise prorate to 96 catches for 1,268 yards — right in line with preseason expectations. It was Kittle's third consecutive season averaging more than 75 receiving yards per game, so it is his health that has been the key variable for fantasy purposes, while the athleticism, skill and target volume have been constants. Part of the issue is simply Kittle's physical playing style, subjecting himself to frequent, high-speed collisions as both a blocker and ballcarrier. Of course, that's also part of what makes him so great, and part of what keeps him on the field for all three downs.
Kittle is rapidly building a case as one of the better fifth-round draft picks in NFL history, ripping off back-to-back 1,000-yard seasons at a position where only two or three players reach that mark each year. He couldn't quite match his tight end yardage record from 2018, but Kittle was the furthest thing from a slouch last season, ranking 12th among pass catchers in yards per game (75.2) and 14th in yards per target (9.8). His average target depth dropped from 7.3 yards to 5.7, and while there was a corresponding dip in yards per reception, Kittle's catch rate shot up to elite territory at 79.4 percent. He may not get the same downfield opportunities as Travis Kelce, but Kittle is even better than his TE counterpart at picking up yards after the catch, and the 26-year-old also had lower drop rates in both 2018 and 2019. Kittle's greatest weaknesses - at least from a fantasy standpoint - are actually strengths from the 49ers' perspective. He plays too hard, he blocks too much and sometimes he can be too invested in tasks that don't produce stats. Kittle has missed only three games in three seasons, but he's played through a torn shoulder labrum, fractured rib cartilage and a bone spur in his ankle. That probably makes Kelce the safer TE1 choice, but Kittle is the one with superhuman talent.
It wasn't just that Kittle had a career season, he had a season that was almost too good to be true. And it's hard to know how to react to that type of year. Kittle and Travis Kelce played ping-pong with the single-season yardage record for a tight end; when the smoke cleared, Kittle won. That's an incredible accomplishment for any player, but then underscore that Kittle did it playing most of his season with undrafted quarterback Nick Mullens (Kelce, meanwhile, worked with the NFL MVP). The 49ers also had pedestrian wideouts; every late-season opponent took to the field with the primary goal of stopping Kittle. And let's not forget Kittle was scarcely used at Iowa, catching just 48 passes in four college seasons. The 49ers need to prioritize Kittle more in the scoring area. He only had five touchdowns despite last year's banner season, and three came from long distance (43, 82, 85 yards). The other two spikes were from the 10- and 5-yard line. It wasn't for a lack of trying, as Kittle was fourth among tight ends in red-zone targets. A full season of Jimmy Garoppolo at quarterback could go a long way toward fixing this deficiency. Garoppolo, in a lot of ways, is the elephant in the San Francisco huddle. Can he be trusted to play a full season? Have we seen enough of him to definitively conclude he's a difference-maker? How you feel about Garoppolo goes a long way toward solving your Kittle stance in 2019.
Tight end is a hard position, especially for rookies. Kittle's first-year haul might not seem like much, but since the merger, only 16 rookie tight ends have produced more catches than Kittle's 43. His production got a modest bump when Jimmy Garoppolo took over: five games, 15-224-1, a catch rate of 78.9 percent. And now we get to dig into the growth seasons for a typical tight end. Kittle is a better athlete than blocker, and that's fine with us. At 6-4, 250, he blazed a 4.52 40 at the 2017 combine, also displaying explosiveness with strong marks in the vertical jump (35 inches) and broad jump (132 inches). Kittle tied for fifth among tight ends with 16 red-zone targets last year, but most of those were from quarterbacks far worse than Garoppolo (hence the modest TD total). The 49ers have a lot of receiving turf to be claimed, following a season in which no player had more than 59 receptions or four TD catches. Garoppolo, of course, didn't start the year with the team. Make sure Kittle is prominent on your list of potential breakout players. Heck, he could be a cheaper way to get Garoppolo and Kyle Shanahan exposure, if you miss on some of the buzzier targets. Kittle did suffer a separated shoulder in the first week of the preseason, but the 49ers expect him to be back for their regular-season opener.
Kittle could be in store for a bigger role than he thought his rookie year after the Niners sent incumbent No. 1 tight end Vance McDonald to the Steelers in an August trade. The fifth-round draft pick possesses surprising athleticism (4.52 speed) for a 6-4, 247-pound blocking tight end and could carve out a solid role as a check-down option for QB Brian Hoyer.
More Fantasy News