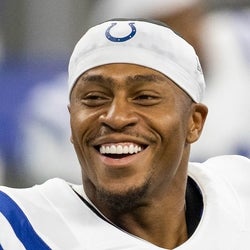 PUP-R
Injury Ankle
Est. Return 10/8/2023
Rest-of-Season Projections
2023 Fantasy Outlook
Taylor was generally regarded as the RB1 going into 2022, and he may have held on to the title if not for ankle troubles -- first a standard ankle sprain in Week 4 that lingered for five weeks, and then a season-ending high ankle sprain Week 15. It also didn't help that the Colts completely fell apart around him, tanking his red-zone and pass-catching opportunities. In his first two seasons, Taylor scored on 5.1 percent of his carries and averaged 7.3 yards per target, but in 2022 those figures dropped to 2.1 percent and 3.6 YPT. Taylor has never benefited from good quarterback play in Indianapolis -- Philip Rivers was merely acceptable and Carson Wentz something less than that -- but the struggles of Matt Ryan proved to be more than even Taylor could withstand. If new coach Shane Steichen and rookie QB Anthony Richardson can fix those issues, it would mean a lot for Taylor's fantasy value, especially since he's already shown the ability to post RB1 numbers with even mediocre quarterback play. The ankle injuries in 2022 were due to a combination of bad luck and a rushed return from injury, but the impact may be dragging into 2023 even after a successful offseason surgery. The Colts placed Taylor on the PUP list for the start of training camp, and shortly thereafter he requested a trade due to frustration with extension negotiations. He's now on the regular-season PUP list, and thus ineligible for the first four games of the season, but the Colts can still trade him in the meantime.
Read Past Outlooks
RANKS
#

Overall
$Signed a four-year, $7.83 million contract with the Colts in May of 2020.

Could be ready to play Week 5
Taylor (ankle) could pass a physical as soon as Sunday and is planning to return to action when first eligible to return from the PUP list Week 5 against the Titans,
Adam Schefter of ESPN
reports.
ANALYSIS
Indianapolis placed Taylor on its PUP list Aug. 29 after he missed time in camp while healing from January surgery on his right ankle. About a month before landing on the PUP list, Taylor put in a request to be moved elsewhere and was eventually granted permission to pursue a deal, but the Colts weren't able to find another team willing to meet their high asking price in a trade for the running back. Though Taylor's relationship with the Colts still remains on shaky ground,
Ian Rapoport of NFL Network
relays that the 24-year-old is "training hard" as he works his way back from ankle surgery, and there remains a "slim, but possible" chance that he returns to play for Indianapolis when activated. According to Rapoport, Taylor would likely need a contract extension before suiting up for the Colts, something that Indianapolis has not yet been willing to offer. The Colts will most likely continue to engage with teams in trade talks over the next four weeks, assuming Taylor passes his physical and the reports regarding his recovery from the ankle injury remain promising.
Read More News
NFL Stats
Fantasy/Red Zone Stats
See red zone opportunities inside the 20, 10 and 5-yard lines along with the percentage of time they converted the opportunity into a touchdown.
Loading Fantasy/Red Zone Stats...
Advanced NFL Stats
Loading Advanced NFL Stats...
2023 NFL Game Log

Calculate Stats Over Time
Just click on any two dates.
Scoring
Standard
PPR
Half PPR
FanDuel
DraftKings
Yahoo DFS
2022 NFL Game Log

Calculate Stats Over Time
Just click on any two dates.
Scoring
Standard
PPR
Half PPR
FanDuel
DraftKings
Yahoo DFS
2021 NFL Game Log

Calculate Stats Over Time
Just click on any two dates.
Scoring
Standard
PPR
Half PPR
FanDuel
DraftKings
Yahoo DFS
2020 NFL Game Log

Calculate Stats Over Time
Just click on any two dates.
Scoring
Standard
PPR
Half PPR
FanDuel
DraftKings
Yahoo DFS
Snap Distribution / Depth Chart
Receiving Alignment Breakdown
See where Jonathan Taylor lined up on the field and how he performed at each spot.
Loading Alignment Breakdown...
Loading Alignment Breakdown...
Loading Alignment Breakdown...
Loading Team Alignment Breakdown...
This Week's Opposing Pass Defense
How does the Ravens pass defense compare to other NFL teams this season?
The bars represents the team's percentile rank (based on QB Rating Against). The longer the bar, the better their pass defense is.
The team and position group ratings only include players that are currently on the roster and not on injured reserve. The list of players in the table only includes defenders with at least 3 attempts against them.

@ Ravens
Sunday, Sep 24th at 1:00PM
Overall QB Rating Against
67.7
Loading Opponent Pass Defense Stats...
2023 Jonathan Taylor Split Stats
Loading NFL Split Stats...
How do Jonathan Taylor's measurables compare to other running backs?
This section compares his draft workout metrics with players at the same position. The bar represents the player's percentile rank. For example, if the bar is halfway across, then the player falls into the 50th percentile for that metric and it would be considered average.
Recent RotoWire Articles Featuring Jonathan Taylor
See More
Past Fantasy Outlooks
After a solid rookie season that finished with a bang, expectations were high for Taylor coming into 2021, and he exceeded them by a mile. He won his first of potentially many rushing crowns, and he nearly lapped the field doing it, as the 552-yard gap between Taylor and second-place Nick Chubb was the largest since 2009. Taylor's the total package as a runner, showing power, agility, vision and speed, but it's the latter trait that puts him over the top among his peers. He posted three of the five fastest top speeds recorded on touchdowns last year, including an NFL- best 22.13 mph on a 67-yard scamper Week 15 against the Patriots. The power and agility were highlighted by his 2.6 yards per carry after contact, good for third in the league. If there's a flaw in his skill set, it's that Taylor isn't a natural receiver out of the backfield, but the Colts have Nyheim Hines to handle those duties, and Taylor is still capable of contributing. Indianapolis' elite offensive line showed a couple cracks in 2021, and some natural regression could be coming for Taylor's league-leading 89 red-zone carries (more than 40 ahead of second-place Austin Ekeler), but the addition of Matt Ryan to replace Carson Wentz at quarterback shouldn't change the focal point of Frank Reich's offense. Expect Taylor to see big volume again in 2022 and consistently burn defenders with those touches.
When Marlon Mack ruptured his Achilles in Week 1 it was assumed Taylor would immediately erupt, and while the rookie did post his first 100-yard rushing game in Week 2, it took him a while to get going after that. Between Weeks 3 and 10, he failed to top 68 yards as he adjusted to the NFL, but down the stretch Taylor broke through and became the player Indianapolis thought it was drafting in the second round. Over his final six regular-season games, Taylor amassed 741 rushing yards and seven TDs, including a mammoth 253 yards and two scores in Week 17 to help the Colts lock up a playoff spot. The 22-year-old has an enviable blend of power, speed and agility, and he showed good patience in waiting for Indy's elite offensive line to open holes that would allow him to explode into the second level. Taylor isn't a natural pass catcher, but he's adequate in that area, and with Nyheim Hines on the roster he won't have to handle the bulk of those duties. Mack also signed a one-year deal to return and provide some insurance, but after the way Taylor closed out 2020, it's hard to see him working in any kind of committee. He hasn't yet reached his ceiling, and more work at the goal line (he barely saw half of the Colts' red-zone carries, a rate well behind the likes of Josh Jacobs or Ezekiel Elliott) could push his production into the stratosphere.
The latest in a long line of Wisconsin RBs with impressive college resumes, Taylor was the second player in FBS history to post consecutive 2,000-yard rushing seasons (after Iowa State's Troy Davis) and the second to win consecutive Doak Walker awards (after Darren McFadden). Taylor is a premier physical specimen, running a 4.39 40 at the combine at a rock-solid 226 pounds. That combination of size and speed allows him to bowl over defenders while also providing a home-run threat. Taylor even showed improvement as a receiver in 2019, and his balance and power through contact make him more than just a scheme-dependent weapon. His hands are a concern, however, both in terms of fumbles - 18 on 968 touches at Wisconsin - and drops. Taylor's mammoth college workload could also impact his shelf life in the NFL, and like many Badger RBs, the patience he developed behind a dominant offensive line won't always serve him well in the NFL. Fortunately, he landed with an Indianapolis squad that has a strong argument for best O-line in the league. The downside of Taylor's new home is that he'll have tough competition for both carries and targets, with Marlon Mack in the mix for the former and Nyheim Hines likely accounting for a good portion of the latter. Taylor should eventually get a big workload, but it isn't clear if that will happen Week 1, midseason or in 2021.
More Fantasy News