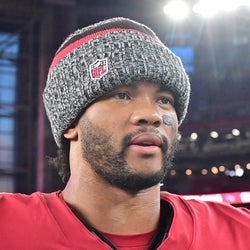 Rest-of-Season Projections
2023 Fantasy Outlook
Murray tore the ACL and meniscus in his right knee Week 13 last season and is not expected to play any sooner than Week 4 this year. Joshua Dobbs and perhaps fifth-round pick Clayton Tune will take snaps until Murray is healthy. The bigger question is whether Murray will run as usual when he returns. The rushing -- he was on pace for about 700 yards last year -- propped up his fantasy value as his passing struggled. His YPA dropped to 6.1 -- last among 33 qualified QBs, largely because Murray just didn't throw downfield. His 6.6 average target depth ranked 28th, nearly a yard and a half off 2021, and only 27.4 percent of his attempts traveled more than 10 yards (sixth fewest). When he did go downfield, it usually didn't go well (1/6 TD/INT), as his on-target percentage on attempts of 20-plus yards dropped by nearly 23 percentage points to 36.7 percent (31st) and his 24.5 completion percentage was the worst of any qualified QB besides Jimmy Garoppolo. Part of the issue was Arizona's wideout corps, which was without DeAndre Hopkins the first six games due to suspension and then without Marquise Brown the next five games due to injury. That situation got worse this offseason when Hopkins was released in May. That leaves Brown as the No. 1 with two 5-7 WRs in Rondale Moore and Greg Dortch vying with 2023 third-round pick Michael Wilson for the No. 2 job. A healthy year out of tight end Zach Ertz, coming off an ACL tear, is even more important.
Read Past Outlooks
RANKS
#

Overall
$Signed a five-year, $230.5 million contract with the Cardinals in July of 2022.

Two total touchdowns in loss
Murray completed 27 of 45 passes for 256 yards with one touchdown and no interceptions and added a two-yard score on his only rush in the Cardinals' 37-14 loss to the Rams on Sunday.
ANALYSIS
Murray's final stat line was perfectly serviceable from a fantasy perspective, but as the final score indicates, it didn't translate the same way on the field. Murray was able to pad his numbers late with a 10-play, 75-yard scoring after the game was already decided, and he did manage to record both a passing and rushing touchdown for the 18th time in his career. Murray has thrown for over 200 yards in each of his first three games of the season, but his almost complete lack of rushing yardage Sunday dragged down his overall fantasy ceiling for the afternoon. Murray and the Cardinals will look to regroup in a Week 13 road matchup against the Steelers.
Read More News
NFL Stats
Fantasy/Red Zone Stats
See red zone opportunities inside the 20, 10 and 5-yard lines along with the percentage of time they converted the opportunity into a touchdown.
Loading Fantasy/Red Zone Stats...
Advanced NFL Stats
How do Kyler Murray's 2023 advanced stats compare to other quarterbacks?
This section compares his advanced stats with players at the same position. The bar represents the player's percentile rank.
The longer the bar, the better it is for the player.
Bad Pass %

The percentage of passes that were considered to be poorly thrown.

Avg Target Depth

The average number of yards thrown per pass by the quarterback – including incomplete passes.

Sack Rate

The percentage of dropbacks where the quartback was sacked. The longer the bar below, the more often they are sacked relative to other QBs.

Avg Receiver YAC

The average number of yards after the catch that receivers gained on passes thrown by this quarterback.

Receiver Drop %

The percentage of passes dropped by receivers on passes thrown by this quarterback. The longer the bar, the more sure-handed his receivers have been.
Loading Advanced NFL Stats...
2023 NFL Game Log

Calculate Stats Over Time
Just click on any two dates.
Scoring
Standard
PPR
Half PPR
FanDuel
DraftKings
Yahoo DFS
2022 NFL Game Log

Calculate Stats Over Time
Just click on any two dates.
Scoring
Standard
PPR
Half PPR
FanDuel
DraftKings
Yahoo DFS
2021 NFL Game Log

Calculate Stats Over Time
Just click on any two dates.
Scoring
Standard
PPR
Half PPR
FanDuel
DraftKings
Yahoo DFS
2020 NFL Game Log

Calculate Stats Over Time
Just click on any two dates.
Scoring
Standard
PPR
Half PPR
FanDuel
DraftKings
Yahoo DFS
2019 NFL Game Log

Calculate Stats Over Time
Just click on any two dates.
Scoring
Standard
PPR
Half PPR
FanDuel
DraftKings
Yahoo DFS
Snap Distribution / Depth Chart
This Week's Opposing Pass Defense
How does the Steelers pass defense compare to other NFL teams this season?
The bars represents the team's percentile rank (based on QB Rating Against). The longer the bar, the better their pass defense is.
The team and position group ratings only include players that are currently on the roster and not on injured reserve. The list of players in the table only includes defenders with at least 3 attempts against them.

@ Steelers
Sunday, Dec 3rd at 1:00PM
Overall QB Rating Against
69.9
Loading Opponent Pass Defense Stats...
2023 Kyler Murray Split Stats
Loading NFL Split Stats...
How do Kyler Murray's measurables compare to other quarterbacks?
This section compares his draft workout metrics with players at the same position. The bar represents the player's percentile rank. For example, if the bar is halfway across, then the player falls into the 50th percentile for that metric and it would be considered average.
Recent RotoWire Articles Featuring Kyler Murray
See More
Past Fantasy Outlooks
Murray took another step forward with his passing last season, setting career highs in on-target percentage (76.3), completion percentage (69.2) and YPA (7.9), each of which ranked top 6 in the league. His counting numbers suffered, though, because he missed three games with an ankle injury, and his rushing yards dropped by nearly 400 from the previous year. He still finished QB10 in fantasy, as only three quarterbacks scored more points per game. Murray was especially good throwing downfield last year. His 59.5 on-target percentage and 47.3 completion percentage were both highest of any QB with at least 50 attempts of 20-plus yards. Weekly consistency was more difficult, as Murray had one or fewer TD passes in eight of his 15 games, including a wild-card loss. After the disappointing finish to last season, Murray was entering the final year of his rookie contract, but the No. 1 overall pick in the 2019 NFL Draft landed a massive extension with the Cardinals in advance of training camp. As the coming campaign approaches, he'll have to deal with losing wideout Christian Kirk, who signed with Jacksonville, and, for six games, DeAndre Hopkins, who was suspended for PEDs. The Cardinals traded for WR Marquise Brown on draft day, and TE Zach Ertz, who thrived with Murray after being acquired midseason last year, returns. James Conner returns as well, though he stole some goal-line scores from Murray last year with 15 rushing TDs. Murray certainly faces questions entering camp, but he's still one of the league's best dual-threat quarterbacks, which means a top-5 fantasy season is within reach.
After an impressive rookie season, Murray was even better last year. He improved his completion percentage, on-target percentage, YPA and aDOT, finishing QB3 in fantasy scoring in essentially 15 games because he was injured on the first drive of Week 17. Murray is one of the best running QBs in the game, providing tremendous fantasy potential. His 11 rushing TDs last year tied for fourth most all-time by a QB. Nine of those came in the red zone, where he converted a league-high 37.5 percent of his carries into scores (min. 15 rushes). The dual-threat Murray became just the third QB in NFL history with multiple seasons of 3,000 passing yards and 500 rushing yards, joining Cam Newton and Russell Wilson. The arrival of DeAndre Hopkins gave Murray a dependable big-play receiver he didn't have in Year 1, as the two connected on a league-leading six pass plays of 40-plus yards. But Murray still didn't go downfield much more than he did in 2019 — 12.4 percent, a healthy rate, yet he had nearly the same rate of attempts within five yards of the line of scrimmage (54.5 percent), again foregoing intermediate throws (16.8 percent, 30th). If coach Kliff Kingsbury finally turns his strong arm loose, Murray's passing numbers could take a leap, which would help offset expected regression in his rushing TDs. The Cardinals added James Conner to a backfield with Chase Edmonds, both of whom are competent receivers, but the additions to the WR group are questions — 33-year-old A.J. Green and second-round pick Rondale Moore, an undersized (5-7) speed freak (4.31 40). Murray's rushing makes him a safe fantasy investment, and with room to grow in the passing game, he has the upside to improve on last year's fantasy ranking.
Murray was the runaway Offensive Rookie of the Year last season, becoming the sixth player in NFL history — and second rookie after Cam Newton in 2011 — to surpass 3,500 passing yards and 500 rushing yards. The 2019 first overall pick was the starter from the beginning and didn't seem to be held back by his 5-10 stature. Murray's dual-threat ability helped him finish QB8 in fantasy scoring, as he was second to Lamar Jackson in rushing yards (544) and YPC (5.9) by a quarterback. He also showed mature decision-making, setting an NFL rookie record with 211 consecutive attempts without an interception. Murray's arm proved as strong as advertised too. On attempts longer than 20 yards, he ranked third in the league in both completion percentage (42.6) and YPA (15.5). But the Cardinals didn't regularly try to stretch the field, perhaps due to a lack of weapons. Murray's average depth of target ranked 27th at 7.6 yards, and 55.9 percent of his attempts were no longer than five yards (6th), with a league-high 178 of those targets going to wide receivers. That should change this season with the trade for All-Pro wideout DeAndre Hopkins, who figures to transform the offense. Larry Fitzgerald gives Murray another set of sure hands, and a healthy Christian Kirk should contribute more than he did last season. Plus, Kenyan Drake is a solid receiving threat out of the backfield after the Cardinals dumped David Johnson in the Hopkins deal. How good can Murray be? Well, if he goes 3,500/500 again, he'd be just the third to do it more than once, after the aforementioned Newton and Russell Wilson.
The Cardinals are all in on Kyler Murray. They made the Heisman Trophy winner this year's top draft pick and already named him the starter. New coach Kliff Kingsbury said he'll tailor his air raid offense around Murray, who shouldn't face too steep of a learning curve after he excelled in Oklahoma's spread attack, joining Deshaun Watson as the only quarterbacks in FBS history with 4,000 passing yards and 1,000 rushing yards in a season. Murray has a strong arm, quick release and first-rate elusiveness - he was sacked on just 4.5 percent of his dropbacks last season. Height is his only issue, but it's a big one. At 5-10 1/8, he's the shortest quarterback drafted in the first round since 1953. He's also shorter than Russell Wilson, who despite all his success has trouble seeing over linemen at times. The Cardinals are betting that, like Wilson, Murray can overcome it with exceptional athleticism - he was picked ninth overall in the 2018 MLB Draft - and instinctive playmaking skills. He'll be surrounded by physically gifted receivers with spread-offense experience. Second-round pick Andy Isabella ran a 4.31 40 at the combine, and Christian Kirk played in the air raid at Texas Tech. Murray also has Larry Fitzgerald working the slot and an excellent receiver out of the backfield in David Johnson. The biggest question is how well the air raid offense will work in the NFL.
More Fantasy News