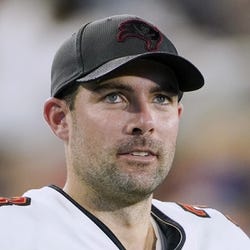 Rest-of-Season Projections
2023 Fantasy Outlook
The Bucs released Succop in March after a three-year run with the team in which he converted 84.8 percent of field goals and 93.6 percent of PATs. The issue, apart from cost, is that he made 3 of 10 tries from 50-plus yards, dropping his career rate on those kicks just south of 50 percent. The 36-year-old is still reliable on shorter kicks and could find a starting job before Week 1.
Read Past Outlooks
$Released by the Buccaneers in March of 2023.

ANALYSIS
This past season with Tampa Bay, Succop converted 31 of 38 field-goal attempts (including just two of seven from 50 yards or more) and made 24 of his 25 extra-point tries in 17 games. The 36-year-old -- who spent the last three years with the Buccaneers -- will now look to catch on elsewhere ahead of the coming season, with his fantasy prospects in 2023 hinging on his new team context.
Read More News
NFL Stats
Fantasy Stats
Loading Fantasy/Red Zone Stats...
2022
2021
2020
2019
2018
2017
2016
2022 NFL Game Log

Calculate Stats Over Time
Just click on any two dates.
Scoring
Standard
PPR
Half PPR
FanDuel
DraftKings
Yahoo DFS
2021 NFL Game Log

Calculate Stats Over Time
Just click on any two dates.
Scoring
Standard
PPR
Half PPR
FanDuel
DraftKings
Yahoo DFS
2020 NFL Game Log

Calculate Stats Over Time
Just click on any two dates.
Scoring
Standard
PPR
Half PPR
FanDuel
DraftKings
Yahoo DFS
2019 NFL Game Log

Calculate Stats Over Time
Just click on any two dates.
Scoring
Standard
PPR
Half PPR
FanDuel
DraftKings
Yahoo DFS
2018 NFL Game Log

Calculate Stats Over Time
Just click on any two dates.
Scoring
Standard
PPR
Half PPR
FanDuel
DraftKings
Yahoo DFS
2017 NFL Game Log

Calculate Stats Over Time
Just click on any two dates.
Scoring
Standard
PPR
Half PPR
FanDuel
DraftKings
Yahoo DFS
2016 NFL Game Log

Calculate Stats Over Time
Just click on any two dates.
Scoring
Standard
PPR
Half PPR
FanDuel
DraftKings
Yahoo DFS
Recent RotoWire Articles Featuring Ryan Succop
See More
Past Fantasy Outlooks
2022
2021
2020
2019
2018
2017
2016
2015
2014
2013
2012
2011
2010
2009
Succop converted 83.3 percent of his field-goal attempts last season, his lowest mark in the last five years. He was never known for leg strength, and his waning accuracy from 40-49 yards out (14 of 19 since 2020) could inspire the Bucs to look for a replacement — potentially 2021 practice squad member Jose Borregales. The winner should be fantasy-relevant as long as QB Tom Brady stays healthy for the Bucs offense.
With only 21 makes of 50-plus yards through 12 pro seasons, Succop won't be confused for Justin Tucker or Greg Zuerlein anytime soon. Still, the veteran finished seventh among kickers in fantasy scoring last year, missing just three field goals while ranking fourth in the league in point-after tries. After signing a three-year, $12 million contract this offseason, Succop gets an A+ for both team context and job security.
Succop made at least 83.3 percent of his field-goal attempts from 2014 to 2018, but he went just 1-for-6 in 2019, when he missed 10 games because of knee injuries. The 33-year-old took a while to find a new job, eventually landing in Tampa Bay. After supplanting Matt Gay as the team's kicker, Succop should be useful for fantasy managers, as the Bucs have the potential to be a top-five offense this year.
Succop tied for the NFL lead with 42 FG attempts in 2017, but he then dropped down to 30 (12th) last year. In four years with Marcus Mariota, Succop has averaged 28 FGA. And Succop's reliability on short kicks hasn't translated to many chances from distance (four attempts from 50-plus last season). Finally, with Succop having placed on IR to start the season, it's no lock he'll be designated to return, with Cairo Santos now slated to kick for the Titans.
Limited in 2016 by a Titans offense that had the second best red-zone TD percentage (72.0) of the last decade, Succop enjoyed a career year in 2017 as the Titans came back to earth (54.6 percent) near the goal line. Tennessee responded with a four-year, $20 million extension, which seems pricey for what's essentially a league-average kicker. Succop should benefit if the new coaching staff proves to be an upgrade.
Succop's career-high 91.7 field-goal percentage ranked third in the league last season, but his 24 attempts ranked 26th. And while the Titans' offense gave him 41 PAT tries (11th), the few field-goal opportunities left him with just 105 points, tied for 20th. The Titans led the NFL in red-zone TD scoring percentage, which explains Succop's lack of field-goal attempts. The Titans' offense is expected to get better this year, but it can't really get any better in the red zone, so Succop will probably have a few more opportunities.
The Titans' kicking game has been arguably the worst in the NFL over the past two seasons, as it has accounted for only 155 points in the two years combined (for reference, Stephen Gostkowski scored 151 points last season alone). Succop's accuracy hasn't been much of an issue, as he's hit 86.8 percent of his field-goal attempts during that span, but the lack of opportunities has been staggering; there were seven games last season in which Succop didn't attempt a single field goal, with four others in which he had just one. In fact, he had 11 games the year before with just one or no attempts. The Titans added a few key offensive pieces during the offseason, but the team will have to take a dramatic leap for Succop to become a reasonably playable fantasy option.
Twenty-seven kickers had more field-goal attempts than Succop last season, while 25 had more PATs. The Titans finished 30th in points, converting only 48.7 percent of red-zone opportunities (25th), while penetrating the 20-yard line just 2.4 times per game (27th). The major change in the offense this season is second-overall pick Marcus Mariota at quarterback. How he fares remains to be seen, though. In the likeliest scenario, the Titans will struggle again, leaving little upside for Succop.
Steady quarterbacking from Alex Smith and an opportunistic defense helped Succop to 52 PATs, the third-highest total in the NFL. That still wasn't enough to vault Succop into the top-tier of kickers, as the Chiefs' high red-zone success rate left room for just 28 field goal attempts, the second-lowest total of his career. A subpar 78.6 percent conversion rate capped Succop at 118 points, a career-best, but by no means elite fantasy production. Succop doesn't have much ability from distance (1-for-4 from 50-plus in 2013), but he'll now have a chance to kick behind the Titans' offense, after catching on with the team in September.
Succop connected on a career-high 28 field goals in his fourth NFL season, putting him roughly in the middle of the pack in that category. Unfortunately, a Chiefs offense that ranked dead last in red-zone scoring afforded Succop just 17 PATs, last among qualifying kickers. With the offseason acquisition of Alex Smith as well as the hiring of a respected offensive mind in coach Andy Reid, the Chiefs figure to score more touchdowns in 2013, so expect at least modest improvement for Succop this year.
Injuries decimated the Kansas City offense last season, and the team's scoring slumped accordingly, ranking 31st in the league. The NFL's worst red-zone offense (75-percent scoring efficiency) did little to aid Succop – his 20 PATs were the second fewest among full-time kickers. The Chiefs have never treated Succop well when it comes to field goals. In fact, last season's 30 attempts were the most of his three-year career. The Chiefs will have Jamaal Charles back this season, however, something that could give the offense a small lift.
The Chiefs enjoyed major offensive improvement in 2010, increasing their touchdowns from 31 to 44 and their scoring by 4.5 points per game. Matt Cassel had an excellent 27-to-7 touchdown-to-interception ratio while the Chiefs running game, led by Jamaal Charles, paced the league in rushing. That didn't mean great things for the second-year kicker, though. Succup was nothing more than an average fantasy kicker, scoring just 102 points. The most glaring problem was a below-average number of field-goal attempts (26 in 16 games). Succup compounded the problem by only converting 76.9 percent, fifth lowest among full-time kickers. Among those who played 16 games, only two kickers made fewer than Succup's 20 field goals last season. Field-goal opportunities could continue to be a problem as the Chiefs posted a solid 59.6-percent red-zone touchdown clip, a trend that has produced less than 30 field-goal attempts each of the last four seasons for the Chiefs. Succup is 3-of-8 on 50-yard field goals in his two NFL seasons. The schedule does him no favors, either, as the team's last eight games are at cold-weather sites.
Succop had a successful rookie season for the Chiefs, missing just one kick inside of 50 yards. He scored 104 points, an impressive total considering the Chiefs offered him just 29 PATs (22nd in the league) and that the team had just 79 kicker points in 2008. Look for the offense to improve this season with new coordinator Charlie Weis and the addition of Thomas Jones in the backfield to team with the emerging Jamaal Charles. Matt Cassel struggled in his first season as the Chiefs starter, but he should improve, at least somewhat, this year, as well. The Chiefs haven't been relevant at the kicking position since 2005, but Succop might be able to reverse that trend to a degree in 2010.
Succop, also known as Mr. Irrelevant in the 2009 NFL Draft, will compete with incumbent kicker Connor Barth in training camp. The former Lou Grouza Award semifinalist has a strong leg, but has struggled at times with his accuracy, hitting just 20 of 30 attempts as a senior (although an abdominal injury could have been a culprit). Scoring opportunities were scarce for Chiefs kickers last season, and even with the expected offensive upgrade fueled by Todd Haley and Matt Cassel, the Kansas City kicker won't be an attractive fantasy option.
More Fantasy News