Who Should You Take With the No. 1 Overall Pick?
By Christopher Liss and Dalton Del Don
RotoWire Staff Writers



Chris: Let me preface this exchange by explaining how the
RotoWire.com magazine works. I farm out the position
sections to some of our best writers, and they write
profiles for each of the players. In some cases, as in Dalton Del
Don's running-back section, they also create the projected stats
(and hence the rankings) for the all of the players.
The problem is that while I want each individual writer to have
as much leeway in setting the rankings as he would like, ultimately
the rankings in the running-back section (and everywhere else)
have to match our cheat sheets, the RotoWire150 and our projected
stats in the back of the magazine.


In the case of this year's running backs, Dalton and I saw
eye to eye on most players, but we disagreed on who the No. 1
ranked running back (and No. 1 overall pick) should be. Dalton
wanted Adrian Peterson, and I wanted LaDainian Tomlinson.
While Peterson graces the cover of the magazine, (it's always
better to choose the exciting young talent than the boring veteran),
Tomlinson's the guy we're going with at No. 1.
Still I wanted to give Dalton the chance to register his dissent
and make his case to the public in case Peterson is in fact the better
player this year. That way, he'll at least get credit for being right,
and everyone will know that I robbed him of his real first choice.


So, Dalton, the floor is yours – tell me why our readers should
take a player with 14 career NFL games who's in a timeshare and
who's been hurt both in college and in the pros over perhaps the
greatest fantasy football player of all time.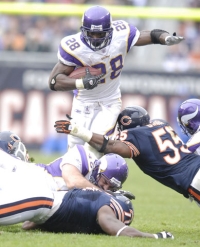 Dalton: First off, I can completely understand why someone would take
Tomlinson over Peterson. This is a classic risk vs. reward debate,
though my view on the risk in this situation differs from yours.
Despite setting the NCAA record for carries as a freshman, it's
true Peterson is an injury risk. But what running back isn't? Joseph
Addai, Steven Jackson and Brian Westbrook have all battled
relatively serious health problems over the past few seasons. Of
course, there's Tomlinson, who's missed just one game during his
seven-year career. It doesn't get any more durable than that.
However, it might surprise you that my argument doesn't just
rest on the upside of the Purple Jesus, but I'm here to tell you
Tomlinson enters 2008 with plenty of risk of his own. Remember,
before last year, Marvin Harrison had averaged 15.5 games per
season during his 12 years in the league, so no player is superhuman,
and it's always better to jump ship a year too soon than a
year too late.


Tomlinson's age doesn't worry me nearly as much as his
mileage, which is reaching epic proportions. His 2,365 career
carries rank 20th in NFL history. Of the 45 running backs with the
most rushing attempts in league history, Tomlinson has played by
far the fewest seasons. In other words, he's been worked extremely
hard in a short period of time.
Eddie George is the only running back in the history of the
league to carry the ball 300 times in eight consecutive seasons;
during the last one, he averaged 3.3 YPC. Tomlinson, who has
averaged 338 carries over the past seven seasons, will be trying to
match this record in 2008. Studies have shown four straight 300-
carry years is a big red flag, and a drop-off in production should be
expected soon thereafter. Other than Edgerrin James, no current
NFL running back has more than four 300-carry seasons during
his entire career. Tomlinson is a workout warrior and is clearly
the exception to most rules, but how many trends can he spit in
the face of before they catch up to him? There's also that little
issue with him tearing his MCL last January. I have a hard time
believing that when given a full pool of players to choose from, the
best pick is a back who has already peaked and is in decline.


Last year, Peterson ran for just 133 fewer yards than Tomlinson,
despite missing two games, being severely limited in four others
and starting only nine contests. Put differently, Peterson nearly
matched Tomlinson's production on the ground despite seeing 77
fewer carries. During Peterson's nine games as a starter, he piled
up 1,214 yards with 11 touchdowns on 6.0 YPC. And just because
he was at times all-or-nothing last year, doesn't mean he will be
in 2008. Remember, he was a rookie still learning the nuances
of the game. Bryant McKinnie, Steve Hutchinson and Matt Birk
help form an absolute dominant offensive line. And if you're
worried about the presence of Chester Taylor, don't be; consider
the Vikings had 494 carries last season with a poor passing offense
that will only improve with the addition of Bernard Berrian and
continued maturation of Sidney Rice and Tarvaris Jackson, who
got 7.1 YPA over the second half of last year. Moreover, Taylor
makes an excellent handcuff for prospective Peterson owners;
good luck with the Jacob Hester/Darren Sproles timeshare if
Tomlinson goes down.


Peterson scored 13 touchdowns last season despite receiving
just six goal-line carries, which was tied for 40th in the league.
Considering he's by far the team's best option in short-yardage
situations, his TD potential is downright staggering. He's an
injury risk, but so is Tomlinson at this stage of his career. Peterson
finished second in the NFL with 1,341 rushing yards last season,
despite receiving 20 carries in a game just six times. There simply
hasn't been a running back with this kind of upside in the history
of the National Football League.


Chris: I'll concede that Peterson has more upside – at least in theory.
Peterson's 5.6 yards per carry last year matched Eric Dickerson's
the year Dickerson set the all-time rushing record with 2,105
yards. Of course, Dickerson logged 379 carries that year.
And that's the problem. Even if Peterson doesn't get hurt again,
what makes you think that Chester Taylor, who's in his third year
of a $14.4 million deal, won't see another 120-150 carries? Taylor
himself averaged 5.2 yards
per carry, and you'd have
to think that the Vikings
want to keep their injuryprone
franchise player
fresh throughout the
year and potentially for
the playoffs. Even if you
argue that it makes no sense
ever to give a running back of
Peterson's ability less than 300
carries, that doesn't mean Brad
Childress will agree with you. So even
the upside argument is flawed because
it depends on Peterson getting nearly as many
carries as Tomlinson. We know Tomlinson will get 300-plus, so
long as he's healthy, and all of the goal-line ones, so then you
have to ask yourself who has more upside in the likely scenarios?
Probably Tomlinson.


And I hear you about Tomlinson's legendary workload, but
usually players that have workload-related declines (Eddie
George, Shaun Alexander) show signs of that decline before they
fall off a cliff. In 2006, Alexander wasn't even good when he was
healthy, so it's no surprise that 2007 was his cliff year. George
was a plodder for a couple of seasons before finally playing his
way into retirement. But Tomlinson actually got better as last year
went on, averaging 5.1 YPC in the second half as opposed to 4.2
in the first. Unless you believe in numerology, there's no reason to
think Tomlinson is trending downward just yet. Also, Tomlinson is
just 29 years old, and he's never eclipsed 350 carries in any year
except his second. That shows that the Chargers have kept what
are perhaps the most damaging touches away from him – the ones
when the body is most worn down. Take a look at his game logs
from last year, and you'll see that the most carries he had in any
game was 26, and there were eight games in which he had less
than 20.


Of course Tomlinson is coming off an injury, but it was a
second-degree MCL sprain – too painful to play on in the playoffs,
but not a complete tear of the ligament and not something which
should linger into 2008. In fact, he participated fully in the team's
minicamp in early May. Is Tomlinson impervious to injury?
Of course not. No running back is. But if anything his years of
managing large but not excessive workloads and producing
tremendous numbers every year should be a point in his favor, not
one to be held against him.


Finally, Tomlinson is a better receiver than Peterson, is on
a better offense, which also has a very good offensive line, and
plays for a team with a better all around defense. That means more
running and less passing to keep up late in games.
Peterson will almost certainly rush for more yards in his best
game of the year than Tomlinson will, but if you want to bet on
total carries, total receptions, total goal-line carries and total
games played, Tomlinson's the guy.


Dalton: I fully expect Chester Taylor to remain in the mix. Again, the
Vikings had close to 500 rushing attempts as a team last season,
and even if you remove the quarterback's 50 carries, that still
leaves 450, so Taylor can get 120-150 with Peterson approaching
300. And 100-120 totes is a far more likely scenario for Taylor,
who averaged just 7.2 carries per game during the six games after
he lost his starting job. It also stands to reason Peterson should
improve as a blocker and pass catcher during his second year in
the league, leading to more playing time. Taylor can help keep
Peterson fresh, and someone who averaged 6.3 yards per touch can
approach 2,000 yards with just 300 carries.


That's an excellent point about backs that fall off a cliff typically
show signs beforehand, and I won't argue against Tomlinson's
successful 2007 season. Does suffering the first major injury of
his career count? Maybe Tomlinson will continue to excel while
approaching 2,700 career carries and recording 300 rushing
attempts for the eighth consecutive season, but he'd be the first
person ever to do so. Don't get me wrong, if anyone can do it, it's
LT, but don't tell me he's not without risk with so much history
going against him.


And I'm not ready to call the Chargers the obvious better team
and situation to be in. Minnesota, who has allowed 2.95 YPC over
the past two seasons, added Jared Allen and Madieu Williams to an
emerging defensive unit while losing little. They have the league's
most physical offensive line and also added Berrian to a receiving
corps that features Rice, who looks like a future star.
Their division is regressing badly, while the AFC West is
improving fast. Philip Rivers is coming off a torn knee and
will have to play with a brace all season, while Antonio Gates
is still dealing with a serious toe injury suffered last postseason.
Additionally, the following year is never easy on a team that went
as deep into the playoffs as San Diego did last season. On paper,
the Chargers look like the better team in 2008, but it's far from a
sure thing, and the formidable left-side of Minnesota's offensive
line cannot be overemphasized.


Listen, I'm not delusional. Tomlinson is a fantastic player and
might enter 2008 especially motivated after members of the media
criticized him for not playing in the AFC Championship game. But
there are major warning signs here, and when running backs reach
that cliff, the fall is fast and steep. I would call Peterson a oncea-
generation talent, but that would be an understatement. In two
games during his rookie season, he combined for 548 yards and six
touchdowns. In two games! I'd have a hard time compiling those
numbers while playing "Madden." Go ahead and take Tomlinson
ahead of Peterson, but I refuse to be the guy who passed on a
running back with the skills to rewrite the record books.


Chris: No one said Tomlinson was without risk – only that his amazing
track record of durability should not be held against him barring
evidence of decline from last season. That evidence was plainly
not there.
And while every team in the NFL has upside and downside,
the Chargers start out ahead of the Vikings. There is always
a tremendous amount of uncertainty when projecting team
performance, but that goes for both teams. Maybe Jared Allen
calls a cab next time he's hammered, or maybe he's caught doing
120 heading west in the eastbound lane.


And I'm glad you point out that Tomlinson
has even more of a chip on his shoulder
this season after people preposterously
called him "soft" for not being able
to play on a second degree knee
sprain (the same degree of
knee injury (though different
ligament) that sidelined Andre
Johnson for half the season).
Tomlinson is as physically
and mentally tough as they
come. I'd hate to be the guy
betting against him.


Article first appeared on 6/10/08