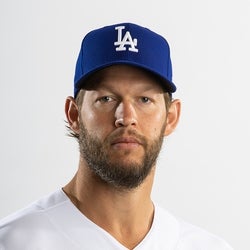 Out
Injury Shoulder
Est. Return 8/1/2024
Rest-of-Season Projections
2023 Fantasy Outlook
Old man river keeps on running, and it appears he will continue trickling out to the mound for the Dodgers as long as his body holds up in 2023. The only skills he lacks these days are velocity and good health as he has not made 30 starts since the 2015 season and his fastball is clinging on to the good side of 90 MPH by a stitch of the baseball. Yet, there are few pitchers better at their craft like Kershaw when he is right physically as his elite breaking stuff is the main course after his fastball command has set the table. We could go on all day with superlatives about his real pitching, but his fantasy projections must consider the fact he has missed about a third of the season each of the past two seasons with different issues and that is not a skill which gets better with age. You will get ace stuff most of the time when he takes the ball, but you have to be prepared for him to have at least one stint on the IL each season.
Read Past Outlooks
$Signed a one-year, $20 million contract with the Dodgers in November of 2022.

Undergoes shoulder surgery
ANALYSIS
Kershaw broke the news himself on Instagram and added that he is "hopeful to return to play at some point next summer." It's a vague timetable for the 35-year-old southpaw as he enters free agency, but at the very least this would seem to indicate he plans to continue his career rather than retire. Kershaw was effective when healthy in 2023, posting a 2.46 ERA over 24 starts, but his stuff was noticeably down late in the year, and he recorded just one out in his lone postseason outing. He's facing a long rehab and uncertainty in regard to how effective he might be if he does indeed make it back next season.
Read More News
Pitching Stats
Loading Pitching Stats...
2023
2022
2021
2020
2019
2018
2017
2023 MLB Game Log

Calculate Stats Over Time
Just click on any two dates.
Scoring
FanDuel
DraftKings
Yahoo DFS
Loading Pitching Game Log...
2022 MLB Game Log

Calculate Stats Over Time
Just click on any two dates.
Scoring
FanDuel
DraftKings
Yahoo DFS
Loading Pitching Game Log...
2021 MLB Game Log

Calculate Stats Over Time
Just click on any two dates.
Scoring
FanDuel
DraftKings
Yahoo DFS
Loading Pitching Game Log...
2020 MLB Game Log

Calculate Stats Over Time
Just click on any two dates.
Scoring
FanDuel
DraftKings
Yahoo DFS
Loading Pitching Game Log...
2019 MLB Game Log

Calculate Stats Over Time
Just click on any two dates.
Scoring
FanDuel
DraftKings
Yahoo DFS
Loading Pitching Game Log...
2018 MLB Game Log

Calculate Stats Over Time
Just click on any two dates.
Scoring
FanDuel
DraftKings
Yahoo DFS
Loading Pitching Game Log...
2017 MLB Game Log

Calculate Stats Over Time
Just click on any two dates.
Scoring
FanDuel
DraftKings
Yahoo DFS
Loading Pitching Game Log...
Minor League Game Log

Calculate Stats Over Time
Just click on any two dates.
Loading Minor League Pitching Game Log...
Pitching Appearances Breakdown
How many pitches does Clayton Kershaw generally throw?
What part of the game does Clayton Kershaw generally pitch?
% Games Reaching Innings Threshold
% Games By Number of Innings Pitched
Left/Right Pitching Splits
BAA
K
BB
H
HR
Since 2021

vs Left

.193
68
21
53
3
Since 2021

vs Right

.218
350
63
246
41
2023

vs Left

.162
11
7
12
2
2023

vs Right

.217
126
33
88
17
2022

vs Left

.254
20
8
18
0
2022

vs Right

.198
117
15
78
10
2021

vs Left

.178
37
6
23
1
2021

vs Right

.242
107
15
80
14
More Splits

→

View More Split Stats
Home/Away Pitching Splits
ERA
WHIP
IP
K/9
BB/9
Since 2021

Home

2.38
0.94
185.0
11.0
1.5
Since 2021

Away

3.10
1.07
194.2
8.8
2.5
2023

Home

1.58
0.84
57.0
10.1
1.7
2023

Away

3.13
1.23
74.2
8.8
3.5
2022

Home

2.39
0.98
64.0
11.3
1.4
2022

Away

2.17
0.90
62.1
8.2
1.9
2021

Home

3.09
0.98
64.0
11.7
1.4
2021

Away

4.06
1.06
57.2
9.5
1.7
More Splits

→

View More Split Stats
Stat Review
How does Clayton Kershaw compare to other starting pitchers?
This section compares his stats with all starting pitcher seasons from the previous three seasons (minimum 120 innings)*. The bar represents the player's percentile rank. For example, if the bar is halfway across, then the player falls into the 50th percentile for that stat and it would be considered average.
* Exit Velocity, Barrels/BBE %, Balls Hit 95+ MPH %, and Spin Rate are benchmarked against 2019 data (min 120 IP).
See here for more exit velocity/barrels stats
plus an explanation of current limitations with that data set.
K/BB

Strikeout to walk ratio.

K/9

Average strikeouts per nine innings.

BB/9

Average walks per nine innings.

HR/9

Average home runs allowed per nine innings.

Fastball

Average fastball velocity.

ERA

Earned run average. The average earned runs allowed per nine innings.

WHIP

Walks plus hits per inning pitched.

BABIP

Batting average on balls in play. Measures how many balls in play against a pitcher go for hits.

GB/FB

Groundball to flyball ratio. The higher the number, the more likely a pitcher is to induce groundballs.

Left On Base

The percentage of base runners that a pitcher strands on base over the course of a season.

Exit Velocity

The speed of the baseball as it comes off the bat, immediately after a batter makes contact.

Barrels/BBE

The percentage of batted ball events resulting in a Barrel. A Barrel is a batted ball with similar exit velocity and launch angle to past ones that led to a minimum .500 batting average and 1.500 slugging percentage.

Spin Rate

Spin Rate is the rate of spin on a baseball after it is released. It is measured in revolutions per minute (rpm).

Balls Hit 95+ MPH

The percentage of batted balls hit that met or exceeded the 95 MPH threshold.

Swinging Strike

The percentage of pitches that result in a swing and a miss.
Advanced Pitching Stats
Loading Advanced Pitching Stats...
Loading MLB Defensive Stats...
Recent RotoWire Articles Featuring Clayton Kershaw
See More
Past Fantasy Outlooks
2022
2021
2020
2019
2018
2017
2016
2015
2014
2013
2012
2011
2010
2009
2008
2007
First, the good news. Kershaw started 22 games and registered a 29.5% strikeout rate and 25.2% K-BB%, their highest since 2017. Now, the bad news. Kershaw was sidelined from early July to mid-September with a sore shoulder. Finally, the ominous news. Upon returning, Kershaw was shut down with forearm discomfort. Despite scans showing no ligament damage, Kershaw reported he received PRP injections, most often used in lieu of Tommy John surgery on a slight UCL tear. The extent of Kershaw's injury is unclear. The Dodgers declined his qualifying offer, but brought him back on a one-year $17 million contract after the lockout, which suggests he's not a lost cause from a health standpoint. Until Kershaw is on a mound and throwing pain free, he's a huge risk, but the Dodgers opting to bring him back is as good of an outcome in free agency as we could have hoped for.
Dodgers fans will remember Kershaw's 2020 campaign as the year he exorcised his postseason demons and claimed his first World Series ring. From a fantasy perspective, the future Hall of Famer's season was a return to form and a statement that he still belongs among the game's top starters. Perhaps fueled by an offseason visit to Driveline Baseball, Kershaw ratcheted his fastball velocity up a notch to 91.6 mph and posted his highest K% (28.1) in three seasons. Meanwhile, he once again demonstrated superb control, ranking in the top 3% of MLB hurlers with a 3.6 BB%. The results added up to an elite 2.16 ERA, 3.05 xFIP and 0.84 WHIP, each among the top 10 in the majors (min. 50 innings). There is some injury risk with Kershaw due to back issues that now seem to be a yearly occurrence, but the performance risk is basically nil. Draft him as a top-10 SP1 until Father Time says otherwise.
Kershaw was a top-12 starting pitcher on our Earned Auction Value Calculator last season, but was not even the most valuable Dodger. Still, it was nice to see him rebound from the disappointing 2018 statistical performance and return to the form we've grown accustomed to this decade. Even with the injuries here and there, he is still a safe staff ace because when he is pitching, you are getting terrific results. The 3.03 ERA was his worst ERA since his rookie season and he has not had a WHIP above 1.10 since the 2010 season. The days of 200-plus strikeouts may be a thing of the past, but you cannot buy ratios and consistent wins production from pitchers these days like Kershaw has put up when he's been healthy. He is a low-end SP1 these days, so a first-round pick would be foolish, but a third-rounder would not be depending on how you want to build your roster. Absolutely no skills risk in play here.
For the first time in what seems like forever, Kershaw will not be the first pitcher off the board, likely falling out of the top-five, landing borderline top-10. The reason isn't just injury concern. His skills, particularly strikeouts, are slipping. With respect to health, Kershaw missed a large chunk of time for the third straight season. He's only started 30 games once since 2013, totaling 33 in 2015. His back woes appear to be chronic and will thus be a concern for the rest of his career. Kershaw's K% plummeted to 23.9%, its lowest since 2008, his inaugural campaign. A 1.7-mph drop from his four-seamer is the likely culprit. However, Kershaw's velocity was down consistently all season, with a range from 89.6 mph in July to 91.2 in June, suggesting he can still pitch effectively, though not at an elite level if the velocity doesn't return. There's risk, but Kershaw's control and high-end secondary offerings should keep him among the best when healthy.
Even Kershaw wasn't immune from the 2017 home run barrage as he recorded a HR/9 north of 1.0 for the first time, allowing 23 long balls, by far a career high. He also averaged just 6.5 innings per start, his first season below 7.0 since 2012. The lefty also missed over a month due to injury for the third time in the last four seasons. Still, Kershaw remains the top fantasy starting pitcher, though durability likely precludes him from top overall player consideration. He's as dominant as ever, though his 2017 walk rate (1.5 BB/9) regressed back to career norms after his ultra-stingy 2016 campaign. While it's tempting to overlook the issue as Kershaw's health appears fine, back woes often hibernate; they rarely go away. Injury risk puts him atop a tier with fellow aces Max Scherzer, Corey Kluber and Chris Sale. The days of tossing 230-plus innings are likely over anyway, even if he stays healthy all year.
Despite missing two months with a back injury -- specifically, a herniated disc -- Kershaw finished as the No. 6 pitcher last season in terms of earned 5x5 fantasy value. He was more dominant than ever when on the mound, posting an otherworldly 172:11 K:BB in 149 innings (65:2 K:BB in May). His 15.3 percent swinging-strike rate would have tied Max Scherzer as the best among qualifiers had he logged enough innings to qualify, and Kershaw's command and control reached unprecedented levels as he shaved his walk rate to just two percent. There were no noticeable lingering effects from the back injury upon his return in September (0.86 ERA) and he looked plenty strong into late October as he carried the Dodgers on said back to the NLCS. Entering his age-29 season, Kershaw still looks very much in his prime and remains worthy of a first-round pick, if not top-five overall.
It had been 13 years since we had seen a pitcher strike out 300 or more in a season (Randy Johnson and Curt Schilling in 2002), but Kershaw finished with 301 punchouts en route to winning 16 games with a 2.13 ERA and 0.88 WHIP. After posting sub-2.00 ERA seasons in 2013 and 2014, it's amazing to think some view 2015 as a disappointment for Kershaw, but that's what happens when expectations are sky-high. Kershaw's 11.6 K/9 was easily the best mark of his distinguished career, and as usual his control was excellent with a 1.6 BB/9. It's fair to wonder whether we have seen him peak, but Kershaw is only headed into his age-28 season, so he's firmly in his prime. Like all pitchers, there is always the possibility of a massive drop-off or some sort of arm injury, but few would give any other pitcher the title of "best in the game," making him a sure-fire 2016 first-round pick, particularly given the strikeout ability.
What could Kershaw possibly do to improve upon his three straight ERA and WHIP titles with a pair of Cy Youngs and a second-place finish in between? Surely, he can't get better, so even though you can expect greatness, it'll likely be regressed from 2013. Well, not exactly. Left with the seemingly impossible task of one-upping himself, Kershaw somehow did just that and then some, winning titles in the aforementioned categories, including career-bests in each, as well as his third Cy Young and his first NL MVP. And all of that despite missing April and failing to reach the 200-inning mark. At this point, it would be foolish to suggest he can't possibly best himself yet again. How about a 1.00 ERA? He is the unquestioned best pitcher in the game and a surefire first-rounder regardless of league size and format.
Kershaw took home his second NL Cy Young award in three years, recording the lowest ERA (1.82) since Pedro Martinez posted a 1.74 mark in the 2000 season. Kershaw also led the league in strikeouts (232) and WHIP (0.92) while tossing a career-high 236 innings. Basically, he's the best pitcher in "real life" and in fantasy. Amazingly, he'll pitch all of 2014 as a 26-year-old, and the 2.0 BB/9 that Kershaw carried last season was actually the best result he's ever returned in that department.
Kershaw finished second in the NL Cy Young voting to R.A. Dickey, but it was another solid season for the left-hander. Kershaw led the league in ERA (2.53) for the second straight season while finishing with 229 strikeouts, second in the league behind Dickey's 230. Kershaw had a 2.10 ERA after the All-Star break, while continuing to average 93 mph with his fastball with excellent control (2.5 BB/9). It's amazing to think that he's only entering his age-25 season, so another Cy Young caliber performance seems likely barring an injury. He should be one of the first three pitchers off all draft boards this spring.
Kershaw was named the National League Cy Young winner after winning the NL's pitching triple crown with 21 wins, a 2.28 ERA and 248 strikeouts. The key to his success was a marked improvement in his control, as his BB/9IP trend over the past three years looks like this: 4.8, 3.6 and 2.1. It's pretty much impossible for Kershaw to markedly improve upon his 2011 season, but considering he's just 24, he should be very good for the next several years.
Kershaw took a big step towards ace status in 2010, finishing as one of only four NL starters with at least 200 strikeouts (212) and an ERA under 3.00 (2.91). A big key to his success was in dropping his walk rate from 4.8 BB/9IP in 2009 to 3.6 last year (and 3.0 after the All-Star break). Kershaw will look to build on that in 2011 as a 23-year-old with 483 big league innings already under his belt. The sky is certainly the limit.
Kershaw played all of 2009 as a 21-year-old in his first full season, and the results were impressive, even though the 8-8 win-loss record was not. Among National League pitchers, Kershaw's 2.79 ERA ranked fifth and his 185 strikeouts were 11th. The big problem? His 93 walks ranked third. Seemingly the only thing preventing the former seventh overall pick from annual NL Cy Young contention is that wavering command, and encouragingly, Kershaw made some adjustments in the season's second half that resulted in a 4.0 BB/9IP rate versus a 5.3 mark before the All-Star break. He's already a top-30 fantasy pitcher, with the potential for far more as early as 2010.
Kershaw acquitted himself well in his first taste of major league action, going 5-5 with a 4.26 ERA and 100:52 K:BB in 107.2 innings for the Dodgers. Kershaw's command wavered from time to time, though he finished with a 60:24 K:BB in his final two months after starting with a 40:28 mark. He will be counted on as the team's No. 5 starter and could approach 200 strikeouts once given 180 innings of work (to limit the strain on his golden arm). Kershaw is projected as a true ace, though that day may not come for a couple years.
Kershaw skipped High-A ball this year, jumping straight to Double-A in August at the ripe old age of 19. It was Kershaw's first full season as a professional after being drafted seventh overall out of high school in 2006. Between Low-A and Double-A, Kershaw had a 2.95 ERA and 163:67 K:BB in 122 innings. He'll return to Double-A to open 2008, but if Kershaw can improve his overall command and show improvement in his changeup, he could be a huge factor for the Dodgers down the stretch in 2008. He's probably baseball's top pitching prospect yet to debut in the big leagues.
The team's No. 1 pick (seventh overall) in the 2006 draft, Kershaw, despite his youth, is already one of baseball's top pitching prospects. Unlike other young Dodger pitchers, the control bug has yet to bite the young left-hander. In 37 innings for the GCL Dodgers, Kershaw posted an impressive 54:5 K:BB ratio featuring a fastball that already touches 96 mph, a plus curve and an advanced change. He'll make his full-season debut in 2007 (likely for the organization's new affiliate in the Low-A Midwest League), and while he won't be major league ready until sometime in 2009, long-term keeper leaguers should have Kershaw on their radars.
More Fantasy News