Fantasy Running Backs: Using Consistency to Develop a Draft Game Plan at the Position

Last week, I took a look at how the consistency of quarterbacks makes them safe picks near the top of your fantasy draft. Today, I want to head over to the running back position.

Of the four skill positions in fantasy football, running back is the second-least consistent of the bunch. The consistency of both rushing yards and rushing touchdowns is right around 0.50, i.e. half of a running back's yards carry over from year to year, on average, and the other half regress toward a league mean.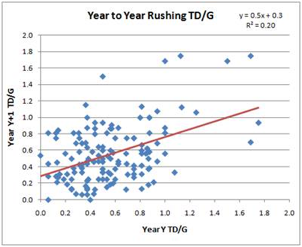 Moreover, the majority of teams now have two fantasy-relevant players at the position. Because of this, fantasy owners have been able to wait and still grab decent running backs in the middle rounds. But the extra depth cuts both ways as the few workhorse running backs that are left are more valuable than ever. This is supported by the numbers.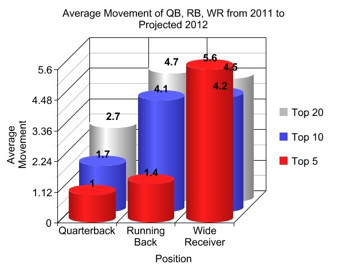 I talked briefly about the graph above in my first post on consistency at RotoWire. The graph shows the projected movement in final rank at the quarterback, running back and wide receiver positions. I didn't use any subjective analysis in creating the projections for this analysis; I simply used a regression of efficiency stats (such as yards-per-reception, yards-per-carry, and so on), then calculated the projected points. Interestingly, historic data matches up with these projections.

You can see that the elite running backs are nearly as consistent as the top-tier quarterbacks. For the top five running backs from last season, stats show the projected movement in final 2012 fantasy rank is just 1.4 spots. Compare that to 5.6 spots for the five elite wide receivers.

Of course, this doesn't mean there are always five elite running backs, and you should blindly select one because history says so. Rather, the numbers suggest that if you can acquire a workhorse back in the first round, you should probably do so.

Quarterback is a more consistent position, but the depth is also greater than at running back. In the middle rounds, options like Matt Ryan and Tony Romo are offering great value. Meanwhile, there are fewer formidable running back options than in past years; you'd probably be better off with Ryan Mathews and Matt Ryan in the first and sixth rounds, respectively, than Aaron Rodgers and Jahvid Best.

Another interesting aspect of the graph is that running back consistency vanishes outside of the elite players at the position. When you reach the third, fourth and fifth rounds of your draft when these players will come off of the board, you're probably better off siding with the much deeper wide receiver position. While other owners are reaching for the likes of Michael Turner, you can get amazing value on players like Dez Bryant (an optimal "buy low" candidate right now) and Jordy Nelson.

Let's sum it all up. . .

2012 Fantasy Football Game Plan: Running Back

Draft slot in the first half of Round 1

Choosing in the first six picks, you will be able to acquire an elite running back. Unless your league starts more than one quarterback or rewards six points for a passing touchdown, running back should almost certainly be your choice here. It's difficult to bypass a "sure thing" like Aaron Rodgers, but it may be even more difficult to forgo a player like Ray Rice, miss out on a running back in the second round, then be left with a guy like Frank Gore as your top runner.
I have Arian Foster, LeSean McCoy, Ray Rice, Ryan Mathews and Chris Johnson listed as elite options in my rankings. There is a significant drop after those five running backs, so if you bypass one in the first half of the first round, you probably won't be able to make up for it down the road.

Coming back in the second round, you can look at elite quarterback options like Drew Brees, Cam Newton and even Matthew Stafford. I'm a little low on Stafford, but all three players are reliable options. Tight end, the most consistent position in fantasy football, is also an option here if you can grab Jimmy Graham or Rob Gronkowski.

In rounds three through five, the value at wide receiver is outstanding. You can jump on a running back if one falls (I like Doug Martin, Reggie Bush and Roy Helu in PPR leagues), but wide receiver is consistently providing the most bang for your buck.

Draft slot in the bottom half of Round 1

If you're choosing in the bottom half of the first round and can't secure an elite running back, your game plan should shift a bit. The only running back I'd give consideration in the first round after the top five is Darren McFadden. Yes, he's a risk, but he's not coming off of a super-serious injury, and he has legitimate top-tier potential. Otherwise, I'd be looking at Rodgers (if he drops) and Tom Brady. Their consistency will be too great to overlook in a range where the best remaining backs all possess question marks.

In the beginning of the second round, you can begin to consider second-tier running backs. Assuming you went with a quarterback in the first round, you should be able to grab Maurice Jones-Drew, Matt Forte, Trent Richardson or DeMarco Murray. They won't all be available, but one is likely to be on the board. Actually, depending on your league, there's a solid chance McFadden might drop as well.

Your game plan in the middle rounds shouldn't change too much. If for whatever reason you bypassed quarterback, you can look at Michael Vick in the fourth, Tony Romo in the fifth, and Matt Ryan in the sixth. If you grabbed Brady in the first and ended up passing on a running back in the second (not recommended), your options in Rounds 3-5 won't be outstanding. Even if you're forced to select a running back in that range, stock up on depth at the position in Rounds 6-10 with guys like C.J. Spiller, James Starks and Jonathan Stewart.

Jonathan Bales is the author of Fantasy Football for Smart People: How to Dominate Your Draft. He also runs the "Running the Numbers" blog at DallasCowboys.com and writes for the New York Times.