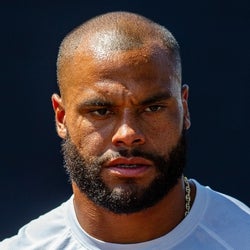 2022 Fantasy Outlook
Prescott bounced back from a season-ending ankle injury in 2020 to post career highs in completion percentage (68.8) and TD passes (37) last season — without the benefit of a 17th game as he missed a week with a calf injury. He wasn't as efficient yardage-wise compared to previous years — in 2019 he threw for 453 more yards on the same 596 attempts he had last season — but his 7.5 YPA still ranked 10th. Prescott scuffled in the aftermath of the calf injury with 6.5 YPA, 9/6 TD/INT and 35 rushing yards over the following seven games, but he turned it around the final three weeks with 12/0 TD/INT, 8.2 YPA and 41 rushing yards. Prescott's running has declined from his early years — and probably isn't coming back — but he nonetheless finished QB7 last season in fantasy. This season, he'll have to do it without Amari Cooper, who was traded to Cleveland, and Cedrick Wilson, who signed with Miami, leaving behind a combined 1,467 receiving yards and 14 TDs. What's more, Michael Gallup is working his way back from a Week 17 ACL tear. It's not all bad, as CeeDee Lamb returns as the new No. 1 receiver, TE Dalton Schultz is coming off a breakout season and the backfield tandem of Ezekiel Elliott and Tony Pollard (86 combined receptions) demands attention from defenses. The Cowboys also drafted OL Tyler Smith in the first round to fortify an offensive line that lost La'el Collins and Connor Williams but still has two All-Pros in LT Tyron Smith and RG Zack Martin. Another top-10 fantasy season is well within reach for Prescott.
Read Past Outlooks
RANKS
#

Overall
$Signed a four-year, $160 million contract with the Cowboys in March of 2021.

Deal restructured for cap relief
ANALYSIS
The report adds that guard
Zack Martin
also had his deal restructured, with the contract conversions designed to get the Cowboys under the NFL salary cap ahead of free agency. Prescott is coming off a 2022 season in which he logged 2,860 passing yards to go along with 23 touchdowns and a career-high 15 interceptions in 12 games.
Read More News
NFL Stats
Fantasy/Red Zone Stats
See red zone opportunities inside the 20, 10 and 5-yard lines along with the percentage of time they converted the opportunity into a touchdown.
Loading Fantasy/Red Zone Stats...
Advanced NFL Stats
How do Dak Prescott's 2022 advanced stats compare to other quarterbacks?
This section compares his advanced stats with players at the same position. The bar represents the player's percentile rank.
The longer the bar, the better it is for the player.
Bad Pass %

The percentage of passes that were considered to be poorly thrown.

Avg Target Depth

The average number of yards thrown per pass by the quarterback – including incomplete passes.

Sack Rate

The percentage of dropbacks where the quartback was sacked. The longer the bar below, the more often they are sacked relative to other QBs.

Avg Receiver YAC

The average number of yards after the catch that receivers gained on passes thrown by this quarterback.

Receiver Drop %

The percentage of passes dropped by receivers on passes thrown by this quarterback. The longer the bar, the more sure-handed his receivers have been.
Loading Advanced NFL Stats...
2022
2021
2020
2019
2018
2017
2016
2022 NFL Game Log

Calculate Stats Over Time
Just click on any two dates.
Scoring
Standard
PPR
Half PPR
FanDuel
DraftKings
Yahoo DFS
2021 NFL Game Log

Calculate Stats Over Time
Just click on any two dates.
Scoring
Standard
PPR
Half PPR
FanDuel
DraftKings
Yahoo DFS
2020 NFL Game Log

Calculate Stats Over Time
Just click on any two dates.
Scoring
Standard
PPR
Half PPR
FanDuel
DraftKings
Yahoo DFS
2019 NFL Game Log

Calculate Stats Over Time
Just click on any two dates.
Scoring
Standard
PPR
Half PPR
FanDuel
DraftKings
Yahoo DFS
2018 NFL Game Log

Calculate Stats Over Time
Just click on any two dates.
Scoring
Standard
PPR
Half PPR
FanDuel
DraftKings
Yahoo DFS
2017 NFL Game Log

Calculate Stats Over Time
Just click on any two dates.
Scoring
Standard
PPR
Half PPR
FanDuel
DraftKings
Yahoo DFS
2016 NFL Game Log

Calculate Stats Over Time
Just click on any two dates.
Scoring
Standard
PPR
Half PPR
FanDuel
DraftKings
Yahoo DFS
Snap Distribution / Depth Chart
2022 Dak Prescott Split Stats
Loading NFL Split Stats...
How do Dak Prescott's measurables compare to other quarterbacks?
This section compares his draft workout metrics with players at the same position. The bar represents the player's percentile rank. For example, if the bar is halfway across, then the player falls into the 50th percentile for that metric and it would be considered average.
Recent RotoWire Articles Featuring Dak Prescott
See More
Past Fantasy Outlooks
2021
2020
2019
2018
2017
2016
Prescott was on a record-setting clip before breaking his ankle Week 5 last season. Entering that game he was on pace for 6,700 passing yards, after becoming the second player in NFL history with three consecutive games of 400-plus. But his average target depth was just 7.9 yards (23rd, min. 220 attempts), and while he went downfield at a solid rate, it wasn't off the charts — 12.6 percent of his attempts went at least 20 yards, sixth in the league. Prescott gobbled up yards thanks to volume — a ton of volume. Through four games, he was on pace for 800 attempts. That was clearly unsustainable, but his TD pass rate also might have increased had he kept playing — only three of his 20 red-zone attempts went for touchdowns for an absurdly low 15 percent red-zone TD rate. In any event, Prescott is expected to be healthy for Week 1 after undergoing two surgeries for a compound fracture and dislocation of his right ankle. The Cowboys were confident enough to sign him to a four-year, $160 million contract with $126 million guaranteed. When he returns, he'll again have a talented group of playmakers to target in Ezekiel Elliott, Amari Cooper, Michael Gallup and CeeDee Lamb. And even without a record number of pass attempts, his fantasy value has a solid floor because of his rushing game. He has 24 rushing TDs in five seasons (three last year) and averaged about 305 rushing yards per season 2016-19. It will help too if the offensive line returns to health after last year's devastating injuries. As long as he's healthy, Prescott is a safe fantasy bet.
Expectations were high for Prescott entering last season, and he lived up to even the loftiest, finishing second in QB fantasy scoring. His 4,902 passing yards, which fell one yard short of the franchise single-season record, ranked second in the NFL, and he also finished fourth in TD passes (30) and fifth in YPA (8.2). His career year was due in part to refined throwing mechanics, improved footwork and better weight distribution that he said allowed him to get more torque on the ball. That helped him improve his bad-pass percentage to 18.5 (7th), and his 65.1 completion percentage (13th) would have been higher had it not been for a league-leading 43 dropped passes - 7.2 percent, highest among QBs with at least 300 attempts. He also increased his average depth of target by nearly two full yards - 8.0 to 9.9, ranking fourth. After struggling in the red zone in 2018, he improved his TD percentage by nearly 10 points to 26.2, but the Cowboys didn't pass much in the red zone (27th), especially inside the 10 (29th). Perhaps that changes with new head coach Mike McCarthy, though OC Kellen Moore is back for his second season after taking the offense from 22nd to first in yards last season. The dual-threat Prescott again has quality receivers in Amari Cooper, Michael Gallup and first-round pick CeeDee Lamb, plus elite RB Ezekiel Elliott. And even with center Travis Frederick retiring, Dallas still has a star-studded O-line. The biggest issue might be Prescott's contract, though his decision to sign a franchise tag suggests he isn't anticipating a holdout.
Prescott hasn't quite delivered on the promise of his rookie season, but respectable passing efficiency (67.7 completion percentage, 7.4 YPA last season) combined with excellent running ability (six rushing TDs every year) make him an intriguing fantasy quarterback. The biggest thing for him last year was the midseason addition of wide receiver Amari Cooper. In nine weeks with Cooper in the offense, Prescott averaged 19.3 fantasy points, completing 71.3 percent of his passes for 7.7 YPA, 14 touchdowns (six to Cooper) and four interceptions, with 274 passing yards per game. With or without Cooper, Prescott struggled in the red zone all year - he converted just 17.1 percent of his red-zone pass attempts into touchdowns, 30th of 33 qualified QBs. Maybe the unretired Jason Witten can help with that this season. In addition to Witten, Randall Cobb is new to the team, replacing Cole Beasley in the slot. Wideout Michael Gallup should contribute more in his second year, too. With Ezekiel Elliott in the backfield, defenses usually will be focused first on stopping the run, which perhaps helps the passing game. All in all, Prescott is set up with his best opportunity for fantasy success yet.
After an impressive rookie season, Prescott disappointed last year. He went from fourth in the league in YPA to 20th, his completion percentage dropped by five points and, worst of all, his interceptions ballooned from four to 13. The only thing that kept him afloat was a second straight year with six rushing touchdowns, along with an uptick from 4.9 YPC to 6.3. While his decision-making was suspect, especially in the red zone where he threw three interceptions (2nd in NFL) and took six sacks (3rd), Prescott didn't get a lot of help from the rest of the offense. The line lacked depth and suffered injuries, most significantly to Tyron Smith; Dez Bryant caught just 52.3 percent of his targets and the wideouts averaged a mere 3.8 yards after catch; and, of course, Ezekiel Elliott was suspended six games. Without Elliott, Prescott broke 200 yards passing just twice and threw seven interceptions as defenses dropped into coverage without fear of the running game. Smith missed the first two of those games and Prescott was sacked 12 times, accounting for more than a third of his season total. The Cowboys added depth to the line this offseason, but health is probably more important. Big changes came to the pass catchers - namely, Bryant was released and tight end Jason Witten retired - but there is seemingly little to get excited about. The Cowboys added Allen Hurns, who hasn't played a full season since 2014, and Tavon Austin, whose best position might be punt returner. Incumbent starter Terrance Williams is coming off foot surgery and was arrested in May. In a run-first offense, Prescott might be relegated to a game-manager role, but his rushing ability at least gives him some stability.
Prescott was handed the starting job last year when Tomo Romo got hurt in preseason, and the rookie never gave it back. He stepped into a great situation for a young quarterback with perhaps the league's best offensive line protecting him -- he was sacked only 25 times (23rd) and knocked down an additional 2.6 times per game -- and a workhorse running back in fellow rookie Ezekiel Elliott with whom to share the playmaking duties. With Elliott chewing up five yards a rush, little was asked of Prescott other than to not make mistakes. And that he did superbly, throwing only four interceptions for a 0.9 INT rate that ranked second to only Tom Brady's. His completion percentage and YPA both ranked fourth in the league in an impressive debut that proved his athleticism, arm strength and leadership are legit as he took the Cowboys to the No. 1 playoff seed in the NFC. Although Elliott is still the show, Prescott likely will see more pass attempts this year (23rd last year), and if playmaking wide receiver Dez Bryant stays healthy for the first time in three years, that should mean bigger passing numbers for the quarterback, giving him a shot to stay in the top 10 at the position due in large part to his running upside (six TDs last year).
After a stellar career at Mississippi State, Prescott was drafted in the fourth round to potentially become the Cowboys' quarterback of the future, but Tony Romo suffered yet another debilitating injury this preseason, thrusting the rookie into the limelight for earlier than expected. While Prescott has the size, athleticism and arm strength NFL teams look for, as well as proven leadership qualities, his pocket awareness was considered shaky coming out of college and his throwing mechanics needed overhauling. Alas, through three exhibitions, he's tossed five touchdowns and rushed for two additional scores.
More Fantasy News