Rookie Tight Ends Continue to Struggle

In 2010, then-rookie tight end Rob Gronkowski erupted for double-digit touchdowns on his way to a fifth-place finish among all tight ends. That occurrence is probably rarer than you think; in the past seven years, Gronkowski is the only rookie tight end to finish even as a No. 1 option at the position. For whatever reason, first-year tight ends simply don't produce like some other rookies.

Check out the final ranks of the top rookie tight ends since 2006.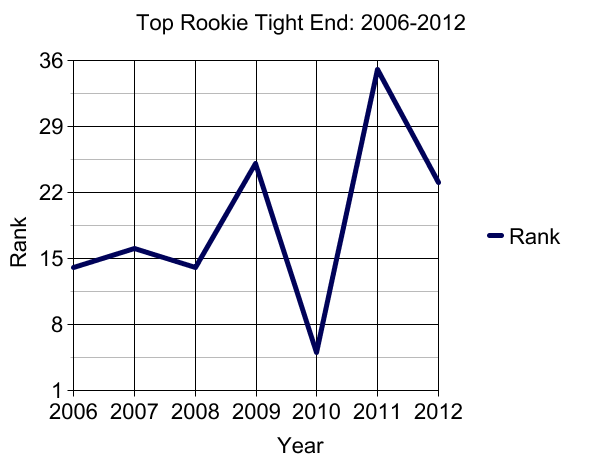 You can see that Gronkowski is an outlier in a group whose average is only 19th place. The list also includes Brandon Pettigrew, Dustin Keller, Owen Daniels, Zach Miller, Kyle Rudolph and Dwayne Allen (currently ranked 23rd in 2012).
With no rookie tight end projected to finish in the top 20 in the past two seasons, one has to wonder whether it's becoming more difficult for rookies to make an early impact for their squads. With tight ends getting integrated into offenses more and more each season, it's possible it's taking rookies longer to learn the nuances of the position. Plus, the job responsibilities of most tight ends include things other than catching the football - actually, they're probably the most versatile of any position - making the jump to the big leagues a challenging one.

Of course, it's also possible the last two draft classes have simply been poor at the tight end position, resulting in lower fantasy ranks. Top pick Coby Fleener wasn't drafted until the second round this year. The next tight end off of the board - Allen - became Fleener's teammate in Indianapolis but wasn't drafted until the third round.

Rudolph was the top tight end in 2011, but he too wasn't drafted until the second round. Lance Kendricks and Rob Housler rounded out one of the weakest trios of tight ends in recent memory. Prior to 2011, the last time a tight end failed to get drafted in the first round was 1999, and now it's happened in back-to-back seasons.

Overall, there have been only six tight ends taken in the first three rounds since 2011 - three per year. In comparison, there were nearly seven per year in the three prior seasons. In 2008, we witnessed an elite tight end class with Dustin Keller, John Carlson, Fred Davis, Martellus Bennett, Jermichael Finley and Jacob Tamme among the names called. All of those players have gone on to become starters in the world of fantasy football, yet none of them were able to finish in the top 12 at the tight end position in their rookie seasons.

While rookie running backs continue to dominate and rookie quarterbacks are moving up the ranks, first-year tight ends simply aren't getting it done. The last two drafts have been unusually weak, but rookie tight ends have still been notoriously poor fantasy options. Unless you're fairly certain you have a Gronkowski on your hands, it's probably best to avoid rookie tight ends completely.

Jonathan Bales is the author of Fantasy Football for Smart People: How to Dominate Your Draft. He also runs the "Running the Numbers" blog at DallasCowboys.com and writes for the New York Times.