How to Find Value on Second-Year Receivers

Although consensus fantasy football rankings have improved dramatically over the past few years, the general public still overpays for bulk stats. That is, owners generally draft players who have already posted respectable fantasy numbers over those who have yet to produce. That's not necessarily a bad thing, of course; all other things equal, you'd obviously prefer a "sure thing" over an unknown commodity. Having said that, one of the easiest ways to acquire value in fantasy football drafts is to identify those players on the verge of breaking out - the players in the Dez Bryant/Demaryius Thomas mold whose past production doesn't properly reflect their potential output.

Last week, I explained how to acquire value on second-year running backs; when everyone else is paying for carries and yards, look for second-year backs that were highly efficienct in their first years, yet didn't necessarily produce big-time fantasy numbers. David Wilson will be a perfect example of such a player in 2013; he'll likely move up boards, but even so he'll be extremely likely to outperform his ADP.

One of the reasons that rookie running backs with high YPC have generally superior careers to those first-year backs with lots of carries and yards is that rookie runners are capable of coming into the NFL and playing well immediately. We've seen that over the past decade with backs such as Doug Martin, Adrian Peterson, Matt Forte, Maurice Jones-Drew and so on. Because rookie running backs don't necessarily need an elite level of talent to rush for a lot of yards, the value we place on rookie rushing yards should be limited; we see backs like Steve Slaton kill it in their first years before fading away.

It's a lot different for rookie wide receivers. One of the coolest stats I uncovered in the offseason this year is that only six rookie wide receivers have finished in the top 24 at their position since 2006. The way things are going this year, that number should stand heading into 2013. Simply put, rookie wide receivers rarely provide meaningful contributions to fantasy owners.

That means that when a rookie wideout produces at even the level of a No. 2 wide receiver - as A.J. Green, Julio Jones and Torrey Smith all did in 2011 - it's typically reflective of a higher cutoff of talent than is the case for rookie running backs, and thus a sign of long-term success.

The Numbers

The stats back up that idea. As I did with running backs, I tracked the top rookie wide receivers since 2000 in terms of both efficiency and bulk metrics: receptions, yards, yards-per-catch and touchdowns. I then calculated the average approximate value - an excellent gauge of overall fantasy value - for the rookie receivers ranked highest in each category.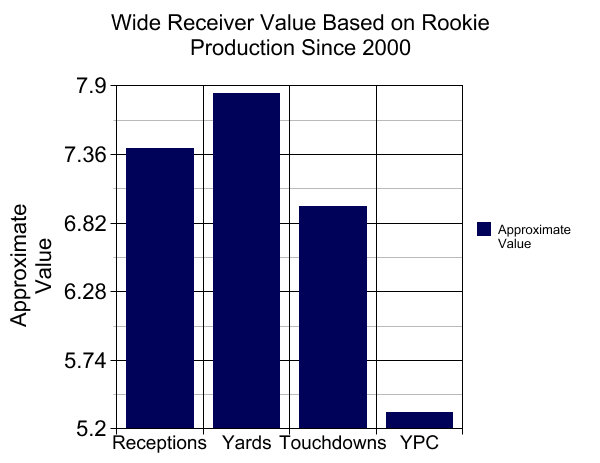 You can see the numbers aren't even close; receptions and yards are the best predictors of future NFL success for rookie wide receivers. Touchdowns are a close third, but YPC is way, way down the list. That's the exact opposite of rookie running backs; for them, yards-per-carry is more predictive of future fantasy value than both carries and yards.

It's worth noting that yards and touchdowns are functions of approximate value, so we'd expect those stats to contribute to their total AV a bit. Still, that fact can't come close to accounting for the vast gap in AV between rookies with high bulk stats and those with great efficiency. Plus, remember that the same is true for rookie running backs, yet their efficiency still proved to be a greater predictor of future value than bulk numbers.

Who to Target in 2013

There's a widespread notion that wide receivers break out in their third seasons, but I think their second year in the league is really the time to pounce. If you're in a keeper league, especially, it's better to secure a few second-year receivers at low price tags than waiting until their third years when you'll likely get into a bidding war of sorts for their services.

Ultimately, any rookie wide receiver that posts respectable stats is at least worthy of consideration in his second season. And since rookie wide receivers almost never finish even as No. 2 options at their position, you won't really be hindered by "paying" for bulk stats in the same way you'll have to spend an arm and a leg for many second-year running backs; you'll likely need to use a first-round pick to secure someone like Doug Martin or Trent Richardson in 2013, yet the top second-year receivers may not get drafted in the first four or five rounds.

Let's take a look at some of the interesting rookie wide receivers this year:

Rookie Wide Receivers in 2012

• Justin Blackmon: #5 Pick – 51 receptions for 707 yards, 3 TD
• Michael Floyd: #13 Pick – 31 receptions for 349 yards, 1 TD
• Kendall Wright: #20 Pick – 62 receptions for 586 yards, 4 TD
• A.J. Jenkins: #30 Pick – 0 receptions
• Brian Quick: #33 Pick – 11 receptions for 156 yards, 2 TD
• Stephen Hill: #43 Pick – 21 receptions for 252 yards, 3 TD
• Alshon Jeffery: #45 Pick – 19 receptions for 256 yards, 3 TD
• Ryan Broyles: #54 Pick – 22 receptions for 310 yards, 2 TD
• T.J. Graham: #69 Pick – 27 receptions, 268 yards, 1 TD
• Mohamed Sanu: #83 Pick – 16 receptions, 154 yards, 4 TD
• T.Y. Hilton: #92 Pick – 44 receptions for 716 yards, 6 TD
• Chris Givens: #96 Pick – 37 receptions for 606 yards, 3 TD
• Josh Gordon: Supplemental Draft – 45 receptions, 759 yards, 5 TD

Since receptions, yards and touchdowns are the best indicators of future value at the wide receiver position, your second-year receiver rankings probably won't differ too much from consensus rankings. However, you can potentially secure value by upgrading the big producers from this class as a whole.

Based on rookie production and their current situations, here are preliminary rankings of this year's rookie receiver class for 2013:

1. Josh Gordon
2. Justin Blackmon
3. Kendall Wright
4. T.Y. Hilton
5. Chris Givens

The downside to some of those receivers is obviously poor quarterback play, but that could actually be seen as an advantage in a keeper league. While others are passing on Gordon and Blackmon because of scary quarterback situations, you can jump on two of the more prominent rookie wideouts, both of whom are a decent quarterback away from legit No. 1 wide receiver potential over the next decade.

Jonathan Bales is the author of Fantasy Football for Smart People: How to Dominate Your Draft. He also runs the "Running the Numbers" blog at DallasCowboys.com and writes for the New York Times.