Contract-Year Players Continue Average Play in 2012

Why do we use stats in fantasy football? There are perhaps a few answers, but the primary one (for me, anyway) is that numbers can help quantify information that is otherwise too broad or overarching to comprehend fully. There's no substitute for watching football, but there's also a lot of potential advantages out there that can't be garnered simply from viewing and understanding the sport. Do you think you could watch every carry for a running back all season and be able to intuitively deduce whether he ran for 4.1 or 4.5 YPC? No way. Stats aid us in quantifying what we watch and, most importantly, they help to make accurate predictions.

A lot of times, the numbers can fly in the face of conventional wisdom. I found this to be just the case when assessing players in contract seasons. In the preseason, I collected data on contract players since 2008.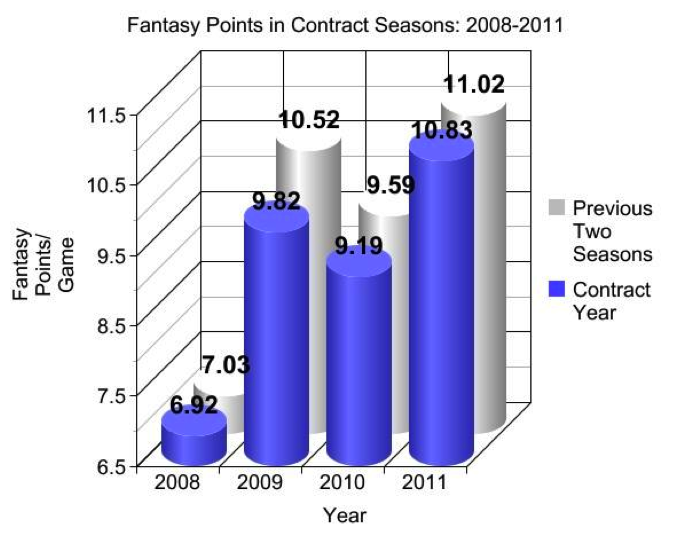 While it seems to make intuitive sense that players in contract years would player better than usual to score a big payday, it's just not true. Over the past four years, those players in contract seasons actually scored slightly fewer points than they averaged in the previous two seasons. Further, there was no meaningful difference for any of the four skill positions; quarterbacks, running backs, wide receivers and tight ends alike all posted around the same number of fantasy points in contract seasons as they did prior.

In 2012, we saw more of the same from contract-year players. Below, I list some of the most notable names who were playing for a new contract this year, along with the relationship between their 2012 fantasy points per game and their average from the past two seasons in non-PPR leagues.

• QB
Joe Flacco: -2.3

• RB
Ronnie Brown: -0.4
Reggie Bush: +1.1
Shonn Greene: +1.9
Peyton Hillis: -9.8
Felix Jones: -2.2
Rashard Mendenhall: -7.7
Isaac Redman: +1.4
Kevin Smith: -6.9

• WR
Danny Amendola: +1.6
Dwayne Bowe: -3.7
Victor Cruz: -2.4
Greg Jennings: -4.4
Mike Wallace: -2.6
Wes Welker: -0.3

• TE
Martellus Bennett: +4.5
Dallas Clark: -1.6
Jared Cook: +1.4
Tony Gonzalez: +1.5
Ben Watson: -0.8
Jason Witten: -1.1

Players in contract years again failed to live up to the public's expectations. Of the top 21 contract-year players, only seven outperformed their two-year averages in fantasy points per game. There were of course some injuries to guys like Mendenhall, Bowe and Jennings, but because I analyzed the fantasy points on a per-game basis, those injuries shouldn't affect the results too heavily. The only position that saw an overall increase in fantasy points per game was tight end, and that's really only because Bennett signed a one-year deal with the New York Giants to become a No. 1 tight end for the first time in his career.

Overall, the major contract-year players from 2012 averaged 1.2 points per game fewer than they did in their previous two seasons (or 2011 alone in the case of Cruz). The wide receiver position was particularly dreadful; Bowe, Cruz, Jennings and Wallace all significantly underperformed.

The idea that players in contract years exceed expectations is likely fueled by a confirmation bias; we remember the Marshawn-Lynch-2011 seasons in which contract-year players bust out, but forget the instances when such players don't confirm our preconceptions.

In 2013, you might actually be able to secure value by avoiding players in contract years, depending on the league in which you play. Specifically, if owners in your league target contract-year players, they'll artificially inflate their value when there's no justification for doing so, allowing superior options to fall right into your lap.

Jonathan Bales is the author of Fantasy Football for Smart People: How to Dominate Your Draft. He also runs the "Running the Numbers" blog at DallasCowboys.com and writes for the New York Times.