How Much Does Speed Matter for Tight Ends?

In hindsight, it's pretty easy to see why Jimmy Graham has become one of the dominant tight ends in the NFL: a 6-7, 265-pound frame, a 38.5-inch vertical, and 4.53 speed. Graham is a bit of a freak, but he's not the only athlete-turned-tight end who has succeeded in the NFL.

Tight ends are used to cause matchup problems for defenses, and one of the ways the best receiving tight ends get open because is by outrunning linebackers. However, tight ends are unique in that they're often asked to utilize different aspects of their games based on various factors, such as the play-call or the defensive personnel. Tight ends must be versatile; in addition to beating linebackers with speed, they need to be strong enough to block and big enough to outmuscle defensive backs in the passing game.

That's displayed in the different types of tight ends out there; speedsters like Graham, Greg Olsen (4.50) and Dustin Keller (4.53) primarily use speed to work defenders. Others, such as Rob Gronkowski (4.75), Brandon Pettigrew (4.83) and Jermichel Finley (4.82), use size and position.

In my analysis on running back speed and wide receiver speed, I noted that for both positions, there's a cutoff point after which players probably won't succeed in the NFL (around 4.55 for both positions). There are exceptions, but for the most part you won't see too many successful running backs or wide receivers running 4.65 40-yard dashes.

For tight ends, however, there doesn't seem to be such a distinct cutoff. Looking at the graph below, you can see many of the league's "slow" tight ends have still produced.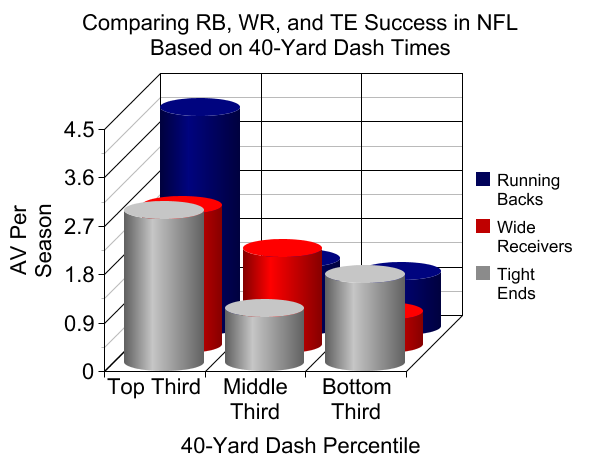 The total production for tight ends drafted from 2005 to 2009 who ranked in the bottom third in 40 time is greater than that of running backs or wide receivers. Actually, slower tight ends (4.80-plus) have posted superior numbers than tight ends with moderate speed (4.72 to 4.79). That's probably due to randomness or a small sample size - I used 79 total tight ends - but it's still evidence that slower players can succeed at tight end more than at other positions.

That's not to say that speed is a bad thing; more speed is always better. The dropoff from the fastest tight ends (4.71 or better) to the second tier is still pretty substantial. Since 2005, some of the tight ends to fall in this upper echelon include Vernon Davis, Aaron Hernandez, Owen Daniels, Fred Davis and Jared Cook.

When looking at tight ends coming out of the draft (or even veterans), speed should be a factor, but not to the same degree as for running backs or wide receivers. Unlike the latter two positions, you can't really eliminate any tight ends due solely to their 40-yard dash times. Zach Miller has been a capable NFL tight end despite running a 4.87, for example.

If a tight end is small in stature, however, he had better run extremely well; sub-4.65 is optimal. If he doesn't have top speed, he should make up for it in size and strength.

Jonathan Bales is the author of Fantasy Football for Smart People: How to Dominate Your Draft. He also runs the "Running the Numbers" blog at DallasCowboys.com and writes for the New York Times.