Building the Ideal Fantasy Wide Receiver

Aaron Rodgers. Ray Rice. Rob Gronkowski. For various reasons, those three players might come as close as any to matching the "ideal" fantasy options at their respective positions. I've spent some time analyzing which traits best predict NFL success at the skill positions. Some of those results were surprising, such as the fact that a running back's 40-yard dash time is far and away the most important number we can use to assess his long-term prospects at the position.

Today, I'll turn my attention to wide receivers. Not surprisingly, you'll see a lot of the information mentioned here resemble the stats I provided you on the ideal tight end.

Size Over Speed

Speed obviously matters for every position, but many owners seem to value long speed for wide receivers way more than they do for running backs. They shouldn't. From 2005 to 2009, the fastest wide receivers at the Scouting Combine - those who ran in the top third of their class - have been just barely more successful than the receivers in the middle third in terms of approximate value. Compare that to running backs, most of whom simply haven't produced if they've run slower than 4.55.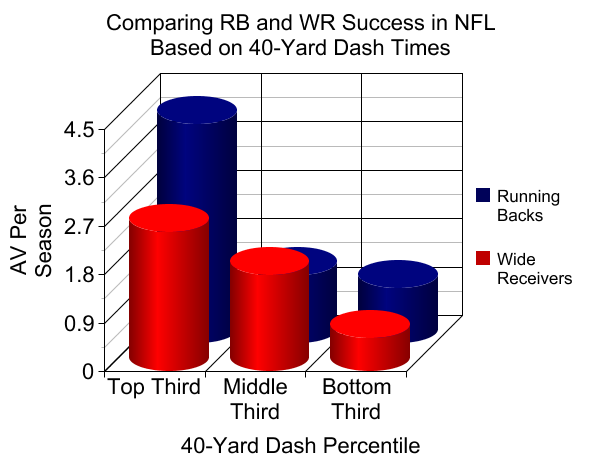 Instead of emphasizing speed for receivers, concern yourself with size. It's the tall, physical wide receivers who tend to dominate in today's NFL. Actually, the average height and weight of the top 10 fantasy receivers in 2012 was 6-3, 220 pounds. Every single one of them stands at least 6-1 and 201 pounds.

It isn't that being fast doesn't help receivers, but rather that the speed "cutoff" isn't as stringent as it is for running backs. Receivers need two things to maximize their chances of success in the NFL: size and at least adequate speed (ideally under 4.55). A bunch of big receivers with moderate speed have succeeded of late - Brandon Marshall (4.52), Kenny Britt (4.51), Jordy Nelson (4.51), Dwayne Bowe (4.51), Hakeem Nicks (4.50) - but they're all very large.

First-Year Struggles

Wide receivers take time to develop. Since 2006, only six rookie receivers have finished in the top 24 at the position. Six receivers in seven seasons! It's common to see owners take fliers on rookie wide receivers, but those late-round picks could be spent more wisely (namely on rookie running backs). In general, you should avoid rookie receivers at all costs.

A Wide Window

I'm very interested in using age as a predictor of success for NFL players, and I've broken down wide receiver production by age in the past.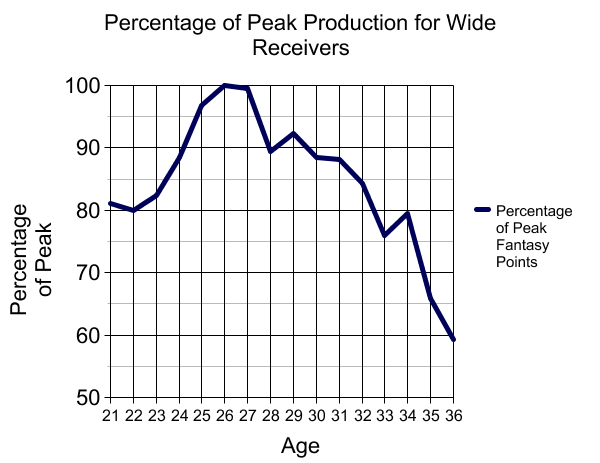 Historic wide receiver production supports the idea that rookie and second-year wide receivers often start slowly; 21 and 22-year olds at the position produce at a lower rate than the typical 32-year old. By age 24, wide receivers produce around 90 percent of their peak production. They maintain a relatively high level of production into their early-30s, with the true "prime years" typically coming from ages 25 to 27. If you're in a dynasty league, the 24-year old receiver coming off of a 1,000/6 season is probably more valuable to you than the 30-year old coming off of a 1,300/9 year.

Efficiency + Opportunity

Running backs and quarterbacks thrive on heavy workloads because the deviation in their efficiency is minimal. For tight ends and wide receivers, efficiency matters more; there's a big difference between 17.0 YPC and 12.5 YPC, for example. There's no substitute for opportunities, but it's nearly as important to find a receiver who will catch a high percentage of the passes thrown to him and rack up yards after the catch to improve his efficiency.

Jonathan Bales is the author of Fantasy Football for Smart People: How to Dominate Your Draft. He also runs the "Running the Numbers" blog at DallasCowboys.com and writes for the New York Times.