Building the Ideal Fantasy Tight End

There's a reason tight end Rob Gronkowski is the consensus No. 1 player at his position and a potential first-round pick in most fantasy football formats. Set to enter his age 24 season, there's good evidence that Gronkowski hasn't even come close to peaking as a tight end. Coming off of a season in which he caught 11 touchdowns in the same number of games, Gronkowski has a ridiculous 20.3 percent touchdown rate over the course of his three-year career. Although he's not a burner, he doesn't need to be; there's almost no correlation between speed and success at the tight end position. And because he's such an outstanding blocker, Gronkowski stays on the field in all situations, increasing his opportunities to rack up fantasy points.

Over the past few weeks, I've built "prototypical" fantasy football players at the quarterback and running back positions. Today, I'll turn my attention to tight ends, providing more evidence that, assuming he's healthy by the time he enters training camp, Gronkowski really is the tight end to own in fantasy football leagues this season.

Rookie Blues

Rookie tight ends just flat out don't produce. Last year, the top rookie tight end was Dwayne Allen (who finished 23rd at the position). He's not alone. Since 2006, the average fantasy finish of the top rookie tight end has been 19th. The list of top-producing first-year players also includes Brandon Pettigrew, Dustin Keller, Owen Daniels, Zach Miller and Kyle Rudolph, none of whom finished better than 14th at the position - not even a No. 1 tight end.

Nonetheless, a strong rookie finish - even if it's as a top 20 option - is usually a sign of things to come. That's why when Gronkowski finished fifth among tight ends in 2010 - by far the best finish for any rookie tight end - we should have paid more attention.

A Narrow Window

Earlier this year, I broke down the career production of tight ends based on age. Amazingly, they actually have the narrowest window of any position in the NFL.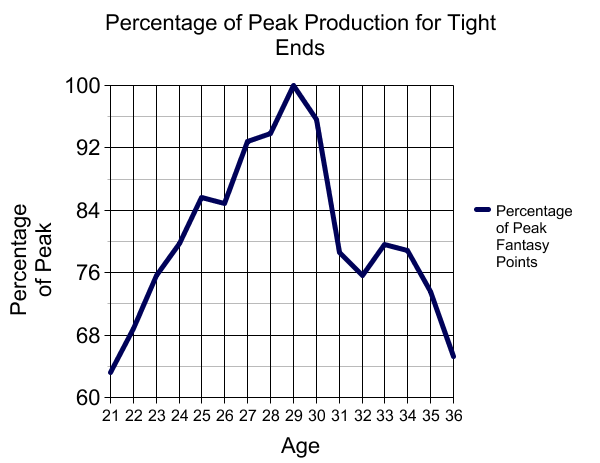 The typical tight end peaks around age 29, meaning he takes a long time to develop. On top of that, the average tight end records only four seasons with at least 90 percent of his peak production. Compare that to the other positions: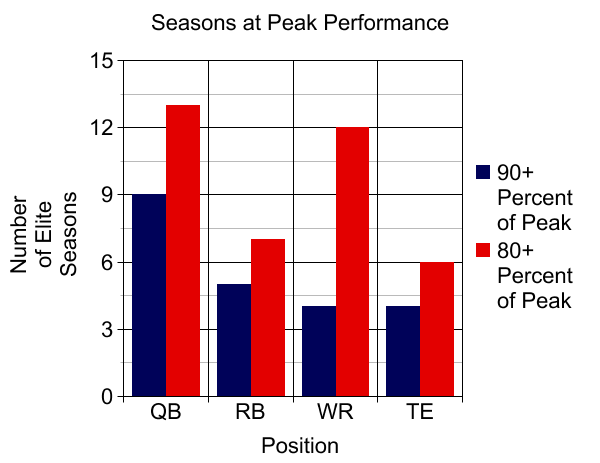 Tight ends actually produce fewer seasons than running backs at near-peak efficiency! The fact that soon-to-be 24-year old Gronkowski might be manufacturing only three-quarters of his eventual peak production is scary.

Length Matters More than Speed

Although you'd think faster tight ends would perform at a higher level than slower ones, that actually hasn't been the case. Those tight ends who have ranked in the bottom third in their draft class in the 40-yard dash have actually produced nearly as many fantasy points as the tight ends in the top third.

There are all sorts of successful tight ends out there, from the blazers (Vernon Davis – 4.38) to the snails (Brandon Pettigrew/Jermichael Finley – both below 4.82). Gronkowski ran a 4.75 40-yard dash, but he possesses something that characterizes the majority of great tight ends - length. At 6-6 with over 34-inch arms, Gronkowski can "box out" defenders to catch the ball over the middle.

Opportunity + Efficiency

I've mentioned quarterbacks and running backs thrive on bulk attempts, and that's because there's such a low standard deviation of efficiency at their position. Quarterbacks and running backs are all clustered closely together in terms of yards-per-attempt and yards-per-carry, so there's more fantasy points to be gained for players at those positions who have a ton of opportunities than for those are who efficient. Wide receivers are the exact opposite, with their yards-per-catch accounting for a big portion of their fantasy points.

Well, both opportunity and efficiency matter for tight ends. Not all tight ends stay on the field as much as No. 1 receivers, so there's typically a pretty big gap in terms of snaps at the position. And while their yards-per-catch doesn't fluctuate as much as that for receivers, there can be sizeable differences in efficiency between a big-play tight end like Gronkowski and a less explosive option like Jason Witten. Gronkowski has compiled 14.2 YPC over the course of his career - 51 percent higher than Witten's 2012 mark. When combined with his high snap count and all of the other traits that coincide with tight end dominance, you can see why Gronkowski really is the prototypical fantasy football tight end.

Jonathan Bales is the author of Fantasy Football for Smart People: How to Dominate Your Draft. He also runs the "Running the Numbers" blog at DallasCowboys.com and writes for the New York Times.