Building the Ideal Fantasy Quarterback

For years, pocket passers ruled the NFL. Nowadays, more and more quarterbacks are mobile, running the read-option and using their legs to secure big plays for their teams. While debates will rage on regarding the "better" system, some of today's young quarterbacks are so talented they can do both - stand in the pocket to deliver passes with pinpoint accuracy, or use their mobility to steal the show on the ground.

That got me to thinking: if the "ideal" quarterback can beat defenses in a number of ways, what other traits might he possess? I've been posting a lot of position-specific analysis of late, analyzing various characteristics for the game's best quarterbacks along the way. Today, I'm going to combine those findings in an effort to construct the dream fantasy football quarterback. Let's get started.

Mobility Isn't Essential, But It's Ideal

All quarterbacks need to be able to throw with accuracy - that's not up for debate - but the rookies who have found recent NFL success have all been able to make plays with their legs. As I mentioned in my article on rookie quarterbacks, Robert Griffin III, Russell Wilson, Cam Newton and even Andrew Luck have already turned in some of the top quarterback rushing performances of all-time. When selecting a quarterback, try to target one who can give you points as a runner; it increases his value because it's a trait that's often overlooked in drafts, and it decreases week-to-week volatility.

Efficiency > Bulk Stats as a Predictor

Most fantasy owners pay for bulk stats - yards and touchdowns - and for obvious reasons. You clearly want a quarterback who will throw for a lot of yards and touchdowns, but it's difficult to acquire value by emphasizing those stats because everyone else is doing the same. To profit, you need to search for predictors of future success, especially for quarterbacks who have yet to break out. Yards-per-attempt (YPA) is the best of the bunch.

In my article on using rookie stats to project future quarterback success, I found that YPA actually predicts future production far better than touchdowns or yards.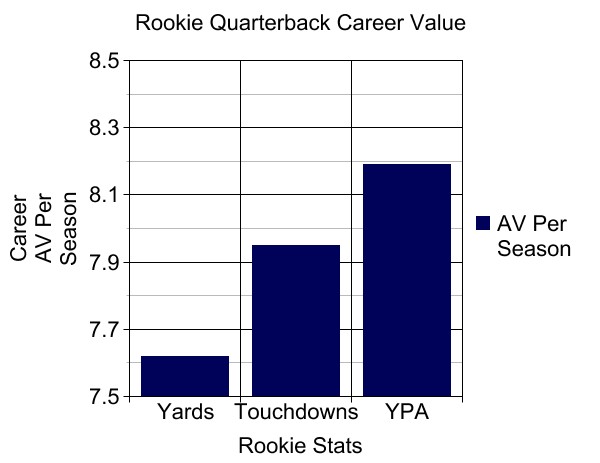 That's pretty surprising, and it provides an opportunity for you to exploit the tendency of others to pay for yards and touchdowns. When others are jumping on Andrew Luck (6.98 YPA), you can get Ryan Tannehill (6.81 YPA) - now equipped with new weapons on the outside - at a bargain.

35 Is the New 25

A few weeks ago, I broke down historic quarterback production based on age.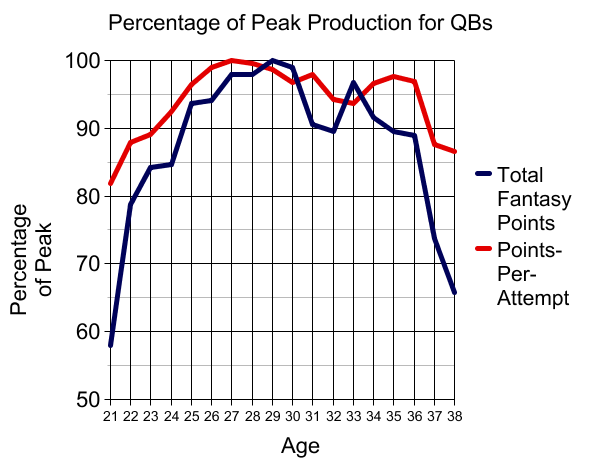 Quarterback production tends to peak around age 29, but most passers reach near-peak efficiency in their mid-20s. Trading for or drafting a quarterback around age 25 is often a winning proposition because his future outlook is brighter than his past production. Meanwhile, try to avoid quarterbacks who have just turned 30, as most see a slight dip in efficiency and total production in the coming years. After that decline, though, most of the game's top quarterbacks maintain a relatively high level of play well into their 30s - meaning a 36-year old probably isn't much worse off than a 31-year old.

Airing It Out

Quarterbacks are like running backs in that they need a heavy workload in order to post big-time fantasy production. That's because the standard deviation of quarterback YPA is minimal; although it's a good predictor of success, the best quarterbacks typically average only a yard or so more per pass than mediocre ones. Meanwhile, some quarterbacks can throw 300 more passes than others, and no amount of efficiency can make up for that. Ideally, you'd like a quarterback in a pass-heavy offense whose attempts won't be capped at 30 per game.

Standing Tall

Historically, the tallest quarterbacks have performed the best. Interestingly, however, I'm not sure that height is actually a cause for quarterback success. Instead, it could just be correlated with the real cause - hand size. It might sound silly, but there's at least anecdotal evidence that hand size leads to NFL success; great quarterbacks need to be able to control the ball, and those with bigger hands actually have higher completion rates.

There isn't a plethora of reliable data on hand size out there, but there are a bunch of cases of shorter quarterbacks with big hands getting overlooked in recent drafts but then killing it in the NFL. Two examples are Drew Brees (6-0) and Russell Wilson (5-11), both of whom have 10.25-inch hands - absolutely massive for their height. You can perhaps acquire some value by targeting tall quarterbacks, but the real value could very well come from seeking the trait every other owner (and NFL team) is overlooking - large hands.

Jonathan Bales is the author of Fantasy Football for Smart People: How to Dominate Your Draft. He also runs the "Running the Numbers" blog at DallasCowboys.com and writes for the New York Times.