Are rookie quarterbacks the new rookie running backs?

Chris Johnson, Matt Forte, Maurice Jones-Drew, Adrian Peterson, Doug Martin. Shrewd fantasy owners have known for years that rookie running backs have the potential to offer unbelievable value. Even today, the uncertainty that surrounds first-year backs is often the impetus for dropping them in rankings, even if isn't as significant of a drop as in past years.

Recently, though, we've seen rookie quarterbacks absolutely skyrocket in the final fantasy rankings. It began last year with Cam Newton and Andy Dalton. Dalton's 17th place finish might seem trivial, but it was actually the highest for a rookie quarterback since Matt Ryan's 13th place finish in 2008. Of course, Newton stole the show, using a combination of his legs and rocket arm to finish fourth among quarterbacks in most scoring formats. The results were unprecedented.

In 2012, the trend has continued with Robert Griffin III (first) and Andrew Luck (eighth). Heck, even Russell Wilson is ranked in the top-20 quarterbacks. The question for fantasy owners is whether or not the recent rise of the rookie quarterback is a natural progression of the position - one that has arisen from colleges preparing rookies to play in the NFL immediately - or simply the result of a unique group of select passers finding unusual first-year success over just a two-year period.

In terms of any sort of trend, the improvement in rookie quarterback production has been dramatic, not a gradual increase.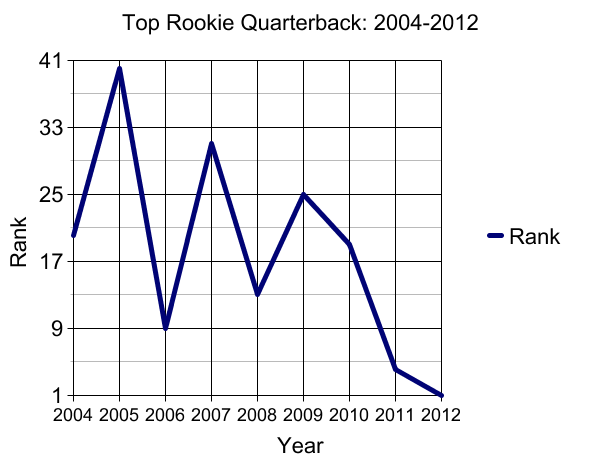 You can see that, from 2004 to 2010, there was no consistent trend among rookie quarterback fantasy production. The top rookie quarterback over that period was Vince Young with a ninth-place finish in 2006. On average, though, the best rookie quarterback each season averaged just a 25th-place finish, meaning first-year quarterbacks weren't even really worthy of a selection in re-draft leagues.

With three rookie quarterbacks in the last two seasons - Newton, Griffin, and Luck - figuring to finish in the top 10 at the position in their first years, though, it sure seems like things have changed. Could such a dramatic jump really be the result of chance?

While there's certainly an element of randomness at work (meaning the quality of the quarterbacks in the last two draft classes has been unusually phenomenal), we're also seeing a shift in the way quarterbacks are being used. What do Newton, Griffin and Luck have in common? They were all highly-drafted quarterbacks who can run. That's a valuable combination for fantasy owners. All three players have been able to rely on their legs when things break down or, even better, they have run plays - read-options and bootlegs - called specifically for them to gash defenses on the ground.

Actually, Newton, Griffin and Luck have all been historically great runners at the quarterback position. In 2011, Newton totaled more rushing yards-per-game than all but five quarterbacks since 1990. He also broke the record for rushing touchdowns by a quarterback, and by a wide margin. Actually, only five quarterbacks over the past two decades have totaled even half of Newton's 14 rushing touchdowns in his rookie season.

Griffin is like Michael Vick with superior passing ability. Griffin's decision-making has been unbelievable, and he's also rushed for the fourth-most yards-per-game for a quarterback since 1990. And Luck, although not as adept on the ground as Newton or RGIII, is still on pace to rush for the 10th-most touchdowns of any passer in the history of the NFL.

Thus, while you still need to be careful drafting rookie quarterbacks, look out for those taken high in the NFL Draft who can run. Chances are you'll be able to grab future rookie passers, regardless of their skill set, as No. 2 quarterbacks. With such little risk, rookie quarterbacks can certainly be worth your attention; you just need to know where to look.

Jonathan Bales is the author of Fantasy Football for Smart People: How to Dominate Your Draft. He also runs the "Running the Numbers" blog at DallasCowboys.com and writes for the New York Times.