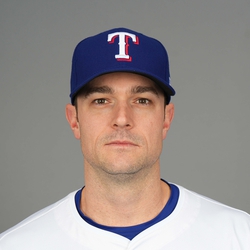 Rest-of-Season Projections
2023 Fantasy Outlook
After pitching just 18.2 major league innings between 2019-2021, Robertson signed a 1-year pact with the Cubs prior to last season. The veteran was the most experienced option in a shallow pen and quickly re-established himself in high leverage, serving as Chicago's closer for the first four months of 2022. After an excellent first half, Robertson was shipped to Philadelphia, who deployed him within a committee as the second option for saves. He wasn't as sharp with his new team and lost his command to finish with one of the worst walk rates among qualified relievers at 13.3%. On the plus side, Robertson put up 63.2 innings - his most since 2018 - and 20 saves. Robertson is destined for setup duty after signing with the Mets, although he would be the likely next-man up if Edwin Diaz gets injured.
Read Past Outlooks
$Signed a one-year, $10 million contract with the Mets in December of 2022.

Robertson earned a save against the Phillies on Wednesday, allowing one hit and striking out two batters over one inning.
ANALYSIS
Robertson experienced some stress in the outing as a result of allowing two straight hitters to reach base (via an infield single and a hit-by-pitch, respectively) with one out. However, the right-hander bounced back with a pair of strikeouts to end the threat and notch a save for the second straight day. Robertson is still in somewhat of a timeshare at closer with
Adam Ottavino
, but the former has been the more dominant pitcher throughout the campaign, posting a 1.48 ERA, 0.95 WHIP and 29:7 K:BB over 24.1 frames.
Read More News
Pitching Stats
Loading Pitching Stats...
2023
2022
2021
2020
2019
2018
2017
2023 MLB Game Log

Calculate Stats Over Time
Just click on any two dates.
Scoring
FanDuel
DraftKings
Yahoo DFS
Loading Pitching Game Log...
2022 MLB Game Log

Calculate Stats Over Time
Just click on any two dates.
Scoring
FanDuel
DraftKings
Yahoo DFS
Loading Pitching Game Log...
2021 MLB Game Log

Calculate Stats Over Time
Just click on any two dates.
Scoring
FanDuel
DraftKings
Yahoo DFS
Loading Pitching Game Log...
2020 MLB Game Log

Calculate Stats Over Time
Just click on any two dates.
Scoring
FanDuel
DraftKings
Yahoo DFS
Loading Pitching Game Log...
2019 MLB Game Log

Calculate Stats Over Time
Just click on any two dates.
Scoring
FanDuel
DraftKings
Yahoo DFS
Loading Pitching Game Log...
2018 MLB Game Log

Calculate Stats Over Time
Just click on any two dates.
Scoring
FanDuel
DraftKings
Yahoo DFS
Loading Pitching Game Log...
2017 MLB Game Log

Calculate Stats Over Time
Just click on any two dates.
Scoring
FanDuel
DraftKings
Yahoo DFS
Loading Pitching Game Log...
Minor League Game Log

Calculate Stats Over Time
Just click on any two dates.
Loading Minor League Pitching Game Log...
Pitching Appearances Breakdown
How many pitches does David Robertson generally throw?
What part of the game does David Robertson generally pitch?
% Games Reaching Innings Threshold
% Games By Number of Innings Pitched
Left/Right Pitching Splits
BAA
K
BB
H
HR
Since 2021

vs Left

.181
69
24
33
3
Since 2021

vs Right

.200
60
22
36
7
2023

vs Left

.184
18
5
9
2
2023

vs Right

.238
14
2
10
0
2022

vs Left

.168
44
18
19
1
2022

vs Right

.179
37
17
20
5
2021

vs Left

.250
7
1
5
0
2021

vs Right

.231
9
3
6
2
More Splits

→

View More Split Stats
Home/Away Pitching Splits
ERA
WHIP
IP
K/9
BB/9
Since 2021

Home

2.25
1.21
56.0
11.7
4.5
Since 2021

Away

2.78
1.04
45.1
11.1
3.6
2023

Home

1.69
1.13
16.0
11.3
1.7
2023

Away

1.86
0.83
9.2
11.2
3.7
2022

Home

2.12
1.24
34.0
11.9
5.8
2022

Away

2.73
1.08
29.2
10.9
3.9
2021

Home

4.50
1.33
6.0
12.0
4.5
2021

Away

4.50
1.17
6.0
12.0
1.5
More Splits

→

View More Split Stats
Stat Review
How does David Robertson compare to other relievers?
This section compares his stats with all relief pitcher seasons from the previous three seasons (minimum 30 innings)*. The bar represents the player's percentile rank. For example, if the bar is halfway across, then the player falls into the 50th percentile for that stat and it would be considered average.
* Exit Velocity, Barrels/BBE %, Balls Hit 95+ MPH %, and Spin Rate are benchmarked against 2019 data (min 30 IP).
See here for more exit velocity/barrels stats
plus an explanation of current limitations with that data set.
K/BB

Strikeout to walk ratio.

K/9

Average strikeouts per nine innings.

BB/9

Average walks per nine innings.

HR/9

Average home runs allowed per nine innings.

Fastball

Average fastball velocity.

ERA

Earned run average. The average earned runs allowed per nine innings.

WHIP

Walks plus hits per inning pitched.

BABIP

Batting average on balls in play. Measures how many balls in play against a pitcher go for hits.

GB/FB

Groundball to flyball ratio. The higher the number, the more likely a pitcher is to induce groundballs.

Left On Base

The percentage of base runners that a pitcher strands on base over the course of a season.

Exit Velocity

The speed of the baseball as it comes off the bat, immediately after a batter makes contact.

Barrels/BBE

The percentage of batted ball events resulting in a Barrel. A Barrel is a batted ball with similar exit velocity and launch angle to past ones that led to a minimum .500 batting average and 1.500 slugging percentage.

Spin Rate

Spin Rate is the rate of spin on a baseball after it is released. It is measured in revolutions per minute (rpm).

Balls Hit 95+ MPH

The percentage of batted balls hit that met or exceeded the 95 MPH threshold.

Swinging Strike

The percentage of pitches that result in a swing and a miss.
Advanced Pitching Stats
Loading Advanced Pitching Stats...
Loading MLB Defensive Stats...
Our full team depth charts are reserved for RotoWire subscribers.
Subscribe Now
Recent RotoWire Articles Featuring David Robertson
See More
Past Fantasy Outlooks
2022
2020
2019
2018
2017
2016
2015
2014
2013
2012
2011
2010
2009
Robertson made just seven MLB appearances from 2019-2020, missing almost the entirety of his two years in the Phillies' organization due to Tommy John surgery. After impressing during his stint with the United States team in the Summer Olympics in Tokyo last year, he joined the Rays for the final month of the 2021 campaign. The right-hander made 12 appearances for the Rays and recorded a 4.50 ERA and 1.25 WHIP in 12 innings. The Cubs don't have a particularly deep bullpen heading into 2022, so it's possible that Robertson could factor in the mix to close games given his major league experience (137 career saves).
The Phillies signed Robertson, hoping to assemble a deep and dominant bullpen. He didn't pitch much in the spring and it showed as the righty struggled in his first seven outings, throwing 6.2 innings and allowing four runs with six whiffs and six walks. As it turned out, those would be Robertson's only appearances as he was put on the IL with what was first deemed right elbow soreness, then became a Grade 1 flexor strain. After rest and rehab didn't work, it was determined Robertson needed Tommy John surgery. The procedure didn't occur until August, putting 2020 in doubt. The best-case scenario is a September return, so cross Robertson off your cheat sheet.
The Strandman had a solid year despite the 22-percentage-point drop in his left-on-base rate in 2018. Robertson has an uncanny track record of pitching between 60 and 70 innings each season, mostly in single-inning stints, allowing a few baserunners only to leave them stranded by striking guys out in the clutch. Robertson has a 32.4% strikeout rate for his career, and that rate has not been below 28% since the 2010 season. He has a proven record as a solid closer, and it appears that he will have a chance to return to the ninth inning after signing a two-year deal with the Phillies in the offseason. If he does secure the job, it would easily triple his fantasy value as the saves would once again accompany the solid ratios and strong strikeout rate. He would still be rosterable in mixed-league formats even without a full-time closer role.
In his prime years the first time around in New York, Robertson earned the nickname "Houdini" for his freakish ability to get out of jams. That skill did not follow him to Chicago in free agency, but it was apparently just waiting for him to return to The Bronx. Robertson stranded 95.0 percent of baserunners after coming back home while displaying skills worthy of the closer role (13.1 K/9, 3.1 BB/9). The problem for him is that the club has spent a lot of money on Aroldis Chapman, and Robertson likely needs an injury or suspension to Chapman to take the job. In his current role, he can be a very functional piece in AL-only leagues with his strikeout rate and his exposure to high leverage that allows him the opportunity for vulturing wins. In mixed leagues, he is relegated to a speculative reserve pick that is better served on a starter or a hitter with upside and a clearer path to playing time.
Robertson earned the nickname "Houdini" early in his career for his ability to create bad situations, then escape them by stranding runners. After all, we're talking about a reliever who has stranded 79.1 percent of baserunners throughout 519 career innings. In 2016, he stranded 79.9 percent of baserunners but still posted a 3.47 ERA by falling back into the bad habit of giving up free passes, walking 32 batters last season after walking 36 over the previous two seasons combined. Couple that with a drop in his strikeout rate with a 31-point jump in his opponents' batting average, and you get the high reliever ERA. He had offseason knee surgery to clean up a meniscus tear that may have contributed to his struggles, and is expected to be ready for spring training. Unless the injury lingers or the rebuilding White Sox trade him, pencil him in for another 30 saves while, in some cases, handcuffing him with Nate Jones just in case.
The White Sox signed Robertson to serve as their shutdown closer en route to a playoff run. The playoff run did not materialize, but Robertson remained one of the league's best closers. He dropped his walk rate to 5.2 percent of batters faced while he continued to strike out more than a third of those he saw. His 3.41 ERA was inflated by a few late-season appearances that did not matter much one way or the other. His curve remains his best pitch, generating a lot of swing-and-miss, but his fastball and cutter are also above average. There should be some caution of skill deterioration and/or health flare-ups as he enters his age-31 season, but he enters the year with an unquestioned hold on the White Sox's closer role.
Replacing Mariano Rivera was supposed to be an impossible task and Robertson wasn't exactly a carbon copy of his predecessor, but he took the baton smoothly and had it not been for two disastrous outings, he would've put up a more Rivera-like season. He allowed eight runs (36% of his season total) in the two outings, totaling just an inning, which sent his ERA from 1.99 to the 3.08 mark we saw at season's end. He recaptured the super-elite strikeout rate from 2011 after two years of decline with another 37 percent rate. In the era of every other reliever popping triple digits on the gun, Robertson survives with a 91-93 mph cutter and a low-80s curveball. He only needed one season to establish himself as one of the best closers in baseball and with his ability to pump 95-100 strikeouts in a season, he should remain one of the top closers after signing a four-year, $40 contract with the White Sox.
While the Yankees have been cautious about anointing Robertson the heir apparent to Mariano Rivera, Robertson's performance over the past several seasons certainly justify giving him the job. All of Robertson's peripheral statistics back up his more obvious high strikeout rate and low ERA; his BABIP against in 2013 was .293, and his 6.8% HR/FB was fairly consistent with his career norm. If the fact that the Yankees haven't guaranteed Robertson the closer job knocks a few dollars of his draft day value, jump in and enjoy the numbers of this potential top-10 closer provided that clear-cut veteran option is not obtained before spring training.
Robertson appeared to be next in line to close when Mariano Rivera went down, but some relative struggles and a minor injury opened the door for Rafael Soriano, returning Robertson to his eighth-inning role. While he wasn't quite as dominant as he'd been in 2011, Robertson was still very good with a 12.0 K/9, and dramatically lowering his walk rate from 4.7 to 2.8 BB/9. Robertson has fantasy value even in his setup role, and he appears to be the fallback option behind Rivera as the closer-in-waiting.
Robertson was one of the most valuable setup men in the game in 2011, cementing himself as the next in line should Mariano Rivera ever falter or retire. Robertson's numbers speak for themselves: he struck out an incredible 100 batters in 66.2 innings and his ERA was a sparkling 1.08. He can get himself into trouble with walks occasionally, averaging 4.73 BB/9IP, but Robertson's fantastic power stuff can often get him out of tough spots. Even if he doesn't close many games, Robertson can serve as a valuable staff filler because of the strikeouts (he struck out more hitters than starter Ivan Nova), and he's a particularly great pick if you want to insure an investment in Rivera.
Robertson made his mark as a strikeout machine in 2009 and lived up to those expectations again in 2010, fanning 71 batters in 61.1 innings. Despite a few rough patches, he was one of manager Joe Girardi's favorite bullpen arms and will again be one of the Yankees' most-used relievers in 2011. Command is the biggest area of concern here; Robertson's walk rate has increased every year he's been in the majors.
Robertson solidified his reputation as a young strikeout machine in 2009, fanning 63 in 43.2 innings, resulting in a 12.98 K/9IP ratio that ranked first among AL relievers who pitched more than 40 innings. If Phil Hughes moves into the rotation this season, Robertson should slide into a more vital bullpen role, possibly sharing setup duties with lefty Damaso Marte. After improving in nearly all facets from 2008 to 2009 (ERA, H/9IP, HR/9IP, K:BB), he certainly appears capable of handling such a promotion.
Robertson continued his ascent through the minors in 2008 and eventually had two stints with the Yankees starting in late June. Big league hitters were able to make more contact against him than those at his minor league stops, but Robertson still posted a 10.68 K/9IP rate in 30.1 innings for the Yankees. Featuring a low-90s cutter, curveball and a slider, Robertson appears to have a very bright future in the Yankees bullpen. Despite being undersized at 5-foot-11, Robertson has a closer's stuff, even if he'll be confined to middle relief and eventually a set-up role in New York. There will be plenty of competition for spots during spring training, so he'll head back to Triple-A and be one of the first relievers brought up if he's unable to earn a roster spot during spring training.
More Fantasy News