Projecting Quarterback Production Based on Age

Heading into the 2013 season, there are a handful of big-name quarterbacks nearing the tail end of their careers; Drew Brees (34), Tom Brady (36) and Peyton Manning (37) are still playing at a high level, but how long can they maintain it? Maybe longer than you think.

Last week, I broke down historic running back production by age, showing that the total production for most running backs peaks around age 26. Further, the average running back produces his top efficiency at age 22, meaning most running backs are near their best from the time they enter the league and slowly decline from that point on. They produce superior fantasy numbers as they acquire heavier workloads, but most runners are an "anti-wine" - getting worse with age.

Quarterback play is much different. Below, I charted the production for starting quarterbacks over the past two decades.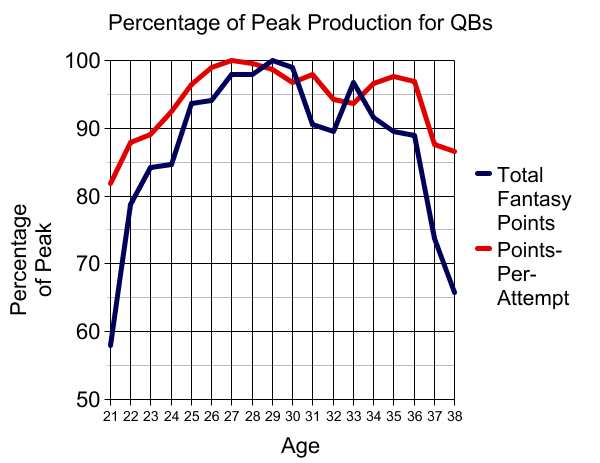 Unlike running backs, quarterbacks typically increase their overall production and efficiency at a gradual pace. Quarterback efficiency peaks at age 27 and overall fantasy production peaks two years later. Remarkably, quarterbacks have maintained their high levels of efficiency until their mid-30s. Meanwhile, overall production has dipped at two points around age 31 and again at age 37.

Interestingly, there's a small jump in both efficiency and production for quarterbacks in their mid-to-late 30s. That's likely due to a "survivor bias" - the fact that the best quarterbacks remain in the league and continue to play at a high level while the lesser passers have been forced out. That explains the jump in total fantasy points per quarterback at age 33; quarterbacks don't really get better at that age, but rather the elite ones - Brett Favre, Tom Brady, and so on - remain in the league and boost the numbers.

Using the Chart in 2013 and Beyond

Understanding historic trends in quarterback decline can be useful in both re-draft and keeper leagues. While other owners are perhaps downgrading Brady this year in favor of a player like Cam Newton, you can rest easy knowing that Brady's overall production is likely to resemble that from 2012.

In keeper leagues, you can and should take advantage of the value of middle-aged quarterbacks. In terms of overall production, quarterbacks typically post around 90 percent of their peak (or greater) from ages 25 to 36. That's a huge window, meaning jumping on a 31-year old quarterback coming off of a lackluster season might not be such a bad idea.

How Quarterbacks Age

In studying quarterbacks, it was evident that they age in a much different manner than running backs. The ages of decline are obviously different, but so are the rates. Running backs typically see a gradual decline; the production for a 32-year old running back is often slightly worse than it was the prior year, which was slightly worse than it was before that, and so on.

On the other hand, quarterbacks generally "lose it" all at once. Instead of seeing Brees, Brady & Co. progressively produce worse numbers, we'll probably see a more distinct drop before they eventually leave the league. That can make it more difficult to project quarterbacks because it's really an "all-or-nothing" situation.

Thus, instead of projecting a player like Peyton Manning with, say, 90 percent of his 2012 fantasy points, it's really more of a game of percentages. Since quarterback production typically falls off of a cliff, we're better off saying that Manning has a good chance to repeat his 2012 production, but there's a relatively small chance that 2013 is the year he tanks. As he continues to age, the probability increases. That means aging quarterbacks can potentially offer value if you're willing to take on that risk in favor of their upside. Manning in particular is admittedly a risk because of his age and health, but there's still a really good chance that he finishes 2013 as a top-five quarterback.

The "Real" Quarterback Prime Years

The chart displays historic data for quarterbacks, but there might be some reason to believe that the range of peak years for current quarterbacks has been extended. First, rookie quarterbacks have produced at unbelievable rates over the past few seasons. They might be outliers, but quarterbacks are coming into the league more prepared than ever before. Plus, with NFL teams finally altering their offenses to fit the skill sets of their rookie passers (see Cam Newton and RGIII), first and second-year quarterbacks can really produce.

On the other end of the spectrum, aging quarterbacks have been able to produce at unprecedented levels. With advances in conditioning and injury prevention, there's good reason to think that "40 is the new 37" when it comes to quarterbacks. If that's the case, you can add Manning (37) to the list of "over-the-hill" quarterbacks worthy of consideration in 2013 re-draft leagues.

Jonathan Bales is the author of Fantasy Football for Smart People: How to Dominate Your Draft. He also runs the "Running the Numbers" blog at DallasCowboys.com and writes for the New York Times.